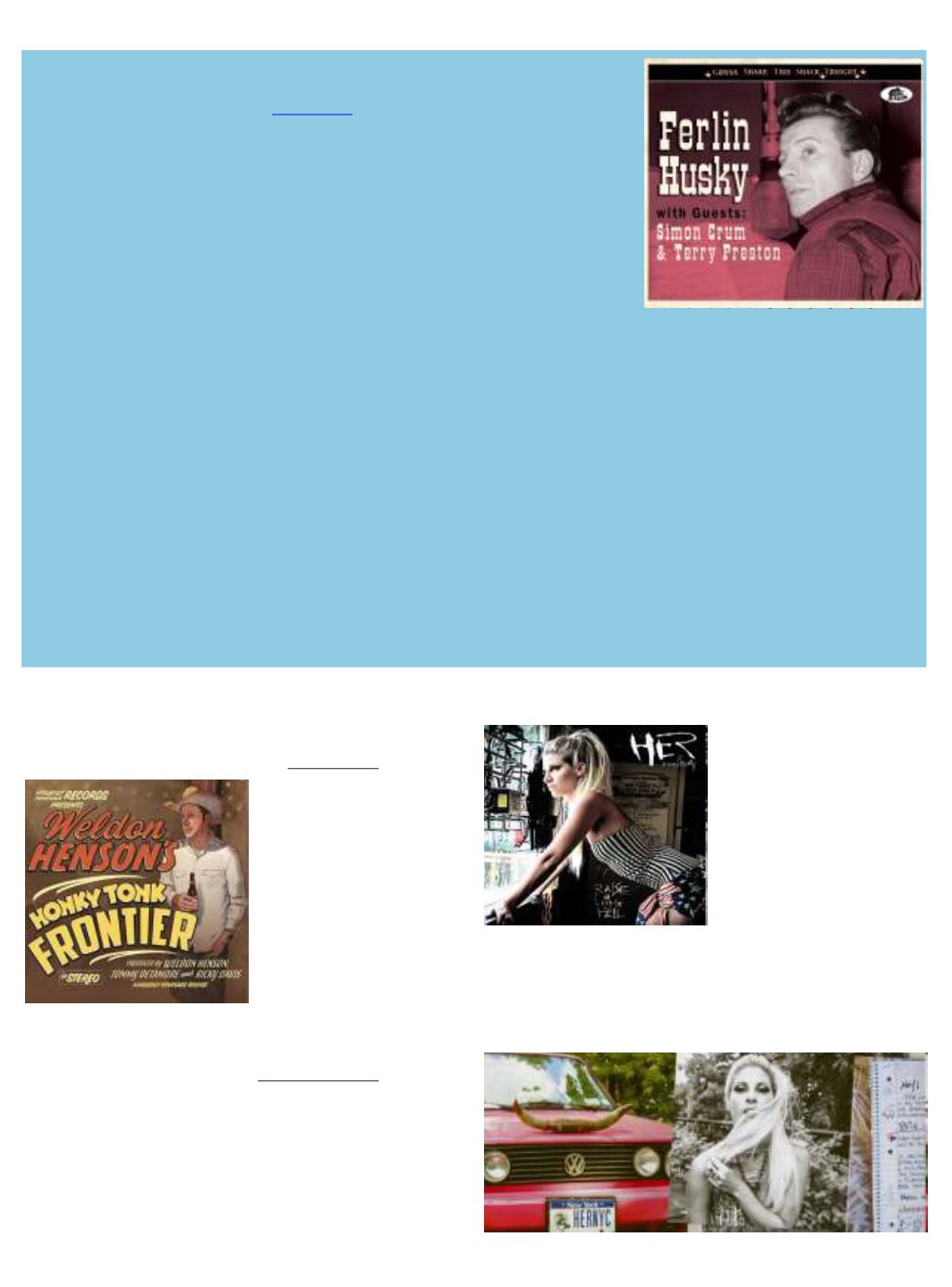 C H A R T S / C O N T E M P O R A R Y C O U N T R Y
WELDON HENSON
•
HONKY TONK FRONTIER
CDCR23503
€
16.95
0888295235037
Hey, Bottle of Whiskey -
Honky Tonk Feels Right -
Heartache Gam - Looking for
My Break - Not a Home - I
Need Wine - Hey Baby Can
You Help Me - The Score -
Trying to Pretend - Just
Believe It - That Look
(2015/CRS)
11
tracks.
Weldon Henson mit seiner 4.
CD. — (2015/CRS) 11 tracks.
Texas country music artist
Weldon Henson with his fourth CD.
HER & KINGS COUNTY
•
RAISE A LITTLE HELL
CDINDIA342020
€
16.95
4260019031730
Deep in the Country (03:09) - Where Did All The$ Go (03:11) -
White Trash (03:32) - Family Tree (03:00) - My Backyard
(03:05) - Put Me in the Ground (03:01) - Freight Train (02:49) -
Six Figures (03:02) - Heavens Crashing Down (05:12) - My
Heart Can't Take Anymore (03:26) - Oh My Darlin (03:14) -
YoungGuns(02:42)-Down inDixie(02:56) -RaiseaLittleHell
(02:51) - Be My Lover (Live from Sun Studio) (03:12)
(2015/India) 15 tracks. Ein
höchst dynamisches Six Pack
an Musikern, deren zündende
Mixtur aus Bluegrass und Folk,
Hip Hop und Southern Rock,
Pop und jeder Menge anderer
Spielarten des Rock'n'Roll
eine wahre Freude ist.
Erfrischend,
frecher
Wirbelwind
mit
überraschenden Wendungen
in der Stilrichtung. Pink meets Colt Ford, macht Spass. Nix für
Puristen. — (2015/India) 15 tracks. Her & Kings County from
NYC... Her is the singer and Kings Country is a rock band.
B E A R F A M I L Y N E W S
3
(
FERLIN HUSKY
Gonna Shake This Shack Tonight - with Guests: Simon Crum&
Terry Preston
BCD17415
€
15,74
l
Rockin' & boppin' - Ferlin Husky in den Fünfzigerjahren als Terry Preston in Los
Angeles, als früher Pionier des Bakersfield Sounds und als Partner von Elvis
auf dessen ausgedehnten Tourneen bis zu seiner Allianz mit Alan Freed und
den Aufnahmen als Simon Crum.
l
Entdecken Sie eine gänzlich andere Seite des Sängers mit der sanften Stimme,
der 1957 mit Gone den von Popmusik geprägten Nashville Sound
mitbegründete.
l
Insgesamt 32 Einzeltitel, darunter sechs Hits, zwei zuvor unveröffentlichte
Aufnahmen und Raritäten, erstmals auf CD.
l
Wunderschön illustriertes Booklet voller seltener und nie zuvor gezeigter Fotos.
l
Ausführliche Linernotes von Scott B. Bomar mit detaillierten Lebensläufen und Erkenntnissen aus
unveröffentlichten Interviews mit Ferlin, Jim Ed Brown, Dallas Frazier, Jan Howard, Ken Nelson, Jean Shepard,
Leona Williams und vielen anderen!
l
Zahlreiche Aufnahmen erscheinen hiermit erstmals auf CD.
1-CD Digipak (4-seitig) mit 72-seitigem Booklet, 32 Einzeltitel. Gesamtspieldauer ca. 86
Minuten.
1-CD Digipak (4-plated) with 72-page booklet, 32 tracks. Total playing time approx. 86
minutes.
l
From his years in Los Angeles in the 1950s recording as Terry Preston, to his time as an early pioneer of the
Bakersfield Sound, to his extensive tours with Elvis Presley, to his alliance with Alan Freed, to his recordings as comic
alter-ego Simon Crum, Ferlin's talent for rockin' and boppin' is on full display.
l
Explore a very different side of the smooth-voiced crooner whose 1957 recording of Gone helped usher in the
pop-influenced Nashville Sound.
l
Packed with 32 tracks, including six charting hits, two previously unissued recordings, and rarities released on CD for
the first time.
l
Beautifully illustrated booklet packed with many rare and never-seen photos.
l
Extensive liner notes by Scott B. Bomar, featuring in-depth biographical information and insights culled from
unpublished interviews with Ferlin, Jim Ed Brown, Dallas Frazier, Jan Howard, Ken Nelson, Jean Shepard, Leona Williams,
and many others!