Wer war/ist

Jeff Barry

? - CDs, Vinyl LPs, DVD und mehr

Jeff Barry trat 1959 als Sänger in das Musikgeschäft ein und nahm vor 1962 etwa ein Dutzend Singles auf, zu diesem Zeitpunkt traf er einen jungen Songwriter namens Ellie Green-wich und heiratete ihn. Er hatte auch ein paar Hits für andere geschrieben, insbesondere "Tell Laura I Love Her" (Ray Peterson, RCA) und "Chip, Chip" (Gene McDaniels, Liberty), und mit Greenwich entwickelte er eines der heißesten Autorenteams in New York, das Hits für Lesley Gore, Ray Peterson, die Exciters, die Shirelles, die Chiffons und andere herausgab. Anfang 1963 begannen er und Ellie, für Jubilee als The Raindrops aufzunehmen und erzielten mit What A Guy" und Kind Of Boy You Can't Forget" zwei große Erfolge.

Gleichzeitig waren sie stark mit Phil Spector involviert und klatschten Hits wie'Da Doo Ron Ron Ron','Then He Kissed Me' (Crys-tals),'Be My Baby','Baby I Love You','Chapel Of Love' (Ronettes),'Wait Till My Bobby Gets Home' (Darlene Love),'Not Too Young To Get Married' (Bob B.). Soxx), und'River Deep, Mountain High' (Ike und Tina Turner), sowie kleinere Hits für all diese Künstler. 1964 arbeiteten sie auch für Leiber und Stollers neu gegründetes Red Bird Label, wo sie den größten Teil der Produktion des Labels durch die Jelly Beans, Dixie Cups und den Shangri-Las geschrieben, arrangiert und/oder produziert haben. Dort entdeckten sie Neil Diamond und brachten ihn 1966 zu Bang Records, wo sie fünf Alben und zwölf Singles mit ihm produzierten und auch die meisten seiner Hits schrieben. Barrys Ehe mit Greenwich endete Ende 1965, und obwohl sie weiterhin zusammen schrieben, wurden sie in verschiedene Richtungen geführt.

Sie war an der Produktion beteiligt, während er Singles für UA und Red Bird schnitt, und produzierte Andy Kim auf Steed (`How'd We Ever Get This Way' und andere Top Fünfzig Hits). Zur gleichen Zeit schrieben, produzierten und spielten er und Kim an "Sugar, Sugar" und anderen Hits der Archies, die sie bis 1970 beschäftigten. Seitdem arbeitet Barry hauptsächlich als Produzent für A&M und hat auch eine Single (1973) auf diesem Label veröffentlicht.

Copyright © Bear Family Records® Alle Rechte vorbehalten. Nachdruck, auch auszugsweise, oder jede andere Art der Wiedergabe, einschließlich Aufnahme in elektronische Datenbanken und Vervielfältigung auf Datenträgern, in deutscher oder jeder anderen Sprache nur mit schriftlicher Genehmigung der Bear Family Records® GmbH.
Für die Filterung wurden keine Ergebnisse gefunden!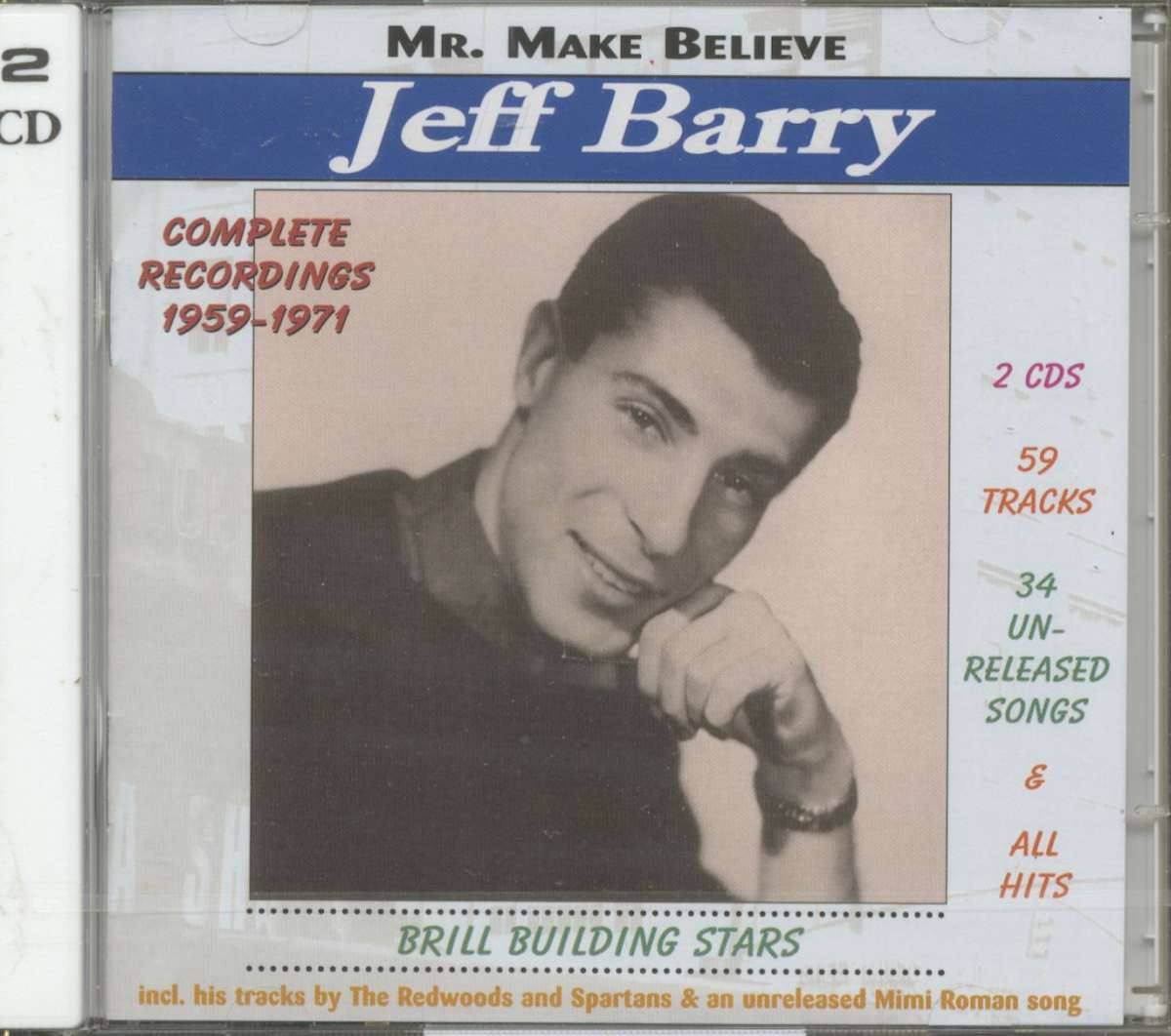 Jeff Barry: Mr. Make Believe - Complete Recordings 1959-71...
Art-Nr.: CDJBW333


Artikel muss bestellt werden
(1995/Brill Tone) 59 tracks - all the hits plus 34 unreleased songs contains his tracks by The Redwoods and Spartans plus an unreleased Mimi Roman song - 12 page color booklet.