Klassische Rock and Roll CD und Vinyl-Schallplatte
Klassische Rock'n'Roll CD
Als Album, Vinyl-Schallplatte als LP und Singles mit 45rpm
Die Klassische Rock'n'Roll Musik begann zwar nicht erst mit Bill Haley & His Comets, jedoch bezeichnete der Musikkritiker Nick Cohn Haley als den ersten Boss des Rock. 'Rock Around The Clock' ist wahrlich einer der berühmtesten Klassiker des Genres, der 1954 die Charts weltweit mit peitschender Gitarre,donnerndem Slap Bass und hämmernder Snare Drum erschütterte.
Ganze Konzerthallen wurden nach tumultartigen Ausbrüchen dem Erdboden gleichgemacht.
Elvis Presley begann man ob seiner obszön geltenden Körperbewegungen im Fernsehen nur noch von der Hüfte an aufwärts zu filmen. Die Jugend fand endlich ein eigenes Sprachrohr, das die Erwachsenen nicht verstehen konnten und begehrte gegen die an konservativen Werten festhaltende Elterngeneration mit ihren Weltkriegs-Traumata auf.
In den U.S.A. rüttelte Rock'n'Roll in den 50er Jahren gewaltig an den immer noch währenden Festen der Rassentrennung. Little Richard's Schlachtruf "A wop bop a loo bop a lop bam boom – Tutti Frutti" half dabei, ebenso wie der legendäre Dee Jay Alan Freed. Der schwarze und weiße Künstler gemeinsam in seinen Shows auftreten ließ und dies am liebsten auch in seinem Publikum so gesehen hätte.
Mit Hilfe von Polizei und Kirchenorganen wurden die Konzertsäle jedoch in eine schwarze und eine weiße Seite aufgeteilt, oder es gab zwei Shows, einmal für Schwarze und einmal für Weiße. Die einen liebten diese neue Musik, die anderen hassten sie, aber niemand konnte sich dieser neuen Rhythmen entziehen. "Be Bop A Lula" - kein Erwachsener wusste damit etwas anzufangen – die Kids liebten Gene Vincent & His Blue Caps, legendär bis heute. Jeder Jugendliche verstand, wovon Eddie Cochran sang, wenn er den "Summertime Blues" hatte.
Die komplette Bandbreite der Rockabilly-Musik
Dies alles und noch mehr findet ihr bei Bear Family Records! Hier findet ihr alles, aber wirklich alles was mit Rock'n'Roll zu tun hat! Klassische Rock and Roll Vinyl-Schallplatten, CDs als Album, DVDs mit Konzerten oder Bücher. Die komplette Bandbreite der Rockabilly-Musik: Die gesamte Fülle der Elvis Presley Aufnahmen, Filme und Bücher über den King! Alles vom Killer – Jerry Lee Lewis, die Sun Records Helden; Carl Perkins, Sonny Burgess, Charlie Feathers, Billy Lee Riley, Sonny Burgess, eben alle! Außerdem Rockabillies und Country Ro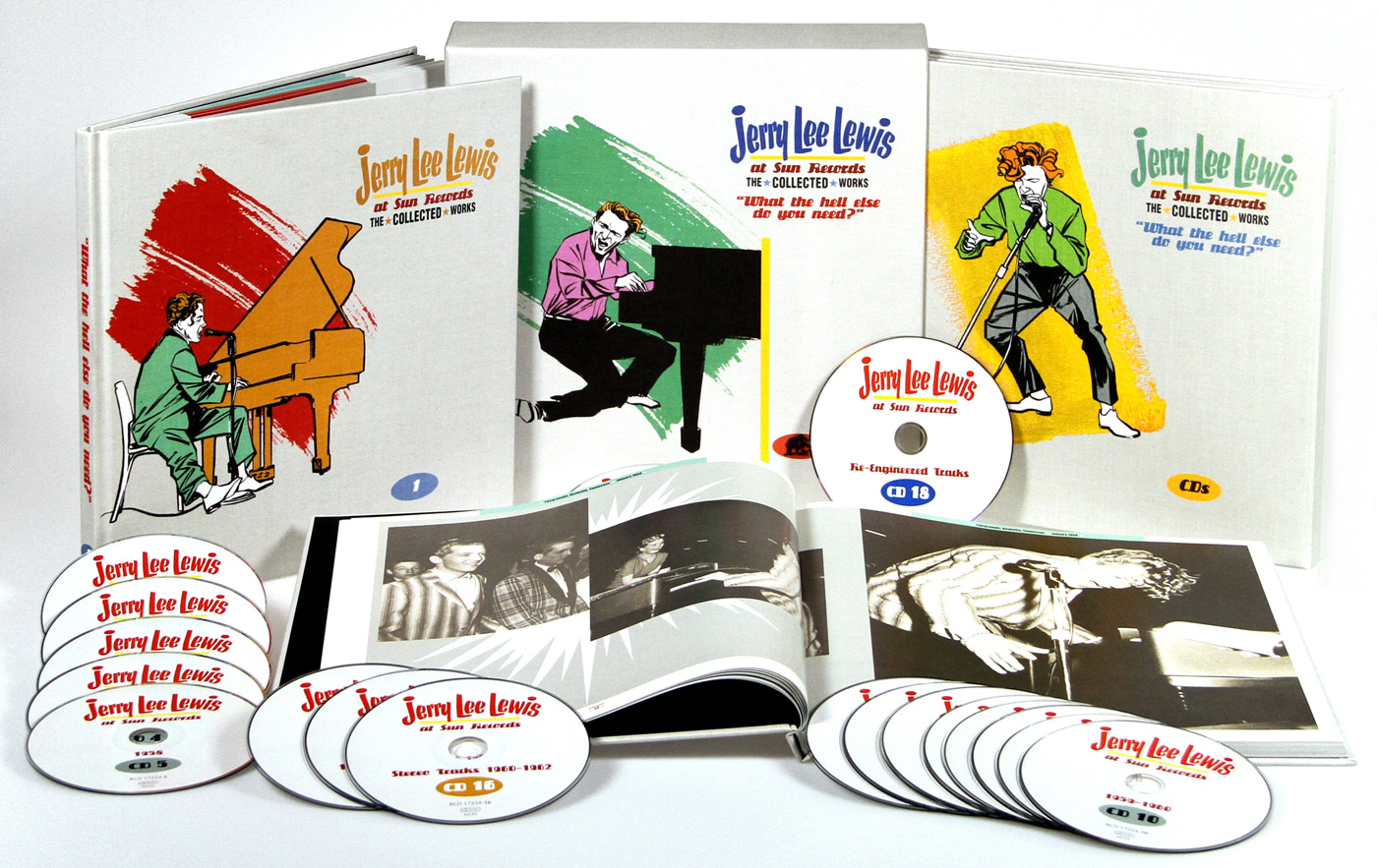 cker; Mac Curtis, Bob Luman, Wanda Jackson, die Everly Brothers und das legendäre Johnny Burnette Rock'n'Roll Trio.
Teenage Rocker
Das gesamte Spektrum der Teenage Rocker: Fabian, Frankie Avalon, Bobby Darin, Paul Anka, Neil Sedaka, Barry Mann, Connie Francis etc. Northern Band Sound: Neben Bill Haley auch Mike Pedicin, Freddie Bell & The Bellboys, Jimmy Cavallo & The House Rockers. Und nicht zu vergessen die Musik, die damals als "Race Music" bezeichnet wurde; Chuck Berry, Fats Domino, Little Richard, Screamin' Jay Hawkins, Bo Diddley, Ruth Brown, LaVern Baker, Clyde McPhatter u.v.m.
Rock'n'Roll Revivals
Anzumerken sei an dieser Stelle, dass die Stars der Rock'n'Roll Revivals in eben dieser eigenen Kategorie zu finden sind und daher hier nicht aufgeführt werden. Für die vorliegende Kategorie sind unsere hauseigenen Bear Family Rock'n'Roll und Rockabilly CD-Album-Serien unumgänglich. 'Rocks' Serie, die das gesamte Rock'n'Roll-Rockabilly Spektrum der berühmtesten Interpreten dieser Genres abdeckt, sowie die CD-Album-Serie "That'll Flat Git It!", die die Klassiker des Rockabilly vereint und die Geschichte der Plattenfirmen dazu erzählt. Und ganz nebenbei bemerkt: Man kann auch dazu tanzen!
Klassische Rock'n'Roll auf CDs, DVDs und Vinyl-Schallplatten, sowie ausgewählte Literatur zu diesem Themenbereich – Natürlich bei Bear Family - Hier kann man Musikgeschichte in bestmöglicher Qualität kaufen! Unserer Klassische Rock and Roll Kategorie verfügt über Ihre Lieblingslieder auf CDs, Vinyl-Schallplatten als LPs oder Singles mit 45rpm - und dies auch noch in bestmöglicher Qualität!