Wer war/ist

Freddy Breck

? - CDs, Vinyl LPs, DVD und mehr

Geboren am 21.1. in Sonneberg - Thüringen Freddy Breck, von Natur aus musikbegeistert, schuf sich nach seinem Schulabschluss zunächst eine solide Basis fürs Leben durch eine handwerkliche Lehre, die er zum Techniker ausbaute. Bei einem kleinen Theater in seiner Heimatstadt Hagen gab man ihm wegen seiner sicher intonierenden und voluminösen Stimme bereitwillig ein Engagement. Als er nach einer Theatertournee das "Leben aus dem Koffer' kennengelernt hatte, wollte der ehrgeizige Sänger sein Glück auf eigene Faust versuchen. Zunächst trat er in der Gegend um Hagen auf, später in immer weiteren Kreisen, schließlich gastierte er auch im Ausland als Sänger und Entertainer. Doch der Traum von der Schlagerkarriere war noch immer nicht in Erfüllung gegangen. Das änderte sich erst, als Freddy Breck den bekannten Plattenproduzenten Heinz Gietz kennenlernte. Obwohl die ersten Produktionen nicht übermäßig erfolgreich waren, gab Freddy Breck nicht auf. Der spätere Erfolg gab ihm recht. Mit "Überall auf der Welt' setzte er sich über Nacht im Jahre 1972 beim deutschen Schlagerpublikum durch. Fan-Clubs schossen wie Pilze aus dem Boden, Funk und Fernsehen engagierten ihn, das Publikum ließ ihn ganz oben auf seiner Gunst schwimmen. Aber schon kam der Nachfolgetitel, der zu einem noch größeren Erfolg werden sollte. "Bianca' setzte sich in den Spitzenpositionen aller deutschen Hitlisten fest. Für "Rote Rosen' kassierte Freddy Breck in 18 Monaten 17 Goldene und1 Platin-Schallplatte. Original Presse-Info: BASF AG - Musikproduktion
Für die Filterung wurden keine Ergebnisse gefunden!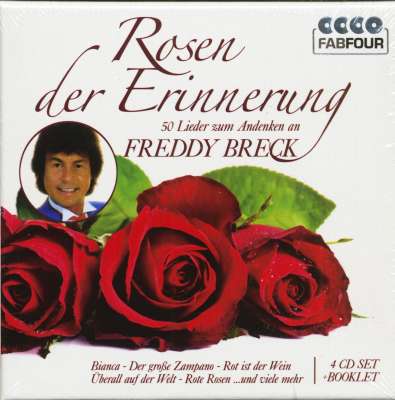 Freddy Breck: Rosen der Erinnerung (4-CD)
Art-Nr.: CD233231


Sofort versandfertig, Lieferzeit** 1-3 Werktage
(Membran Music) 50 Tracks - Fabfour Series - Aufgewachsen in Hagen studierte Breck zunächst Maschinenbau. Dann wurde er von Heinz Gietz als Sänger entdeckt. Dieser produzierte mit ihm Schlager, die auf bekannten klassischen Melodien...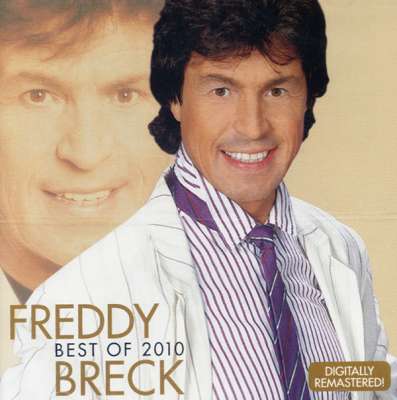 Freddy Breck: Best Of 2010
Art-Nr.: CD7591712


Artikel muss bestellt werden
CD on KOCH RECORDS by Freddy Breck - Best Of 2010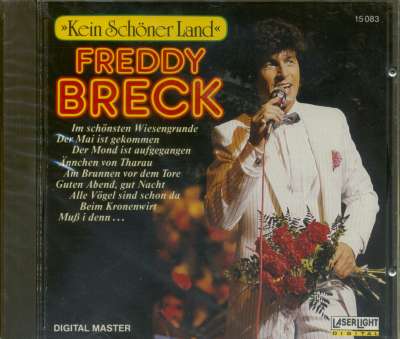 Freddy Breck: Kein Schöner Land (CD)
Art-Nr.: CD15083


Dieser Artikel ist gestrichen und kann nicht mehr bestellt werden!
(1988/Laserlight) 16 tracks