Wer war/ist

Mike Krüger

? - CDs, Vinyl LPs, DVD und mehr
Mike Krüger

"Sketche nach Schwachsinnsart […] unter der Gürtellinie des guten Geschmacks" ('Hamburger Abendblatt', 1991)
Mike Krüger wurde am 14. Dezember 1951 in Ulm geboren und wuchs in Hamburg auf. Nachdem er als Betonbauer auch am Bau des Hamburger Elbtunnels beteiligt war, begann er nach seinem Wehrdienst ein Architekturstudium. Das brach er nach wenigen Semestern ab. Schon in dieser Zeit war Krüger durch seine Auftritte im Hamburger 'Danny's Pan' zum Witze reißenden und Sprüche klopfenden Lokalmatador aufgestiegen. Sein Lied Mein Gott, Walther bescherte ihm 1975 einen kometenhaften Aufstieg. Von der gleichnamigen Langspielplatte bzw. MusiCassette waren innerhalb weniger Monate rund 660.000 Exemplare verkauft. Den Song hatte Krüger schon 1966 geschrieben, "in einem sehr langweiligen, verregneten Urlaub in Bayern […] Damals war ich gerade 15. Ich habe schon mit 10 Jahren die ersten Texte und Gedichte geschrieben, und mit 15 konnte ich auch schon ein paar Griffe auf der Gitarre, was die Griffolge C/Am erklärt."
Nachdem Mein Gott, Walther des 'Quickborner Knittelbarden' zum 'bundesdeutschen Blödelhymnus' geworden war, kam 1980 der Zweit-Hit: Der Nippel. Dazu hieß es in einer Pressemeldung der EMI: "Überhaupt beweist Mike Kürger mit diesem Album, daß er nicht daran denkt, sich auf seinen Lorbeeren auszuruhen. Sein Humor ist noch spritziger und schlagfertiger geworden." Kommentar von Dieter Kerschkamp und Dietrich Lindau in ihrem 1981 in 'Die großen Liedermacher' veröffentlichten Beitrag 'Die Blödelbarden oder Über Klam-Otto & Co.': "Na denn."
1982 hatte Krüger von bis dahin insgesamt sieben Langspielplatten zwei Millionen Exemplare verkauft. Als ebensolche Publikumsrenner erwiesen sich in den 80er Jahren Filmklamotten wie 'Die Supernasen' oder 'Zwei Nasen tanken Super', für die das Duo Krüger/Thomas Gottschalk einen 'Bambi' als 'Spaßmacher des Jahres' kassierte. 1989 mahnte die 'Stuttgarter Zeitung' nach der Ausstrahlung des drei Jahre zuvor entstandenen Films 'Geld oder Leben' im ARD-Fernsehen: "Erbarmen mit dem Zuschauer dieses neudeutschen Vergnügungsunwesens" an. Bereits 1986 war Krüger für seine Spielshow 'Vier gegen Willi' eine 'Saure Gurke' für die angeblich "frauenfeindlichste" Sendung des öffentlich-rechtlichen Fernsehens verliehen worden. Das alles hielt ARD und ZDF sowie die privaten Fernsehanstalten jedoch nicht davon ab, Mike Krüger bis heute regelmäßig als Showmaster zu beschäftigen. Seit August 2007 präsentiert er auf ProSieben die wochenaktuelle Sitcom 'Krügers Woche', in der Krüger nach Senderangaben aktuelle Schlagzeilen, Skandale und jeden noch so kleinen Fauxpas von Promis, Stars und Sternchen pointiert aufgreift. Dabei soll es "freche Gags, spitze Kommentare und schamlose Enthüllungen" hageln.
www.mike-krueger.de
Auszug aus
Various - Liedermacher in Deutschland
Vol.4, Für wen wir singen (3-CD)
/various-liedermacher-in-deutschland-vol.4-fuer-wen-wir-singen-3-cd.html
Copyright © Bear Family Records® Alle Rechte vorbehalten. Nachdruck, auch auszugsweise, oder jede andere Art der Wiedergabe, einschließlich Aufnahme in elektronische Datenbanken und Vervielfältigung auf Datenträgern, in deutscher oder jeder anderen Sprache nur mit schriftlicher Genehmigung der Bear Family Records® GmbH.
Für die Filterung wurden keine Ergebnisse gefunden!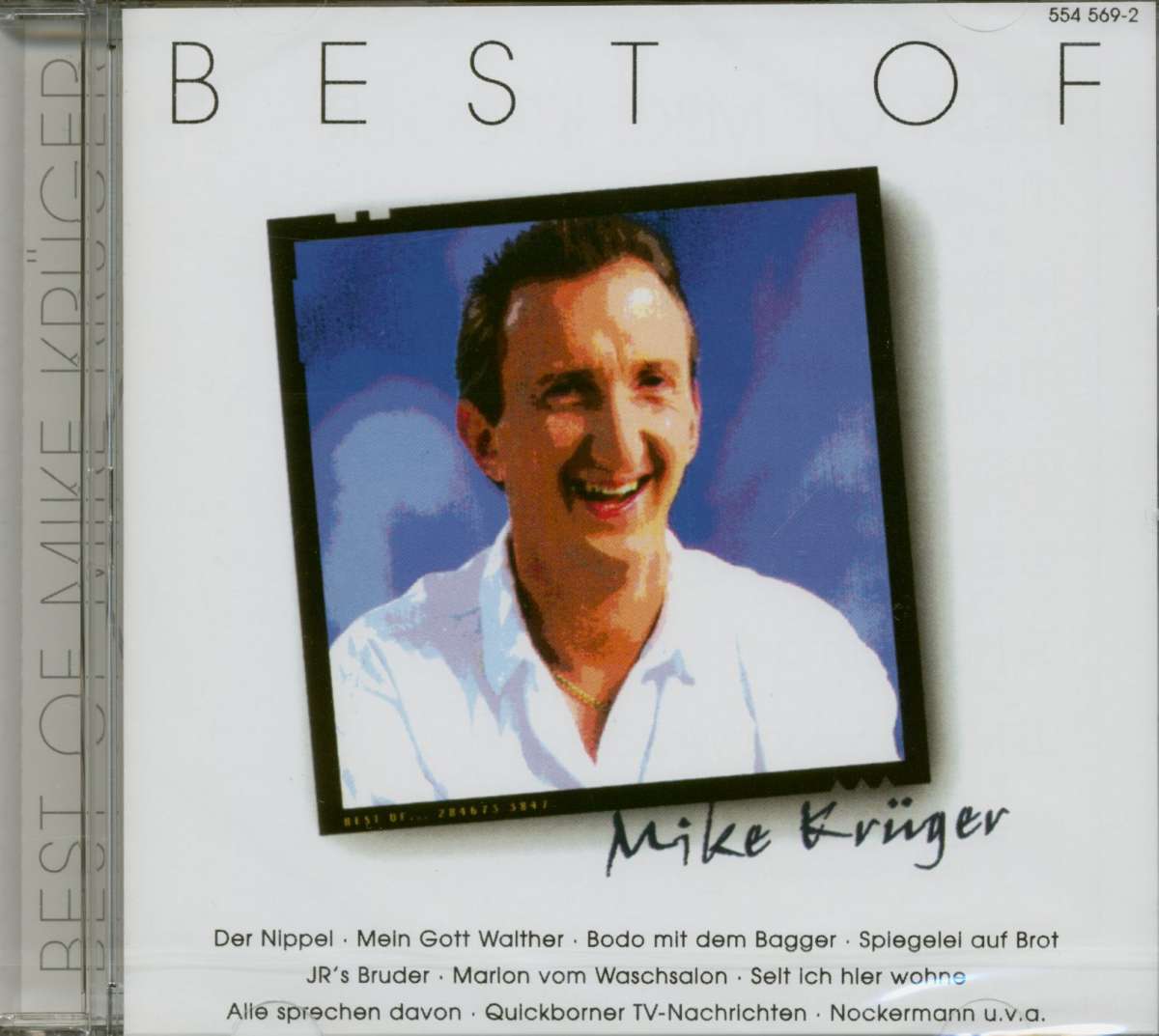 Mike Krüger: The Best Of Mike Krüger (CD)
Art-Nr.: CD545692


Dieser Artikel ist gestrichen und kann nicht mehr bestellt werden!
(Spectrum) 14 tracks