Wer war/ist

The Box Tops

? - CDs, Vinyl LPs, DVD und mehr

Die Box Tops - Alex Chilton, Lead-Gitarre; Billy Cunning-Ham, Bass; Gary Talley, Gitarre; Danny Smythe, Schlagzeug; und John Evans, Orgel - gehörten neben den Gentrys zu den wenigen weißen Acts, die Mitte der 60er Jahre in den soul-orientierten Studios von Memphis Erfolg hatten. Gegründet 1967, nahmen sie in den American Recording Studios mit Chips Moman, Dan Penn und Spooner Oldham auf, die ihren dritten Hit schrieben (`Cry Like A Baby', eine Nr. 2 im Jahr 1968) und alle ihre großen Hits produzierten, einschließlich ihres ersten, `The Letter', einer starken und intensiv eingängigen Platte, die im Spätsommer 1967 auf Platz 1 ging und seitdem erfolgreich von vielen anderen, darunter Joe Cocker, abgedeckt wird.

Obwohl sie viele nachfolgende Top Forty-Hits hatten ("Neon Rainbow", "Choc, Choo Train", "I Met Her In A Church", "Sweet Cream Ladies, Forward March" und "Soul Deep"), näherte sich nur "Cry Like A Baby" den Verkäufen von "The Letter" und die Box Tops konnten ihre Popularität nie halten. Nachdem sie sich Anfang 1970 aufgelöst hatten, schloss sich der Leadsänger Alex Chilton (dessen gewinnende Stimme die Platten der Box Tops so ansprechend gemacht hatte) mit Chris Bell und anderen pop-orientierten Mempheans bei den neu gegründeten Ardent Productions zusammen, um Big Star zu gründen, eine Gruppe, die 1973-4 zwei hochgelobte Alben veröffentlichte.
Für die Filterung wurden keine Ergebnisse gefunden!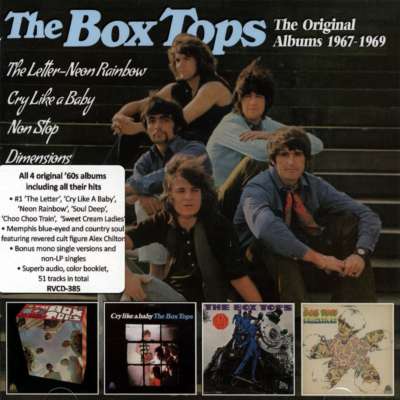 The Box Tops: The Original Albums 1967-1969
Art-Nr.: CDRV385

(2015/Raven) 51 Titel, alle vier Alben der 60er Jahre plus mono Singleversionen und Singles, die nicht auf den LPs waren. CD kommt mit einem tollen informativen und reich bebildertem Booklet!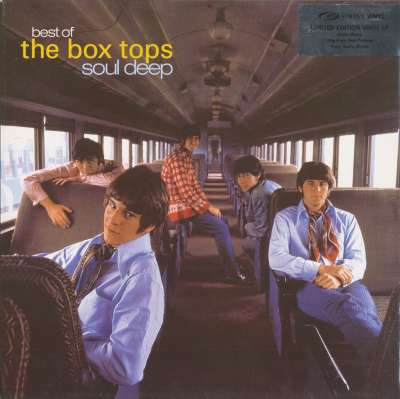 BOX TOPS: Soul Deep - Best Of (180g Vinyl)
Art-Nr.: LP674521

(Simply Vinyl) 18 tracks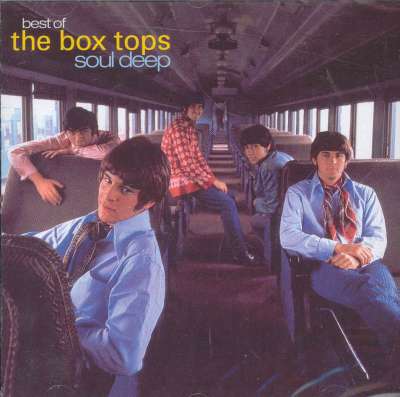 The Box Tops: Soul Deep - The Best Of
Art-Nr.: CD67452

(1999/BMG) 18 original master.