Für die Filterung wurden keine Ergebnisse gefunden!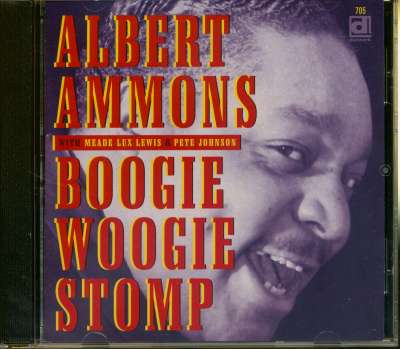 Albert Ammons: Boogie Woogie Stomp
Art-Nr.: CDDD705


Sofort versandfertig, Lieferzeit** 1-3 Werktage
(1938/39 'Delmark') (47:40/18) Zuvor unveröffentlichte Aufnahmen / previously unreleased private recordings from Chicago, featuring ALBERT AMMONS, MEADE LUX LEWIS, PETE JOHNSON - pianos. With Meade Lux Lewis and Pete Johnson. 14 of the...
Wer war/ist

Albert Ammons

? - CDs, Vinyl LPs, DVD und mehr

Albert Ammons

AT CHRISTMAS TIME, 1938, SOMETHING unexpected happened to boogie woogie music. It hit the main stage at New York City's Carnegie Hall, and suddenly four gentlemen became nationally famous: pianists Meade Lux Lewis, Albert Ammons and Pete Johnson, and singer Big Joe Turner. Ammons and Lewis from Chicago had just met Turner and Johnson from Kansas City for the first time, and together they formed a brotherhood of boogie that turned out to be a musical powerhouse. Their blend of traditional blues and boogie with a good dose of swing created an impeccable drive, and there is more than just a hint of the rock 'n' roll years to come in the work of the piano triumvirate. Soon they all started to record, both as a group in different combinations and as individuals, and their waxed work turned into real classics of jazz and blues.

On top of that, they were featured in radio shows and concerts. Some of those were preserved on acetates, mostly by private collectors, and there is some sur-prising stuff on many of them. Before an audience, a musician can turn loose more easily, and our three gentlemen were no exception. They may have played rather for the joy of it than for posterity—but that made it perhaps especially memorable. On these tracks, you can hear boogie woogie on the loose, played by its greatest masters, at the time of their pub-lic 'arrival' when everything was still new and fresh. First we have Albert Ammons' efforts at the Hotel Sherman in Chicago, from where the Boogie Woogie Boys broadcasted in September and October, 1939. 'Sweet Patootie' and 'Shout For Joy' are pure rolling stuff, the first an uptempo version of the well known blues standard (and erroneously titled 'Pinetop Blues' or 'Pinetop's Boogie Woogie' on other issues), the second an abbreviated and reshaped version of Ammons' Vocelion recording.

Characteristic for the par-ticular period of Ammons' work, there is some Pete Johnson influence already in his treble work, and the rolling bass is that of the 'Boogie Woogie Stomp' with its special power. 'Hersal Blues' is in fact Ammons' version of Her-shel Thomas' 'Suitcase Blues'—the 'Hersal Blues' as by Thomas is a different tune. This one was a favorite number of Albert's since he recorded it several times. His solo version of 'St. Louis Blues' is about the most powerful you could think of. Again, mightily striding tenth basses altemate with rolling tenths in boogie time, and the number swings in a most physical way. The same goes for 'Jesse James' (similar to 'Jesse' with Harry James and Al, but with more boogie to it) and 'Has Any-one Seen Corrine'. The latter tune is based on 'Has Any-one Seen My Corrine?' by Roger Graham and Luke Johnson, but is rearranged by Ammons, who plays the refrain twice and then superimposes a rudimentary 8-bar blues formula twice instead of playing the original harmonies. 'Monday Struggle' is a mixture of boogie ideas, a free extemporisation based on four different bass patterns, among them the bass of 'Dardanella'. This 'Monday Struggle' has nothing to do with Al's well-known Solo Art recording of the same title.

Albert and Meade are featured on two pianos with 'Saturday Night', a powerful striding duet in 12-bar for-mat. Full power of both pianists is displayed and the thick clusters of Lewis' style are quite in contrast to Ammons' more sweet sounding style. The big clusters are prevailing as well in Meade Lux' 'Try Again' which is sheer excitement. Particularly the unusually chromat-ic stride bass lines with their poignant harmonies and the free flowing right hand rhythm make it a highly effective number. A feeling totally different from Harlem stride is delivered here. 'Bear Cat Crawl' is wild again, but simpler and a bit more polished than the 1938 'Bear Cat Shuffle'. The bluesy side of Meade Lux Lewis is demonstrat-ed by his minor 'Chapel Blues'. This is the only known version of it by Meade on record, and it shows his deep feeling for cloudy sounds that give a special atmosphere to many of his tunes, fast and slow ones. 'Dupree Blues' is another one, based on the ballad of 'Betty And Dupree' and similar to the standard 'Four O'Clock Blues' which is interpreted by Pete Johnson here. Johnson had perhaps the most jazzy sound of the three and often preferred to stride his basses, as also demonstrated in 'Mama's Blues'. But he could play the hottest rolling boogie as well, especially when fueling a duet or trio with Ammons and Lewis, or when backing Joe Turner.

He also had a special strength in improvisa-tion and could vary his ideas endlessly. All these fea-tures made him the ideal companion of the Chicago boys Al and Lux, in whose hometown the sessions happened that are preserved on this CD. Late in 1938, Albert Ammons and Meade Lux Lewis were already on their way. 'Down Beat' of October 1938 had advertised an Orchestra Hall concert in Chicago for the following month, with Meade Lux on the pro-gram as well as Bob Crosby and Louis Armstrong. Shortly before they were New York City bound, Albert and Meade got together in Chicago, at Frank Lyons' home on Schiller Street, where he had assembled a recording studio as a hobby. Several of Frank Lyons' friends were invited where Al and Meade displayed their idea of a rent party with boogie piano. Albert Ammons, 'the boogie woogie king', intro-duces Lewis who plays 'Yancey Special'. That num-ber was dedicated to the dean of Chicago blues pianists, Jimmy Yancey, and in Lux's playing you can hear a good deal of Yancey's sound, especially in the last few choruses. Meade was still in his hometown Chicago with its musical background of the South Side blues, and that's clearly audible. Later, he was to sacrifice part of this 'roots' sound to a more flashy and aggressive approach.

'Yancey Special' was a famous number already, due to Bob Crosby's big band version, and here it's served up in a more playful man-ner, assisted by bass player Herbert Marshall. Then Meade in turn introduces 'Three Little Words', played by Ammons & Marshall. Albert had a fascinating swing and displayed a touch of unbeliev-able power. His striding left jumps are exceptionally wide, and its broken tenths chords add to the physical approach, which is topped with jubilant octave melodies in Earl Hines' manner in the treble. There is always a boogie feel to it, without Al actually playing boogie.

Some choruses start out with figures familiar from Ammons' contributions to 'Cavalcade of Boo-gie' (from Carnegie Hall( and an untitled duet with Lewis from Cafe Society. While Albert plays, Meade is doing his best to give the impression of a rent party by his jive com-ments. He addresses the fictitious dancers and the whole thing reminds one a bit of Fats Waller's 'The Joint Is Jumpin'; even the notorious landlady is there. It comes to mind that Lewis eventually displayed a burlesque dance during his Cafe Society days a few years later, not to every critic's delight. Back at the piano, Meade obliges with a spirited 'Bear Cat Shuffle'. This is the earliest known version of the tune, which was retitled 'Bear Cat Crawl' when recorded for Vocalion on December 30, 1938.

It also consists of quite a number of Jimmy Yancey pat-terns in the treble over Meade's own bass line in straight crotches. But everything is played with the special Lewis touch—fast flying fingers and poignant cluster sounds. For the final cut of the session, Ammons is back with his classic 'Boogie Woogie Stomp', the most powerful boogie tune that ever was. There is a lot of 'Pinetop's Boogie Woogie' and 'Sweet Patootie' to it, and at the end Meade is back with some more lyrics, leaving the rent party of 'Three Little Words'—regrettably without his girl. Get in the groove and enjoy the Boogie Woogie Boys!

AXEL ZWINGENBERGER