Der Artikel wurde erfolgreich hinzugefügt.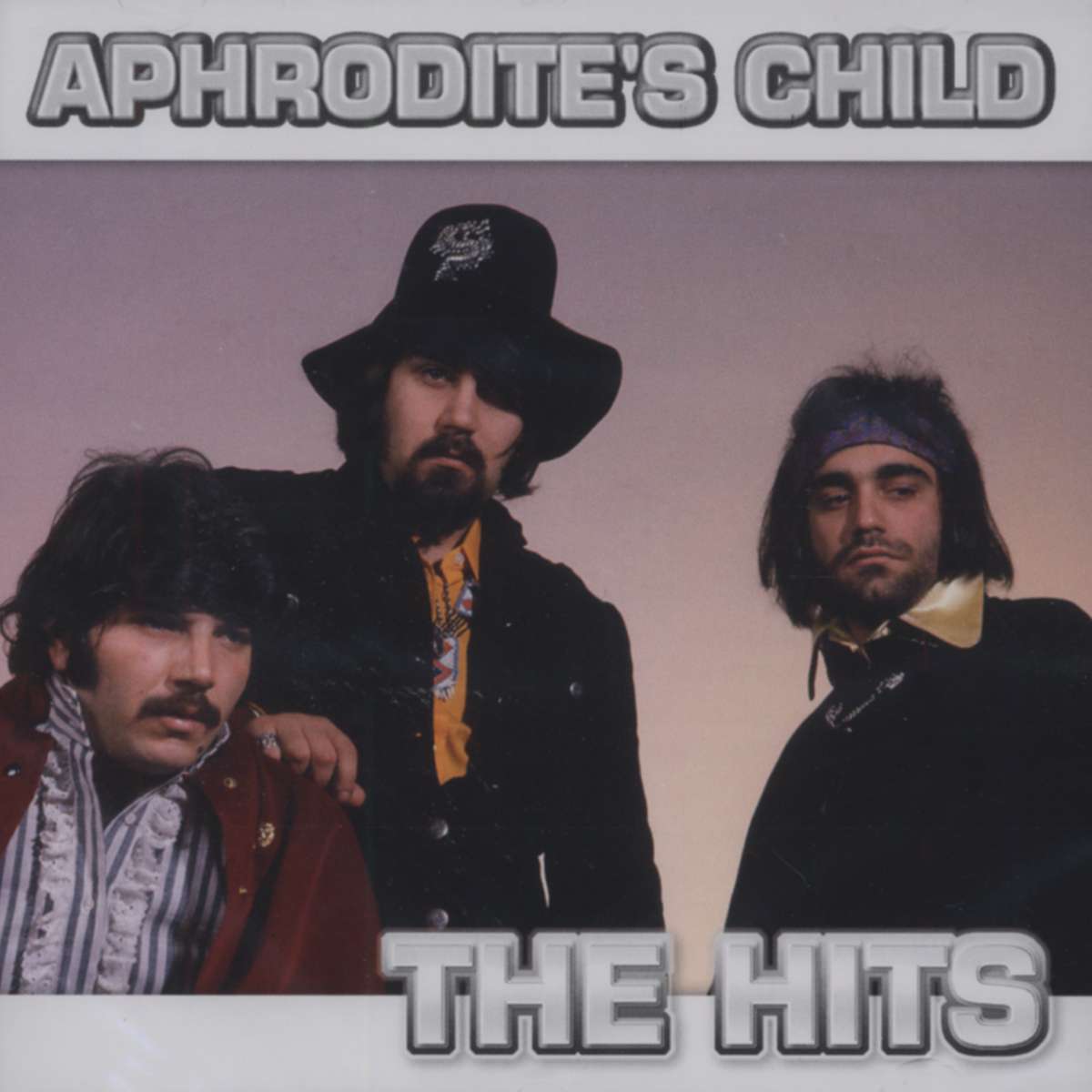 Benachrichtigen Sie mich, sobald der Artikel lieferbar ist.
8,95 € *
11,50 € *
(22,17% gespart)
inkl. MwSt. / zzgl. Versandkosten - Abhängig vom Lieferland kann die MwSt. an der Kasse variieren.
Artikel derzeit nicht verfügbar, Lieferfristen von bis zu 2-3 Wochen sind zu erwarten. (soweit verfügbar beim Lieferanten - kann schneller gehen, manchmal aber leider auch nicht)
Artikel-Nr.:

CDBX509

Gewicht in Kg.:

0.1
(2000/BR) 22 tracks (78:24) original masters.
mehr
APHRODITE'S CHILD: Hits
(2000/BR) 22 tracks (78:24) original masters.

Artikeleigenschaften von

APHRODITE'S CHILD: Hits
Albumtitel:

Hits

Label

BR

Genre

Beat

Artikelart

CD

EAN:

8712089050914

Gewicht in Kg:

0.1
This Greek story stars in 1967 when Vangelis Papathanassiou (29-3-1943), Loukas Sideras...
mehr
"APHRODITE'S CHILD"
This Greek story stars in 1967 when Vangelis Papathanassiou (29-3-1943), Loukas Sideras (5-12-1944) and Demis Roussos (15-6-1946) all play in different bands around Athens. Vangelis already had considerable succes with Forminx and Demis just started to become the leadsinger of the Idols, when Vangelis, Loukas and Anargyros ("Silver") Koulouris all decide to make the move to London. However, they still needed a voice on their demos, so they asked Demis to join them. Two tracks were recorded: "Plastics Nevermore" amd "The Other People", and Phonogram director Nikos Antipas sent the boys to England to play the demos to Philips over there and convince them to make an album."Silver" couldn't make it due to the fact that he had to stay in Greece to fulfil his army duty, so the three other young chaps left for the UK.
Aphrodite's Child
They were sent back from the UK to France due to the lacking of work permits, but Philips France producer Pierre Sberro took them in after listening to their demos. Only then Lou Reisner came up with the name for the threesome and after making an adaption of an canon by Pachelbel, Aphrodite's Child and their first single "Rain And Tears" were born. Now this is May 1968, and the rumour has it that this single was the last one pressed before the students riots in Paris started and for the radio the new single was very well received and an instant succes. The great arrangement, the great sound and the very special voice of Demis made it a million seller in France and a European hit all over.

In June the group went into the studio to record their first album, which was released in October 1968 entitled "End Of The World". The title track was the second single released in October 1968, but although it was a big hit in France, it failed to make an impact in other territories.The succes of "Rain And Tears" took them also to the San Remo Festival in Italy for which they recorded two songs "Lontano dagli occhi" and "Quando l'amore diventa poesia" released in January 1969 only in Italy on a single.In France the critics were raving about the album "End Of The World" so the record company put out a third single from that 2 album in January 1969 "Valley Of Sadness".
After the promotion wasn't succesful they withdrew the single almost instantly and Vangelis started working on an arrangement of "Plaisir d'amour", which was recorded as "I Want To Live" between the 24th and 28th of March 1969 in the Polydor Studio's in Paris. A hymn for the youngsters, an immediate hitsingle all over Europe in the summer of 1969 and the three Greeks went to London to record their second album. This album "It's Five O'Clock" was another milestone in their history, critics all over the world named them the new supergroup and the release of the first single "Let Me Love, Let Me Live" was the proof of a real rock band. The single went to No. 1 in France, but the B-side "Marie Jolie" was the big hit everywhere else.

The title track from the album was released in January 1970 and was again a smash hit. Then the difficulties began, the group wanted to perform but their musical leader Vangelis only wanted to work in the studio. Sometimes Demis and Loukas did TV promotion alone, sometimes accompanied by Vangelis' brother Niko Papathanassiou. In the meantime the group still had to make a third album for Mercury, so Vangelis started and came up with the idea of "666". There was some reservation, so first the record company wanted a single, and what kind of single they came up with: "Spring Summer Winter And Fall", a true pop epos of a single and a big hit too.In the meantime Vangelis recorded with Demis, Silver Koulouris (who joined the group again in late 1970) and Loukas Sideras new tracks for their album, but the band went also on the road without Vangelis to Spain and Italy, accompanied by Harris Chalkitis.

At that time Demis Roussos decided to go solo and recorded "We Shall Dance" with Loukas on drums) Iso a big hit and it was the start of an impressive solo carreer with sales over 40 million and counting. The record company also released then "Such A Funny Night" by Aphrodite's Child as a single in the slipstream of Demis' Solo hit, but although Demis, Loukas and Silver already finished their part of the recording, Vangelis took over a year finishing "666" and the (double) album was released in 1972, when the group was non-existing and both Demis and Loukas already had finished their solo albums. The very experimental recording of "666" was the end of Aphrodite's Child and the beginning of the solo carreer of Vangelis. And from that album 2 tracks are included in this compilation, together with all the other hitsingles they recorded in the 3 years they were one of Europe's most progressive rock bands.
Bewertungen lesen, schreiben und diskutieren...
mehr
Kundenbewertungen für "Hits"
Bewertung schreiben
Bewertungen werden nach Überprüfung freigeschaltet.