Wer war/ist

Hank Ballard & the Midnighters

? - CDs, Vinyl LPs, DVD und mehr
Hank Ballard & the Midnighters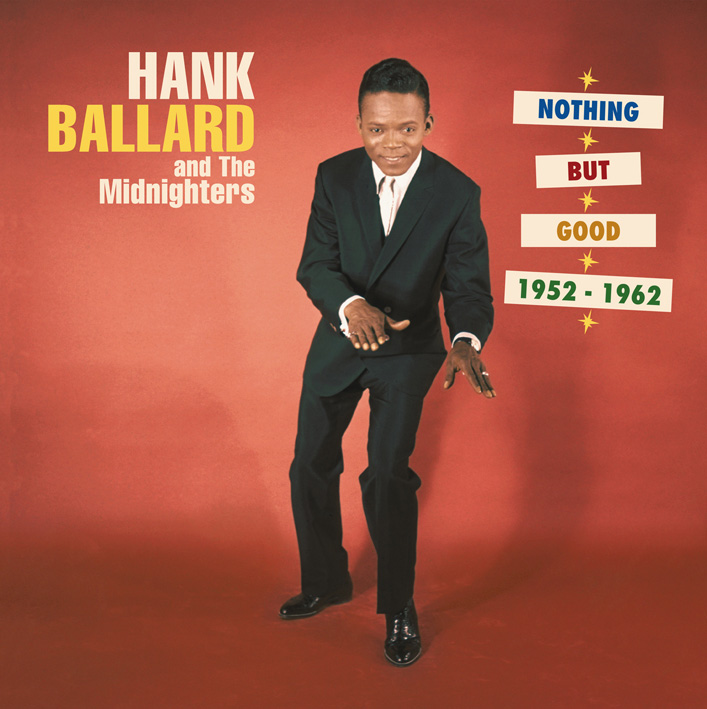 Originelles eigenes Material, oftmals mit ziemlich schlüpfrigen Texten, immer passend gesetzte Backing-Gesangsharmonien, verrückte Choreographie – Hank Ballards Midnighters waren vor dem Aufstieg von Motown der ganze Stolz der R&B-Vokalgruppenszene von Detroit. Hank wusste, wie wertvoll ein herausragender Leadgitarrist für eine Gruppe ist. Im Verlauf der 50er-Jahre spielten bei den Midnighters Arthur Porter (der 1954 auf ihrem Smash-Hit Work With Me, Annie das Solo besorgte), dann der Texaner Cal Green (siehe CD 6) und dann Billy Davis. Wie die anderen Gruppenmitglieder wohnte Davis in Detroit und kam 1959 zu den Midnighters, als Green wegen Marijuanabesitz eingelocht wurde.
Der in Mississippi geborene Davis bewies seinen immensen Wert mit zwei messerscharfen Solochorussen in Look At Little Sister, eine Aufnahme vom 6. August 1959 im King-Studio in Cincinnati mit John Faire an der zweiten Gitarre, Pianist Jimmy Johnson, Tenorsaxofonist Hank Moore, dem fantastischen E-Bassisten Navarro Hastings sowie entweder George DeHart oder Philip Paul am Schlagzeug. Neben dem Lead-Tenorsänger Ballard bestanden die Midnighters aus der Tenorstimme von Henry Booth, Bariton Lawson Smith und dem Basssänger Norman Thrasher, der sich für das Begleitbuch der Ballard-5-CD-Box von Bear Family ('Nothing But Good – The Federal/King Recordings 1952-1962') an die Ursprünge von Look At Little Sister erinnerte
"Wir waren in Kansas City, als Hank sich den Song ausdachte", sagt Thrasher, der Mitglied der Serenaders und der Royal Jokers war, bevor er sich den Midnighters anschloss.
Der klein gewachsene Ballard stammte aus Detroit, wo er am 18. November 1927 als John Henry Kendricks geboren wurde. Er stieß 1952 zu der Gruppe, die zu dieser Zeit noch The Royals hieß und bereits eine erste Session für das King-Unterlabel Federal eingespielt hatte. Ballard erwies sich für die Gruppe als die beste Quelle für Songmaterial. Er schrieb ihren 1954er-Tophit Work With Me, Annie, der ihnen zum Durchbruch verhalf, die anzügliche nächste Single Sexy Ways und den erfolgreichsten Tanzsong seiner Zeit, The Twist, den die Gruppe 1958 für King aufnahm und bei dem Hanks Name erstmals vor den Midnighters genannt wurde. Gleich danach kam weitere unwiderstehliche Tanzware: Finger Poppin' Time, Let's Go, Let's Go, Let's Go und The Hoochi Coochi Coo, sämtlich 1960/61 erfolgreich und von Ballard geschieben
Der King-Chef Syd Nathan hielt lange an Hank fest, selbst nachdem er jahrelang keine Hits mehr lieferte und die Midnighters sich 1963 aufgelöst hatten. Die immensen Einnahmen aus den Verlagsrechten von The Twist mögen der Grund gewesen sein. Ballard konnte 1968 mit Hilfe des Produktionstalents von James Brown seine Karriere mit seiner Black-Power-Hymne How You Gonna Get Respect (When You Haven't Cut Your Process Yet) wieder kurzzeitig in Fahrt bringen. Als er in den 80er-Jahren mit einer neuen Ausgabe der Midnighters auf Tour ging, holte sich Ballard wiederum Davis als Gitarristen. Ballard verstarb am 2. März 2003 in Los Angeles, nachdem er die ganze Welt twisten gesehen hatte (auch wenn letztendlich Chubby Checker die Tanzschritte demonstrierte).
Bill Dahl
Chicago, Illinois
Electric Blues 1939-2005. - The Definitive Collection!
Copyright © Bear Family Records® Alle Rechte vorbehalten. Nachdruck, auch auszugsweise, oder jede andere Art der Wiedergabe, einschließlich Aufnahme in elektronische Datenbanken und Vervielfältigung auf Datenträgern, in deutscher oder jeder anderen Sprache nur mit schriftlicher Genehmigung der Bear Family Records® GmbH.
Weitere Informationen zu Hank Ballard & the Midnighters auf de.Wikipedia.org
Für die Filterung wurden keine Ergebnisse gefunden!