Wer war/ist

Karen Carroll

? - CDs, Vinyl LPs, DVD und mehr

THE BEST MUSICIANS TRANSCEND STYLES AND TECHNIQUE. THEY DELIVER their hearts and souls, connecting on a primal level, one-on-one with each and every listen-er. Karen Carroll is just such an artist. That she is able to do that with a maturity beyond her years in a voice that can turn on a dime from being sophisticated silky to down home is just an added bonus. She's quicksilver. Talk To The Hand is Karen's second Delmark album and the first to feature her own material. A victim of her own obsessions, she reveals a vulnerability that belies the aggres-sive bawdiness of many of her cover songs. On "Please Come Back Home", Purifoy's sancti-fied piano bathes Karen's painful vocals in naked sunlight, revealing her suffering, stripping her loneliness down to essential elements of raw emotion. "I Need A Friend" orchestrates pain as the lead instrument of the song, focusing on the depths of her despair.

"This time I was allowed the opportunity to fully reveal myself, to explain myself," Karen says. "I'm not ashamed of that. In fact, I'm happy to be able to do it." At age 39, Karen speaks with a voice of experience, two parts frustration, one part res-ignation and totally obsessed with relationships that never seem quite right. Nevertheless, she wears the honesty of her self revelations unflinchingly. "I look at myself straight, not according to what other people think about me, but what I really feel, what I perceive I want myself to be, not what they expect from me. I realize I cannot be all things to all people." That said, Karen Carroll is one of the most universal artists to come on the scene since Nina Simone. Within one line, indeed almost one word of a song, she can lay down the grit of Howlin' Wolf stroked by the sass of Sarah Vaughan. In Nina Simone's "Do I Move You?" she seduces her man with smooth erotic come-ons, but there's a price to pay for her plea-suring, a debt owed for bliss. Service with a smile takes a different twist.

She will service you, but you'd better smile. Karen drives her band as if it were a well tuned lavender Mercedes custom fitted with four-wheel drive and 500 lbs. of unleavened flour in the trunk for traction. She hand picked her recording band from seasoned musicians receptive to all styles of music. "If I didn't know where I was going, they were able to make suggestions that were just suggestions and not a take over. They put what they had into it to see that these songs were good, solid good. At the same time, they didn't take anything away from me. They let me have my minute." Karen is the daughter of renowned jazz/blues/gospel diva Jeanne Carroll. Her godfa-ther is jazz guitarist George Freeman. She was runner up Blues Artist of the Year (Female) in the 1996 Living Blues Critics' Poll, the winner being her godmother (and Delmark artist) Bonnie Lee. She's recorded and toured with the late "Professor" Eddie Lusk and hung out with people like Little Brother Montgomery and Johnny B. Moore. Her primary influence is soul singer Donny Hathaway.

She soars where her heart takes her discarding the boxes of specific genres that niche so many artists. "I can only tell you what I hear when I hear Donny Hathaway's recordings," she explains. "It's bittersweet, and it's very healing, very emotional. There's warmth in his voice and a lot of reaching out. That's what I feel when I hear him, and I try to convey that same thing myself." Predatory and aggressive, vulnerable and obsessive, she weaves her complex emotions into songs that become slave to her feelings and turn her vocals into the lead instrument of music that leaves classic definitions of blues bleeding in her wake. "Can't Fight The Blues" is a shimmering showcase of a woman alone with whiskey and cigarettes in a bar full of peo-ple.

"Tired of Being Mistreated" is a gospel jump celebrating her liberation from a mis-treating lover. The title cut is a swinging upbeat number where she proclaims "You can talk to the hand 'cause the face don't understand." Don't get in her way. "This record has given me the opportunity to express myself without putting me in a niche. I feel lucky for that opportunity. My being able to "turn on a dime" has been intimi-dating to musicians for a long time, and I guess the younger generation of blues is not threatened by that. In fact, they embrace it because they realize it has to evolve. Eventually, it has to be progressive to be accepted."

— DONALD E. WILCOCK



Copyright © Bear Family Records® Alle Rechte vorbehalten. Nachdruck, auch auszugsweise, oder jede andere Art der Wiedergabe, einschließlich Aufnahme in elektronische Datenbanken und Vervielfältigung auf Datenträgern, in deutscher oder jeder anderen Sprache nur mit schriftlicher Genehmigung der Bear Family Records® GmbH.
Für die Filterung wurden keine Ergebnisse gefunden!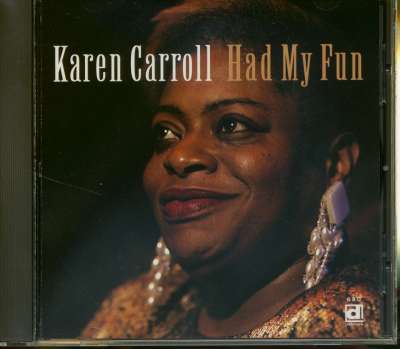 Karen Carroll: Had My Fun
Art-Nr.: CDDE680


Artikel muss bestellt werden
(1995 'Delmark') (59:40/10) Jeanne Carrolls Tochter liefert uns ein live im Studio bzw. im 'Blue Chicago' aufgenommenes Album - die mangelnde Originalität des Materials ist der einzige Kritikpunkt - die Interpretationen sind toll....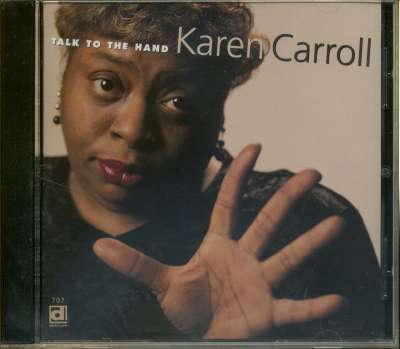 Karen Carroll: Talk To The Hand
Art-Nr.: CDDE707


Artikel muss bestellt werden
(1997 'Delmark') (60:57/13) Fast ausschließlich eigene Songs auf ihrem zweiten, soullastigen Album, das aber auch einige ausgezeichnete Bluesnummern - u.a. den 9-minütigen 'Neked J Blues' - bietet The best musicians transcend styles and...