Wer war/ist

Cookie & The Cupcakes

? - CDs, Vinyl LPs, DVD und mehr
Cookie & The Cupcakes
It was 1953, Cookie and the Cupcakes was a new rock n' roll phenomenon just starting to catch on. The band shook up the famous Moulin Rouge Club in Lake Charles, La. and then it was off touring and playing with big names like Jerry Lee Lewis and Fats Domino. At a show in Pensacola, Fla. - - with Jerry Lee Lewis - - the band was scheduled to perform for only 15 minutes but the crowd of 15,000 was enjoy-ing Cookie and the Cupcakes so much it was an hour before the band could get off the stage. During the 50s and early 60s the band toured throughout the Gulf states on the college circuit and was booked at a few New Orleans hotel clubs, including the Orleans, the Jung Hotel, the Roosevelt and the Monteleone. Being black performers at that time wasn't always easy, according to Earnest Jacobs, Cupcake manager. Segregation laws often meant the band was treated very differently on and off the stage. "That was the era when blacks could not get in the position to be on the big shows. Your records would sell, but they wouldn't have you headline any of the big shows." he said. Jacobs, Cookie and others in the band wrote songs which they continually perfected. "Mathilda," was the first hit for Cookie and the Cupcakes in 1959. "We played around with that number about two years before we recorded it. We had a good chance of losing this number or letting another band pick it up, because it wasn't recorded." Jacobs said. At performances, members of the audience would ask the band about "Mathilda" and why it hadn't been recorded. Jacobs said it was because the band had a hard time finding a place to record the song.
"We were turned down so many times by different recording places." Finally, KAOK a radio station in Lake Charles, agreed to record the song. The band took the new recording to local record producer and record store owner George Khoury who had been releasing cajun and rhythm -and-blues records on his Khoury and Lyric labels. "Mathilda" became a smash from the word go. After selling thousands of copies on his own label, Khoury let Judd Phillips -- brother of famous Sam Phillips, Sun Records in Memphis -- dis-tribute "Mathilda" nationwide on his Judd Label. The record got up to 47 on the Billboard chart of the nation's best-selling records. Several cover versions followed by other recording artists. The Cupcakes also helped on another of Khoury's big hits, "Sea of Love." The band played while Phil Phillips sang on the songs' first recording. Cookie and the Cupcakes continued touring with more hits like "Belinda," "Got You On My Mind," "Just One Kiss," and many more. Now, almost 40 years later, Cookie and the Cupcakes are at it again, entertaining audiences throughout their old stomping grounds, the Gulf Coast.
-KIERSTAN GORDON Staff Writer - Lake Charles AMERICAN PRESS
Copyright © Bear Family Records® Alle Rechte vorbehalten. Nachdruck, auch auszugsweise, oder jede andere Art der Wiedergabe, einschließlich Aufnahme in elektronische Datenbanken und Vervielfältigung auf Datenträgern, in deutscher oder jeder anderen Sprache nur mit schriftlicher Genehmigung der Bear Family Records® GmbH.
Weitere Informationen zu Cookie & The Cupcakes auf de.Wikipedia.org
Für die Filterung wurden keine Ergebnisse gefunden!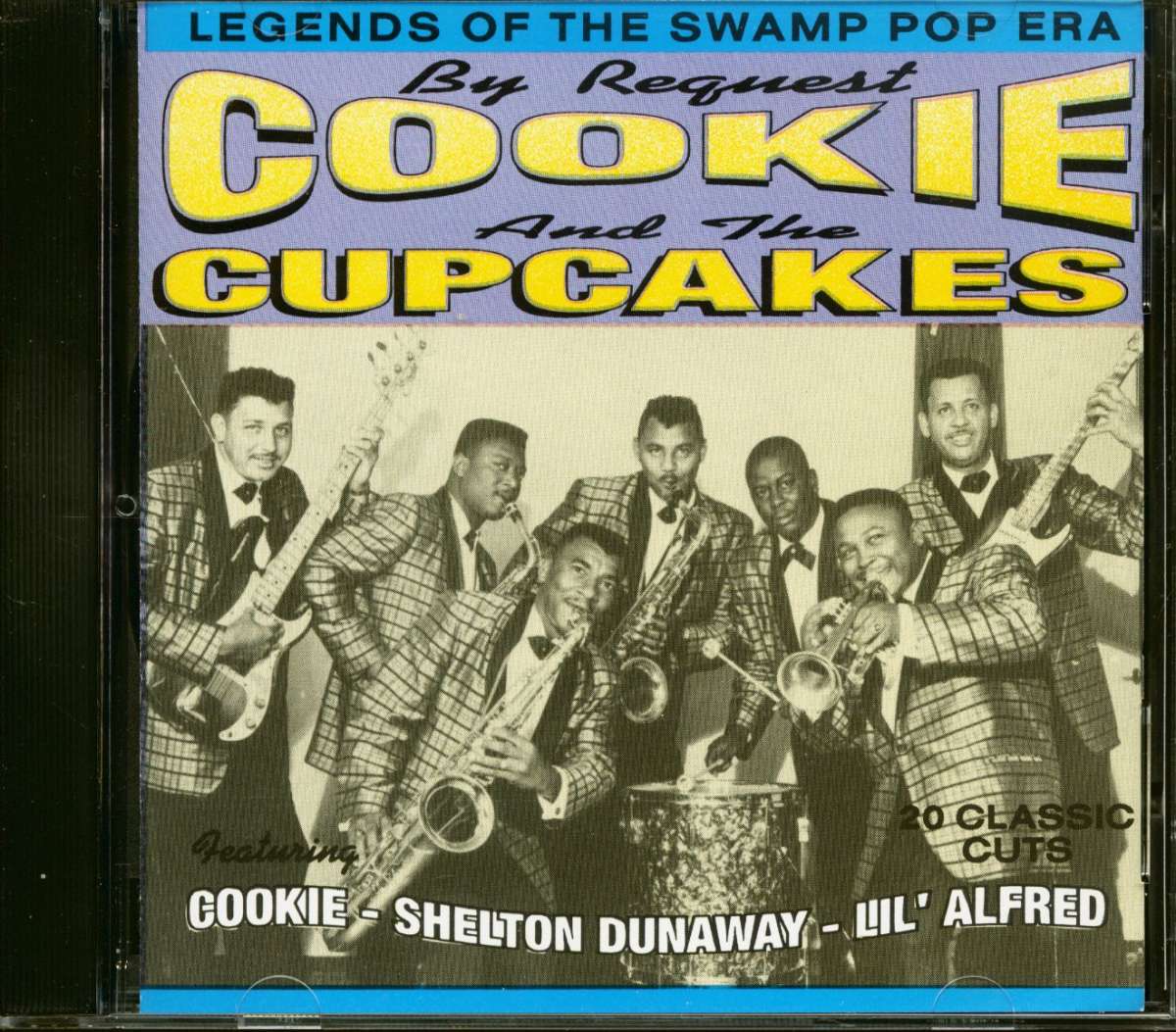 Cookie & The Cupcakes: By Request (CD)
Art-Nr.: CDJIN9037


Artikel muss bestellt werden
(1993/Jin Records) 20 Tracks - Louisiana Vocal Group Rhythm And Blues 1958-1966, original recordings!