Wer war/ist

Sugar Pie Desanto

? - CDs, Vinyl LPs, DVD und mehr
Sugar Pie DeSanto
I Want To Know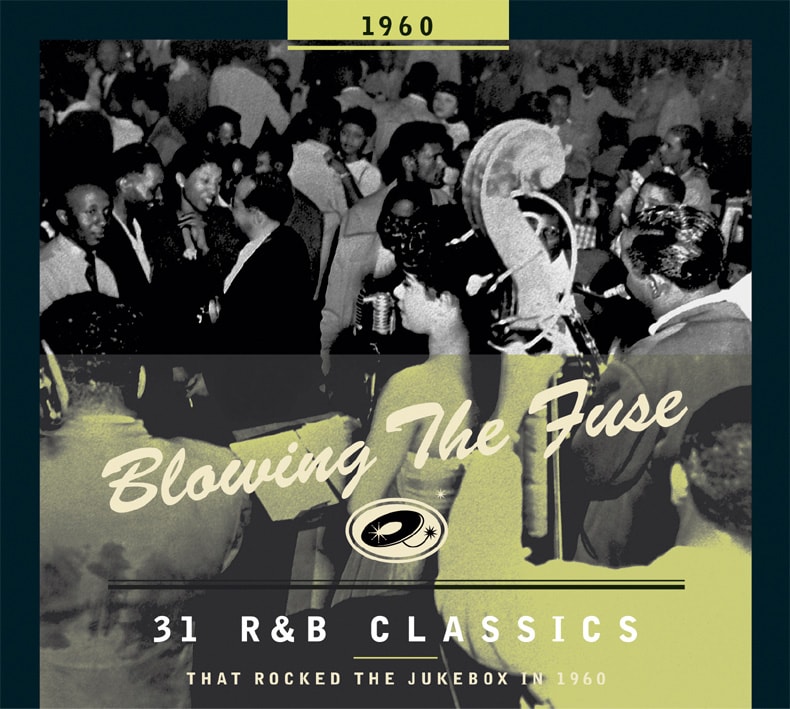 Sugar Pie DeSanto with the Pee Wee Kingsley Band
I Want To Know
Umpeylia Marsema Balinton might have had a hard time getting a recording contract under her real name, but, as Sugar Pie DeSanto, she recorded prolifically throughout the 1960s. Born in Brooklyn on October 16, 1935, she was raised in the Bay area by a Filipino father and a black mother. Johnny Otis spotted her in 1951 and nicknamed her Little Miss Sugar Pie (the "little miss" in deference to her height...4' 11" in spiky heels). She first recorded under Otis' aegis for Federal Records in 1955, and there were more recordings for Aladdin and other labels before she hooked up with guitarist/bandleader Pee Wee Kingsley, whom she married. "There were two other recording companies in the Bay Area at that time," said Jim Moore of Jasman Records, "Ray Dobard's Music City and Bob Geddins' Veltone. In early 1960, Bob opened a new studio in downtown Oakland on 11th Street. I happened to be there as he was putting the finishing touches on the studio when Sugar Pie DeSanto and her husband came in the front door. She was carrying a tape recorder and said to Bob, 'I think I got one.'
Later that night a band was assembled with Johnny Heartsman on guitar [although the label says Pee Wee Kingsley] and Sugar Pie's first hit 'I Want To Know.' was recorded." Geddins took co-writing credit along with Ronald Badger, who wrote the equally delightful My Time After [A] While (recorded by Tiny Powell, Buddy Guy, Johnny Winter, among others). I Want To Know attracted the attention of Chess Records in Chicago, which distributed the record (hustling it to #5 on the R&B charts) and bought her contract.Sugar Pie joined the James Brown Revue. "When we went on tour, I had a little meeting with the band," she said. "I told em, 'I want to make it clear to every man here that I don't want nothing, so don't bother me – and that goes for you too, James.' He said, 'I ain't botherin' you, you little mutha.'" (Sugar Pie was, Brown said later, the only female vocalist in his act that he never slept with).
She and Kingsley divorced, and he became a bank robber in the San Francisco area (you never know when there might be a test, and you'll need this information). There were many more records for Sugar Pie, but not many more hits, at least as an artist. She wrote songs for Fontella Bass, Billy Stewart, Little Milton, Bobby McClure, Minnie Riperton, the Dells, and the Whispers. At last sighting, she was back in the Bay area, singing jazz and pop in local clubs and recording for Jim Moore's Jasman Records. She has a husband some twenty years her junior, and did splits and backflips until fairly recently
Various - Blowing The Fuse 1960
Weitere Informationen zu Sugar Pie Desanto auf de.Wikipedia.org
Für die Filterung wurden keine Ergebnisse gefunden!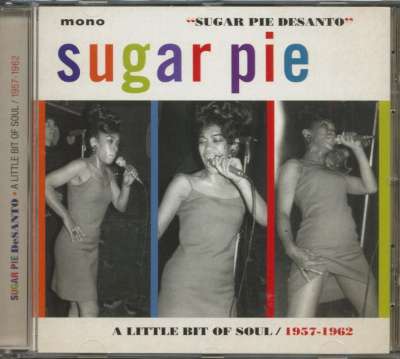 Sugar Pie DeSanto: Sugar Pie - A Little Bit Of Soul 1957-1962 (CD)
Art-Nr.: CDJAS3081


Sofort versandfertig, Lieferzeit** 1-3 Werktage
(Jasmine) 27 Tracks, 1957-1962 - Diese Sammlung der ersten 45er der fabelhaften Blues- und Soulsängerin enthält auch den kompletten Inhalt der LP, die sie 1962 auf Checker Records veröffentlichte. Die LP bestand aus Tracks, die für den...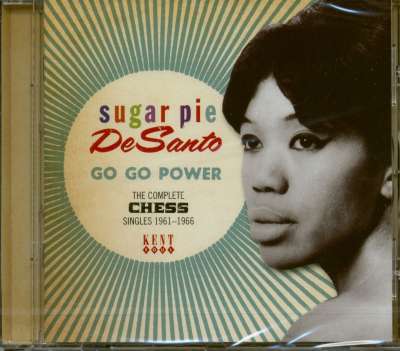 Sugar Pie DeSanto: Go Go Power - Complete Chess 1961-1966 (CD)
Art-Nr.: CDKEND317


Sofort versandfertig, Lieferzeit** 1-3 Werktage
(ACE) 24 Titel (64:50) mit 16-seitigem Booklet. Einer der ursprünglichen weiblichen Stars der Seele. Enthält ein rein britisches Juwel, drei großartige Duette mit Etta James und einen gewaltigen, bisher unveröffentlichten Bonustrack....