Wer war/ist

Ray Doggett

? - CDs, Vinyl LPs, DVD und mehr

The eighth of nine chidren, Elmer Ray Doggett was born in Sweetwater, Texas on August 6, 1936. His Irish - American father went blind when Ray was only five years old and he grew up in very poor circumstances.

During the '40s he listened to Roy Acuff on the opry. 'But it really all started for me in the 50s. Personally, I loved Little Richard. He was the entry to rock 'n' roll.'


Doggett played guitar in local bands with Sweetwater-born Royce Porter and began sending home made audition tapes to record labels all over Texas. The Spade label, which also issued Royce Porter's first record, came up trurnps: 'I sent a tape to some company, I don't recall which, but the man threw my tape away. Doyle Jones was there and he took it out the trash can. He went home and played it and called me in Sweetwater. That's when I went to Houston and cut 'Go Go Heart' at Bill Quinn's, Goldstar studio. We had Jimmy Price and his cousin, Billy Don Price, on guitars. Jones put it out on Spade Records. a label he owned with Bennie Hess. When we cut the next one, 'It Hurts The One Who Loves You', Jimmy Price played lead guitar and Royce Porter played rhythm. That was cut at ACA. started receiving a lot of airplay around Abilene, Lubbock and West Texas and Doyle sent the master to Decca who leased it from him."

This late Sun-sounding rockabilly record picked up a 'Billboard' review in January 1957 ("Singer hits an uptempo ballad of own cleffing for fair effect. Vocal trio backing is nogreat help") and Doggett toured with Johnny Cash, Jerry Lee Lewis and Marty Robbins. He swiftly realised he couldn't cornpete in their ballparks. "I was moving up. Getting great airplay. But I got stagefright. Once I got onstage with them I realised I didn't want to be a performer. I knew right then I was gonna be a producer"
For a while, he continued making records which appeared on Kix, TNT, Ken-Lee, Pearl and Top Rank. He also wrote numerous songs for other artists including Dean Beard, Byron Johnson. Kenny Rogers and Royce Porter. Eventually, ho opened his own studio in Houston and began supervising

sessions for local producers like Huey Meaux and Lelan Rogers who owned Kix and co-owned Ken-Lee with brother Kenny.

George Strait's first records were made at Ray Doggett's Houston studio. As well as successful C&W artists like Strait, Gene Watson and Kenny Rogers, Doggett is keen to cite his achievements in polka music: "I produced authentic Czech and German oom pah pah. I had like a hundred albums of different polka bands on the Guide label. I got awards for it."

Ray can't sing any longer. In 1986 he suffered throat cancer and lost part of his vocal cords. After srnoking for 47 years he quit and had a heart attack three months later. This necessitated quintuple bypass surgery in 1998. When I spoke to him a year later, he was recovering well and running 'Entertainment Success Unlimited', a talent agency for young performers, out of Springfield Tennessee.

The rockabilly-happy Germans gathered up Doggett's early records on a fine compilation. .Doggme It's Doggett' (Hydra LP 77.), in 1989.

Copyright © Bear Family Records® Alle Rechte vorbehalten. Nachdruck, auch auszugsweise, oder jede andere Art der Wiedergabe, einschließlich Aufnahme in elektronische Datenbanken und Vervielfältigung auf Datenträgern, in deutscher oder jeder anderen Sprache nur mit schriftlicher Genehmigung der Bear Family Records® GmbH.
Für die Filterung wurden keine Ergebnisse gefunden!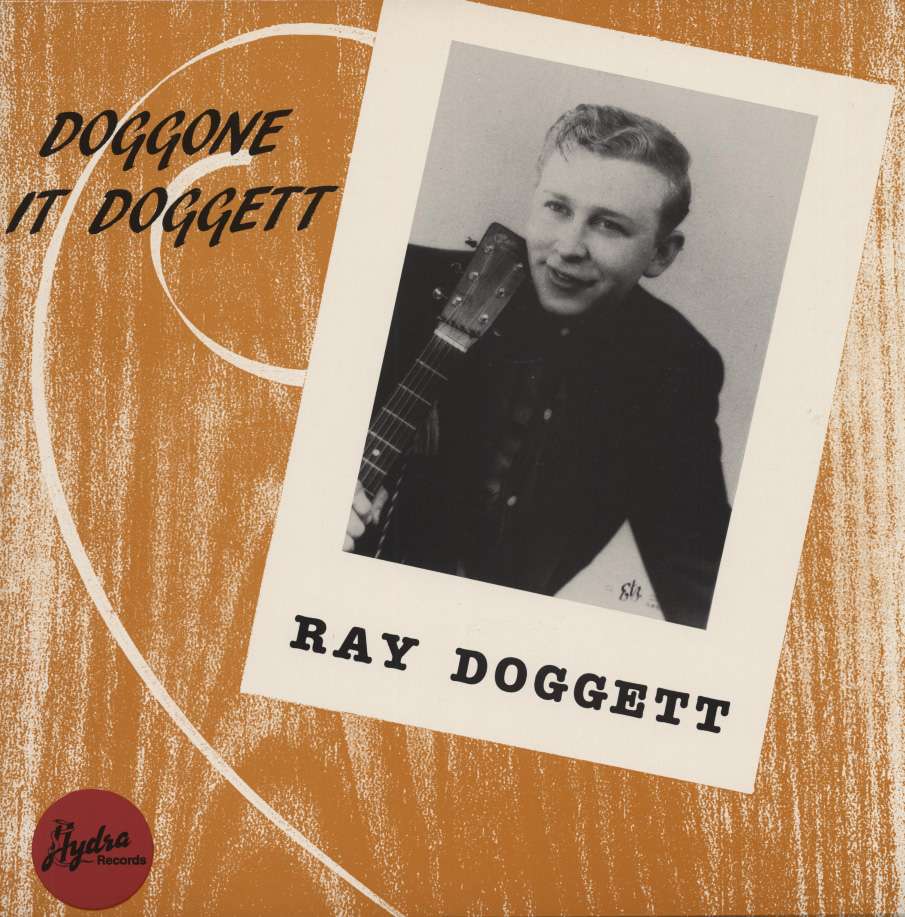 Ray Doggett: Doggone It Doggett 1956 - 1959 (LP)
Art-Nr.: LPBLK7709


Sofort versandfertig, Lieferzeit** 1-3 Werktage
(Hydra) 14 Tracks