Wer war/ist

Little Arthur Duncan

? - CDs, Vinyl LPs, DVD und mehr

Little Arthur Duncan.
A native of Indianola, Mississippi. Duncan has been knocking around the blues since around 1950, when he was just a teenager. He first left Mississippi not for Chicago, as so many of his contemporaries had, but for the sunnier climate of Key West, Florida - which may seem like an odd destination for a traveling blues-man, but it wasn't a totally unique idea, since it was there that Arthur net up with guitarist Earl Hooker for the first time. They eventually made their way up to Chicago, and by 1954 Arthur was living in the basement of the apartment building of the city's west side where Little Walter lived upstairs. Arthur and Walter became friends, and it was under Walter's tutelage that Arthur first began taking his music seriously.

Although he kept a day job, Arthur began frequenting the clubs on the vibrant Chicago blues scene, meeting and sitting in with almost every major name active in the local clubs at that dine. He also sent down south for a couple of friends, guitar playing brothers Hip and Jug Linkchain, recruiting them to come up to Chicago, and together they formed Arthur's first professional band, which played mostly on weekends. With the south and west sides of the city teaming with blues joints at the time, there was no shortage of gigs, although then as now, making a living strictly with music was a some-what tough proposition. Arthur recalls playing at a jam session on the south side, and getting to know most of the other local harp bonbon such as Billy Boy Arnold, Carey Bell, and Good Rockin' Charles - in Arthur's words, "There was a whole lot of harmonica play-ers back then", and Arthur learned from them all. He says his activity on the local blues scene cul-minated in the early 1960s when he recorded an album for a small local label, which unfortunately never got distributed, and never went anywhere.

As the Chicago blues scene cooled off, so did Arthur's performing ambitions, although he never stopped playing, occasionally playing on Maxwell Street or sitting in with friends, hanging out in the clubs and seeing friends like Earl Hooker, Magic Sam and Buddy Guy. In the early 1980s he decided to open his own club on the west side as a sideline when he wasn't able to work Isis regular construction job during the frigid Chicago winters; when the construction company folded,Arthur jumped into the nightclub game with both feet. As proprietor of the Artesia Lounge on Lake St., and later Backscratcher's Lounge on West Madison, lie booked the blues people he liked, and had a steady stream talent doing gigs or just coming by to hang out and sit in, including Taildragger, Johnny Dollar, Mighty Joe Young, Johnny B. Moore, Milton Houston, Little Smokey Smothers, Johnny Littlejohn and others. Of course Arthur would come out from behind the bar to do a number or ruvo with the band whenever he got the chance.

So for much of the 1980s he was off the blues scene at large, tending to his own little scene on the west side, but seldom performing outside of his own club. Eventually a dispute with the landlord led to the closing of Backscratcher's Lounge, a sad day for patrons but with a silver lining for blues fans else-where, since it freed Arthur to get out into the blues mainstream again. He began recording and occasionally touring, and sitting in with bands at clubs other than his own for a change. Since then, his reputation has gown steadily. and these days he's one of the 'must see' artists in Chicago for fans of the true, deep, lowdown blues that the city is fatuous for around the world.


As most fans will tell you. blues music is best experienced live, and these recordings capture Little Arthur Duncan on a good night, with his usual working band at Rosa's Lounge on Chicago's west side. Arthur's set list was typical of his live gigs these days, a mix of well-known songs popular with audiences in Chicago clubs, and a fete of his own originals that bring to mind some of the blues men he learned from firsthand, such as Muddy Waters, Howlin' Wolf, and Little Walter. It's raw and raucous and not very polished, but then Arthur's music has never been about polish and slickness - its about a good time, a deep blues feel, and above all a strong groove. just as it always has been. But don't over-look the subtle interplay between all of the elements of the ensemble, the way each occupies its own place. balancing and supporting and responding to all the others.

Of special note is the musical conversation that goes on between the guitars of blues veterans and long-time friends Rick Kreher (former member of the Muddy Waters band) and Illinois Slim. Bass man Michael Azzi holds down a sturdy bottom end, veteran drummer Twist Turner solidly propels things forward, and with Arthur up front squalling away on harp and shouting the blues, this is exactly the kind of music that made Chicago famous a half century ago. So don't spend a whole lot of time thinking about it or analyzing it — just relax and enjoy it for what it is: good solid traditional Chicago blues played by some of the best in Chicago who still play it. And next rime you're us Chicago looking for 'the real thing', you'll know where to start: with Little Arthur Duncan.
-Scott Dirks, November 2007

Copyright © Bear Family Records® Alle Rechte vorbehalten. Nachdruck, auch auszugsweise, oder jede andere Art der Wiedergabe, einschließlich Aufnahme in elektronische Datenbanken und Vervielfältigung auf Datenträgern, in deutscher oder jeder anderen Sprache nur mit schriftlicher Genehmigung der Bear Family Records® GmbH.

Weitere Informationen zu Little Arthur Duncan auf de.Wikipedia.org
Für die Filterung wurden keine Ergebnisse gefunden!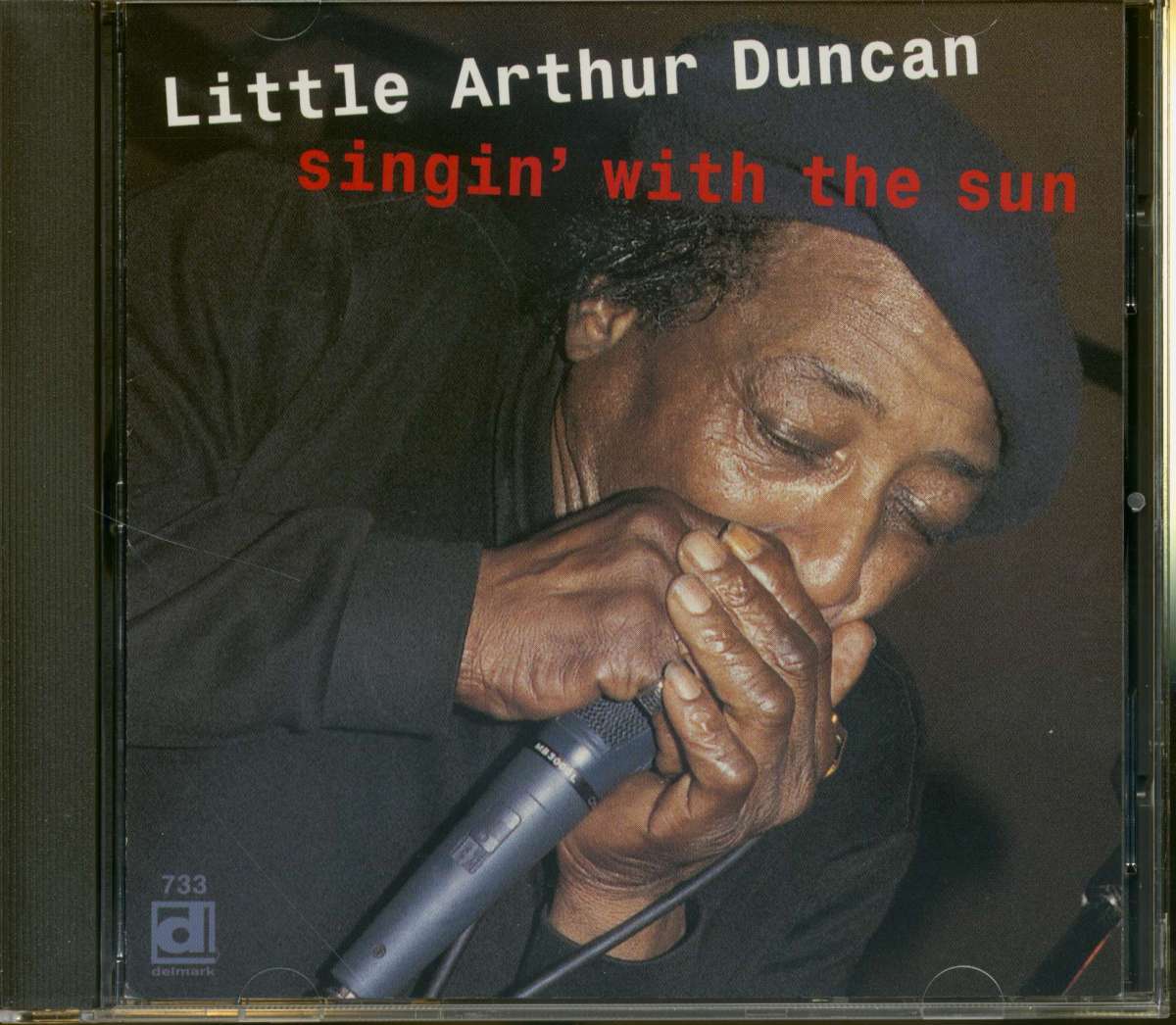 Little Arthur Duncan: Singin' With The Sun
Art-Nr.: CDDE733


nur noch 1 verfügbar
Sofort versandfertig, Lieferzeit** 1-3 Werktage
(1999 'Delmark') (65:03/14) Ein überraschend schönes Album, das im Wesentlichen die Stile Jimmy Reeds und Slim Harpos zusammenbringt. Duncan, 65 Jahre alt, spielt simpel doch mit viel Gefühl, und die Band liefert den perfekten...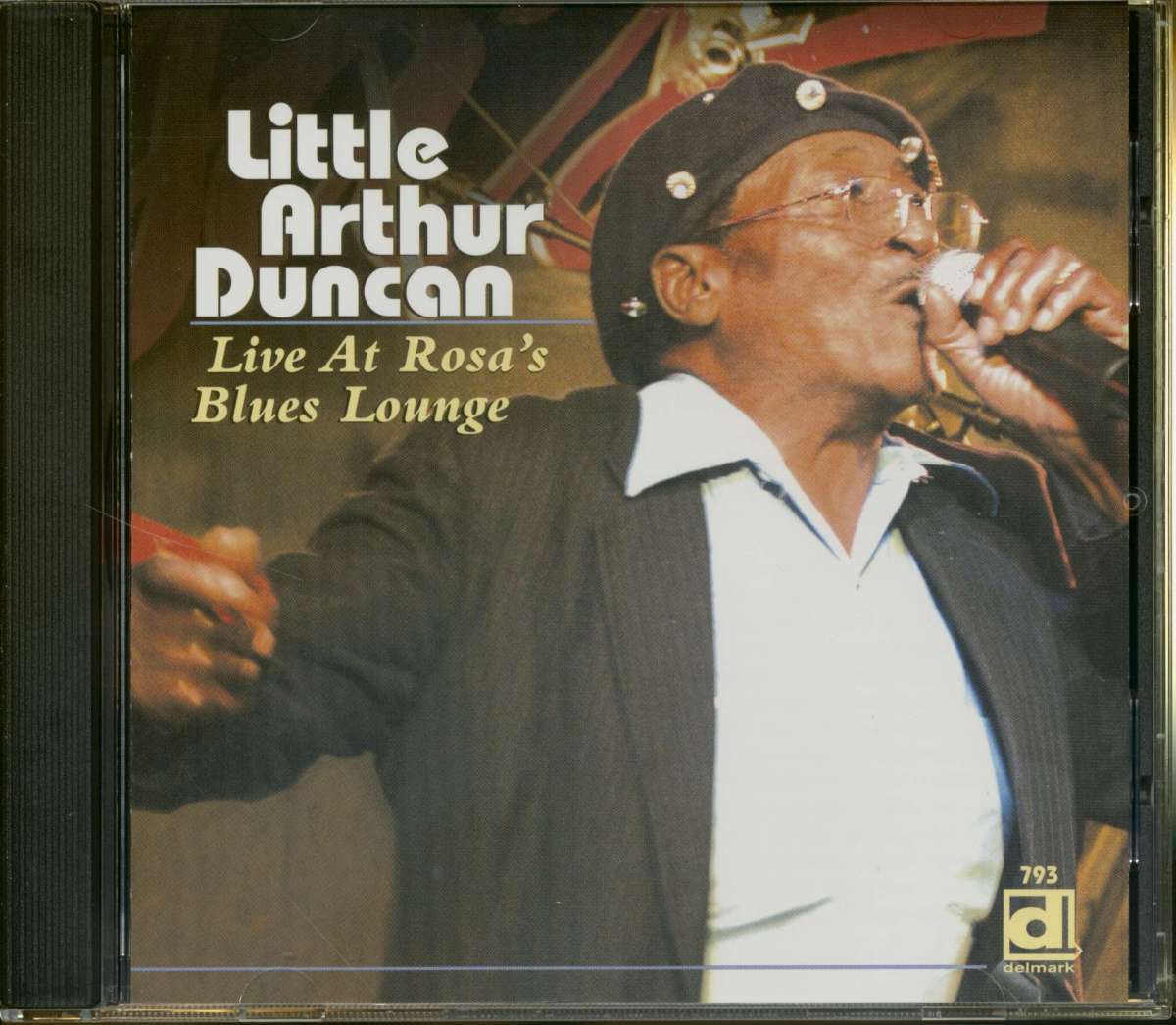 Little Arthur Duncan: Live At Rosa's Lounge
Art-Nr.: CDDE793


nur noch 1 verfügbar
Sofort versandfertig, Lieferzeit** 1-3 Werktage
(2007 'Delmark') (65:09/15) 'Recorded live at Rosa's Blues Lounge, Chicago - August 18, 2007' - Auch als DVD lieferbares Konzert von Chicagos Westside. Zwar zählt Duncan nicht zu den stärksten Sängern, und den Blues kann er auch nicht...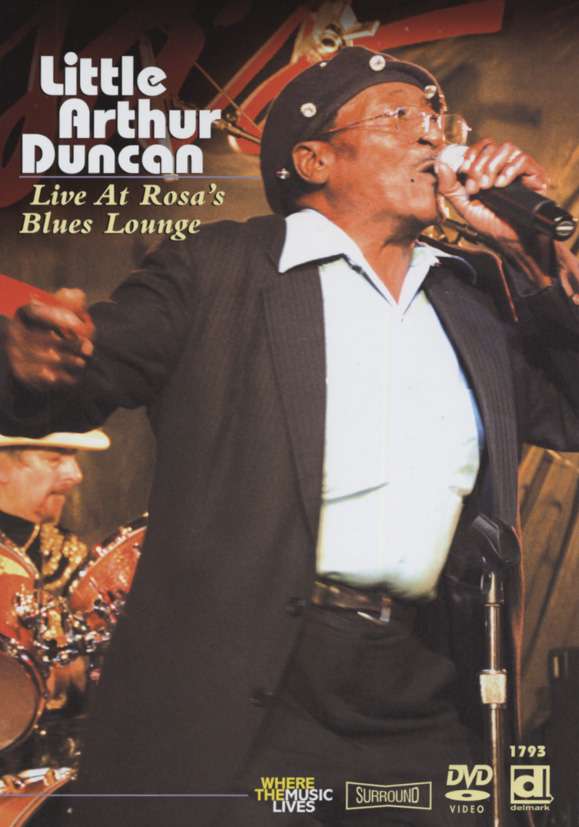 Little Arthur Duncan: Live At Rosa's Lounge
Art-Nr.: DVDDE1793


Dieser Artikel ist gestrichen und kann nicht mehr bestellt werden!
(2007 'Delmark')