Wer war/ist

El Vez

? - CDs, Vinyl LPs, DVD und mehr
El Vez
Elvis-Imitator. Obwohl er häufig als "Elvis-Imitator" bezeichnet wird, geht der Performance-Künstler Robert Lopez viel weiter als alle übergewichtigen Typen, die ihren Lebensunterhalt verdienen oder sich mit Jumpsuit, Koteletten und Sonnenbrille abmühen. El Vez ist eine bizarre und inspirierte Kreation, in der Elvis zu einem kitschigen Latino mit Liedern wie "Huaraches Azul", "En El Barrio" und "Viva Le Raza" geworden ist, unterstützt von der Memphis Mariachi Band und den Elvettes. Seine umfangreiche und extravagante Garderobe besteht aus einem weißen, doppelt gestrickten Polyester-Jumpsuit mit roten, weißen und grünen Strass-Steinen und einer paillettenbesetzten Jungfrau von Guadalupe auf dem Rücken.
Ursprünglich war Lopez Kurator einer Avantgarde-Kunstgalerie in Los Angeles und hat das Konzept von El Vez als Teil einer Ausstellung von Elvis "overkill" aus dem Jahr 1988 konzipiert. Anschließend führte El Vez seine Show zur diesjährigen Elvis Tribute Week in Memphis, wo er sowohl vor Graceland als auch in Bad Bobs Nachtclub auftrat.
Die Fans des Traditionalisten Elvis waren weit davon entfernt, sich zu amüsieren, und Lopez entkam kaum mit seinem Leben. Unerschrocken jedoch setzt sich El Vez bis heute fort und überbrückt die Kluft zwischen der Kunstwelt und den Elvis-Fans. Am 8. Januar 1993 trug er zu den Feierlichkeiten bei, die die Ausgabe der Elvis-Briefmarke kennzeichneten, indem er im Hauptpostamt in der Wilcox Avenue auftrat.
Auf die Frage eines TV-Reporters, wie lange diese "Elvis-Sache" weitergehen würde, antwortete El Vez einfach: "Gewöhn dich besser daran, Paco. Es wird bis in die Unendlichkeit gehen."
Copyright © Bear Family Records® Alle Rechte vorbehalten. Nachdruck, auch auszugsweise, oder jede andere Art der Wiedergabe, einschließlich Aufnahme in elektronische Datenbanken und Vervielfältigung auf Datenträgern, in deutscher oder jeder anderen Sprache nur mit schriftlicher Genehmigung der Bear Family Records® GmbH.
Für die Filterung wurden keine Ergebnisse gefunden!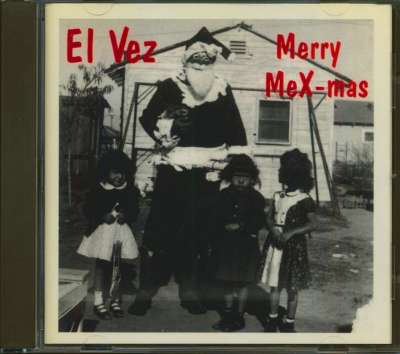 El Vez: Merry Mex-mas (CD, EU)
Art-Nr.: CD31865416


Artikel muss bestellt werden
(1994/Sympathy For The Record Industry) 9 tracks (26:45) Foto Booklet mit allen Texten. Mexikanische Rock'n'Roll Weihnacht die richtig Spass macht, DIE Alternative zum üblichen Kram! (Bear Family Records) Great Holiday fun with this...