Der Artikel wurde erfolgreich hinzugefügt.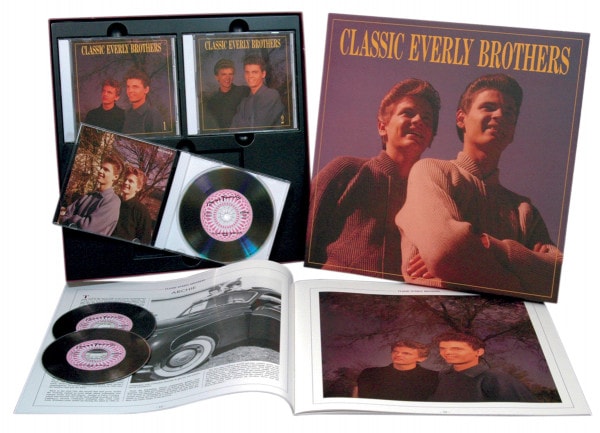 54,95 € *
59,95 € *
(8,34% gespart)
inkl. MwSt. / zzgl. Versandkosten - Abhängig vom Lieferland kann die MwSt. an der Kasse variieren.
Sofort versandfertig, Lieferzeit** 1-3 Werktage
Artikel-Nr.:

BCD15618

Gewicht in Kg.:

1.3
3-CD-Album Box Set (LP-Format) mit 44-seitigem Buch, 74 Einzeltitel. Spieldauer ca. 184 Minuten....
mehr
The Everly Brothers: Classic (3-CD Deluxe Box Set)
3-CD-Album Box Set (LP-Format) mit 44-seitigem Buch, 74 Einzeltitel. Spieldauer ca. 184 Minuten.
Warum hat es so lange gedauert, bis sich jemand dieser Aufgabe angenommen hat Die '
Classics
'-Box liefert schließlich alle Aufnahmen der
Everly Brothers
aus den Jahren 1955 bis 1960 für die Firmen Columbia und Cadence. Die Aufnamen von diesem Album Box Set wurden von den Original-Masterbändern überspielt und bieten eine zuvor nicht gekannte Soundqualität.
Sie finden hier alle Hits von den Everly Brothers sowie Langspielplatten wie "Songs Our Daddy Taught Us". Hinzu kommen einige seltene Demos und Radiomitschnitte. "Die Everly Brothers auf Cadence" ist eine der großen Geschichten des Rock 'n' Roll. Jede Single war ein Hit, wie
Bye Bye Love, Wake Up Little Susie
,
All I Have To Do Is Dream, Bird Dog
und
Till I Kissed You
. Und dann gab es noch die fabelhaften LPs von den Everly Brothers, wo jeder Song mit Sinn und Verstand ausgesucht wurde. Es gibt wirklich kaum einen Schwachpunkt unter all den Cadence Aufnahmen, und zum ersten Mal sind sie auf einer Album Edition vollständig versammelt! Das Begleitbuch präsentiert seltene Farbfotos von den Everly Brothers aus den 50ern.
Video von The Everly Brothers - Classic (3-CD Deluxe Box Set)
Artikeleigenschaften von

The Everly Brothers: Classic (3-CD Deluxe Box Set)
Albumtitel:

Classic (3-CD Deluxe Box Set)

Genre

Rock'n'Roll

Preiscode

CI

Edition 2

Deluxe Edition

Artikelart

Box set

EAN:

4000127156181

Gewicht in Kg:

1.3
The Everly Brothers Don (geb. 1. 2. 1937 in Brownie - Kentucky) und Phil (geb. 19. 1. 1939...
mehr
"The Everly Brothers"
The Everly Brothers

Don (geb. 1. 2. 1937 in Brownie - Kentucky) und
Phil (geb. 19. 1. 1939 in Chicago - Illinois)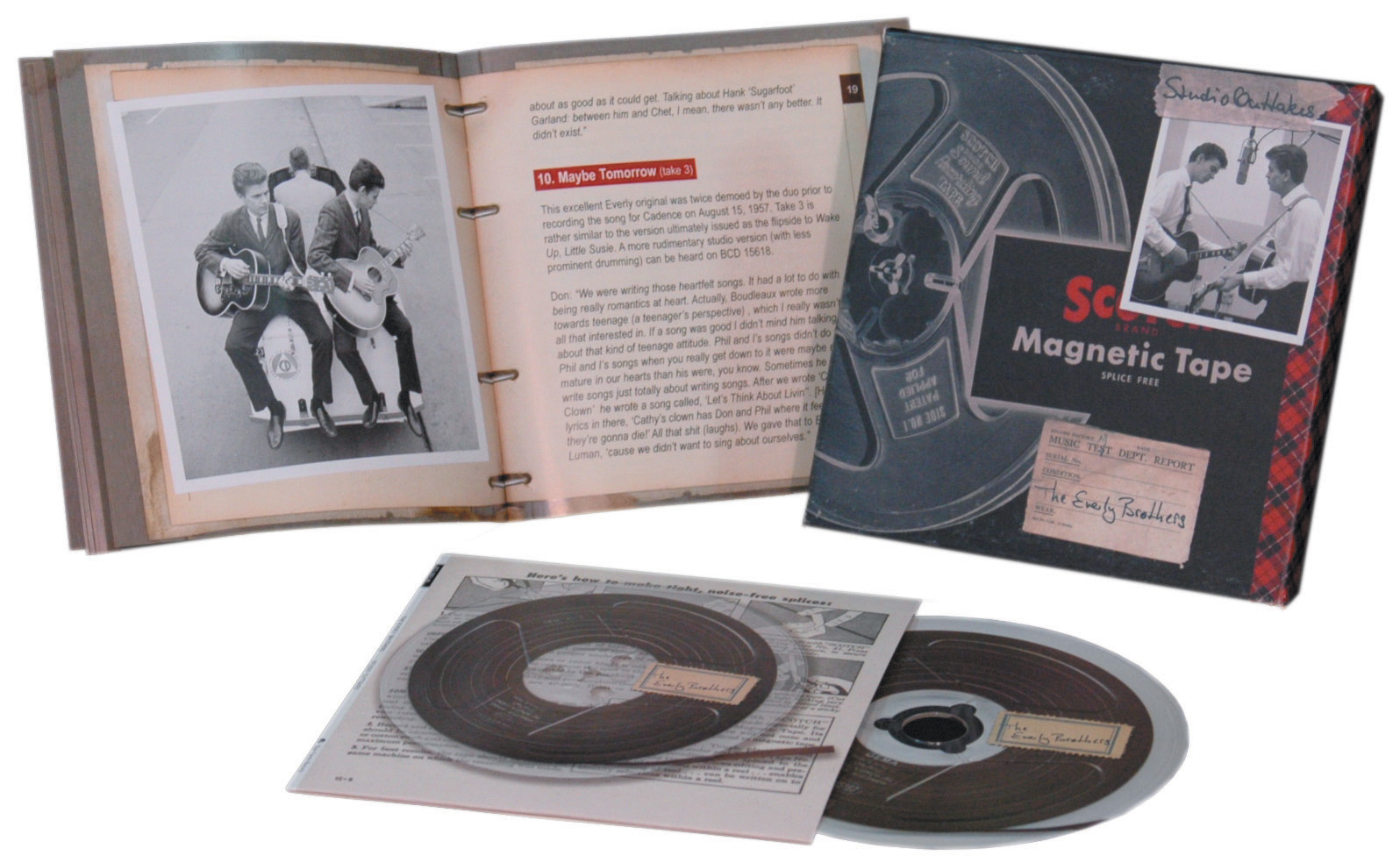 Everly Brothers setzten die musikalische Tradition ihrer Eltern Margaret und Ike fort, die als Hillbilly-Interpreten eine eigene Radio-Show präsentiert hatten. 1957 schafften die singenden Brüder mit 'Bye Bye Love', einem Titel des hochqualifizierten Komponisten-Duos Felice und Boudleaux Bryant, auf Anhieb Platz 2 in den US-Charts auf Archie Bleyers Cadence-Label. Ein Siegeszug begann: "Wake Up, Little Susie', "All l Have To Do Is Dream', 'Cathy's Clown' (alles Nr.-1-Treffer), 'Take A Message To Mary', "Crying In The Rain', "The Price Of Love' - die Liste der Everlys-Klassiker bis Mitte der 60er Jahre ist lang. Auch ein halbjähriger Aufenthalt bei der US-Marine hatte die Karriere des Paares nicht behindern können, der Wechsel zu Warner Bros. im Jahr zuvor bescherte beiden einen (für damalige Verhältnisse) Fabel-Kontrakt über eine Million Dollar.

1973 kam es während einer Show in Kalifornien (Knotts Berry Farm) zum Eklat: Phil Everly wurde von seinem angetrunkenen Bruder übers Mikrofon angepöbelt, zertrümmerte daraufhin seine Gibson-Gitarre und verließ die Bühne. Zehn Jahre redeten die Brüder nicht miteinander, und sahen sich nur einmal - auf der Beerdigung ihres Vaters. Die Solo-Karrieren beider Musiker verliefen eher unbefriedigend. Erst im Juni 1983 fanden sie bei einem gefühlsträchtigen Reunion-Konzert in der Londoner Royal Albert Hall wieder zusammen. Mit Paul McCartneys "Wings Of A Nightingale' verzeichneten die Everlys im Jahr darauf gleich wieder einen Top-Hit.

Das berühmteste Duo der Rock'n'Roll-Ära ist noch heute aktiv. Die vier deutsch gesungenen Singles gab es auch auf zwei EPs. Im Original war davon allerdings nur eine erschienen: 'The Everly Brothers in Deutschland' (Warner Bros. EP-26). Titel: Du bist nicht wie die andern- Susi- Warum- Wo sind die schönen Tage. Die Bootleg-LP "The Everly Brothers In Germany And Italy' enthält sämtliche deutschen und fünf italienische Songs der Everlys. Auch auf einem offiziellen Album der Brüder gab es deutsche Worte.

Das 1962er-Album "Christmas With The Everly Brothers' (Warner Bros. 1483) enthielt den Titel "Silent Night'. Die letzte Strophe wurde in deutscher Sprache intoniert - allerdings nicht von Don und Phil, sondern von einem Knabenchor. Die 1963er-Einspielungen entstanden im Hamburger Teldec-Studio (Osterstraße), Produzent war Wolf Kabitzky. Für die vier deutschen Songs aus dem Jahr 1965 kamen die Everly Brothers mit ihren eigenen Begleitmusikern im Rahmen einer Europareise im Frühjahr nach München. Doch vom 12. bis 16. April in den Polydor-Studios in der Kreillerstraße wurden Sonny Curtis (Gitarre), Marshall Leib (Baß) und Jim Gordon (Schlagzeug) gar nicht gebraucht, die Instrumentalspuren existierten bereits (Dirigent: Erwin Halletz- Produzent: Gerhard Mendelson). Das Werkzeug verblieb unausgepackt am Flughafen, Curtis und Gordon vertrieben sich die Zeit mit Zugfahrten im legendären "Orient-Express' zwischen München und Salzburg. Weniger entspannt ging es bei den Aufnahmen zu.

In der Folge beschwerte sich ein empörter Mitarbeiter der Münchener Teldec-Pressestelle schriftlich in der Hamburger Firmenzentrale. Er berichtete von 'Schwierigkeiten, die auf das undisziplinierte Verhalten der nur selten zur Zusammenarbeit bereiten Everly Brothers zurückzuführen sind. Unter anderem zeigte sich dies darin, dass sie .... ..von sich aus zweimal die Schallplattenaufnahmen abbrachen (Begründung: keine Lust mehr).....' Auch verabredete Pressegespräche mit den Ungezogenen kamen nicht zustande, 'weil die Everly Brothers ohne weitere Begründung um 20.30 Uhr das Aufnahmestudio verließen.....Anstatt sofort ins Hotel zurückzukehren, trieben sie sich bis 23.30 Uhr in der Stadt herum.'

Aus dem Bear Family Buch - 1000 Nadelstiche von Bernd Matheja - BFB10025 -
Bewertungen lesen, schreiben und diskutieren...
mehr
Kundenbewertungen für "Classic (3-CD Deluxe Box Set)"
Von:
Luuk Bonthond
Am:
01.04.2020
All recordings in one fantastic box
A great box with all Cadence recordings in one place in the best possible sound quality. As a bonus you get unreleased material and an informative book illustrated with pictures and memorabilia. Well worth it's money!
Von:
Farnam
Am:
24.02.2020
This is a must have
you need this box set
Von:
Keuchel
Am:
29.05.2014
Alles bestens, sehr gern wieder!! 5 Sterne!!
Bewertung schreiben
Bewertungen werden nach Überprüfung freigeschaltet.
Weitere Artikel von The Everly Brothers