Wer war/ist

Werly Fairburn

? - CDs, Vinyl LPs, DVD und mehr
Werly Fairburn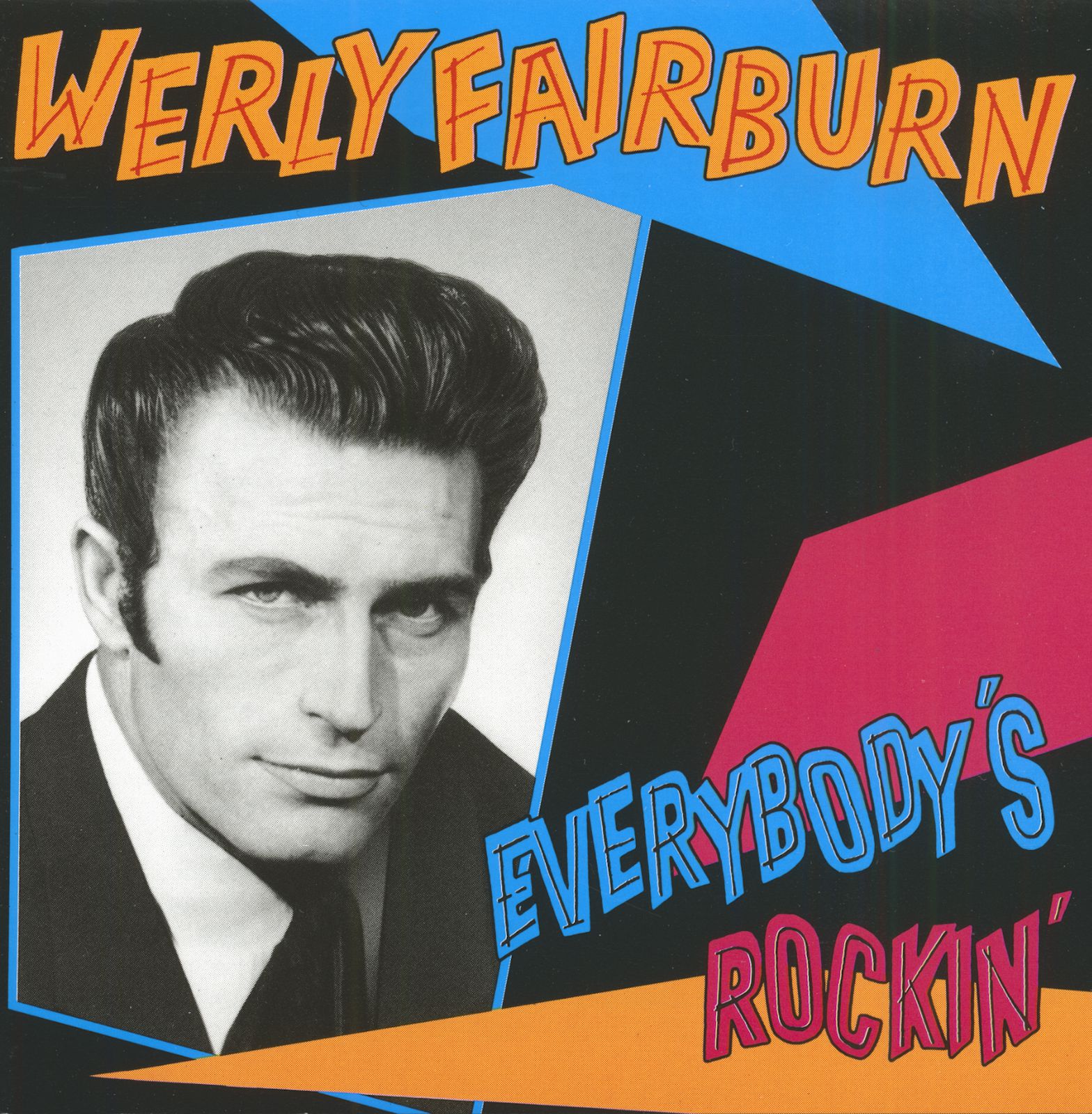 Werly Fairburn
Werly Fairburn perfektionierte den Rockabilly-Look in den frühen 1950er Jahren mit dunklem, glattem Rückenhaar und verwegenem Schnurrbart. Er hatte Starqualität ohne die Hits. Es half nicht, dass er einen Blick auf Nashville warf und so weit wie möglich in die entgegengesetzte Richtung ging und seine Tage in der Anonymität des Großraums Los Angeles verbrachte. In seinen späteren Jahren wollte er vergessen, dass er jemals gerockt oder gerollt hatte, und als ein Brief aus Schweden oder England kam, in dem er sich nach diesen frühen Platten erkundigte, reagierte Werly nicht. Lewi Werly Fairburn wurde am 27. November 1924 im Charity Hospital in New Orleans geboren, obwohl seine Familie auf einer Farm am Lake Pontchartrain lebte.
Er verbrachte die Kriegsjahre in den Werften und dann in Honolulu. Nach dem Krieg besuchte er die Friseurschule und sang in seinem Friseurladen, bevor er zum Lokalradio ging. Er begann die Aufnahmen für Trumpet Records in Jackson, Mississippi, und seine erste Single, Camping With Marie, wurde bei Rockabilly-Fans ein begehrtes Stück, obwohl es mehr als Rockabilly war. Werly hatte einen Platz in der ersten Reihe für die Geburt des Rockabilly, aber als er von der Trompete nach Capitol und weiter zu Columbia Records wechselte, blieben seine Gedanken bei der Hillbilly-Musik. Seine zweite Frau, Louise, sagt, dass er nie eine Liebe zum Rock'n' Roll hatte, aber als er im Juni 1956 seine letzte Columbia-Session in Dallas schnitt, musste er sich wohl heiß werden oder nach Hause gehen.
Für die Everybody's Rockin' Session rekrutierte Werly den Gitarristen Tommy Tomlinson, der später mit Johnny Horton, Claude King und David Houston arbeitete. Er wechselte zu Savoy Records und einer Reihe kleinerer Labels, aber es war seine erste Columbia-Platte, I Guess I'm Crazy, die zu seinem Essensgutschein wurde. Jim Reeves' Aufnahme davon führte die Country-Charts kurz nach Reeves' Tod an. Werly ist nach Los Angeles umgezogen. Als er seine Biographie auf die Rückseite eines alten Fotos kritzelte, listete er Charakterdarsteller, Model für Filmwerbung, Hetero-Mann für Comic, Moderator für Varieté-Shows und eine fünfzehnminütige Fernsehshow unter seinen Credits auf, aber die Details wurden in den Strudel gesaugt, der das einst Verheißende einhüllt.
Er starb am 18. Januar 1985.
Werly Fairburn Everybody's Rockin'
Read more at: https://www.bear-family.com/fairburn-werly-everybody-s-rockin-.html
Copyright © Bear Family Records
Copyright © Bear Family Records® Alle Rechte vorbehalten. Nachdruck, auch auszugsweise, oder jede andere Art der Wiedergabe, einschließlich Aufnahme in elektronische Datenbanken und Vervielfältigung auf Datenträgern, in deutscher oder jeder anderen Sprache nur mit schriftlicher Genehmigung der Bear Family Records® GmbH.
Weitere Informationen zu Werly Fairburn auf de.Wikipedia.org
Für die Filterung wurden keine Ergebnisse gefunden!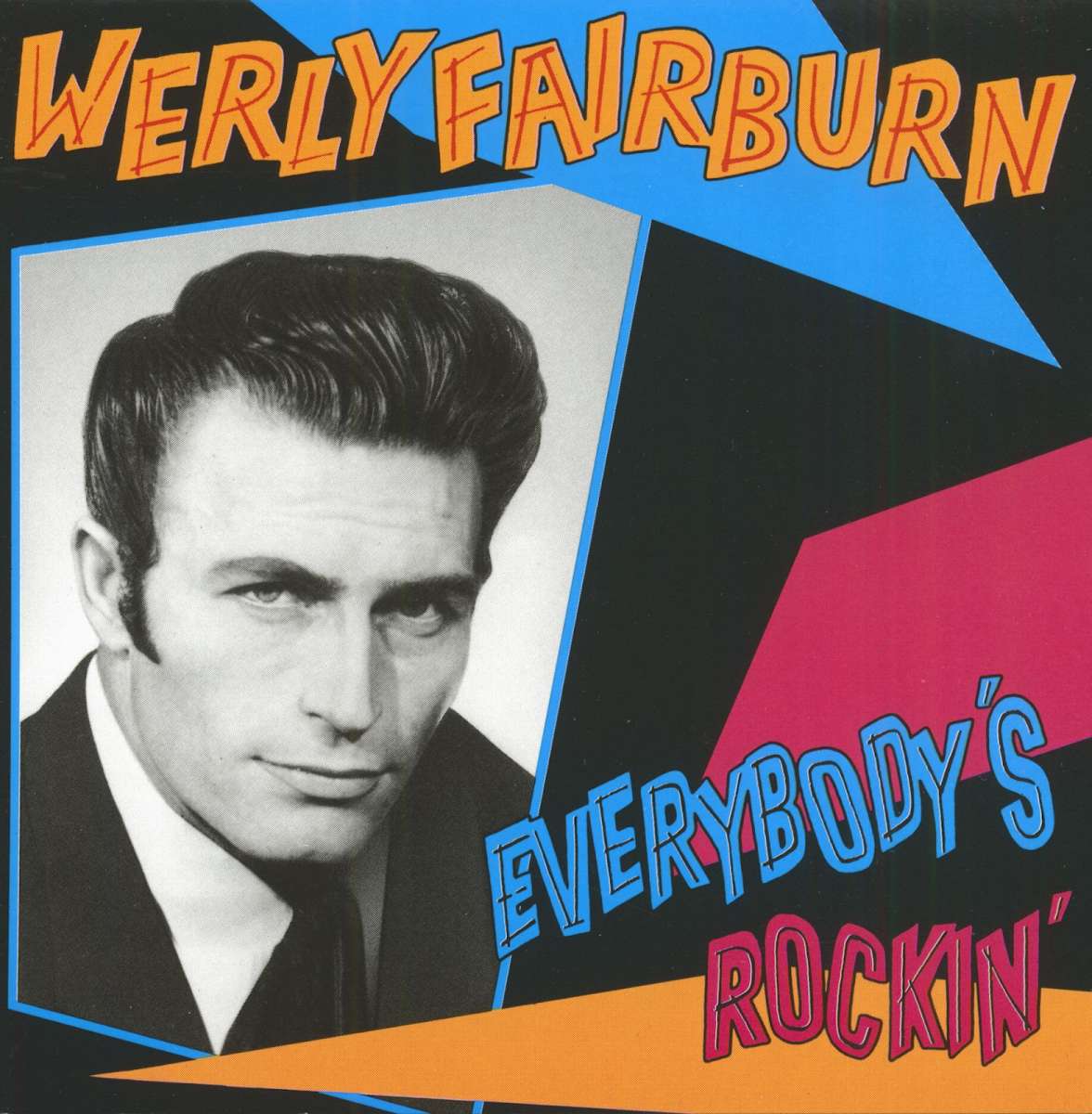 Werly Fairburn: Everybody's Rockin' (CD)
Art-Nr.: BCD15578


Sofort versandfertig, Lieferzeit** 1-3 Werktage
1-CD mit 16-seitigem Booklet, 29 Einzeltitel. Spieldauer ca. 73 Minuten. Einer der besten Countrysänger, der je seine Seele an den Rock'n' Roll verkaufte. Jedenfalls ist Werly Fairburn allemal eine Nachforschung wert. Er stammt...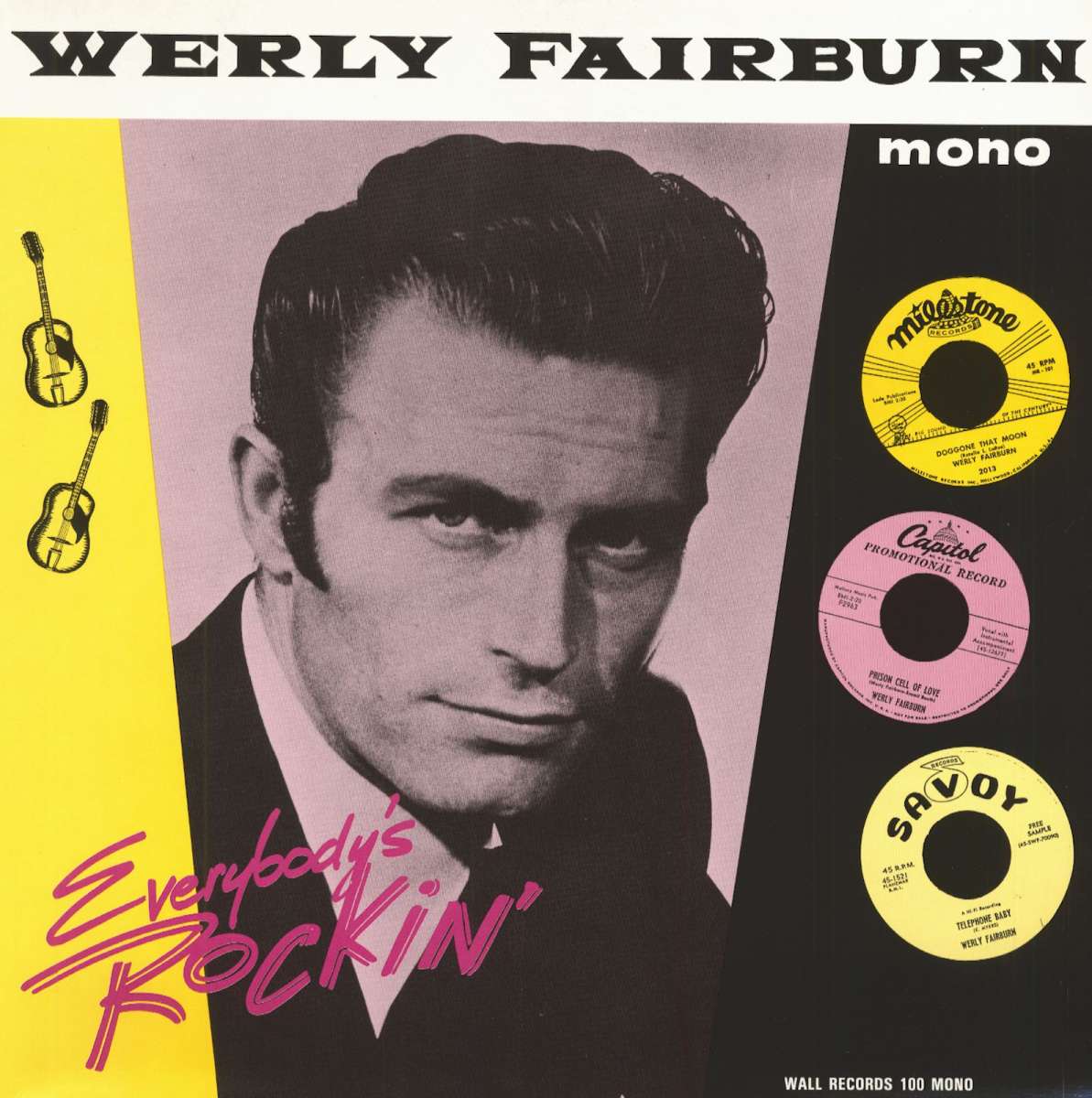 Werly Fairburn: Everybody's Rockin' (LP)
Art-Nr.: LPWALL100


Dieser Artikel ist gestrichen und kann nicht mehr bestellt werden!
(Wall Records) 18 tracks - limited custom pressing. A great multi label collection from the amazing Werly Fairburn, one of the 1950s all-time greatest Rockabilly/Hillbilly cult singers.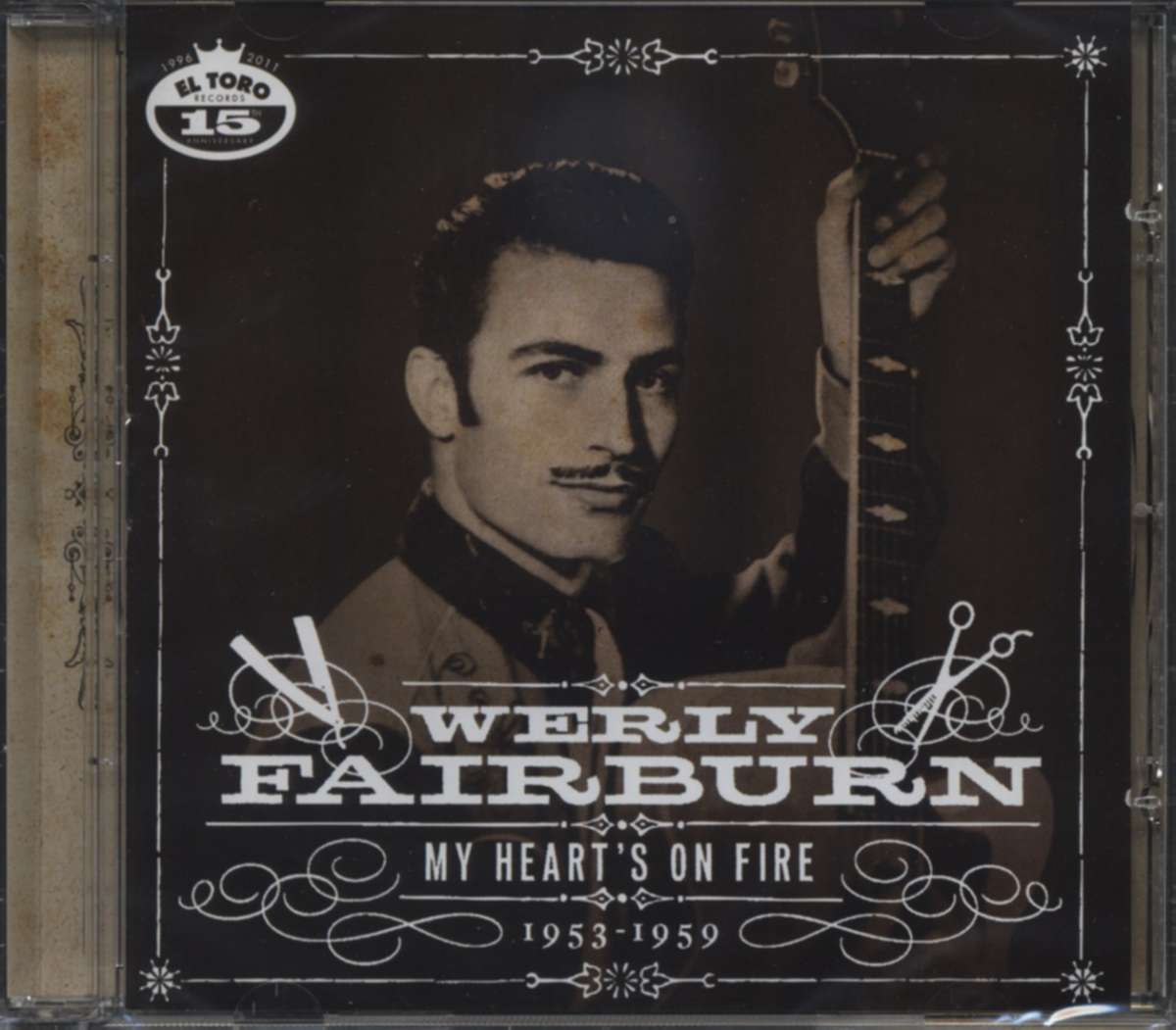 Werly Fairburn: My Heart's On Fire - 1953-1959 (CD)
Art-Nr.: CDET1043


Sofort versandfertig, Lieferzeit** 1-3 Werktage
(2011/EL TORO) 30 tracks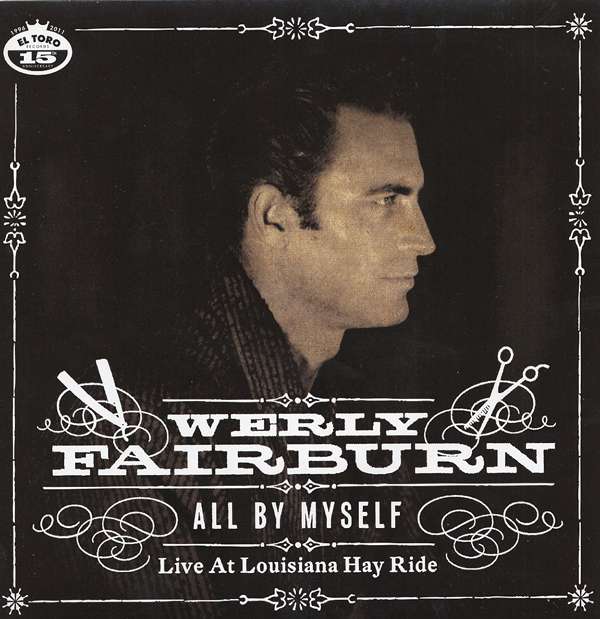 Werly Fairburn: All By Myself 7inch, 45rpm Live EPPS 33RPM, SC
Art-Nr.: ET4515005


nur noch 1 verfügbar
Sofort versandfertig, Lieferzeit** 1-3 Werktage
Single (7 Inch) auf EL TORO RECORDS von Werly Fairburn - All By Myself 7inch, 45rpm Live EPPS 33RPM, SC