Für die Filterung wurden keine Ergebnisse gefunden!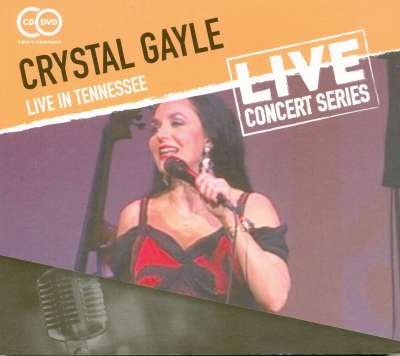 Crystal Gayle: Live In Tennessee (1-CD, 1-DVD)
Art-Nr.: CDWNR5087


Sofort versandfertig, Lieferzeit** 1-3 Werktage
(2015/Wienerworld) CD 20 tracks, DVD 36 tracks. Live aufgenommen 2005 im Renaissance Center in Tennessee. DVD Spielzeit: 91 Minuten, Region Code: 0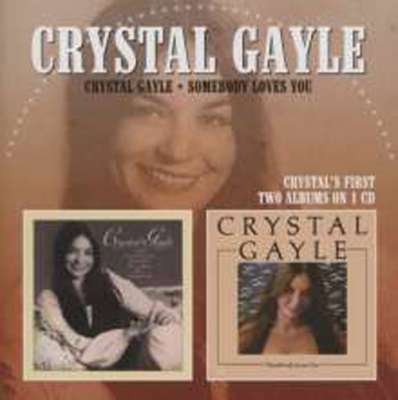 Crystal Gayle: Crystal Gayle - Somebody Loves You
Art-Nr.: CDMRLL6

2012 'Cherry Red', 20 tracks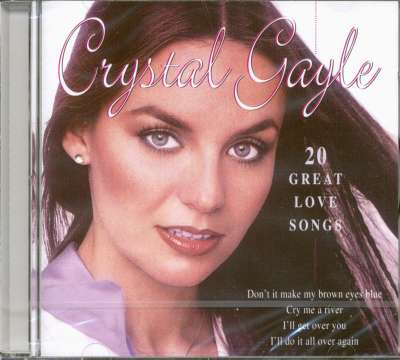 GAYLE, Crystal: Great Love Songs (CD)
Art-Nr.: CDLS86661


Sofort versandfertig, Lieferzeit** 1-3 Werktage
(1996/DISKY) 20 tracks, original recordings.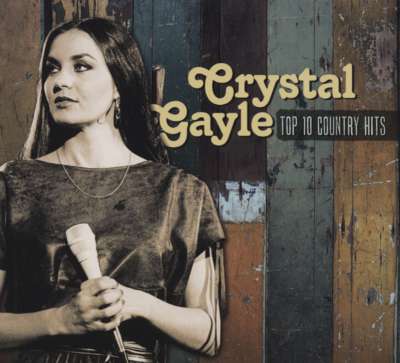 Crystal Gayle: Top 10 Country Hits (2-CD)
Art-Nr.: CDMW048

(2009/MW/CAPITOL) 26 masters! ecopac (papersleeve-no plastic)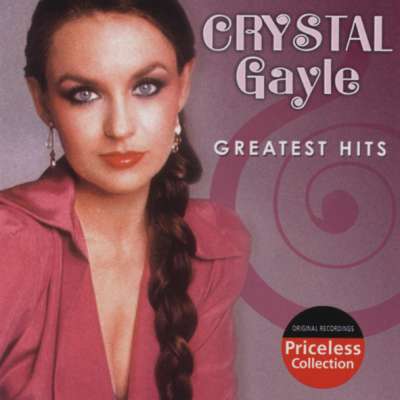 Crystal Gayle: Greatest Hits
Art-Nr.: CDCOL8653

(2006/COLLECTABLES) 10 tracks - original EMI recordings, 1975-79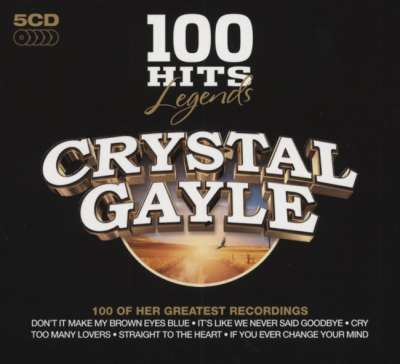 Crystal Gayle: 100 Hits - Legends (5-CD)
Art-Nr.: CD60792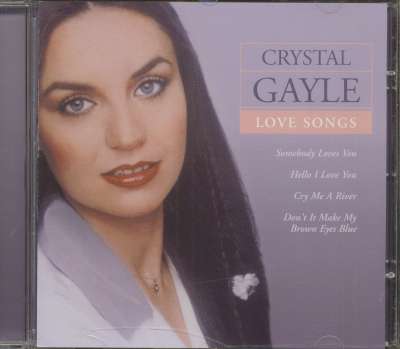 GAYLE, Crystal: Love Songs
Art-Nr.: CD5387702

(2002/EMI) 20 tracks 1975-78
Wer war/ist

Crystal Gayle

? - CDs, Vinyl LPs, DVD und mehr

geb. 9. 1. 1951 in Paintsville - KentuckyRecord Labels: Decca, United Artists, Liberty, Columbia,Elektra, Warner BrothersErster Hit: I Cried The Blue Right Out Of My Eyes (1970)Erster Top Ten Hit: Wrong Road Again (1974)Erster No. 1 Hit: I`ll Get Over You (1976)Brenda Lee Webb, genannt Crystal Gayle, die jüngereSchwestervon Loretta Lynn, zog schon im Altervon 16 Jahren mit der Road Show ihrer berühmten Schwester durch'sLand. 1970 unterzeichnete sie einen ersten Schallplattenvertrag, der ihr allerdings recht wenig einbrachte, denn zusehr schien man sie mit ihrer Schwester zu vergleichen. Siewechselte die Plattenfirma und bat sich aus, nur Songmaterial zu singen, das nicht mit Loretta Lynn in Verbindungstand. Und mit Hilfe von guten Songs und der Unterstützung von Produzent Allen Reynolds, der auch Don Williams groß gemacht hatte, schaffte es die kleine CrystalGayle ein Top Star zu werden. Auch zahlreiche CrossoverHits gehen auf ihr Konto. 1977 wurde sie von der CMA zurbesten Sängerin des Jahres gewählt.