Der Artikel wurde erfolgreich hinzugefügt.
14,95 € *
19,95 € *
(25,06% gespart)
inkl. MwSt. / zzgl. Versandkosten
Sofort versandfertig, Lieferzeit** 1-3 Werktage
Artikel-Nr.:

45MR716001

Gewicht in Kg.:

0.15
(Muddy Roots Records) 6 Tracks - Doppel 7inch-Single Set im Klappcover mit Download Card! Dank...
mehr
Billy Harlan: Boppin' At Studio B (2x7inch)
(Muddy Roots Records) 6 Tracks - Doppel 7inch-Single Set im Klappcover mit Download Card!

Dank der Country Music Hall Of Fame und Muddy Roots Records, kam Billy Harlan 57 Jahre später zurück in das historische RCA Studio B. Records! 1959 hatte er bereits Aufnahmen in diesem Studio gemacht, nachdem er als Bassist mit Dave Rich, Jim Reeves und den Wilburn Brothers auf Tournee war, Session Arbeit für Chet Atkins gemacht hatte und Songs für Künstler, wie Hawkshaw Hawkins geschrieben hatte.

Nach einer langen Pause wurde Harlan wieder aktiv und als er begann, auch die großen Rockabilly Festivals zu spielen, wurde schnell klar, dass man ihn in das legendäre Nashville Studio B zurückholen musste, um die unerledigten Dinge seinerzeit bei Chet Atkins aufzugreifen, aber dieses Mal nicht unveröffentlicht für RCA sondern gegenteilig für Muddy Roots Records!

Die Leute von Muddy Roots waren sehr geehrt, als dieses Projekt zusammen mit Billy Harlan, einer großartigen Begleitband und den Studio Technikern angegangen wurde. Das Album wurde in altem Stil aufgenommen, alles live gleichzeitig in einem einzigen Raum eingespielt, ganz so, wie die Profis das damals in 50er Jahren machten!

Video von Billy Harlan - Boppin' At Studio B (2x7inch)
Artikeleigenschaften von

Billy Harlan: Boppin' At Studio B (2x7inch)
Albumtitel:

Boppin' At Studio B (2x7inch)

Genre

Rock'n'Roll

Record Grading

Mint (M)

Sleeve Grading

Mint (M)

Geschwindigkeit

45 U/min

Plattengröße

Single (7 Inch)

Edition 2

Limited Edition

Artikelart

7inch

EAN:

4000127801746

Gewicht in Kg:

0.15
Harlan, Billy - Boppin' At Studio B (2x7inch)

7inch 1
01
I Wanna Bop
02
Boogie Woogie Rock And Roll Man
03
Be Boppin' Annie
04
Never Been Kissed
05
I Ain't Elvis
06
This Lonely Man
Billy Harlan Billy Harlan did not become a Rockabilly star back in the 1950s. Today we...
mehr
"Billy Harlan"
Billy Harlan
Billy Harlan did not become a Rockabilly star back in the 1950s.
Today we all know that he went straight from a sideman to a legend. After a glimpse at stardom in the late 1950s, Harlan experienced a lifetime of ordinary until he recently discovered fame among European fans he never knew he had.
Childhood
Born in Muhlenberg County, Kentucky, on March 24, 1937, Harlan can't remember a time he didn't sing. But there was a time when he thought he'd be a star. When Harlan was 9 years old, his sister bought him a guitar for 9 dollars. By the 10th grade he had his own radio show on WRUS in Russellville. He traveled the 40 miles from Muhlenberg County to Owensboro to play with his teenage band, The Melody Hands.
The songwriter
In 1955, the year Harlan graduated from Drakesboro Consolidated High School, he wrote a song called 'My Fate Is In Your Hands,' and Grand Ole Opry star Hawkshaw Hawkins recorded it. Harlan was still playing with The Melody Hands and writing songs when he got married at age 19. Working as a songwriter with Tree Publishing Co., along with a day job at a service station in Chicago´, when he got a call that Country star Jim Reeves needed a bass player. The job was only for three days but it turned into a full-time job, and Harlan played off and on for Reeves for three years.
The Singer
In 1958, he recorded his first 45 'I Wanna Bop,' b/w 'Schoolhouse Rock,' a twist on Elvis Presley's 'Jailhouse Rock,' for Brunswick Records. Sadly Harlan didn't get another release from Brunswick. But he was still doing road work and playing bass for Country superstars like George Jones and Ray Price. Then in 1959, Tree Publishing Co. secured a contract for him with RCA, and Chet Atkins produced the session in Nashville's famous studio B with songs called 'This Lonely Man' and 'Teen Jean Jive.' RCA never released it. Harlan got on a train heading for Arizona and didn't come back for 10 years. With his wife and first son, Harlan drifted out west. First, he was a carpenter apprentice, then moved to California to work in the space industry, and went to school to become a computer technician.
The big break
He moved to Louisville in 1968. It was time to come home. Soon after, he eased back into music, playing with a band called Sunny Watson and the Tradesmen. They played Catholic Church halls, weddings and Valentine's Day dances. He even wrote a song that ended up on the B side of Johnny Russell's album "Rednecks, White Socks and Blue Ribbon Beer."
Harlan got married to his second wife in 1972 and had two more sons, in 1977 and 1979.
But by then, Harlan had long given up the dream.
Late fame
It wasn't until 2010 that fame re-appeared. Out of the blue, Harlan received an email from Vegas organizer Tom Ingram who wanted him to play an event billed as the largest Rockabilly party in the world — the Viva Las Vegas Rockabilly Weekend.
When Harlan arrived, he got the surprise of his life: He had fans from all over the world. He had no idea that when he was playing church halls in the late 1970s and early 1980s there had been a resurgence in Rockabilly music's popularity.
Fans sang along to 'I Wanna Bop' but also to the songs RCA had never released. Bear Family Records had issued 'Teen Jean Jive" and "This Lonely Man" on a Rockabilly compilation album. Harlan stepped on stage, hit the key, started singing, and the band joined right in. He was age 75 and it was the first time since 1959 that he had seen such a crowd. But this time, they were there to see him.
Since the Las Vegas show, Harlan has played many festivals such as the Rockabilly Rave 2013 in England and the Nashville Boogie Weekender.
Now, he plays electric bass in the Benny Pryor Band every Tuesday, Friday and Saturday night.
Bewertungen lesen, schreiben und diskutieren...
mehr
Kundenbewertungen für "Boppin' At Studio B (2x7inch)"
Von:
Boppin' B
Am:
19.04.2017
legendary
I Wanna Bop! discovered the 1950s version in the 1970s through an european rockabilly compilation - crazy world
Bewertung schreiben
Bewertungen werden nach Überprüfung freigeschaltet.
Weitere Artikel von Billy Harlan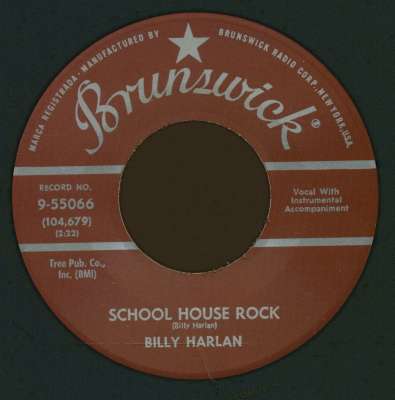 Billy Harlan: School House Rock - I Wanna Bop (7inch, 45rpm)
Art-Nr.: 45REP55066


Sofort versandfertig, Lieferzeit** 1-3 Werktage