Der Artikel wurde erfolgreich hinzugefügt.
Benachrichtigen Sie mich, sobald der Artikel lieferbar ist.
inkl. MwSt. / zzgl. Versandkosten - Abhängig vom Lieferland kann die MwSt. an der Kasse variieren.
Artikel derzeit nicht verfügbar, Lieferfristen von bis zu 2-3 Wochen sind zu erwarten. (soweit verfügbar beim Lieferanten - kann schneller gehen, manchmal aber leider auch nicht)
Artikel-Nr.:

LPKENT063

Gewicht in Kg.:

0.21
(1987/ACE) 14 tracks & ,- The Ikettes: throw their name at your average pop fan and, chances...
mehr
The Ikettes: Fine, Fine, Fine (LP)
(1987/ACE) 14 tracks
& ,-
The Ikettes
: throw their name at your average pop fan and, chances are, the image conjured up will be of a flying mass of hair and legs, with the redoubtable
Tina Turner
at the helm, but as this album shows, The Ikettes were considerably more than
Ike Turner
's dancing girls. Originally known as the Artettes, backing vocalists for the St Louis-based singer Art Lassiter, the original line-up of the group was Robbie Montgomery, Frances Hodges and Sandra Harding. It was these three, who in 1960 provided the torrid chanting behind
Tina
Turner on her classic tlebut single 'A Fool In
Love
', written by Ike with Art Lassiter in mind. When Art failed to show at the studio for the session, Tina was thrust into the spotlight and a new sound was created. Infinitely blacker and more gospel-drenched than any previous hit (excepting
Ray Charles
' ground breaking hit 'What'd I Say'. a year earlier), 'A Fool In Love' (Sue 730) had. by October 1960, peaked at No 27 on the Hot Hundred and No 2 on the R &&, B charts.
Quick to capitalise on a smash hit, Ike formed the Ike and Tina Turner Revue and hit the road minus the Artettes as Robbie Montgomery was heavily pregnant at this time. In what would become standard practice, Ike simply substituted three other girls for the duration. Within three months, her baby born, Robbie rejoined the revue together with Jessie Smith, also a native of St. Louis, and formerly with Vinny Sharp and the Zorros of Rhythm. The line-up was completed 12 months later by gospel singer Venetta
Fields
, who ran away from home to go on the road with the revue after Ike and Tina Turner played her home town of Buffalo, New York. Venetta's only previous singing experience had been locally with the Corinthian Gospel singers.
In the tradition of Ray Charles'
Raelettes
, Ike Turner dubbed Robbie, Jessie and Venetta "The Ikettes". These three women, with periods in and out of the Revue, formed the backbone of the group for the next five years. Throughout the Ikettes' existence, a bewildering number of women found their way into the line-up, many only performing live, others on record only.
P.P. Arnold
, Joshie Armstead,
Bonnie Bramlett
, Claudia Lennear and ex-Reprise recording artist Pat Powdrill being some of the better known members.
As a recording group, the Ikettes hit first time out with the relentless, chugging 'I'm Blue' (the gong gong song) on Atco 6212. This record featured lead vocals by Dolores Johnson (who at some point, recorded with Ike as Ike and Dee Dee Johnson), backed by Joshie Armstead, Eloise Hester and a prominent Tina Turner. 'I'm Blue', with its hypnotic 'shoohy-dooby-dooby-do's' and hysterical "gong-ga-ga-gong-gong yeah's" was an immediate success, hitting No 3 on the R &&, B listings in January 1962 and No 19 on the pop charts the following month. Three more Atco releases followed, all in a similar throbbing vein, but while none of these set the charts afire, the Ikettes (in various configurations) were kept busy, criss-crossing the nation, an essential element of the Ike and Tina Turner Revue.
1963 brought a couple of singles on the Turners' own Teena label 'Crazy In Love" as Robbie Montgomery and the Ikettes (Teena 1701) followed by 'No Bail In This Jail' (Teena 1702) basically a re-run of 'I'm Blue', but replete with demented cackling, courtesy of Tina. By 1964 The Turners had re-located to Los Angeles and were signed. along with various acts from their Revue, by the Bihari brothers to the Modern label. The Ikettes' debut '
Camel
Walk' (Modern 1003) a fast moving dance craze, didn't do much. However, their follow-up 'Peaches 'n'
Cream
' (Modern 1005) featuring a Jessie Smith lead, soared up the Hot 100. peaking at No 36 in April 1965. Reminiscent of '
Bread
And Butter', the
Newbeats
' smash of the previous year, 'Peaches 'n' Cream' was, uncharacteristically. not an Ike Turner composition, but was written by Tommy Boyce and Steve Venet. and produced by Steve, then hot with 'Poor Man's Son' by Detroit group
The Reflections
.
Modest hits followed with the stomping 'Fine. Fine, Fine' (Modern 1008) again from the pens of Boyce and Venet with help from Toni Wine. and the Motownesque 'I'm So Thankful' (Modern 1011) from the pens of Marc Gordon and Frank Wilson, staff writers for Berry Gordy's embryonic West Coast operation. Interestingly enough& , I m So Thankful', while not a top 40 pop hit. reached No 12 on the R &&, B listing, enjoying a 3 month run on that chart. The pop hit 'Peaches 'n' Cream' had reached only No 28 in the rhythm and blues market. Pat (P.P.) Arnold is rumoured to be featured on 'I'm So Thankful' and she is pictured with Robbie and Venetia on the cover of the Ikettes album of the time "Soul The Hits (Modern 102).
The Ikettes were not to benefit from their chart renaissance, for while demand for tours and personal appearances was considerable. Ike Turner could not afford to have them out of the Revue. Instead he sent various trios of L.A session singers out on packages such as The Dick Clark Caravan Of Stars"!
This was more than Robbie, Venetta and Jessie could bear: they saw no royalties from hits. being salaried members of the Revue, and now these doppelgangers were being paid more than the real thing! Enough was enough!. The Ikettes left the Revue to go it alone, hoping at last to cash in on their pop successes. They took with them as manager, Tina's sister Alline Bullock,- but not their name, for in the heat of the moment. no-one had remembered that the name the Ikettes" was owned by Ike Turner. Unfazed, Ike continued to record "the Ikettes" with a shifting personnel, releasing in 1966 'What'cha Gonna Do' for
Phil Spector
's Phi-Oan label with a rumoured line up of Pat Arnold and Brenda and
Patrice Holloway
. 1967. 1968 and 1969 brought two singles. one for Innis and one for Pompeii, and 1974 brought a couple of singles and an album containing re-cuts of their hits, all on United Artists.
Meanwhile, our original heroines found a new home with Fred Smith. the man behind the Olympics. at the Los Angeles-based Mirwood set-up. With a new home came a new name they became The Mirettes. Success didn't come at Mirwood, despite excellent sides. such as the Sherlie Matthews penned and produced Now That I Found You Baby' and 'He's All Right With Me', written by Jimmy Thomas. himself an alumnus of the Ike and Tina Revue. Sides such as these would, in later years. set feet flying at Wigan and points beyond. The Mirettes Ikettes' next taste of success came in March 1968 with a change of labels and a churning gospelish revival of
Wilson Pickett
's 'In The Midnight Hour' (Revue 11004). This was a reasonable pop hit and made No 18 on the R &&, B chart. Several fine singles and two albums followed for Revue and Am, both subsidiaries of MCA, but without creating too many ripples. The Mirettes then entered the lucrative field of session singing, where Venetta Fields is still very much in demand.
This album contains the 'cream' tracks by these three 'peaches'. from their most consistent and successful period. so give your speakers a treat and "shake a tail feather " with the fabulous Ikettes.
Malcom Baumgart 1986
Video von The Ikettes - Fine, Fine, Fine (LP)
Artikeleigenschaften von

The Ikettes: Fine, Fine, Fine (LP)
Albumtitel:

Fine, Fine, Fine (LP)

Genre

R&B, Soul

Geschwindigkeit

33 U/min

Plattengröße

LP (12 Inch)

Record Grading

Mint (M)

Sleeve Grading

Mint (M)

Artikelart

LP

EAN:

0029667206310

Gewicht in Kg:

0.21
Bewertungen lesen, schreiben und diskutieren...
mehr
Kundenbewertungen für "Fine, Fine, Fine (LP)"
Bewertung schreiben
Bewertungen werden nach Überprüfung freigeschaltet.
Weitere Artikel von The Ikettes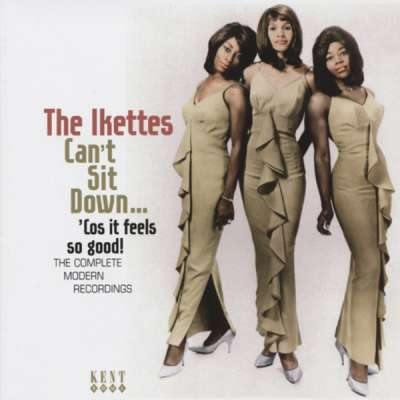 The Ikettes: Can't Sit Down...'Cos It Feels Soo Good (CD)
Art-Nr.: CDKEND276


nur noch 1 verfügbar
Sofort versandfertig, Lieferzeit** 1-3 Werktage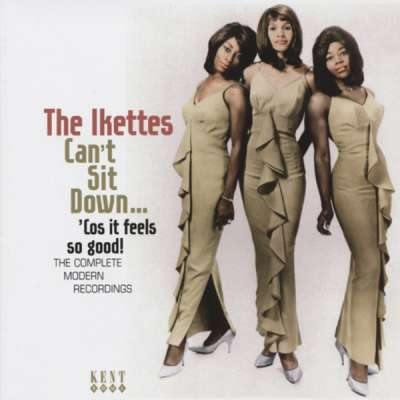 The Ikettes: Can't Sit Down...'Cos It Feels Soo Good (CD)
Art-Nr.: CDKEND276


nur noch 1 verfügbar
Sofort versandfertig, Lieferzeit** 1-3 Werktage