Wer war/ist

Willis Jackson

? - CDs, Vinyl LPs, DVD und mehr
Willis Jackson
The world first heard of Willis Jackson in 1949. He came out of the Liberty City section of Miami Florida and had attended Florida A & M. He had joined Cootie Williams' band then resident at The Savoy Ballroom in Harlem. During 1948 there was a ban against commercial recording instituted against the record companies by the American Federation of Musicians. Were it not for that ban, the Williams group would have continued to record for Mercury. As things were, it was early 1949 before Williams was able to get his new discovery into a recording studio. The four tunes recorded at that first date were Slidin' and Glidin, Let It Roll and Gator Tail Parts 1 & 2. A two part 78 was unusual in 1949.
A two part 78 which featured almost no work from the leader but hellfire wail-ing from an unknown sideman making his recording debut was virtually unprecedented. Jackson's nickname came out of that two part 78 and for many years collectors went searching for the selection that gave Willis Jackson his name. At least when Paul Williams made Hucklebuck or Jimmy Forrest was nicknamed Night Train, they made the records under their own name! Jackson was asked more than once about why he had been singled out for such attention when he was a mere sideman. Not noted for false modesty, he would usually respond with some variation of the following: "Cootie Williams was a very smart bandleader and I was a blowin' [email protected]." He was indeed. It was not long after a fol-low up session for Mercury and a single session for Derby that Jackson formed a band and began his own career as a leader. The music heard on this disc represents the earliest of his work under his own name. But before we get to that we must deal with the Eddie Mack sides from December 1949. Mack, who was also known as Mack Edmondson, had recorded with Williams and would record for Savoy in 1952. He had recorded an earlier session for Apollo and would do another one each time in the company of the Bobby Smith Orchestra. It is quite likely that Leroy Kirkland, the diminutive guitarist, may have been involved with this session. He was an arranger and session organizer for many artists and several different New York labels during this period. He arranged Mack's Savoy date.
Jackson had been recommended to Apollo by Arnett Cobb, another big toned tenor star, who had recorded for Apollo in 1947. The band featured with Jackson is modeled on the "Cobb Mobb" and is the instrumentation that Jackson would feature for the next six years. The presence of the great Bill Doggett should be noted and it is quite likely that credit for some of the arranging touches should go to him. It is interesting to note that the first 78 coupling Apollo chose to issue was Can't Help Lavin' Dat Man, an example of Jackson's ballad mastery from the start, and Chuck's Chuckles, a medium tempo swinger finding Willis, stylistically, right in the middle between Illinois Jacquet and Gene Ammons. On My Own and Dance Of The Lady Bug followed with the former providing the above-the-staff squealing featured with Cootie Williams.
A second Apollo session with similar personnel yielded one single release: Later for The Gator I Call of the Gators, the Jackson nickname firmly in place and formally acknowledged. More Blues At Midnight was released on an Apollo EP a few years later while Blow, Jackson Blow is a previously unissued item from this second session. It is nice to have the alternate takes but they don't tell you much about Jackson the improvisor. Clearly he was a "polisher"— a player who had the outline of the basic solo in mind—each take yielding only minor variations. It wasn't long after this that Jackson and Ruth Brown linked up musically and romantically. This brought Willis into the Atlantic Records orbit. His own recordings for the label tend to be eclipsed by his contribution as sideman and soloist on recordings by Brown and, especially, The Clovers. Rather significantly, one can drop the curtain on this first part of his career with his appearance on a 1956 Ed Sullivan show during a segment devoted to Rhythm & Blues hosted by Tommy "Doctor Jive" Smalls.
On a fast blues, that couldn't have lasted more than two minutes, Jackson managed to peel off his tie and jacket, kick off his shoes, drop to his knees and bend over backwards all the while squealing his brains out! By the end of the 50s, he had formed an alliance with guitarist Bill Jennings that proved to be fruitful for both men. Together the two would join forces with Brother Jack McDuff and create one of the finest groups of the soul jazz era. Between 1959 and 1971, Willis Jackson recorded twenty-five LPs for Prestige. He worked with an organ quartet for the rest of his career. Along the way, he became a fixture at the Club Harlem in Atlantic City where he appeared for the summer season for more than a decade. By the mid-70s he was recording for the Muse label and touring Europe annually and frequently teaming up with Richard "Groove" Holmes.
He was often heard at the West End in New York. His health began to fail in the mid-80s and he died in 1987 at the age of 59. I saw one of his last gigs at a little club in East Orange, New Jersey. By that time he was too weak to drive and Red Prysock and driven him to the job. The club was packed and many old fans had driven forty or fifty miles to hear him. At one point in the evening, he played a blues with some Lester Young style breaks and he lifted that packed club with the sheer high-riding swing of his own playing.
—BOB Porter /WBGO


Copyright © Bear Family Records® Alle Rechte vorbehalten. Nachdruck, auch auszugsweise, oder jede andere Art der Wiedergabe, einschließlich Aufnahme in elektronische Datenbanken und Vervielfältigung auf Datenträgern, in deutscher oder jeder anderen Sprache nur mit schriftlicher Genehmigung der Bear Family Records® GmbH.
Weitere Informationen zu Willis Jackson auf de.Wikipedia.org
Für die Filterung wurden keine Ergebnisse gefunden!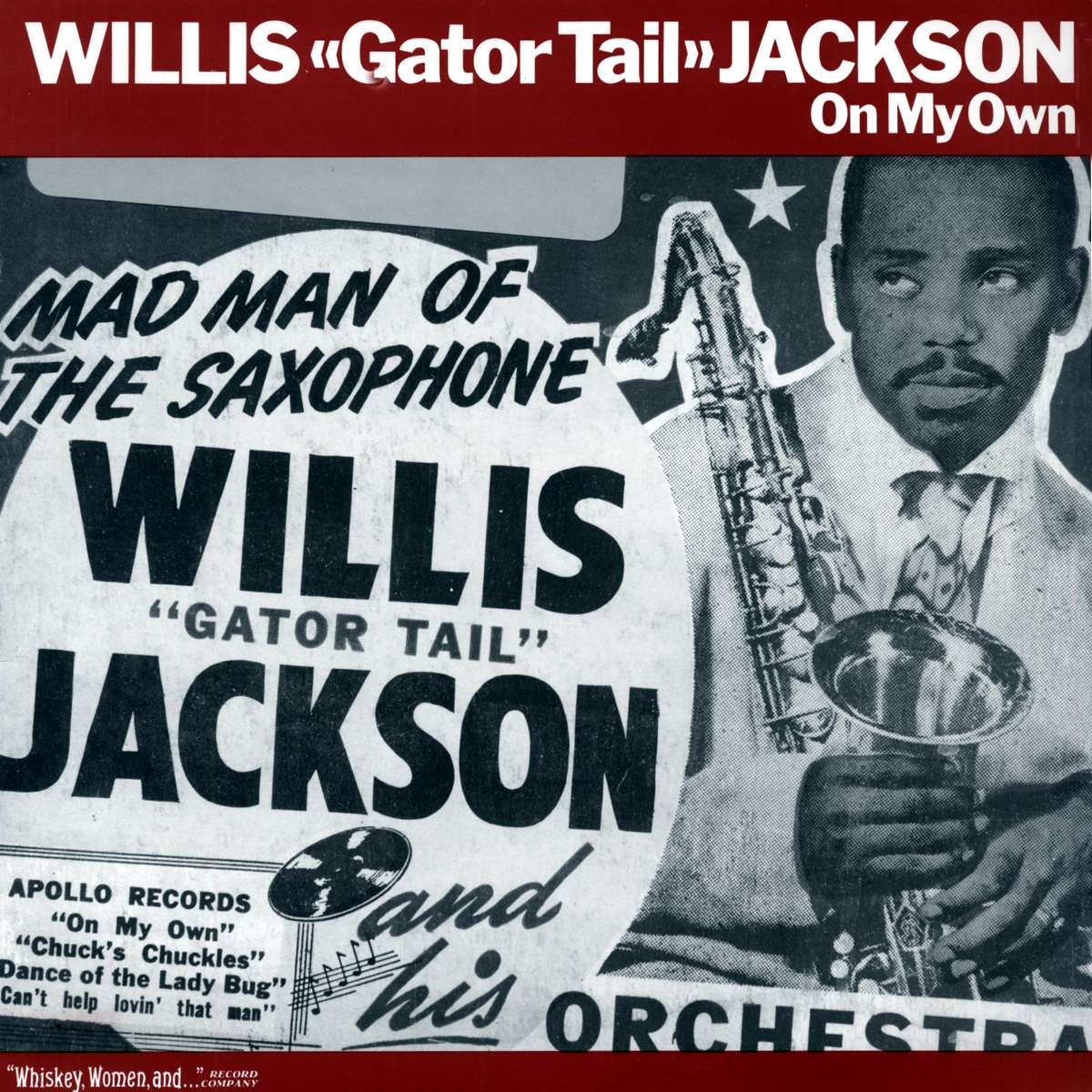 Willis Jackson: On My Own (LP)
Art-Nr.: KM705


Sofort versandfertig, Lieferzeit** 1-3 Werktage
last vinyl copies !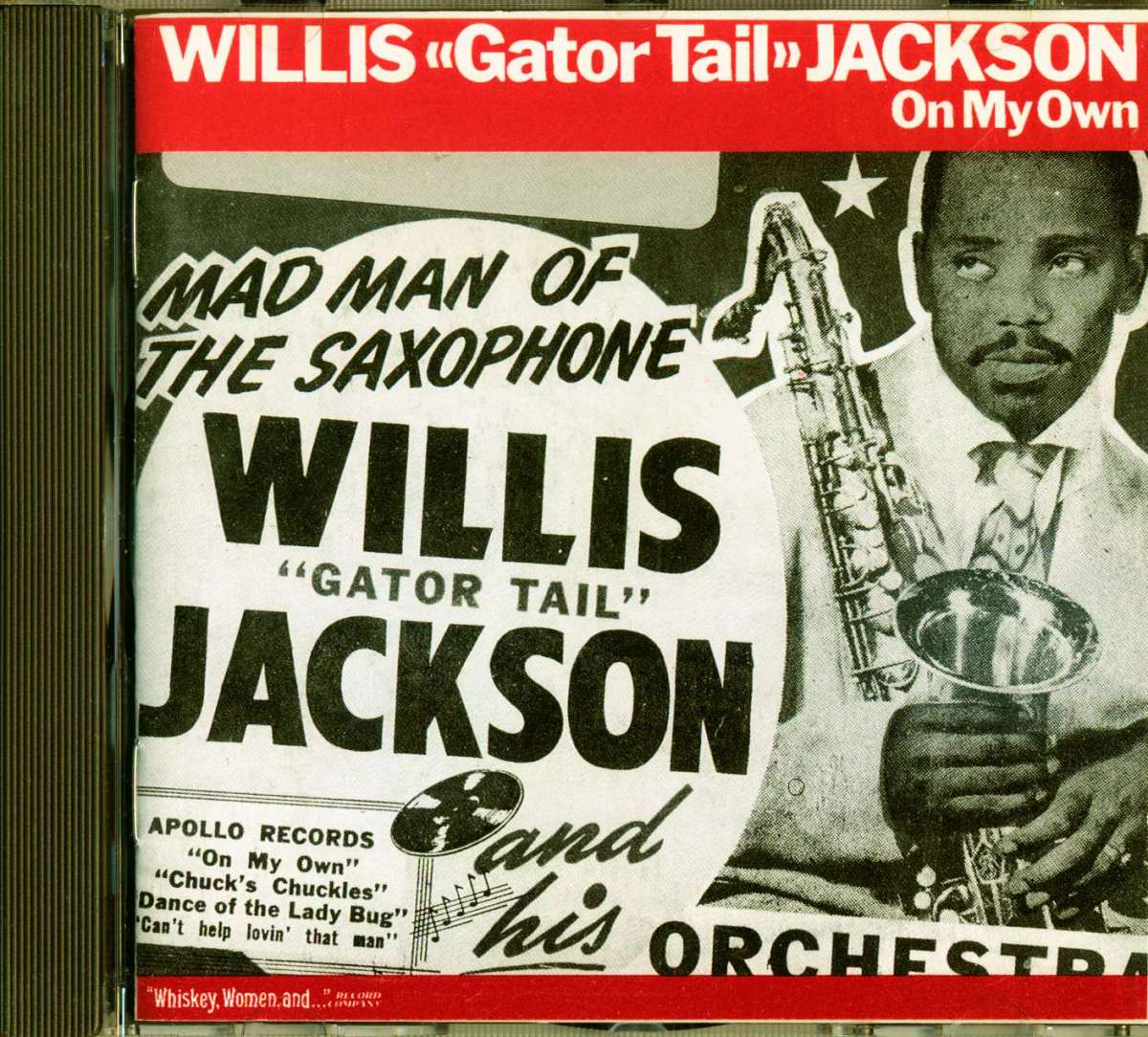 Willis 'Gator Tail' Jackson: On My Own (CD)
Art-Nr.: CDRBD705


Dieser Artikel ist gestrichen und kann nicht mehr bestellt werden!
(Mr. R&B) 16 Tracks, seltene schwedische CD, Original Apollo-Aufnahmen, 1950-55, 8-seitiges Booklet mit der Geschichte und Session-Details.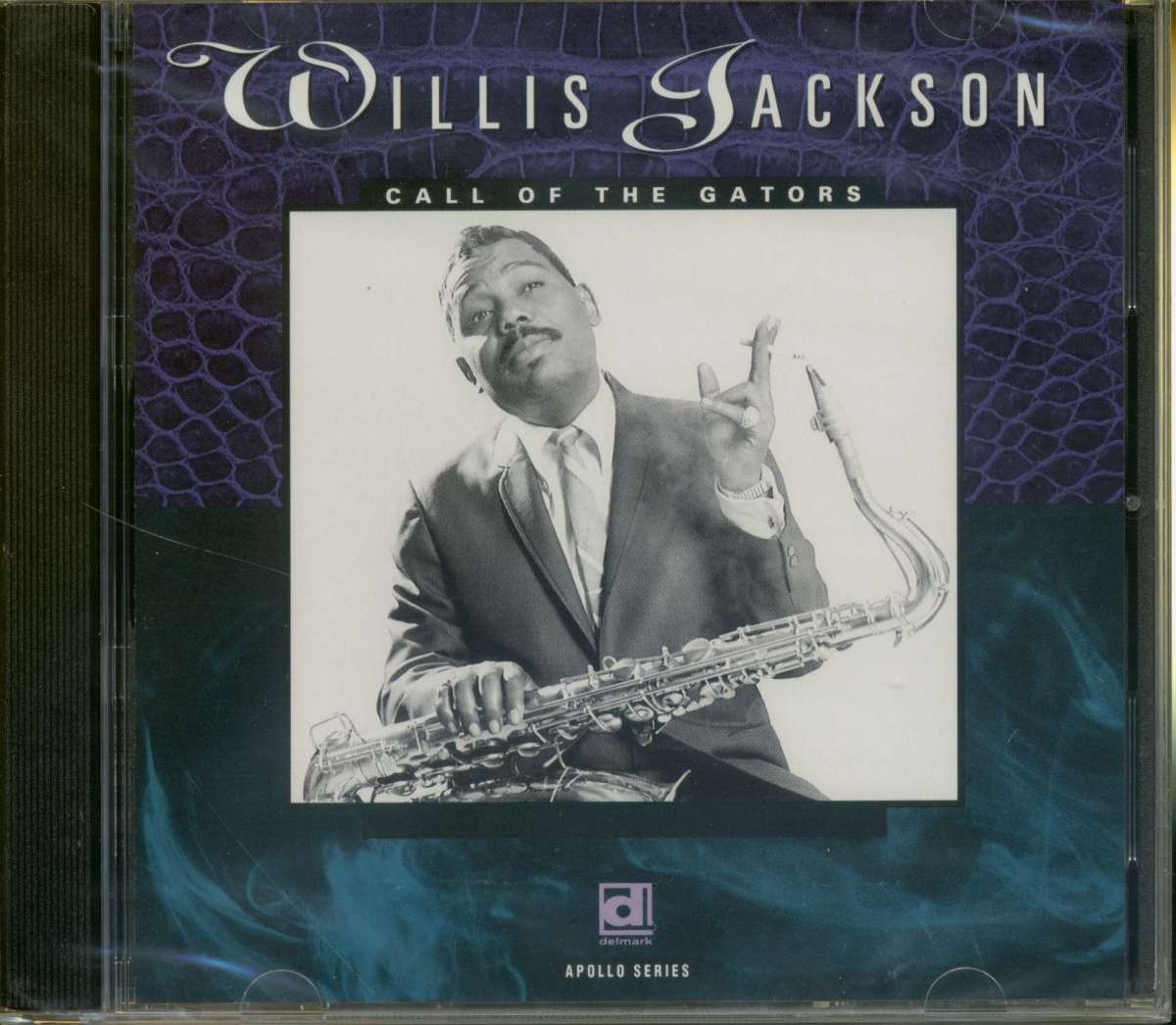 Willis Jackson: Call Of The Gators
Art-Nr.: CDDD460


Artikel muss bestellt werden
(1949/59 'Apollo') (40:29/16) Great R&B Tenor Player - incl.many prev.unreleased sides It was early 1949 before Cootie Williams was able to get his new discovery into a recording studio. A two part 78, Gator Tail , which featured almost...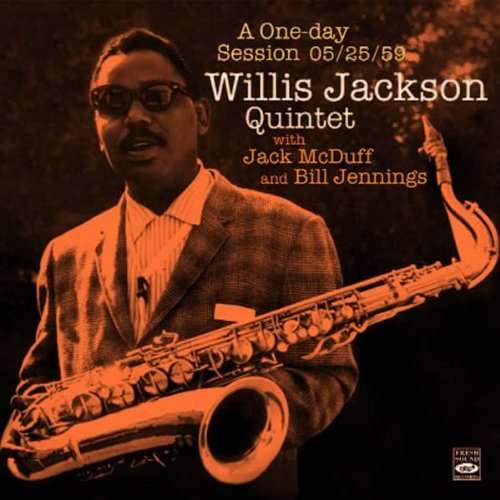 Willis Jackson: A One-Day Session 05.25.59
Art-Nr.: CDFS718


Artikel muss bestellt werden
(2012/Fresh Sound) 16 tracks. Mit Jack McDuff, Bill Jennings u.a.. 24-Bit digitally remastered.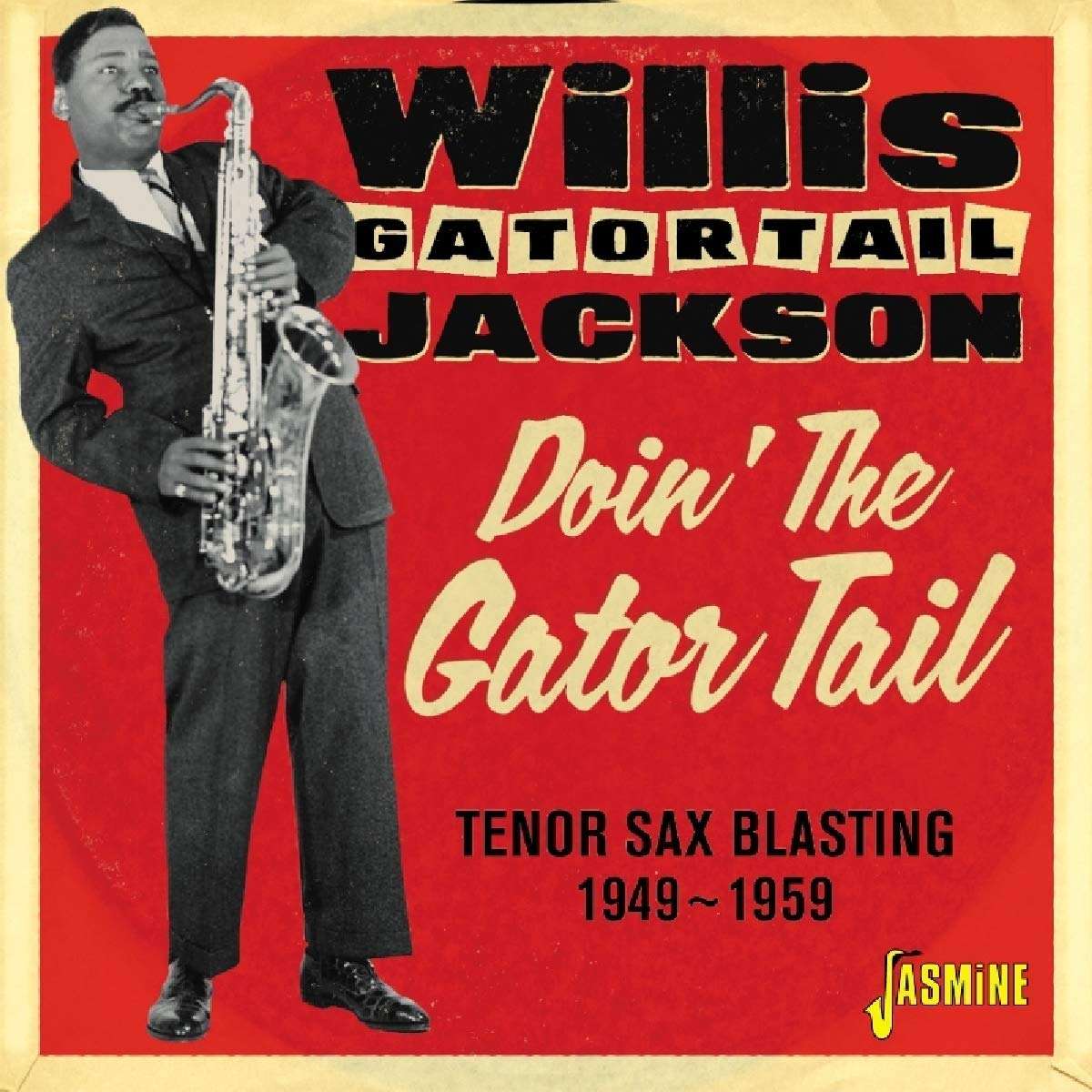 Willis Jackson: Doin' The Gator Tail (CD)
Art-Nr.: CDJAS3103


Artikel muss bestellt werden
(Jasmine) 26 tracks. Hier sind 26 Titel von Willis ›Gator‹ Jackson, einem Teenager-Star der 50er Jahre. Schon bald werden auch seltene Aufnahmen von Buddy Lucas, Sam 'The Man' Taylor und 'Big' Jay McNeely bei Jasmine veröffentlicht. Das...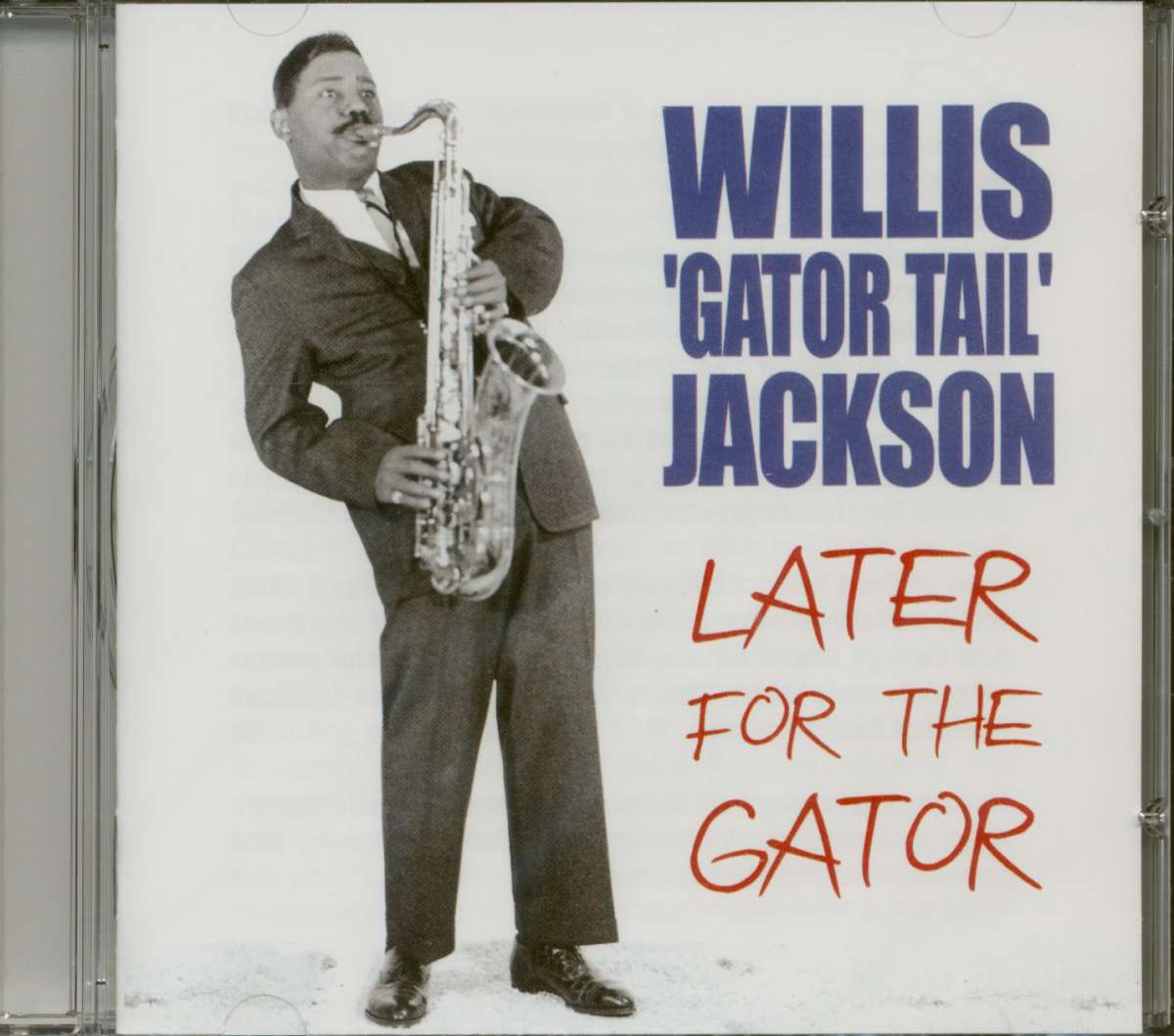 Willis Jackson: Later For The Gator (CD)
Art-Nr.: CD420321


Dieser Artikel ist gestrichen und kann nicht mehr bestellt werden!
(Acrobat Music) 26 tracks