Wer war/ist

Big Bill Lister

? - CDs, Vinyl LPs, DVD und mehr
BIG BILL LISTER
THERE'S A TEAR IN MY BEER
H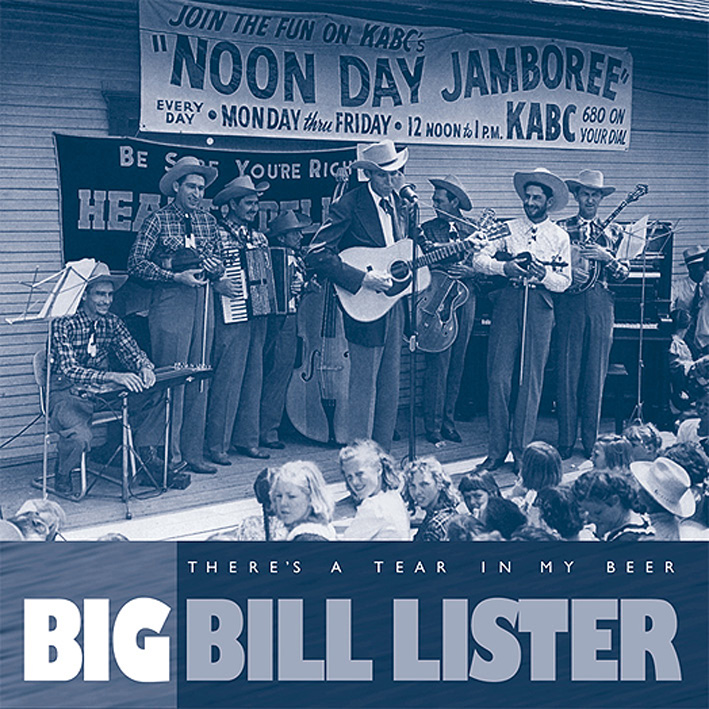 e was born Weldon E. Lister on January 5, 1923, in Kennedy, Texas, an hour or so south of San Antonio, but he grew up further north and west in Brady. "My dad played a little harmonica once in a while," he says, "but other than that I was the only one in our family that decided I wanted to do something with music." Like seemingly every rural youngster who came to music from the late '20s through the early 1930s, Lister grew up listening to and idolizing Jimmie Rodgers. But there was plenty of local talent around, too, and Brady's KNEL in 1935 boasted not only Bobby Kendrick's (a.k.a. Bob Skyles) family medicine show band, the Skyrockets, but also a young cowboy singer, Slim Rinehart, though both acts moved out to KIUN in Pecos in 1936.
The Skyrockets would begin a successful stint at Bluebird records in 1937, but Rinehart would never record commercially. Still, through radio broadcasts on powerful Mexican border stations, where he headed from Pecos, he became one of the most popular and influential performers of his era, before dying in a 1948 car accident in Michigan. Lister knew Rinehart in Brady. "I got to know Slim quite well, and that was a real inspiration to me. I think maybe even Ernest Tubb had a little Slim Rinehart rub off on him. I know in later years, after Ernest went with Decca, he did his best to talk Slim into making phonograph records and Slim wouldn't do it. He was afraid it would cut into his songbooks that he sold on the border stations. That's really a shame, but Slim didn't do that. He might have, had he lived a little longer. Slim got called away pretty early in the game."
Ernest Tubb became another early inspiration. He was broadcasting as the Gold Chain Troubadour on KGKO out of Fort Worth in the early 1940s. "I had a great deal of respect for him," Lister recalls. "Fortunately in my time working in Nashville, I got to go on the road with Ernest a few times and I really appreciated him and what he'd done for country music." Tubb was indirectly responsible for one of Lister's early breaks in radio in San Antonio. "Tony Bessan was the program director at KMAC. When I first went over there with my guitar, he was kind enough to put me on the air. After I moved to Nashville and came back for a visit, I dropped by KMAC and visited with Tony. Tony never was really a great fan of country music ... but [KMAC] tried to program the station where it would cover everybody. Tony laughed and told me, 'I'm gonna tell you, the main reason I ever put you on the air here is because I turned Ernest Tubb down. And he went over to KONO. And I could always see the same drive and interest that you had in country music that Ernest had, and I didn't want to make the same mistake twice.' But, you know, I never got to tell that story to Ernest."
According to a 1946 article by pioneering country journalist Floy Case, Lister began picking guitar at 14. "[A] Sears Roebuck catalogue got him started on his career in music with an offer of a brand new guitar and a five minute course in how to make music with it, all for only $3.98. Bill became the proud owner of that guitar and immediately started banging away on it. Then as practice began to make perfect, he began playing for the parties, dances and school affairs that go to make up the social life of a rural community." Lister made his radio debut at KNEL in Brady in 1938 (Floy Case gives the following year). "That was sixty years ago I started and I haven't learned nothing yet," Lister laughs. As it would be for much of the early part of his career, it was just Lister and his guitar -- like Cowboy Slim Rinehart, the young Tubb, and, at times at least, Rodgers, as well. "I was fortunate to be here in a time that I think was the golden days of radio. Before television came along. Then, it didn't seem to take as much to entertain people as it does today. But I spent a great part, the first part of my career, with just me and my guitar."
At some point over the next few years, Lister also made transcriptions for XEG. At 18, he met Lila Mayfield ("...compared to Bill, Lila surely is little," Floy Case noted, "for she stacks up to just five feet, two inches."), whom he married, after what Floy Case described as a "whirlwind courtship," in July 1941 in Medina, Texas. A few months later, around the time the US entered into World War II, the couple moved to San Antonio, where Lister appeared briefly on WOAI before landing a spot on KMAC. He tried to enlist, as well, but his height worked against him.
"I was in the Merchant Marine for a short time. On account of my height, they discharged me, and I tried to join everything else. They wouldn't take me. Now days, six-seven is ordinary stuff. Back then, there wasn't many of us. It kind of broke my heart when the Marines' enlistment people told me I wouldn't be worth the price of a uniform. But anyhow, during that time, I entertained a lot of recruits that came through Lackland Air Force Base, and different troops around."
By war's end, Lister was at KTSA, and for the first time added another musician, giving youngster Tommy Hill the first break in what would be a long country music career as a performer, songwriter and producer. "When I first moved over to KTSA, I needed a guitar and Tommy came down to audition for me. At that time, Tommy was 16 years old, and as soon as I heard him I said, 'You'll do for me. I'll go for that.' So I actually gave Tommy his first picking job. And Tommy and I have remained friends all through the years." Lister and Hill also played a program with a full group that included comedian Clarence Cheeseman ("We called him the King Of Country Corn"), veteran western swing fiddler Charlie Gregg, and diminutive girl singer-guitarist Lou Pickens. Soon after, when Tommy Hill's brother Kenny came out of the Navy, Lister and the Hills formed Bill Lister and the Texas Hillbillies. "Kenny played bass mostly. Then later, as times demanded, we added drums and Kenny played drums for us -- I'd still rather play without drums, but some situations just almost demand it." At KTSA, Lister worked with up and coming announcer/deejay, singer-songwriter Joe Allison, and their friendship would prove important when Lister went to Nashville in January 1951.
By the summer of 1946, Lister had both a 6:45am show on KTSA and a noon show on KABC, which had recently gone to 50,000 watts. Not yet billed as 'Big Bill', Lister was touted as Radio's Tallest Singing Cowboy. Both shows were sponsored by Luck Optical and the midday show was broadcast from Luck's San Antonio offices, which, as Floy Case wrote, gave "him an opportunity to meet many of his fans personally, and he says that's his favorite hobby." Case added that other hobbies included hunting, fishing and riding -- hobbies that would stand Lister in immediate good stead with the like-minded Hank Williams and Drifting Cowboy bandmembers a few years down the line. He also liked "eating that good fried chicken and apple pie that Lila dishes up for him." Case also noted that "it's Lila who gets Bill up each dawning in time for his 6:45 broadcasts on KTSA, and that isn't always an easy task," adding, a bit more seriously that "Bill doesn't read music and since Lila had a musical education, she is right on deck when it comes to helping Bill learn new songs."
Big Bill Lister There's A Tear In My Beer
Read more at: https://www.bear-family.com/lister-big-bill-there-s-a-tear-in-my-beer.html
Copyright © Bear Family Records
Copyright © Bear Family Records® Alle Rechte vorbehalten. Nachdruck, auch auszugsweise, oder jede andere Art der Wiedergabe, einschließlich Aufnahme in elektronische Datenbanken und Vervielfältigung auf Datenträgern, in deutscher oder jeder anderen Sprache nur mit schriftlicher Genehmigung der Bear Family Records® GmbH.
Weitere Informationen zu Big Bill Lister auf de.Wikipedia.org
Für die Filterung wurden keine Ergebnisse gefunden!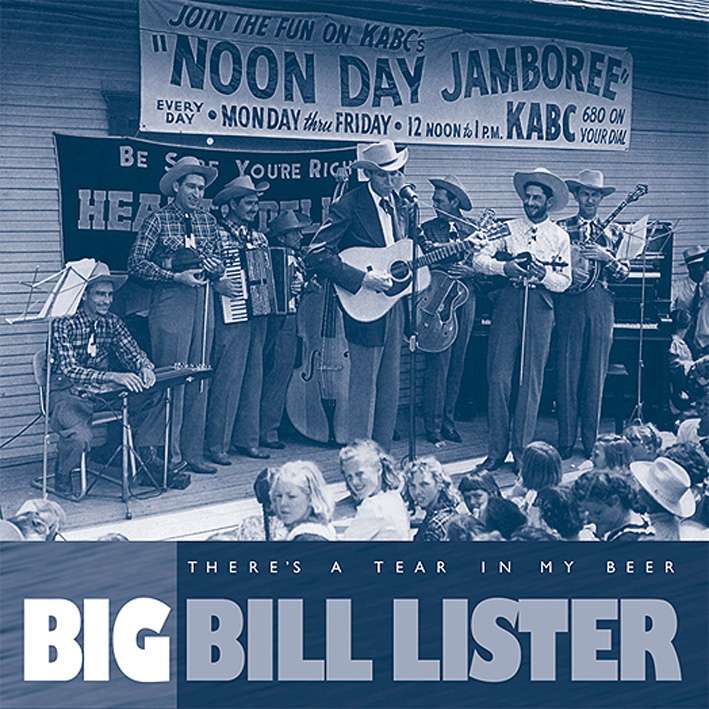 Big Bill Lister: There's A Tear In My Beer
Art-Nr.: BCD16374


Dieser Artikel ist gestrichen und kann nicht mehr bestellt werden!
1-CD mit 32-seitigem Booklet, 30 Einzeltitel. Spieldauer ca. 78 Minuten. Der Texaner Big Bill Lister wurde bekannt als Hank Williams 'opening act' und Rhytmusgitarrist und für seine Aufnahmen von den Hank Williams Kompositionen...