Für die Filterung wurden keine Ergebnisse gefunden!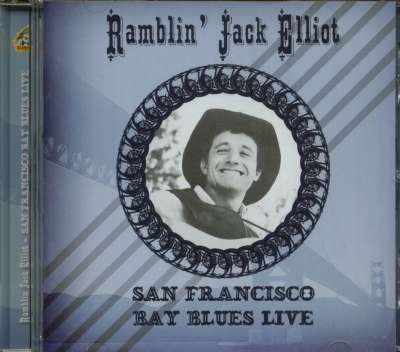 Ramblin' Jack Elliott: San Francisco Bay Blues Live (CD)
Art-Nr.: CDKL5030


Sofort versandfertig, Lieferzeit** 1-3 Werktage
(2015/Klondike) 9 tracks, digitally remastered "Nobody know—and I mean nobody—has covered more ground and made more frien s and sung more songs than the fellow you're about to meet right now. He's got a song and a friend for every mile...
Wer war/ist

Ramblin' Jack Elliott

? - CDs, Vinyl LPs, DVD und mehr

No I " body I know—and I mean nobody—has covered more ground and made more friends and sung more songs than the fellow you're about to meet right now. He's got a song and a friend for every mile behind him. Say hello to my good buddy, Ramblin' Jack Johnny Cash, The Johnny Cash Television Show, 1969. It's an endearment that has stuck close to the iconic Ramblin' Jack Elliott throughout his career and ten years later, we find the original folk troubadour on the receiving end of yet further applause at the legendary Keystone Palo Alto, CA in November 1979.

Before the onset of Elvis Presley, Bob Dylan, the Beatles or Led Zeppelin, Ramblin' Jack Elliott had picked it up and passed it along. From Johnny Cash to Tom Waits, Beck to Bonnie Raitt, the queuing icons all pay homage to Elliott, the greatest living, roving troubadour who carries the seeds of story and song from one generation to the next. Elliott's career is adorned with accolades, a mere few of those words are recalled here, but nothing physical, written or verbal, could give greater value to a listener than his music. However, it only mirrors his life experiences and his life story is equally absorbing, glimpses of which can be heard in his songs.

A typical job saw Elliott wobble on wooden crutches up the aisle of a church only to be miraculously saved by the desperate pastor. Other paths along the way included his impressive stint as Judge Roy Bean who could marry you for a dollar! There are no degrees of separation between Elliott and the real thing. Having run away from his Brooklyn home at the age of fourteen to join the rodeo and learning guitar from a cowboy, Elliott's legacy is built on life itself pure and simple.

"I was born on a 45,000 acre ranch in the middle of Flatbush." (most of us today know this particular ranch as Brooklyn, New York). By 1950, he had become so enamoured with the music and life of folk legend Woody Guthrie that he completely absorbed the expressions and mannerisms of his later mentor, leading Guthrie himself to remark, "Jack sounds more like me than I do" white Elliott reflects, "I picked up a lot of good things from Woody and one or two bad habits, ones that my wife left me for" Elliott's San Francisco Bay Blues had originally appeared on his 1958 UK-only album Jack Takes The Floor (later issued as Muleskinner). Recorded sometime after his 1953 sessions with future Elektra boss Jac Holzman, it presents another chapter in his life where frequent visits to England yielded future stars such as Mick Jagger and Paul McCartney while recording on Ferrograph tape recorders in people's living rooms, bedrooms and occasionally, a moored yacht off the coast of the Isle of Wight!

Elliott had only recently revived it alongside Arlo Guthrie at the Bread and Roses Festival. The traditional 19th century buffalo hunting song Buffalo Skinners is another testament to the spiritual depth of his sense of history and the manner in which he absorbs it and then applies it. Elliott builds that bridge between generations that few are able to. Buffalo Skinners originally appeared on his 1957 album with Derrott Adams in The Rambling Boys and from there it has made its journey in the vocal encyclopedia of Ramblin'Jack. Of all the 'talking blues' setections that Elliott has conveyed over the years including those of sailors, miners, dustbovvts or plain and simple Talking Blues, it's Guthrie's fishing narrative (originally emerging way back in 1962 for his performance at the Phitdelphia Folk Festival, that makes a welcome return here.

Barba, a Allen was made famous by Pete Seeger, but like all traditional folk tunes actually derives from something far more primitive and historic. Barbara Allen emerged in the 1600s in the British Isles and like many other traditionals, developed a complexity of its own when marinating in an alternative culture. Ethnomusicologists describe it as, "...far and away the most widely collected song in the English language" which gives it some depth even before Elliott stampshis own on it. Like Guthrie, Seeger and Dylan, he's taking yet another step in the long line of adapting traditional songs to contemporary aesthetics, applying his own creative stimulus and incorporating influences from what has gone before, within and without the genre. Above anything though, Ramblin' Jack does nothing without sheer gut feeling. Arthritis Blues was written by Baldwin `Butch' Hawes, husband of Bess Lomax Hawes whose scholarly brother Alan Lomax had recorded Elliott in his London pad in 1955. Bill Fyffe's i Belong To Glasgow ends the long journey of Elliott's songbook as he brings the 17th century into the 20th and ends with Tim Hardin's If / Were A Carpenter. A contemporary standard like this deserves the same respectful approach as Elliott gives to his talking blues traditionals and his fixed manne continues unabated.

His voice is both reedy and raspy as his guitar accentuates the unknowing pose of Hardin's classic It's a poignant rendition with much o the same punctuation that drove his 1969 performance of it on the Johnny, Cash Show. This particular performances allows another invaluable insight into not only his musical career, but also his life and it would be impossible to imagineanyone not wanting to share in it. As Bob Dylan says: "Most folk musicians waited for you to come to them, Jack went out and grabbed you..... he was king of the Foiksingers".

Note: An autograph-hunting teenager appeared with boots and a buckle and big musical aspirations, a fan of Jack's, and maybe, just maybe, is the kind of kid who would run away from home to work in a rodeo. I watched the elder cowboy (Elliott) stare deeply into the young man's eyes, and with great sincerity, impart h' only words of wisdom. "Drive a tru don't go into the music bus don't smoke cigarettes."

Weitere Informationen zu Ramblin' Jack Elliott auf de.Wikipedia.org