Für die Filterung wurden keine Ergebnisse gefunden!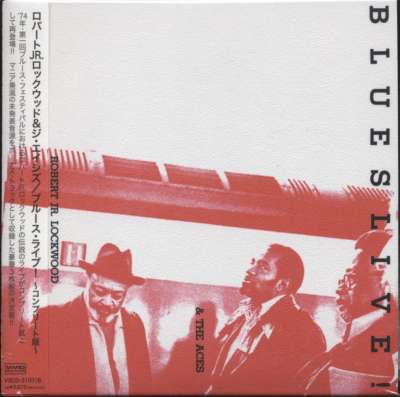 Robert Jr. Lockwood: Blues Live! (3-CD)
Art-Nr.: CDVSCD3107/8

(1974 'Vivid Sound') (137:20/32) 'Recorded live at Yubin Chokin Hall, Tokyo November 27 & 28, 1974' Eine der besten Bluesbands aller Zeiten, die Aces, mit Gast Robert Jr. Lockwood. Diese 3er CD gibt es nur in Japan. Die Aufnahmen auf CD1...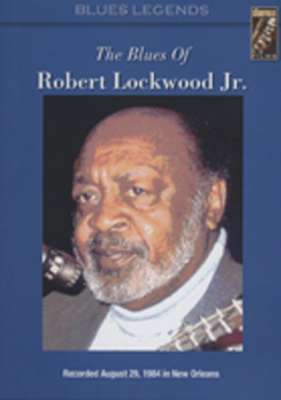 Robert Jr. Lockwood: Blues Of
Art-Nr.: DVD6044

(1984 'Storyville') (32 min.) 'Recorded and filmed in New Orleans - August 29, 1984' - Er lernte noch direkt von Robert Johnson. Großartiger Musiker, hier solo. Die Aufnahme ist gut, die Bilder manchmal etwas verwackelt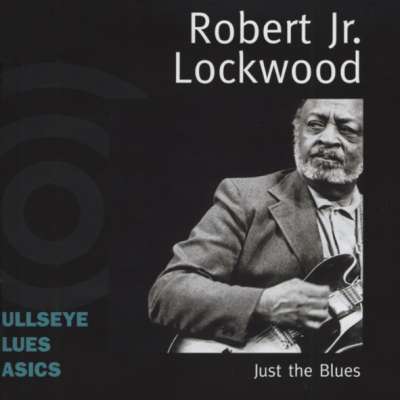 LOCKWOOD, Robert Jr.: Just The Blues
Art-Nr.: CDXBB9623

(1980/81 'Rounder') (40:49/12)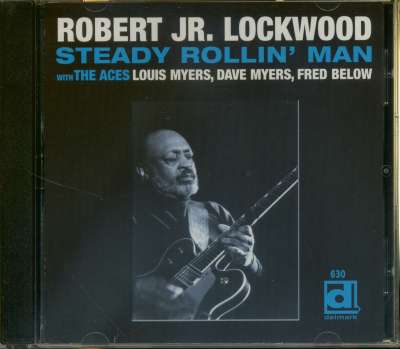 Robert Jr. Lockwood & The Aces: Steady Rollin' Man
Art-Nr.: CDDD630


Sofort versandfertig, Lieferzeit** 1-3 Werktage
(1970 'Delmark') (41:06/14) Lässig-entspanntes Chicagoblues-Album, begleitet von der besten Rhythmsection aller Zeiten, THE ACES - plus zwei alternative Fassungen/beautiful laid-back Chicago style blues album, backed by the greatest...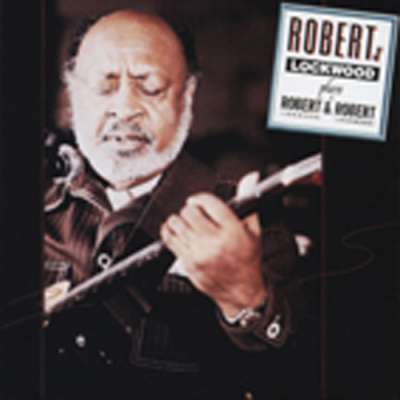 LOCKWOOD, Robert Jr.: Plays Robert & Robert
Art-Nr.: CD26020

(1982 'Black & Blue') (43:34/13) Als Teenager lernte er die Grundlagen des Gitarrespielens von Robert Johnson, der in jenen Tagen mit seiner Mutter liiert war. Bei diesen 82er Aufnahmen geht Robert Jr. weit zurück in seiner eigenen...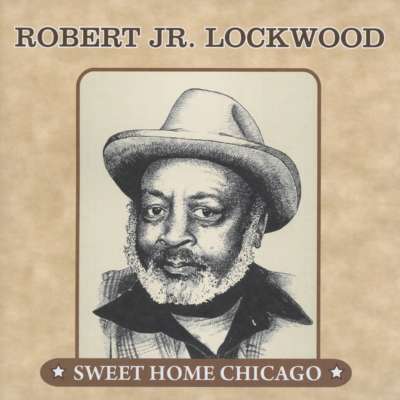 Robert Jr. Lockwood: Sweet Home Chicago
Art-Nr.: CD061921

(1951-54 'J.O.B. Records') (29:33/11) Recorded in Chicago. Linernotes: Bill Dahl. ROBERT LOCKWOOD JR. - tr/voc, SUNNYLAND SLIM -pno/voc, AFRED WALLACE - drums, ERNEST COTTON - sax.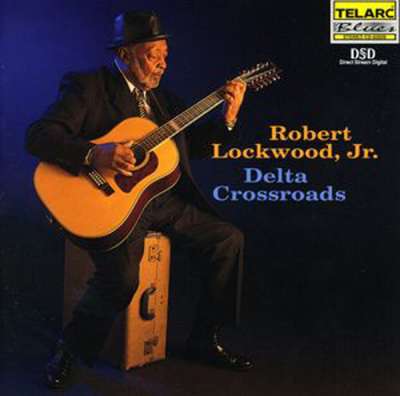 Robert Jr. Lockwood: Delta Crossroads
Art-Nr.: CD83509


Sofort versandfertig, Lieferzeit** 1-3 Werktage
(1999 'Telarc') (61:16/16). Seine ersten Songs und Gitarrentricks lernte er von Robert Johnson; im Gegensatz zu seinen elektrischen und jazzigen Alben spielt er hier die Musik der 30er Jahre, so wie er sie in Erinnerung hat. Nichts Neues...
Wer war/ist

Robert Jr. Lockwood

? - CDs, Vinyl LPs, DVD und mehr
Robert Jr. Lockwood
ROBERT JR. LOCKWOOD'S music shows the influence of not only his stepfather and guitar teacher, Robert Johnson, but also that of jazz guitarists Charlie Christian and Eddie Durham. Lockwood was born on a farm near Marvel, Arkansas in 1915. Once old enough to travel, Lockwood, like many promising bluesmen of the region, found himself drawn to Memphis.
There he played solo along Beale Street and as Sonny Boy Williamson's original guitarist on what is reputed to be the world's first blues radio broadcast: "King Biscuit Time" on KFFA, Helena, Arkansas. In the late '30s Lockwood moved to St. Louis where he met and played with Dr. Clayton, the great African-born blues giant. Robert's recording debut was on a 1941 Dr. Clayton session done in Chicago for Bluebird. The same year he made his first recordings under his own name for Lester Melrose, also issued on Bluebird. Robert stayed in Chicago, although he often returned to Memphis and Arkansas, and by the mid-50s he found himself in the enviable position of being THE studio guitar player in Chicago. He can be heard on classic blues songs like Little Walter's My Babe and Boom, Boom, Out Go The Lights; Sonny Boy Williamson"s Nine Below Zero and Eyesight To The Blind.
He also recorded with Muddy Waters, Otis Spann, Eddie Boyd, Willie Mabon, Sunnyland Slim, Roosevelt Sykes and others. In 1960, Lockwood accompanied Otis Spann on the classic Candid sessions. It was Sonny Boy who con-vinced Robert to move to Cleveland in 1961. They formed a band that played often at a tavern near 86th & Hough. When Sonny Boy left for Europe, Lockwood and his
family remained in Cleveland. He stayed off the scene for a while spending more time as a family man. Exciting performances at the 1972 Ann Arbor Blues Festival, in Toronto and at other festi-vals helped put Robert back into circulation.
This 1970 session was Robert's first album as leader! There were three more Lockwood albums released around the same time (Contrasts and Robert Jr Lockwood Does 12 on the Trix label and Blues Live in Japan on Advent). Robert Jr. Lockwood stayed active on the international blues scene and resided in Cleveland until he passed away on November 21, 2006.


Weitere Informationen zu Robert Jr. Lockwood auf de.Wikipedia.org