Wer war/ist

The Bar-Kays

? - CDs, Vinyl LPs, DVD und mehr
The Bar-Kays
Soul Finger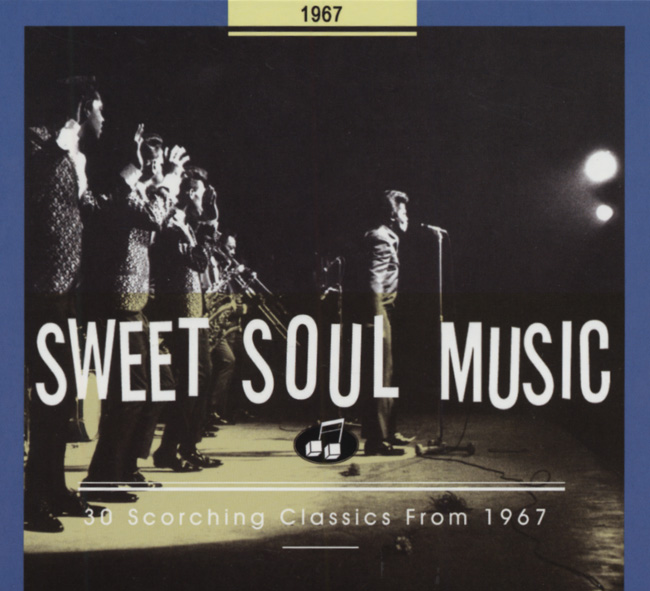 The Bar-Kays
Soul Finger
Booker T. & The MG's als Stax/Volt's non pareil house band gab es in den 60ern nicht, aber The Bar-Kays wurden vom Label für ähnliche Memphis-gezüchtete Groovemaking Goodness gepflegt. Leider würde die ursprüngliche Besetzung nicht die Chance bekommen, ihren neu entdeckten Ruhm für lange Zeit zu genießen.
Trotz ihrer Jugend waren der Trompeter Ben Cauley, der Tenorsaxophonist Phalon Jones, Jr., der Organist Ronnie Caldwell, der Gitarrist Jimmy King, der Bassist James Alexander und der Schlagzeuger Carl Cunningham auffällig und stolzierten auf der Bühne. Steve Cropper hatte sie abgelehnt, als sie mehrmals vorspielten, aber Stax-Chef Jim Stewart war einladender. Die Bar-Kays kamen am 13. März 1967 nach Stax zurück und schnitten am Ende Soul Finger, den sie sich ursprünglich ausgedacht hatten, als sie auf der Bühne hinter der Interpretation von J.J. Jacksons But It's Alright von der lokalen Sängerin Norman West vampierten.
Stewart kam zurück ins Studio, nachdem er sich eine Cola geschnappt hatte, hörte das stürmische Geschehen und erklärte, es sei an der Zeit, Soul Finger auf Band aufzunehmen. Isaac Hayes und David Porter rekrutierten eine Schar von Kindern aus der Nachbarschaft, um den Titel zu schreien, wann immer Porter ihnen das Signal gab und ihn zwischendurch aufschrie, was zu dem lebhaften Spaß beitrug. Cauley und Jones waren eine raue, zweiteilige Hornsection, und der stampfende, rhythmische Schub war eine Einladung zum Feiern. Die Bar-Kays' Debüt-Single Volt war ein #3 R&B/#17-Pop-Hit, und die von Cropper und Booker T. Jones geschriebene Flip-Side Knucklehead ist ein eigenständiger Hit. Ihr Nachfolger Give Everybody Some war ebenfalls ein Hit, und Volt veröffentlichte ein all-instrumentales Bar-Kays-Album, benannt nach ihrem Debüt-Smash.
Otis Redding mochte die Bar-Kays so sehr, dass er sie als seine energiegeladene Begleitband mit auf Tour nahm. Sie waren bei ihm, als sein kleines Flugzeug am 10. Dezember 1967 außerhalb von Madison, Wisconsin, in den Lake Monona stürzte und alle tötete, außer Alexander, der nicht an Bord der zweimotorigen Beechcraft war, und Cauley, der überlebte, weil er mit seinen Armen um sein Sitzkissen schlief und im tödlichen Wasser schwebte, bis Hilfe kam.
Die Bar-Kays reformierten sich 1968 um Alexander, Cauley, Gitarrist Michael Toles und Schlagzeuger Willie Hall, um im Studio hinter einer Vielzahl von Stax/Volt-Acts zu spielen und sich auf ihren eigenen Alben'Black Rock' und'Gotta Groove' mit Allen Jones an der Produktionsleitung mehr in einen Funk-rock-Sound zu vertiefen. In'71 erzielten sie mit Son Of Shaft einen Top Ten R&B-Hit. Ab 1976 waren die Bar-Kays trotz zahlreicher personeller Veränderungen eine virtuelle Hitmaschine auf Mercury.
- Bill Dahl -
Various - Sweet Soul Music
Various - Sweet Soul Music 30 Scorching Classics From 1967

Read more at: https://www.bear-family.de/various-sweet-soul-music-30-scorching-classics-from-1967.html
Copyright © Bear Family Records
Für die Filterung wurden keine Ergebnisse gefunden!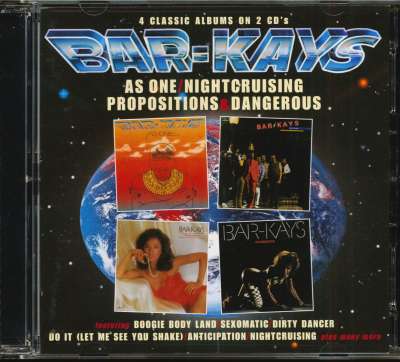 The Bar-Kays: As One - Nightcruising - Propositions -...
Art-Nr.: CDROBIN20


Sofort versandfertig, Lieferzeit** 1-3 Werktage
(Robinsongs) 32 Tracks - 12-seitiges farbiges Booklet - Die vier 80er Jahre Alben'As One' (1980),'Nightcruising' (1981),'Propositions' (1982) und'Dangerous' (1984) auf zwei CDs! In dieser Phase schuf die Band einen funky Sound, der von...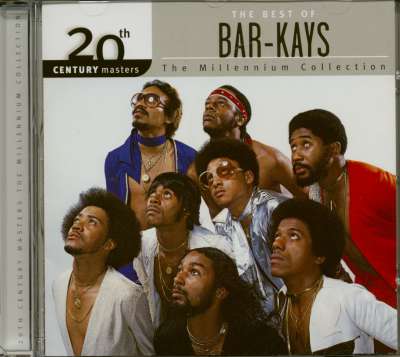 The Bar-Kays: 20th Century Masters - The Millennium...
Art-Nr.: CD434502


Sofort versandfertig, Lieferzeit** 1-3 Werktage
(2005/Universal) 11 tracks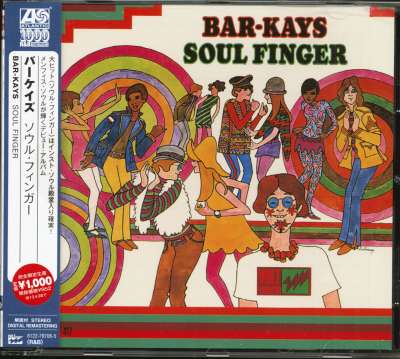 The Bar-Kays: Soul Finger (CD, Japan)
Art-Nr.: CDATL7065


Sofort versandfertig, Lieferzeit** 1-3 Werktage
(Atlantic Japan) 11 Tracks - Japan CD Neuauflage des original 1967 Volt Albums!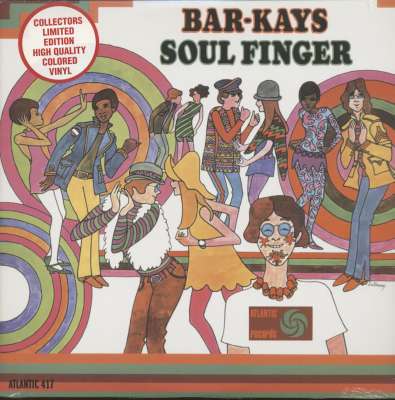 The Bar-Kays: Soul Finger (LP, 180g Vinyl, ltd.)
Art-Nr.: VOLT417C


Dieser Artikel ist gestrichen und kann nicht mehr bestellt werden!
(Atlantic) 11 tracks - Re-issue of the original 1965 album on high quality colored vinyl - limited edition.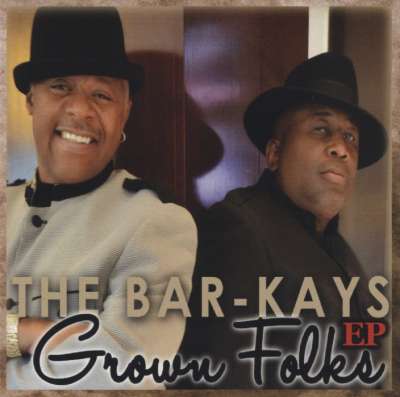 BAR-KAYS: Grown Folks
Art-Nr.: CD971247


Artikel muss bestellt werden
(25:09/05)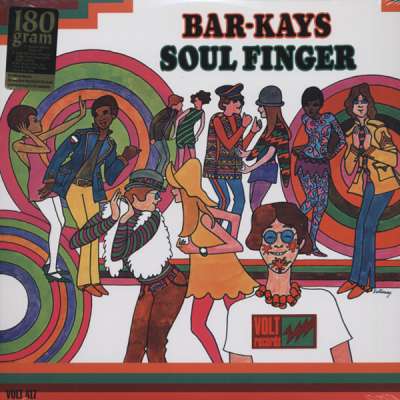 BAR-KAYS: Soul Finger (1965) 180g Vinyl
Art-Nr.: VOLT417H


Dieser Artikel ist gestrichen und kann nicht mehr bestellt werden!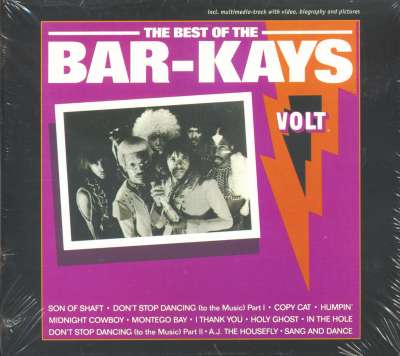 The Bar-Kays: The Best Of The Bar-Kays (CD)
Art-Nr.: CDSCD8542


Sofort versandfertig, Lieferzeit** 1-3 Werktage
(Fantasy) 14 Tracks -,Digipack, 24Bit remastered, Original Volt Aufnahmen!