Für die Filterung wurden keine Ergebnisse gefunden!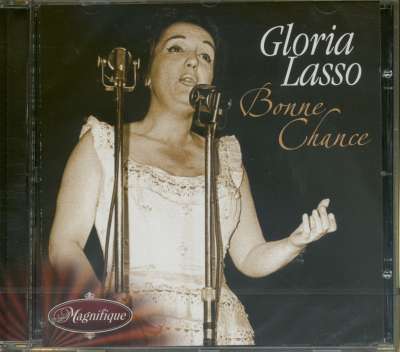 Gloria Lasso: Bonne Chance (CD)
Art-Nr.: CDMQ3423


Sofort versandfertig, Lieferzeit** 1-3 Werktage
(2007/MAGNIFIQUE) 15 tracks, original recordings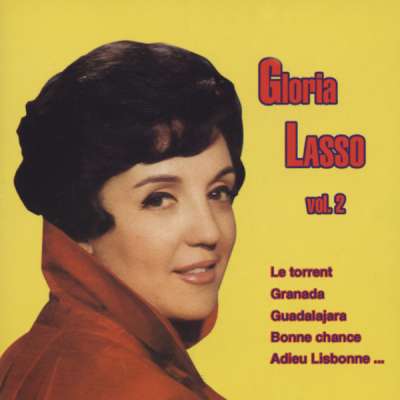 Gloria Lasso: Vol.2
Art-Nr.: CDUL18019


Sofort versandfertig, Lieferzeit** 1-3 Werktage
(2007/ULYSSE) 16 tracks (49:33) original 1956 (Orchester Franck Pourcel)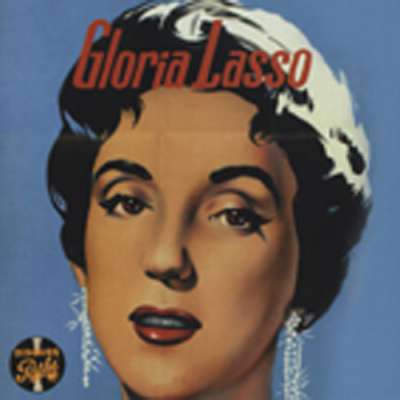 Gloria Lasso: Gloria Lasso (2-CD)
Art-Nr.: CD859889


Sofort versandfertig, Lieferzeit** 1-3 Werktage
(1997/EMI FRANCE) 36 tracks 1954-61
Wer war/ist

Gloria Lasso

? - CDs, Vinyl LPs, DVD und mehr
Gloria Lasso
You could say that Gloria Lasso's life reads very much like a fairytale. a story filled with happiness. pain. witches and magicians
Once upon a time, Gloria Lasso. then a surgeon's assistant. was asked by a local radio show to fill in for a singer who had suddenly fallen ill. Little did she know that this was to be the beginning of what turned out to be an illustrious international career. Encouraged by this initial success. she made her debut in France in 1954. A short time later. she sang her own version of Rina Ketty's Mediterranean song +Iola Que Tal", which she recorded in both French and Spanish. as she would the majority of her records. Francis Lopez wrote "Le pauvre muletier" for her. which turned out of be one of her biggest hits. She then triumphed at the Olympia two years in a row. before recording her million seller "Bon voyage", followed by -Le torrent" (see "Bon Voyage' on EMI. ric 854 848-2).

In 1959. she took over the Pinder tour from the celebrated Luis Mariano (tracks 14 to 18 on the 2nd CD). With the arrival of Dalida, she changed her style. calling on other composers. such as Gainsbourg. with whom she recorded his "La chanson de Prevert" (see Tribute To Serge Gainsbourg CD. EMI n: 854 067-2), becoming the first of a long line of famous performers to work with him. In 1963, with songs such as "Comedien" and "Noel de Nicomede". this now celebrated international songstress was far from the Gloria Lasso of the 1950s. And the fairytale didn't end there. for Gloria Lasso is still famour throughout the world. especially in Mexico where she would eventually star in her own television programme the -Gloria Lasso Show".
Gerard Paris


Gloria Lasso
Il était une fois... Ainsi pourrait commencer l'histoire de Gloria Lasso car cette histoire ressemble bien à un conte de fée avec ses instants de bonheur, de peine, ses sorcières et ses magiciens !
C'est en remplaçant au pied levé une chanteuse souffrante pour une émission de radio que la jeune assistante chirurgicale qu'elle est à l'époque débute sa carrière dans la chanson. Encouragée par ce succès elle débute en France en 1954. La notoriété est immédiate. elle relance la chanson méditerranéenne inventée par Rina Ketty en chantant "Nota Que Tal" qu'elle enregistrera comme beaucoup de ses chansons en français et en espagnol. Francis Lopez écrit alors pour elle son premier grand succès "Le pauvre muletier". Elle passe à l'Olympia deux années de suite et c'est un triomphe ! Elle enchaîne les succès : "L'étranger au paradis" dont le 45T sera vendu à un million d'exemplaires, "Bon voyage". 'Le torrent" (voir le disque EMI "Bon Voyage" n° 854 848-2).

En 1959 elle succède à Luis Mariano pour la tournée du cirque Pinder (titres 14 à 18 du CD2). Elle change alors de style avec l'arrivée de Dalida en se tournant vers de nouveaux auteurs. En 1962 lors de son passage à l'ABC elle est une des premières interprètes de Gainsbourg avec "La chanson de Prévert" (voir CD EMI -Tribute To Serge Gainsbourg" n: 854 067-2). Avec des chansons comme "Comédien". -Noël de Nicomède" on est bien loin du style de 1954. Gloria Lasso est devenue une grande chanteuse internationale et à partir de 1963 c'est surtout au Mexique qu'elle poursuivra sa carrière où elle animera à la télévision le "Gloria Lasso Show".
Gérard Paris