Wer war/ist

J.C. Burris

? - CDs, Vinyl LPs, DVD und mehr
J.C. Burris
J.C. Burris, born John Burris, 1928, Kings Mountain, N.C.; died May 15, 1988, Kings Mountain, N.C.
J.C. Burris was a part of the San Francisco Bay area blues scene from the early 1960s to his death in 1988. A harmonica player and vocalist, Burris main-tained much of the country blues style he learned from his uncle, SONNY TERRY. In addition to playing harp, Burris also played the bones, the dancing doll (he called his doll Mister Jack), and other traditional percussive folk instruments. Burris was born and raised in North Carolina. In 1949 he moved to New York City, where he learned the finer points of blues harmonica from Terry.
Burris worked his way into the New York folk-blues scene in the 1950s by playing clubs and coffeehouses, occasionally performing with his uncle. Burris's first recording experience was with Terry; he cut sides as Terry's accompanist for the Folkways label in the late '50s. Burris moved to the West Coast in 1959, settling in San Francisco a year later. He became a popular performer in the city's blues scene, playing his brand of North Carolina rural blues with its accent on Sonny Terry—styled harp. In 1975 Burris recorded his debut album, One of These Mornings, for the Arhoolie label. He continued to live and perform in the Bay Area right up until his death at age sixty.
Für die Filterung wurden keine Ergebnisse gefunden!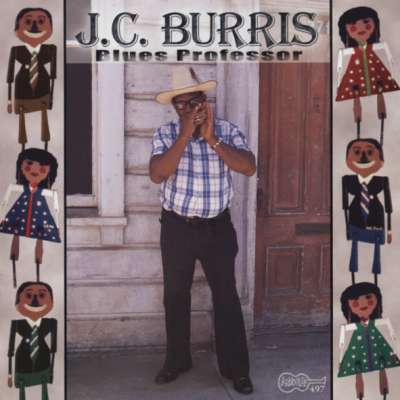 J.C. Burris: Blues Professor
Art-Nr.: CDARH497


Sofort versandfertig, Lieferzeit** 1-3 Werktage
(1975/76 'Arhoolie') (78:19/20) Ein eigenwilliger Bluesmusiker, der von seinem Onkel Sonny Terry die ersten Tricks lernte und ansonsten wenig Kontakt zu anderen Musikern hatte. Er trat solo auf oder mit einer seiner selbstgeschaffenen...