Wer war/ist

Little Eva

? - CDs, Vinyl LPs, DVD und mehr
Little Eva
Geboren als Eva Narcissus Boyd am 29. Juni 1945 in Bellhaven, North Carolina, zog sie bereits als Teenager nach New York. Der Legende nach wurde sie als Babysitter bei Carole King und Gerry Goffin engagiert und dabei prompt als Sängerin entdeckt. Goffin und King baten sie, ein neues Lied aufzunehmen, das sie geschrieben hatten. Das Ergebnis war 'The Locomotion'! Eingespielt mit den Cookies als Vokalgruppe für den Hintergrundgesang, kam die Platte sofort auf Platz 1 in den Charts. Das war 1962.
Nun ging es Schlag auf Schlag, es folgte eine Reihe von Tanz-Hits, darunter 'Keep Your Hands Off My Baby', 'Let's Turkey Trot' und ' Old Smokey Locomotion ', allesamt auf dem Dimension Label, wo auch Evas Schwester Idaho Boyd den Song 'Hula Hooping ' herausbrachte. Trotz einiger weitaus gefühlvollerer Platten (auf den Labels Amy, Spring und anderen) hatte Little Eva keine größeren Hits mehr.
Für die Filterung wurden keine Ergebnisse gefunden!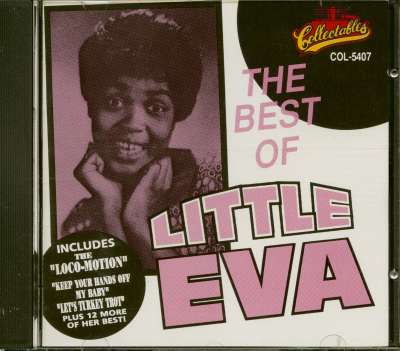 Little Eva: The Best Of (CD)
Art-Nr.: CDCOL5407

(Collectables/Rhino) 15 tracks - essential!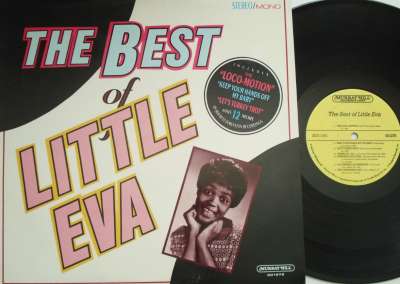 Little Eva: The Best Of Little Eva (LP)
Art-Nr.: LPMH001279

(1988/Murray Hill) 15 tracks (1 unreleased) - essential album with great notes and discography.
Little Eva: L-L-L-L-Loco-Motion (LP)
Art-Nr.: LP2011048

(2013/Rumble) 13 Titel - Reproduktion des 1962er 'Dimension' Albums! Original versiegelt!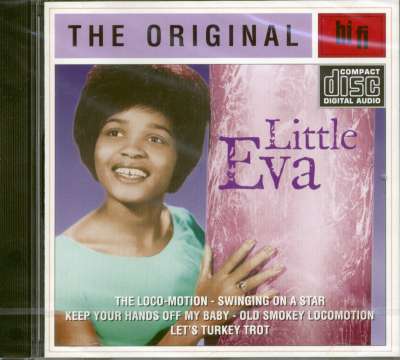 Little Eva: The Original (CD)
Art-Nr.: CD886242

(1998/DISKY) 15 tracks Original Dimension Recordings 62-65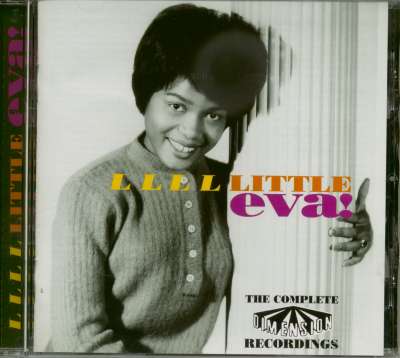 Little Eva: The Complete Dimemsion Recordings (CD)
Art-Nr.: CDWESM512

(1997/Westside) 29 tracks (73:32). Long deleted and rare Anthology of the original master recordings 1962-65 in stunning sound quality. 8 page booklet of notes and photos. - Perhaps no babysitter in history got a bigger break than Eva...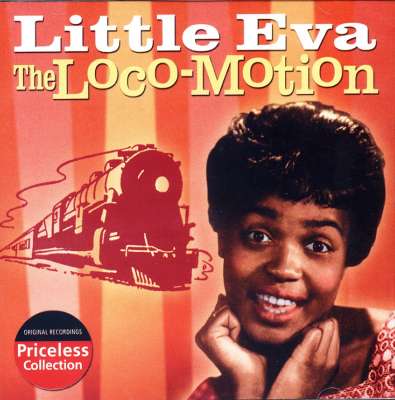 Little Eva: Loco-Motion
Art-Nr.: CDCOL9930

CD on COLLECTABLE RECORDS by Little Eva - Loco-Motion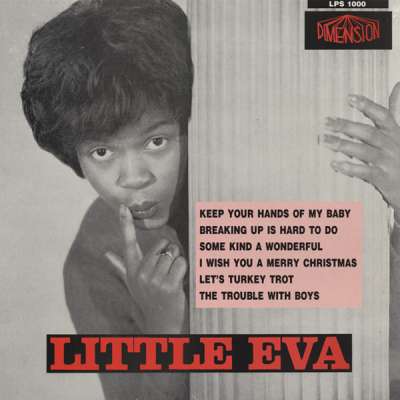 Little Eva: Greatest Hits & Rare Items
Art-Nr.: LPS1000