Für die Filterung wurden keine Ergebnisse gefunden!
Wer war/ist

Nellie Lutcher

? - CDs, Vinyl LPs, DVD und mehr
Nellie Lutcher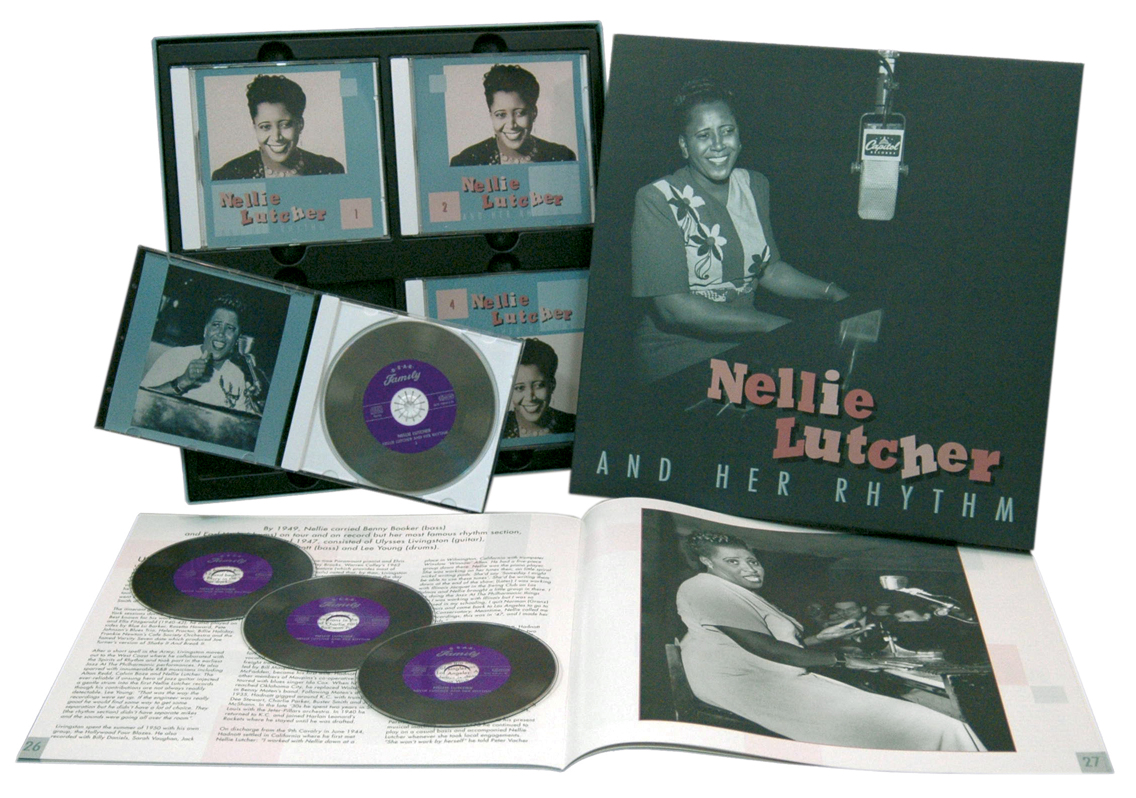 The full story of Nellie Lutcher's astonishingly lengthy career has been told by Bill Millar in the booklet accompanying 'Nellie Lutcher & her Rhythm' (Bear Family BCD 15910). Very briefly, she was born near Lake Charles, Louisiana in 1912 and went west in 1935. Capitol's A&R man Dave Dexter spotted her at a 'March Of Dimes' show, and signed her in 1947. He's A Real Gone Guy was the follow-up to her first hit, Hurry On Down, and it spent 23 weeks on the R&B charts, peaking at No.2. It also reached No.15 on the pop charts, and made her the second best-selling R&B artist of 1947 (Louis Jordan, of course, was No.1). LaVern Baker revived He's A Real Gone Guy on her 'See, See Rider' LP. Ruth Brown revived it late in her career, and it became a minor jazz classic with versions by Gene Ammons, Kenny Burrell, Ramsey Lewis, Grant Green, Jack McDuff, and others. In 1956, Anita Carter recorded a country-pop version for RCA, and in 1999, Bill Wyman included it on his 'Anyway The Wind Blows' LP. Nellie's hot streak ended as the market for sophisticated black nightclub music waned, and she last recorded in 1963, but she's still among us as of this writing.
Nellie Lutcher, whom we encountered on the '1947' volume resurfaces here with a song that reached #2 on the R&B charts and #21 on the pop charts. It was an older song, first recorded by Buddy Johnson in October 1944. "It was," wrote Bill Millar (in his booklet accompanying 'Nellie Lutcher And Her Rhythm'), "another of the many tunes Nellie had been singing before she arrived at Capitol. 'Lutcher fans will be well pleased,' remarked 'Billboard'. 'Vocal style may annoy squares, but it's still something.' Nellie incorporated references to some of Hollywood's amiable leading men: ' Robert Taylor, Robert Young, Ameche, and Gable/All as fine as mountain sable.' 'Listen,' she said, 'I rewrote the thing. Mountain sable is a fur and the other part was jive talk…Buddy Johnson had the first record on it, and I liked it when I heard it. I learned it from his record, and then I restyled it for a woman singing about a man's frame."
Nellie Lutcher & Her Rhythm (4-CD)
Read more at: https://www.bear-family.de/lutcher-nellie-her-rhythm-4-cd.html
Copyright © Bear Family Records
Weitere Informationen zu Nellie Lutcher auf de.Wikipedia.org