Wer war/ist

Luke McDaniel

? - CDs, Vinyl LPs, DVD und mehr

LUKE McDANIEL always stood high among rockabilly fans for Whoa Boy, a seminal proto-rockabilly number from 1952 on Trumpet Records. Luke Jefferson McDaniel was born in Laurel, Mississippi on February 3, 1927, and grew up in Ellisville, just north of New Orleans.

He formed a hillbilly band in the 1940s, and first recorded in June 1952 (the aforementioned Whoa Boy). His last shot on Trumpet came with a Hank Williams tribute (McDaniel had opened one of Hank's last shows, and that was sufficient proximity to inspire A Tribute To Hank Williams, My Buddy). In 1953, he moved to WKAB in Mobile, Alabama, and a local star, Jack Cardwell, helped him land a King Records deal. From there, McDaniel went to the Louisiana Hayride which gave him a backstage pass at rockabilly's birth. By then, he was recording for Mel-a-Dee Records in New Orleans, but after working a show with Elvis and Carl Perkins, he took their advice and went to Sun. By this point, he was writing songs with Jimmie Otto Rogers (a distant relative of the blue yodeller, Jimmie Rodgers), and they'd already written one rockabilly classic, Midnight Shift.

McDaniel and Rogers arrived at Sun in September 1956. The first session, at which McDaniel recorded Go Ahead, Baby, was on September 4th or 5th and featured an unknown group probably led by guitarist Brad Suggs. A second session was held in January 1957. It featured a saxophonist, and probably Roland Janes on guitar. My Baby Don't Rock came from the second session. McDaniel expected to get Musicians Union scale for the sessions, but Phillips saw them as demo sessions and wouldn't pay. The two argued outside the studio, and McDaniel's already slim chance of getting on Sun was reduced to nil. He went on to record the hillbilly classic You're Still On My Mind for Venus Records.

Starday's Pappy Daily heard it and gave it to George Jones, who elevated it to the top rung of beerhall classics. Jimmie Rogers reckoned that he had cowritten You're Still On My Mind, and he and McDaniel split. Rogers went on to produce two singles for Sun by the Teenangels and the Quintones. McDaniel had some ongoing success as a songwriter. Honey, Won't You Please Come Home was covered by Jim Reeves, and Carl Perkins cut Foxy Dan, but his involvement in the music business declined after the Sixties. He died on December 2, 1998.

read more
Various - That'll Flat Git It! Vol.16 Rockabilly From The Vaults Of SUN Records
Für die Filterung wurden keine Ergebnisse gefunden!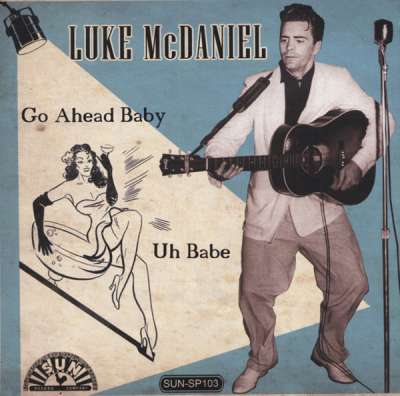 Luke McDaniel: Go Ahead Baby - Uh Baby (7inch, 45rpm, PS, ltd.)
Art-Nr.: 45SP103


Dieser Artikel ist gestrichen und kann nicht mehr bestellt werden!
Super hot Rockabilly Boppers recorded for the Memphis based 'Sun' label - Killer two sider! Big Club Hits!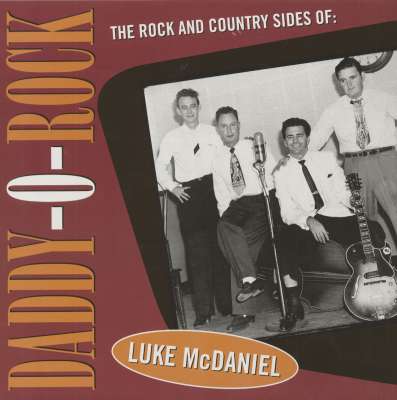 Luke McDaniel: Daddy O Rock
Art-Nr.: LPBLK7715


Artikel muss bestellt werden
(1996/Hydra) 24 tracks. Luke McDaniel hat großartige Songs geschrieben und aufgenommen. Die Bandbreite geht von klassischen Country Songs und Hillbilly-Rockern mit Fiddle und Steelguitar bis zu wilden Rockabilly-Nummern mit wilder...