Wer war/ist

Scotty Moore & D.J. Fontana

? - CDs, Vinyl LPs, DVD und mehr
Scotty Moore & D.J. Fontana
Scotty Moore (Lead-Gitarre) und D.J. Fontana (Schlagzeug) waren Mitte der 1950er Jahre Studiomusiker beim Memphis Recording Service, dem Sun Records Studio, 706 Union Ave., Memphis, Tennessee.
Scotty Moore
Scotty Moore kam als Winfield Scott Moore III. am 27 Dezember 1931 zwischen den Orten Gadsden und Humboldt, Tennessee zur Welt und starb 84 jährig am 28. Juni 2016 in Nashville, Tennessee.
D.J. Fontana
D.J. Fontana wurde als Dominic Joseph Fontana am 15. März 1931 in Shreveport, Louisiana geboren. Shreveport war seinerzeit berühmt für die legendären 'Louisiana Hayride' Shows, die jeden Samstag Abend überregional im Radio gesendet wurden. Fontana gehörte als Schlagzeuger zur Hausband und lernte dort im Oktober 1958 Scotty Moore, den Bassisten Bill Black und natürlich Elvis Presley kennen.
The Blue Moon Boys
Scotty Moore und D.J. Fontana traten mit Bill Black und Elvis zunächst unter dem Namen Elvis Presley & The Blue Moon Boys auf. Sie blieben die legendäre Begleitband von Elvis Presley bis zu dessen Einberufung zum Militär 1958. Scotty Moore spielte bereits seit 1952 mit dem Bassisten Bill Black bei den Starlite Wranglers, bis D.J. Fontana zu den seit 1954 formierten Blue Moon Boys hinzukam.
Memphis
Als Elvis seinen Militärdienst antrat, betätigte sich Scotty Moore weiterhin als Session Musiker und machte Aufnahmen in eigener Sache. Zudem war er Produzent und Studio-Techniker, insbesondere für das Label Fernwood Records in Memphis.
Film und Fernsehen
Moore und Fontana arbeiteten auch weiterhin quer durch die 60er Jahre mit Elvis, darunter viele Aufnahmen zu dessen Film-Soundtracks. Ebenso waren sie bei Elvis' berühmtem '1968 Comeback TV Special' in den sogenannten 'Sit down'-Shows dabei, die seiner Zeit weit voraus waren und die später sehr erfolgreichen, sogenannten 'Unplugged Sessions' bereits vorweg nahmen.
Die Nach-Elvis-Zeit
In den 70er und 80er Jahren arbeiteten beide gemeinsam mit erfolgreichen Künstlern, wie Carl Perkins, Charlie Feathers, Dolly Parton, Roy Orbison, Paul McCartney, Ringo Starr, Ron Wood und Keith Richards zusammen. Auch Künstler, die eher aus Pop-Gefilden stammen, wie beispielsweise Chris Isaak, bedienten sich der beider Legenden. In den 1990er Jahren waren Moore und Fontana häufig mit dem original Sun Records Künstler Sonny Burgess auf Tournee und regelmäßig auf Elvis Presley Gedenk-Veranstaltungen gebucht. 1997 veröffentlichten Moore und Fontana das Album 'All The King's Men' mit verschiedenen berühmten Gastmusikern aus dem Bereich der Rock und Pop Musik.
Copyright © Bear Family Records® Alle Rechte vorbehalten. Nachdruck, auch auszugsweise, oder jede andere Art der Wiedergabe, einschließlich Aufnahme in elektronische Datenbanken und Vervielfältigung auf Datenträgern, in deutscher oder jeder anderen Sprache nur mit schriftlicher Genehmigung der Bear Family Records® GmbH.
Weitere Informationen zu Scotty Moore & D.J. Fontana auf de.Wikipedia.org
Für die Filterung wurden keine Ergebnisse gefunden!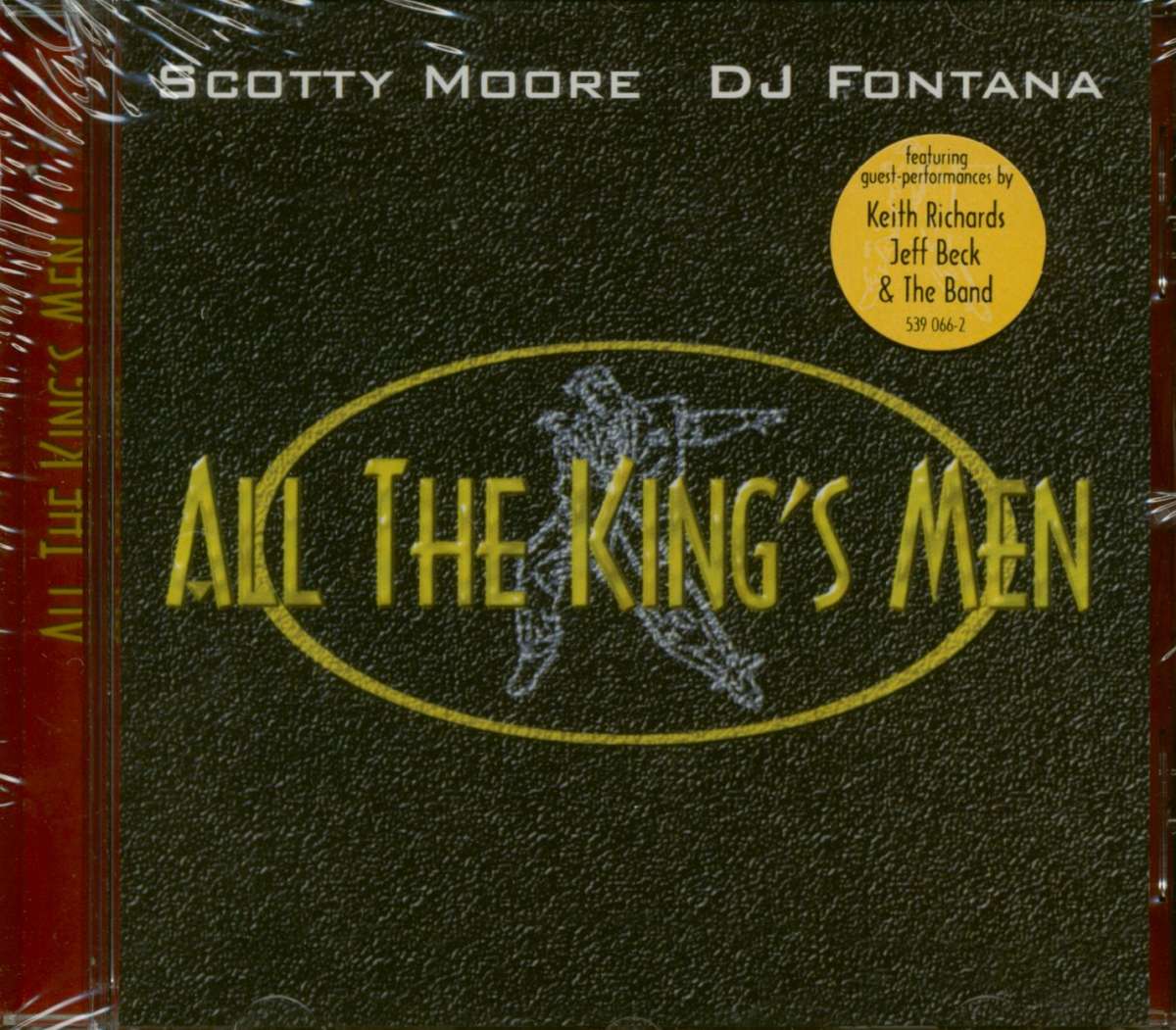 Scotty Moore & D.J. Fontana: All The King's Men (CD)
Art-Nr.: CD539066


Dieser Artikel ist gestrichen und kann nicht mehr bestellt werden!
(1997/POLYDOR) 11 Tracks (37:25) - Superb tribute project featuring Scotty Moore and D.J. Fontana playing with an A-Team of Rock'n'Roll (with Keith Richards, The Mavericks, Joe Ely, Ronnie McDowell, Jeff Beck a.o.). New material with the...