Wer war/ist

Moore, Sparkle

? - CDs, Vinyl LPs, DVD und mehr

Geboren als Barbara Morgan in Omaha. Nebraska, 1939, Spitzname Sparkle nach einer Figur im Dick Tracy Comic, schrieb, spielte und sang diese blonde, scharf gekleidete Multi-Instrumentalistin ihr eigenes Material, so wie die erste Welle des Rock'n'Roll alles vor ihr in I 956 trug, wie sie später erklärte: "Ich mochte viel Echo und ich mochte viel Schreien. Ich wollte, dass die Dinge rausgeschnitten werden. Wild: Sie schnitt die vier selbst geschriebenen Songs hier für das Fraternity-Label in Cincinnati. Ohio, unterstützt von ihrer regulären Label-Hausband, Dan Belloc und seinem Orchester. 'Gal pulls a fern Presley and belts out a catchy rock'n'roll ditty with style and drive.', sagte das Billboard Magazin im November 1956, als sie ihr Debüt 45, Skull and Cross Bones mit der Rückseite Rock-it-Bop, Revue passieren ließ.

Journalisten und PR-Leute der Musikbranche hatten damals die Angewohnheit, jede Frau im Rock'n'Roll als "weibliche Elvis" zu bezeichnen - andere Kandidaten, die den Titel erhielten, waren Janis Martin, Charline Arthur, Jean Chapel und Alis Lesley. Sparkle sah sicherlich aus und klang wie der echte Deal, und wurde auch manchmal als 'Female James Dean' gehandelt. Sie spielte mit Stars wie Gene Vincent, den Wilburn Brothers und Ernest Tubb, und es gab sogar Gespräche bezüglich einer 'Package Tour' durch Brasilien im Jahr 1957, aber nach der Veröffentlichung ihrer zweiten Single, Killer/Tiger, zog sie sich aus dem Rockgeschäft zurück, um eine Familie zu gründen.

Weitere Informationen zu Moore, Sparkle auf de.Wikipedia.org
Für die Filterung wurden keine Ergebnisse gefunden!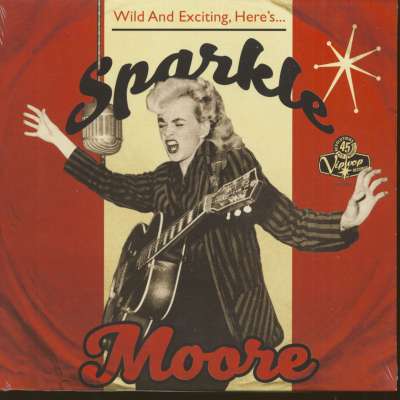 Sparkle Moore: Wild And Exciting, Here's Sparkle Moore (LP,...
Art-Nr.: LPVIP014


Sofort versandfertig, Lieferzeit** 1-3 Werktage
(Vipvop) 4 Tracks - Diese 10inch EP enthält die einzigen vier 45rpm Aufnahmen von Sparkle Moore, die sie 1956 und 1957 für das Label 'Fraternity' gemacht hatte.