Wer war/ist

Abi & Esther Ofarim

? - CDs, Vinyl LPs, DVD und mehr

Israelisches Gesangs-Duo, das in Deutschland seinen Siegeszug um die ganze Welt begann. 1959 begann die Karriere des ehemaligen Fabrikarbeiters Abraham Reichstadt (geb. 5. 10. 1937 in Zafed) und seiner Freundin Esther Zaied (geb. 13. 6. 1941 in Zafed) mit einem Engagement des israelischen "Theatre Club'. 1961 gewannen die beiden das Song-Festival in Tel Aviv. Zu dem Zeitpunkt waren die beiden schon verheiratet. 1963 gewann Esther Ofarim den zweiten Platz beim Grand Prix Eurovision mit "T'en vas pas'. Für die beiden bedeutete das gleichzeitig den Durchbruch. Abi arrangierte die Songs, begleitete Esther dabei auf der Gitarre und hielt sich im Hintergrund. 1966 hatten die beiden mit "Noch einen Tanz' den ersten Hit in Deutschland. Der Qrößte Erfolg bei uns war 1967 das Lied "Morning of my Life'. 1968 gelang der Durchbruch zur internationalen Spitze mit "Cinderella Rockefella'. Auftritte in |-Ondon und New York markierten ihren Triumphzug. Unverkennbar jedoch war die private Krise, die ein Jahr später auch zur beruflichen wurde. Die beiden trennten sich. Esther nahm Solo-LPs auf, Abi gründete in München die Produktionsfirma Prom. Can bekamen durch ihn ihren ersten Plattenvertrag. lm November 1970 ließen sich die beiden scheiden. Um Esther ist es still geworden, sie ist im Augenblick nicht an neuen Plattenproduktionen interessiert, hat ihr Geld in Immobilien angelegt, lebt in München. Abi Ofarim macht sich seit einem Jahr einen immer besseren Namen als Produzent, so u. a. der Primaballerina Margot Werner. Trotzdem - Esther und Abi Ofarim sind immer noch unvergessen. Original Presse-Info: Phonogram GmbH

Copyright © Bear Family Records® Alle Rechte vorbehalten. Nachdruck, auch auszugsweise, oder jede andere Art der Wiedergabe, einschließlich Aufnahme in elektronische Datenbanken und Vervielfältigung auf Datenträgern, in deutscher oder jeder anderen Sprache nur mit schriftlicher Genehmigung der Bear Family Records® GmbH.

Weitere Informationen zu Abi & Esther Ofarim auf de.Wikipedia.org
Für die Filterung wurden keine Ergebnisse gefunden!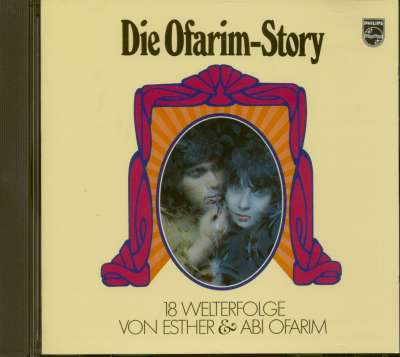 Esther & Abi Ofarim: Die Ofarim-Story (CD)
Art-Nr.: CD512866


Dieser Artikel ist gestrichen und kann nicht mehr bestellt werden!
(Polygram) 18 tracks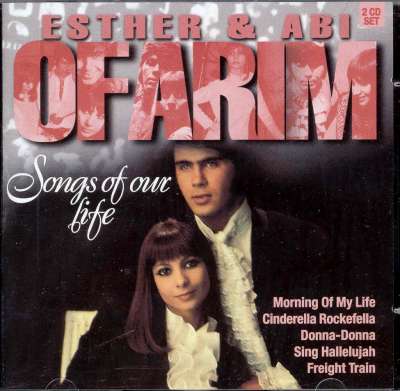 Esther & Abi Ofarim: Songs Of Our Life 2-CD
Art-Nr.: CD534799


Artikel muss bestellt werden
CD on MERCURY RECORDS by Esther & Abi Ofarim - Songs Of Our Life 2-CD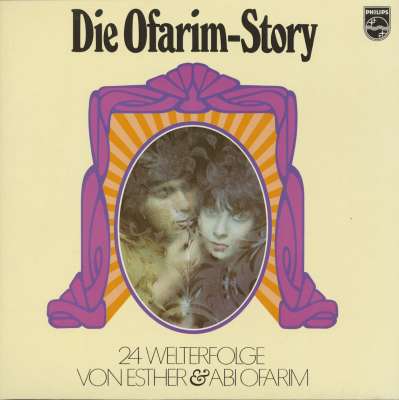 Esther & Abi Ofarim: Die Ofarim Story - 24 Welterfolge (2-LP)
Art-Nr.: LP6610010


Artikel muss bestellt werden
(Philips) 24 tracks - Reproduction of the original 1972 album!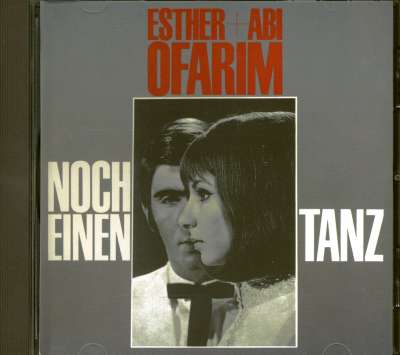 Esther & Abi Ofarim: Noch einen Tanz (CD)
Art-Nr.: CD212727


Artikel muss bestellt werden
(Polymedia) 12 tracks