Wer war/ist

Martha Reeves

? - CDs, Vinyl LPs, DVD und mehr
Martha & The Vandellas
Dancing In The Street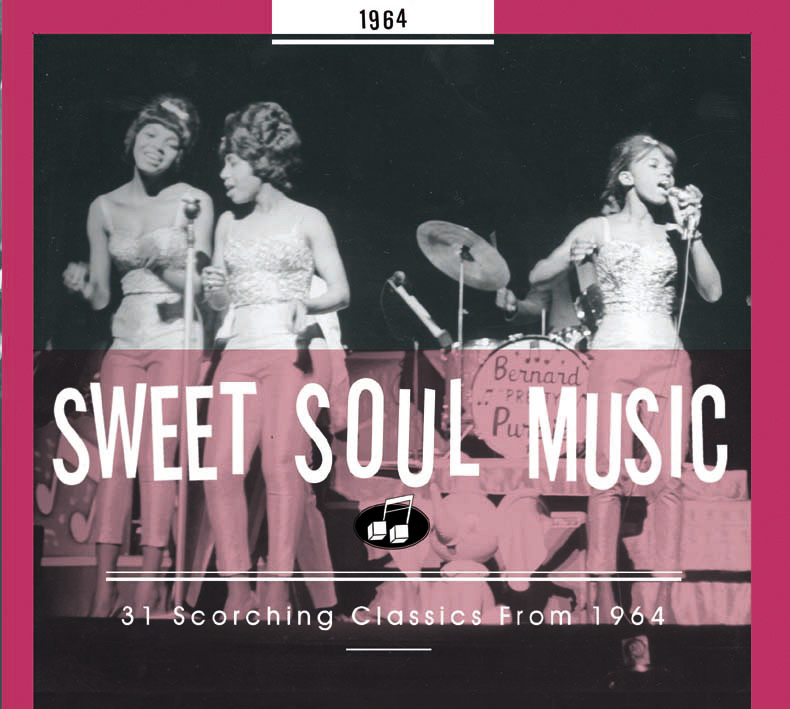 Martha & The Vandellas
Dancing In The Street
Just prior to The Supremes' meteoric rise, Martha & The Vandellas were Motown's top girl group. The trio (Martha Reeves, Rosalind Ashford, and Annette Beard) hit big in 1963 under Holland-Dozier-Holland's creative supervision with Come And Get These Memories, Heat Wave, and Quicksand, but their glorious Dancing In The Street was mainly the work of staffer Ivy Jo Hunter, who shared writer's credit with producer Mickey Stevenson (the pair had a 50/50 agreement on all their compositions).
"Marvin Gaye gave us the title," says Ivy Jo. "I had already cut the rhythm track. We were over on Cortland, upstairs in the rehearsal area. Marvin happened to be there, and I brought the tape up to play for Mickey, 'cause he had never heard it. Then I was trying to write, and I was going with another melancholy theme. And Marvin said, 'Ivy, that's not a sad song. That song sounds like dancing in the street!'"
The song's backbeat was explosive."That's a tambourine with a stick, and deep echo. That was Mickey. He added that. He had the production experience, but he didn't know anything about that rhythm that I wrote. Because I could only play one side of the piano at a time. And so I had this bass line," says Hunter. "Paul Riser, the arranger, who saved a lot of my productions for me, he could decipher what I was trying to do, so he wrote it up. And he wrote out that bass part for Jamerson. That was they very first bass part that was ever written for James Jamerson. And at the end of the session, he made the comment, he said, 'I have never had so much fun in my life playing one note!'"
At first, Reeves had reservations. "When I first heard 'Dancing In The Street,' I started to get annoyed, because I didn't know the intent of it," she says. "Marvin had another melody, and I asked him if I could sing it once the way I felt it, the way I felt the melody with the words. And they said, 'Go ahead.' And the miracle in that session was when I finished, the engineer told them that the machinery wasn't turned on. And I had to sing it again. I sang it straight through, without overdubs." The end result was an empowering #2 pop anthem later revived by The Mamas & The Papas, Ramsey Lewis, Van Halen, and the duo of Mick Jagger and David Bowie. Martha & The Vandellas would score hits for Motown—Nowhere To Run, My Baby Loves Me, I'm Ready To Love, Jimmy Mack—into 1972 (albeit with a few personnel changes along the way), when the resilient Reeves went solo. She's still belting them today.
- Bill Dahl -
Various - Sweet Soul Music
31 Scorching Classics From 1964

Read more at: https://www.bear-family.de/various-sweet-soul-music-31-scorching-classics-from-1964.html
Copyright © Bear Family Records
Copyright © Bear Family Records® Alle Rechte vorbehalten. Nachdruck, auch auszugsweise, oder jede andere Art der Wiedergabe, einschließlich Aufnahme in elektronische Datenbanken und Vervielfältigung auf Datenträgern, in deutscher oder jeder anderen Sprache nur mit schriftlicher Genehmigung der Bear Family Records® GmbH.
Für die Filterung wurden keine Ergebnisse gefunden!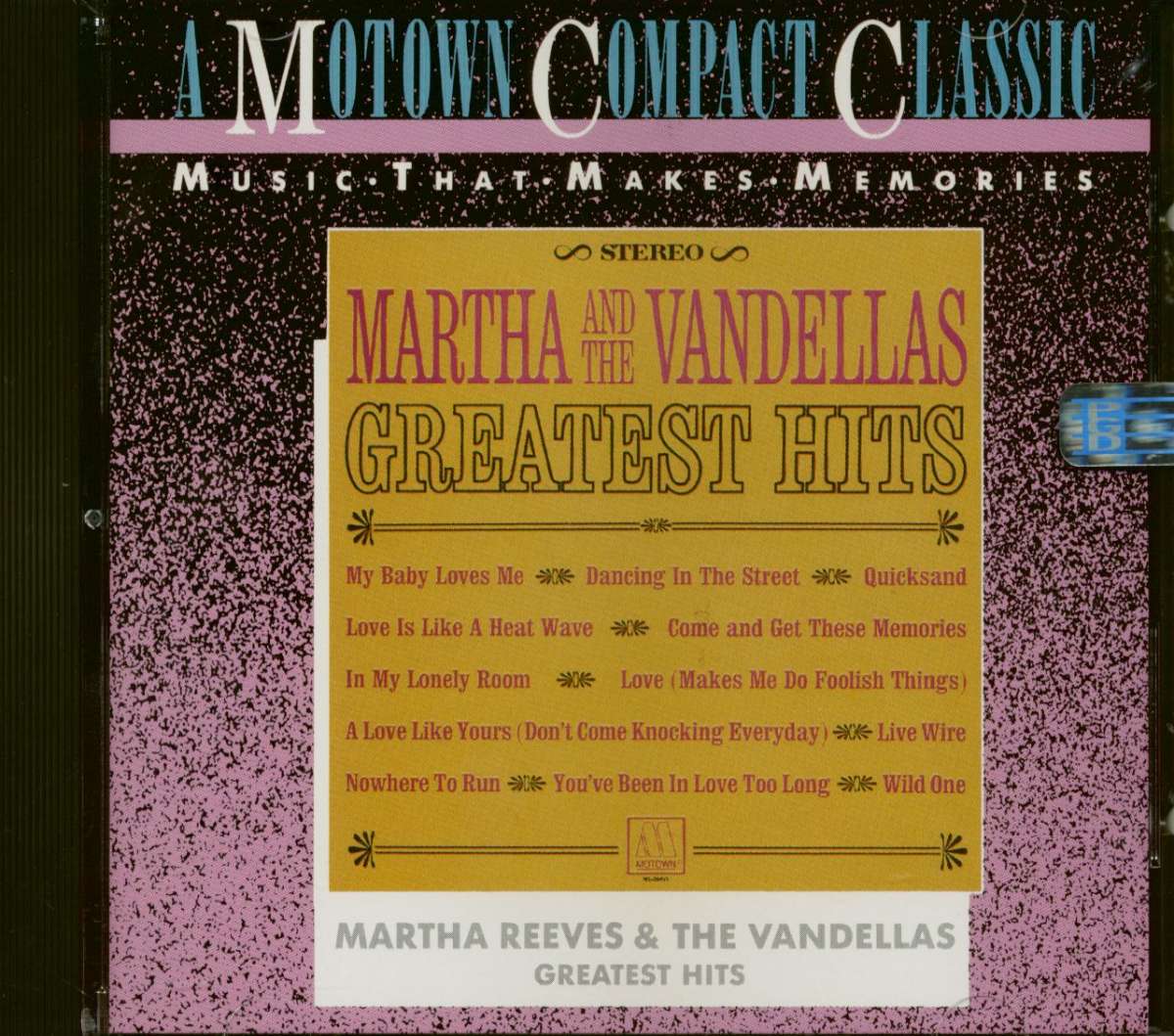 Martha Reeves: Martha Reeves & The Vandellas - Greatest Hits (CD)
Art-Nr.: CDMOT52042


Artikel muss bestellt werden
(Motown) 12 Titel, Stereo, A Motown Compact Classic, Musik, die Erinnerungen weckt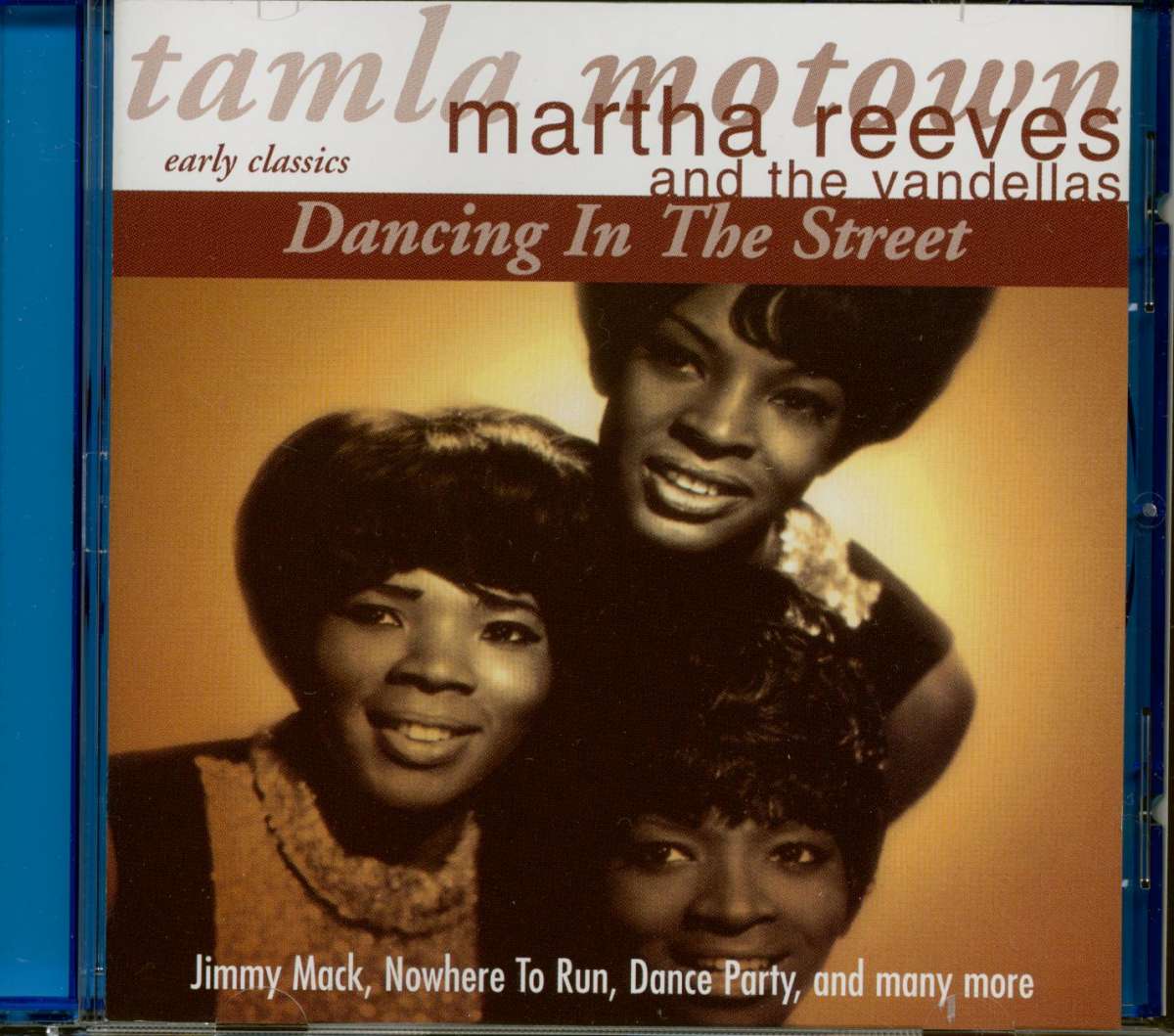 Martha Reeves & The Vandellas: Dancing In The Street (CD)
Art-Nr.: CD474121


Dieser Artikel ist gestrichen und kann nicht mehr bestellt werden!
(PolyMedia) 18 tracks