Wer war/ist

Weldon Rogers

? - CDs, Vinyl LPs, DVD und mehr

WELDON ROGERS, der zum Teil irische Teil Cherokee, der Sohn eines Staubschalenbauern, wurde am 30. Oktober 1927 in Marietta, Oklahoma, geboren. Seine Familie zog nach Lamesa, Texas, als er ungefähr acht Jahre alt war. Sie bauten Baumwolle und Mais an und beteten in der kleinen Baptistengemeinde an, wo Rogers, der am lautesten sang, als Psalmführer ausgewählt wurde.

Rogers hat sein langes Arbeitsleben zwischen Jobs als DJ, dem Spielen in einer Band an Wochenenden und dem Schneiden von Platten an der Seite aufgeteilt. Er begann 1954 bei KSML in Seminole, Texas (zu seinen Favoriten zählten Ernest Tubb und Leon Payne) und schnitt seine Debüt-CD für Queen Records, ein Label von Wink Lewis aus San Antonio (obwohl Hoyle Nix' Platten die Liste dominierten).

1955 finanzierte der lokale Ölmann Chester Oliver Je-Wel Records, benannt nach Weldon und Olivers Tochter Jeanne, die in Rogers' Band Akkordeon spielte. Sie besetzten einen Platz auf Midlands KMID-TV am Samstagnachmittag kurz vor den Teen Kings, einer weiteren lokalen Band, deren Anführer Roy Orbison das Odessa Junior College besuchte.

Es war Chester Olivers Idee, Orbison aufzunehmen, der seine erste Platte, Ooby Dooby and Trying To Get To You (Je-Wel 101), in Norman Petty's Studio in Clovis, New Mexico, aufgenommen hat. Andere Aufzeichnungen auf Weldons eigenem Jewel-Label zeigten Rogers und Wanda Wolfe - Everybody Wants You is a rare but rockin' duet - und Weldon und Wanda Rogers; Weldon heiratete Wanda, nachdem sie von Bob Wolfe, einem Sänger aus Roswell, geschieden wurde.


Laut Rogers wurde er Lew Chudd bei einem Besuch in Los Angeles vorgestellt. "Ich habe einen Vertrag unterschrieben", erinnert er sich. "Ich ging nach Wink, Texas und holte Roy Orbisons Band, die er bei'Ooby Dooby' benutzt hatte. Ich besuchte auch meine Schwester, die in Andrews, Texas lebte. Als ich ging, hatte ich drei Songs geschrieben und auf dem Weg zur Session mit Roys Band im Auto sagte ich: "Nun, wenn ich nicht vier Songs aufnehmen kann, um sie zu Lew Chudd zurückzubringen, wird es so lange dauern, viel Glück, auf Wiedersehen! Und James Morrow sagte: "Hey, das ist ein guter Songtitel. Ich fuhr den Rest des Weges zu Clovis mit einer Hand und schrieb den Song mit der anderen. Schließlich war es das Beste von allen!"

Copyright © Bear Family Records

Copyright © Bear Family Records® Alle Rechte vorbehalten. Nachdruck, auch auszugsweise, oder jede andere Art der Wiedergabe, einschließlich Aufnahme in elektronische Datenbanken und Vervielfältigung auf Datenträgern, in deutscher oder jeder anderen Sprache nur mit schriftlicher Genehmigung der Bear Family Records® GmbH.
Für die Filterung wurden keine Ergebnisse gefunden!
Weldon Rogers: Trying To Get To You
Art-Nr.: BCD16165


Dieser Artikel ist gestrichen und kann nicht mehr bestellt werden!
Eine Fundgrube für Fans des Tex-Mex-Sounds. Hier sind alle Aufnahmen von Weldon Rogers von 1955 (Queen und seine eigenen Je-Wel Records) bis in die späten 1960er Jahre für K-Ark Records. Die Musik reicht von reinem Rockabilly bis hin zu...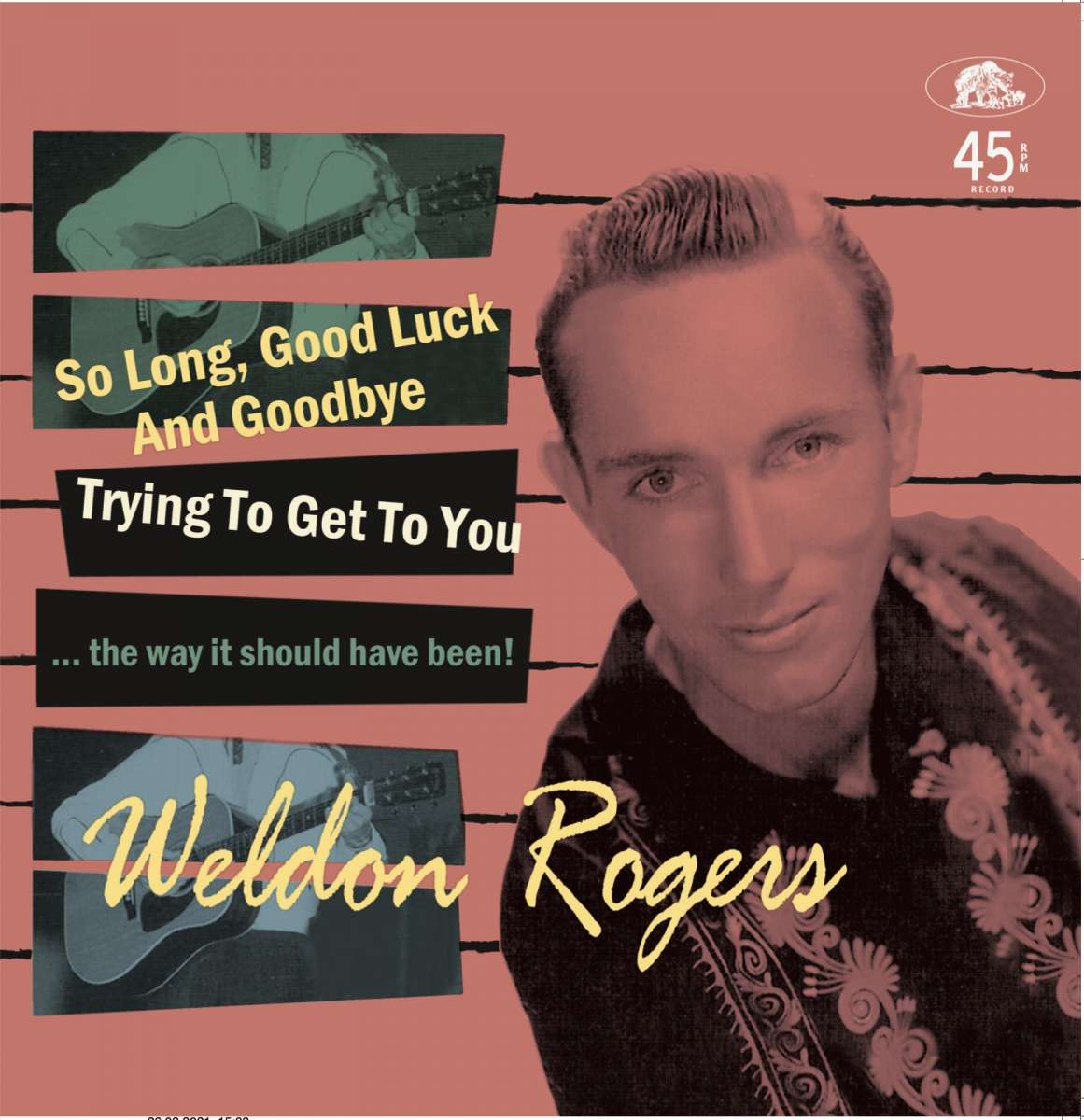 Weldon Rogers: So Long, Good Luck And Goodbye (7inch, EP,...
Art-Nr.: BLE021


Sofort versandfertig, Lieferzeit** 1-3 Werktage
1-EP in Bildhülle, 7inch, 3 tracks, 45rpm, grosses Mittelloch, Limited Edition (500) Erstmals auf Vinyl - die ursprünglich vorgesehene B-Seite Trying To Get To You des Weldon Rogers Rockabilly-Klassikers So Long, Good Luck And Goodbye....