Wer war/ist

SSgt Barry Sadler

? - CDs, Vinyl LPs, DVD und mehr
SSgt Barry Sadler
The Ballad Of The Green Berets
SSgt Barry Sadler, U.S. Army Special Forces
The Ballad Of The Green Berets is far and away the most recorded song of the Vietnam War discography. With at least 30 different versions, by artists as diverse as the Boston Pops Orchestra, Duane Eddy and Kate Smith, its status as one of the defining songs of its era is secure. The song's original recording was made by Sadler in a Saigon 'safe house' in December, 1964.
Barry Sadler was born in Carlsbad, New Mexico on November 1, 1940. At 17 he joined the U.S. Air Force. After several years as a radar technician, a specialty he found boring, he opted out of the Air Force to join the Army. His army training prepared him to be part of the elite Special Forces, the men who wore green berets. Sadler went to Vietnam in the mid-'60s, serving as a 7th Special Forces Group (Airborne) medic attached to both an A-Team and a Mike Force. [A Mike Force was a unit comprised of several hundred Montagnards, Vietnamese, ethnic Cambodians or ethnic Chinese, all organized, equipped, trained, and led by U.S. Army Special Forces and/or Australian SAS advisors.]
In May 1965, Sadler was wounded in combat while on patrol near Pleiku. He treated the leg wound himself, but later, after infection set in, he was sent back to the U.S. It was while he was recuperating at Fort Bragg that he heard Senator Robert Kennedy dedicate the new JFK Center for Special Warfare at the base. According to his biography, "at that moment Sadler promised himself that if his leg fought the infection he would give away the rights to …Green Berets."
With the help of author Robin Moore, who was at Fort Bragg researching and writing The Green Berets, his "flaming blockbuster novel about a new kind of soldier in a new kind of war," Sadler reworked the lyrics and added a chorus. RCA Victor picked up the song in January '66 and immediately released it. It entered the Hot 100 chart on February 5 at #87. A week later it was 'Billboard's' 'biggest mover,' going to #51. In its third week it was at #10 and one month after its initial chart entry it spent the first of five consecutive weeks at #1
Sadler's Ballad… became the inspiration for countless 'derivative' and parody songs. The former include the tracks by Lesley Miller and Craig Arthur. Sadler recorded more than 20 additional songs that are listed in the Vietnam discography. Three of them, The 'A' Team, Saigon and Bamiba are included in the Anthology.
In 1978, he shot and killed Marty Robbins' former manager and songwriting buddy, Lee Emerson, but received a thirty-day sentence on the grounds of self-defence. Sadler moved to Guatemala and was himself shot there in circumstances that remain far from clear. Comatose, he was transported back to the United States by the editor of Soldier Of Fortune magazine, and died near Nashville on November 5, 1989
Various - History Next Stop Is Vietnam 1961-2008 (13-CD)
Read more at: https://www.bear-family.com/various-history-next-stop-is-vietnam-1961-2008-13-cd.html
Copyright © Bear Family Records
Copyright © Bear Family Records® Alle Rechte vorbehalten. Nachdruck, auch auszugsweise, oder jede andere Art der Wiedergabe, einschließlich Aufnahme in elektronische Datenbanken und Vervielfältigung auf Datenträgern, in deutscher oder jeder anderen Sprache nur mit schriftlicher Genehmigung der Bear Family Records® GmbH.
Weitere Informationen zu SSgt Barry Sadler auf de.Wikipedia.org
Für die Filterung wurden keine Ergebnisse gefunden!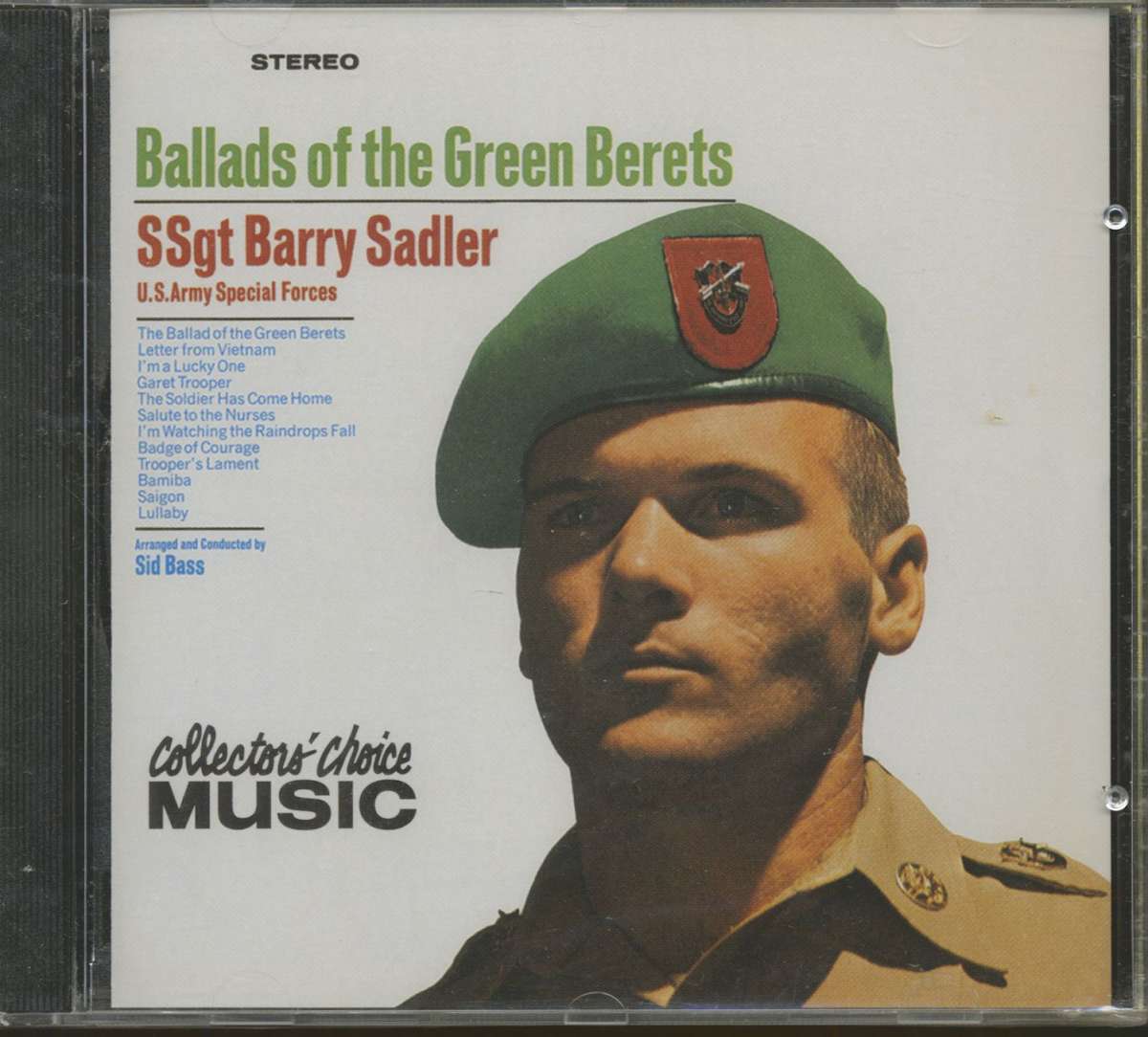 SSgt. Barry Sadler: Ballads Of The Green Berets...plus (CD)
Art-Nr.: CDCCM037


Dieser Artikel ist gestrichen und kann nicht mehr bestellt werden!
(1997/CCM) 13 tracks