Wer war/ist

Scaffold

? - CDs, Vinyl LPs, DVD und mehr

SCAFFOLD
Scaffold were formed in the summer of 1962. Consisting of John Gorman born 4th
January 1936 in Birkenhead, Mike McGear (Michael McCartney) born 7th January
1944 in Walton, Liverpool and Roger McGough born 9th November 1937 in
Liverpool. The trio met up when Post Office engineer John Gorman was
organising the Merseyside Arts Festival, here he was introduced to Roger
McGough who was an English teacher and poet. They both then met apprentice
hairdresser Mike McGear who together trWth painter Adrian Henri and 2 girls,
fennel:I The Liverpool One Fat Lady All Eectric Show!.
In December 1963 the group were performing comedy sketches at Liverpool's
Everyman Theatre when an ABC-TV talent scout pickeeil out the three boys and
under the name of Scaffold signed them to supply comedy material for the late
night TV show Gazette. As a result of the success of this they decided to turn
professional in 1964.
Until now all of the trio's material had been either comedy sketches or poetry. The
first musical item they used was at the Everyman Theatre and was called 2 day's
Monday. It was only a matter of time before the group hit the charts. In 1967, to
thank their theatre audiences Mike McGear ,Wrote Thank U Very Much for the
Aintree Iron, (Prime Minister Harold Wilson's favourite record). The track was
released as a single and was an instant success, reaching number 4 on the ,
national charts. It was whilst the song was in the charts that it was reveal ' that
it's composer was the younger brother of one Paul McCartney. Mike wand to
work and be a success in his own right without using his brother's Beatles i,
, connections, hence he'd changed his name to McGear. The track has been used
/ for sometime in an advertising campaign by Cadbury's Chocolate, yoa know the
( one "Thank U very much for Cadbury's Roses, thank U very much thanlil Ou very
very very much
The folow up single Do You Remember only reached number 34 in theicharts, bat
one year after the release of Thank U Very Much, Lily The Pink hit the airwaves /
iand had everyone in the country singing along to it's infectiOus lyrics. I
The track was co-produced by Tim Rice who also sang the nar nar nee ar nar's
on the Jennifer Eccles verse, and the actual verse was sung by Graham Nash not
Roger McGough, and amazingly bass was played by Jack "Cream" Bruce! The
song was all about an American "quack" doctor called Lydia E. Pinkham who'd
invented a medicinal compound to cure all ill's, and was based on an old rowdy
rugby song. It stayed in the charts for 24 weeks and was ttke Christmas number
one in 1968, selling well over one million copies.
November 1969 saw Gin Gan Goolie in the charts and the groups final chart entry
produced by Paul McCartney was Liverpool Lou which reached number 7 in 1974,
which was also the year that the album Sold Out was released.
Following this, the band members each persued solo careers. Mike McGear
became a very talented photographer and has had 11 images bought by the
National Portrait Gallery (one of which is the cover of this album). He has also just
had two pictures chosen for the 100 greatest rock 'n' roll photographs of all time
by Q magazine. Roger McGough returned to a successful career writing poetry
and John Gorman began working in television, most famously on Tiswas with
Chris Tarrant, Lenny Henry and Sally James. The 4 entered the charts in 1980 as
the Bucketeers with The Bucket of Water Song.
This collection of Scaffold material proves what a talented bunch of writers and
performers they were, and look out! they are reforming in 2002 to help Liverpool's
bid for the European Capital of Culture.
Steve Woof
Thank U Very Much To Mike Mcgear



Copyright © Bear Family Records® Alle Rechte vorbehalten. Nachdruck, auch auszugsweise, oder jede andere Art der Wiedergabe, einschließlich Aufnahme in elektronische Datenbanken und Vervielfältigung auf Datenträgern, in deutscher oder jeder anderen Sprache nur mit schriftlicher Genehmigung der Bear Family Records® GmbH.
Für die Filterung wurden keine Ergebnisse gefunden!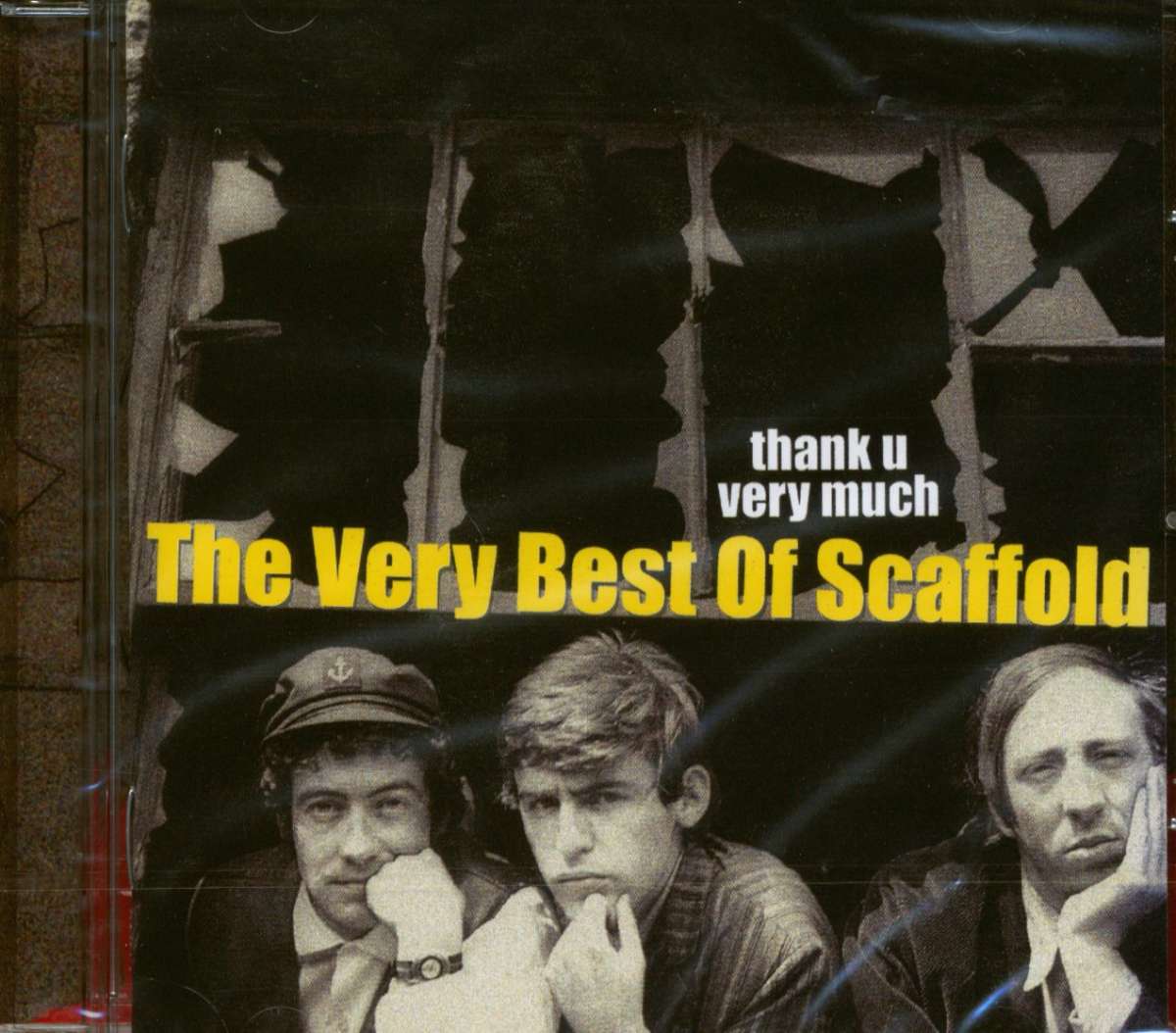 SCAFFOLD: Very Best Of Scaffold (CD)
Art-Nr.: CDP538474


Sofort versandfertig, Lieferzeit** 1-3 Werktage
​(2002/EMI) 26 tracks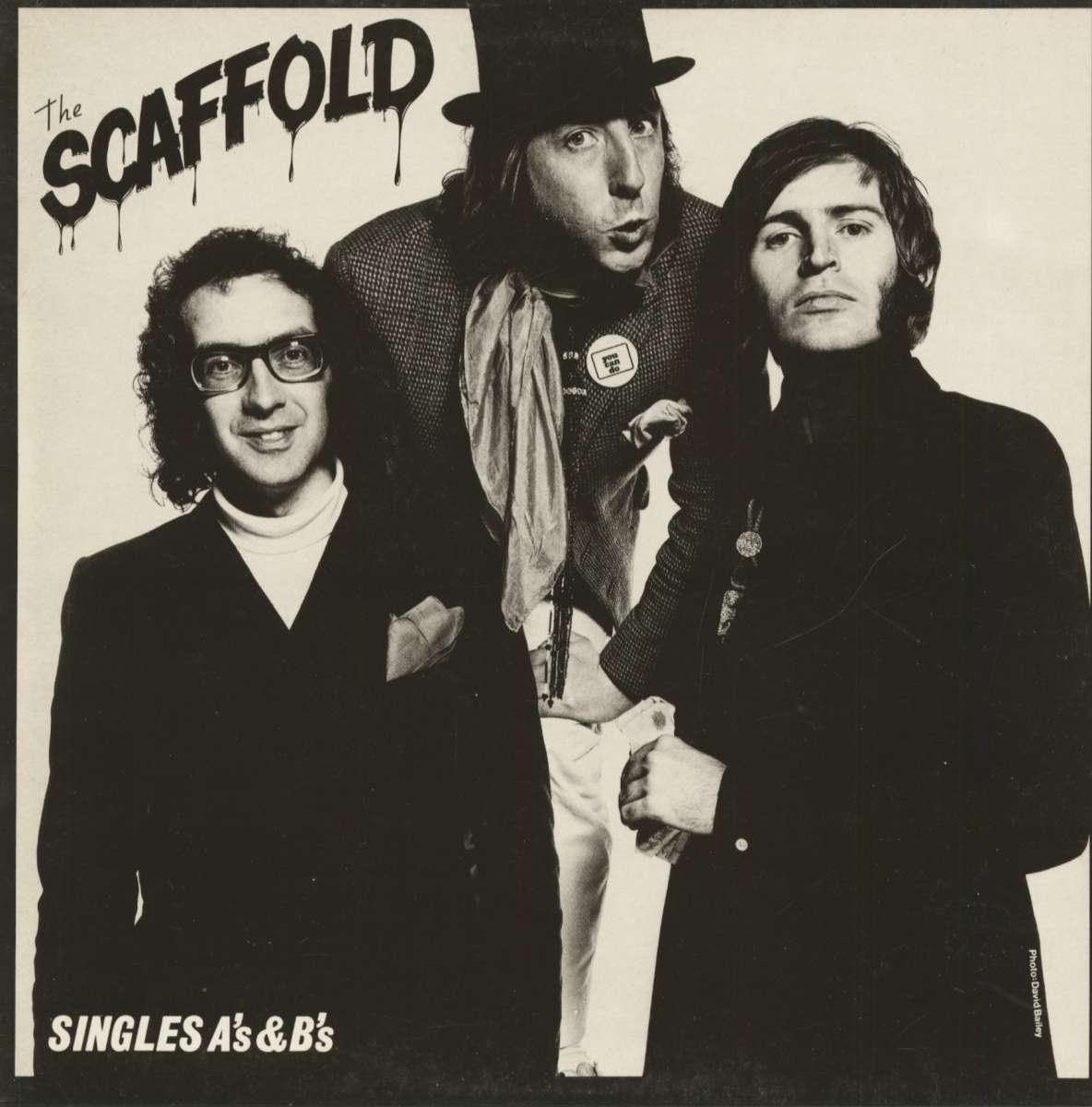 The Scaffold: Singles A's & B's (LP)
Art-Nr.: LPCM114


die letzten 1 verfügbar
Sofort versandfertig, Lieferzeit** 1-3 Werktage
(Charly Records) 22 tracks
SCAFFOLD: Sold Out (LP)
Art-Nr.: LPWB56097


Dieser Artikel ist gestrichen und kann nicht mehr bestellt werden!
(Warner bros.) 12 tracks - Original 1975 'Warner Bros.' LP album Scaffold are a lovesome thing, God wot sort of a liner-note is this going to be? I thought they had gone out of style. (They had, but theyce back, along with ration-books...