Der Artikel wurde erfolgreich hinzugefügt.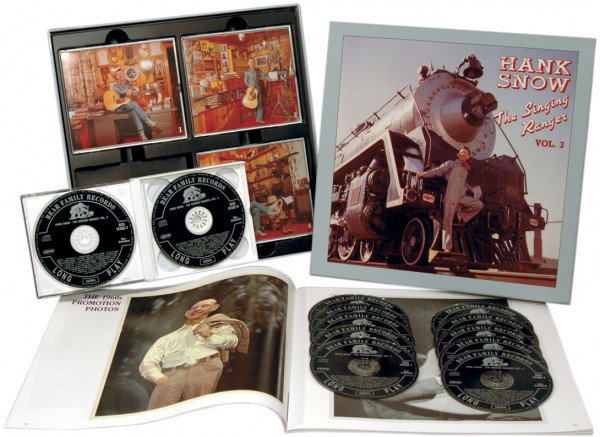 Artikel-Nr.:

BCD15502

Gewicht in Kg.:

1.9
12-CD Box (LP-Format) mit 44-seitigem Buch, 327 Einzeltitel. Spieldauer ca. 890 Minuten. Fangen...
mehr
Hank Snow: Singing Ranger Vol.3 (12-CD)
12-CD Box (LP-Format) mit 44-seitigem Buch, 327 Einzeltitel. Spieldauer ca. 890 Minuten.

Fangen Sie schon mal an zu sparen! Diese gigantische Box mit insgesamt 327 Aufnahmen auf zwölf CDs verfolgt die Hank Snow-Story bis in die Sechziger. Die Zeiten mochten sich vielleicht geändert haben, aber Hank blieb stets der Country Music treu. All seine klassischen 60er-Jahre-Hits wie I've Been Everywhere, Miller's Cave und Ninety Miles An Hour Down A Dead-End Street sind hier vertreten, doch die eigentliche Story steckt in seinen Alben. In dieser Zeit nahm Hank LPs auf, die inzwischen als Klassiker gelten. Er gönnte sich Zeit und ließ bei der Auswahl seiner Konzepte und deren Umsetzung große Sorgfalt walten. Zu den Alben, die Bestandteil dieser Edition sind, zählen sowohl seine Tribute-LPs an die Sons Of The Pioneers und Jimmie Rodgers als auch die beiden Alben mit Chet Atkins, 'Reminiscing' und 'C.E. Snow and C.B. Atkins'. Weitere Langspielplatten sind 'Song Of Tragedy', 'Railroad Man', 'Together Again' (mit Anita Carter), 'Tales Of The Yukon', 'Gospel Train', 'Snow In Hawaii' und 'Guitar Stylings'.
Artikeleigenschaften von

Hank Snow: Singing Ranger Vol.3 (12-CD)
Albumtitel:

Singing Ranger Vol.3 (12-CD)

Genre

Country

Edition 2

Deluxe Edition

Preiscode

LI

Artikelart

Box set

EAN:

4000127155023

Gewicht in Kg:

1.9
Snow, Hank - Singing Ranger Vol.3 (12-CD)

Box set 1
01
Southbound
02
The Streamlined Cannonball
03
Lonesome Whistle
04
Waiting For A Train
05
The Wreck Of The Number Nine
06
Pan American
07
Big Wheels
08
Ghost Trains
09
Chattanooga Choo Choo
10
The Last Ride
11
The Crazy Engineer
12
One More Ride
13
The Wreck Of The Old '97
14
Crazy Little Train Of Love
15
Any Old Time
16
Blue Yodel #10
17
Travelin' Blues
18
Never No' Mo' Blues
19
Gambling Polka Dot Blues
20
You And My Old Guitar
21
Roll Along Kentucky Moon
22
Moonlight And Skies
23
The One Rose (That's Left In My Heart)
24
Tuck Away My Lonesome Blues
25
Down The Old Road To Home
26
I'm Sorry We Met
Snow, Hank - Singing Ranger Vol.3 (12-CD)

Box set 2
01
The Last Ride
02
Doggone That Train
03
Father Time And Mother Love
04
I Heard My Heart Break Last Night
05
Walkin' And Talkin'
06
Rockin' Rollin' Ocean (with wave effect)
07
Miller's Cave
08
Dreamer's Island
09
The Change Of The Tide
10
I'm Movin' On
11
The Golden Rocket
12
My Mother
13
I Don't Hurt Anymore
14
Conscience I'm Guilty
15
I'm Asking For A Friend
16
Bluebird Island
17
A Fool Such As I (Now and Then There's)
18
Marriage Vow
19
With This Ring I Thee Wed
20
Rockin' Rollin' Ocean (without wave effect)
21
My Nova Scotia Home
22
The Tramp's Story
23
Life Time Blues
24
Maple Leaves
25
Casey's Washerwoman Boogie
26
Hawaiian Sunset
Snow, Hank - Singing Ranger Vol.3 (12-CD)

Box set 3
01
The Man Behind The Gun
02
The Restless One
03
Call Of The Wild
04
Laredo (Town Of)
05
Way Out There
06
Patanio, The Pride Of The Plains
07
The Queen Of Draw Poker Town
08
On The Rhythm Range
09
Chant Of The Wanderer
10
The Wayward Wind
11
Following The Sun All Day
12
The Texas Plains
13
Patanio, The Pride Of The Plains
14
Teardrops In My Heart
15
Tumbling Tumbleweeds
16
Heartbreak Trail
17
Cool Water
18
Ridin' Home
19
At The Rainbow's End
Snow, Hank - Singing Ranger Vol.3 (12-CD)

Box set 4
01
My Memories Of You
02
The Wishing Well
03
I Stepped Over The Line
04
Ninety Days
05
The Wedding Picture
06
I've Cried A Mile
07
Listen
08
Friend
09
When Today Is A Long Time Ago
10
Black Diamond
11
Ancient History
12
You're Losing Your Baby
13
You're The Reason
14
It's A Little More Like Heaven
15
I Went To Your Wedding
16
Just A Faded Petal From A Beautiful Bouquet
17
Blue Roses
18
Human
19
Breakfast With The Blues
20
Down The Trail Of Achin' Hearts
21
Let Me Go Lover
22
Tangled Mind
23
The Next Voice You Hear
24
Stolen Moments
25
The Gal Who Invented Kissin'
26
The Gold Rush Is Over
27
Just A Faded Petal From A Beautiful Bouquet
28
A Letter From Vietnam (To Mother)
Snow, Hank - Singing Ranger Vol.3 (12-CD)

Box set 5
01
The Countdown
02
Down At The Pawnshop
03
I Know
04
You Take The Future (And I'll Take The Past)
05
Dog Bone
06
If I Try Hard Enough
07
You're Losing Your Baby
08
Poison Love (& Chet ATKINS duet vocal)
09
A Legend In My Time
10
Bury Me Deep
11
Fraulein
12
Mansion On The Hill
13
Send Me The Pillow That You Dream On
14
A Petal From A Faded Rose
15
Return To Me
16
The Heart Belongs To Me
17
I'll Go On Alone
18
I Care No More
19
I Love You Because
20
Address Unknown
21
The Rhumba Boogie
22
Music Makin' Mama From Memphis
23
The Change Of The Tide
24
These Hands
25
Born For You
26
The Late And Great Love (Of My Heart)
27
Who Will Answer (Aleluya # 1)
Snow, Hank - Singing Ranger Vol.3 (12-CD)

Box set 6
01
If Today Were Yesterday (& ANITA CARTER)
02
For Sale (& ANITA CARTER)
03
Rose Of Old Monterey (& ANITA CARTER)
04
My Adobe Hacienda (& ANITA CARTER)
05
I Never Will Marry (& ANITA CARTER)
06
Mockin' Bird Hill (& ANITA CARTER)
07
No Letter Today (& ANITA CARTER)
08
I Dreamed Of An Old Love Affair (& A. CARTER)
09
If It's Wrong To Love You (& ANITA CARTER)
10
When My Blue Moon Turns To Gold Again (&A.C.)
11
Let's Pretend (& ANITA CARTER)
12
A Pair Of Broken Hearts (& ANITA CARTER)
13
I've Been Everywhere
14
Jamaica Farewell
15
The Blue Canadian Rockies
16
Geisha Girl
17
When It's Springtime In Alaska
18
Galway Bay
19
My Filipino Rose
20
Lili Marlene
21
Melba From Melbourne
22
The Atlantic Coastal Line
23
Isle Of Sicily
24
The Gypsy And Me
25
I Ain't Been Anywhere
Snow, Hank - Singing Ranger Vol.3 (12-CD)

Box set 7
01
Indian Love Call (& CHET ATKINS)
02
Unchained Melody (& CHET ATKINS)
03
Beautiful Dreamer (& CHET ATKINS)
04
My Isle Of Golden Dreams (& CHET ATKINS)
05
Brahm's Lullaby (& CHET ATKINS)
06
Blue Tango (& CHET ATKINS)
07
Dark Moon (& CHET ATKINS)
08
Vaya Con Dios (& CHET ATKINS)
09
In An Old Dutch Garden, By An Old Dutch Mill
10
I Can't Stop Loving You (& CHET ATKINS)
11
The Convict And The Rose (& CHET ATKINS)
12
Limbo Rock (& CHET ATKINS)
13
Hold Me Tight (& CHET ATKINS)
14
Tammy (& CHET ATKINS)
15
Jamaica Farewell (& CHET ATKINS)
16
Everybody Does It In Hawaii (& CHET ATKINS)
17
I Saw The Light (& CHET ATKINS)
18
The Green Leaves Of Summer (& CHET ATKINS)
19
Difficult (& CHET ATKINS)
20
Wheels (& CHET ATKINS)
21
Tiptoeing (& CHET ATKINS)
22
The Waltz You Saved For Me
23
Lay My Head Beneath The Rose
24
Whispering Hope
25
Wabash Blues
26
Sentimental Journey
27
Am I Losing You?
28
I Get The Blues When It Rains
29
Sweet Marie
30
Birth Of The Blues
Snow, Hank - Singing Ranger Vol.3 (12-CD)

Box set 8
01
Little Stranger (In A Manger)
02
Christmas Roses
03
Silent Night
04
C-H-R-I-S-T-M-A-S
05
White Christmas
06
Blue Christmas
07
The Reindeer Boogie
08
Frosty The Snowman
09
Christmas Wants
10
Rudolph, The Red Nosed Reindeer
11
God Is My Santa Claus
12
The Christmas Cannonball
13
A Letter To Santa Claus
14
Nestor, The Long Eared Christmas Donkey
15
The Face On The Barroom Floor
16
Dangerous Dan McGrew
17
The Cremation Of Sam McGee
18
The Spell Of The Yukon
19
The Ballad Of Blasphemous Bill
20
The Ballad Of One-Eyed Mike
21
The Ballad Of Hard Luck Henry
22
My Friends
Snow, Hank - Singing Ranger Vol.3 (12-CD)

Box set 9
01
I Saw A Man
02
A Rich Man Am I
03
Jesus Wept
04
I'm Moving On To Glory
05
Gloryland March
06
Farther Along
07
Invisible Hands
08
The Last Mile Of The Way
09
Sweet Hour Of Prayer
10
These Things Shall Pass
11
His Hands
12
What Then
13
The Lord's Way Of Sayin' Goodnight
14
Dear Lord, Remember Me
15
I See Jesus
16
My Religion's Not Old Fashioned
17
I'm Glad I'm On The Inside (Looking Out)
18
The Runt
19
How Big Is God
20
Shop Worn
21
A Man Who Is Wise
22
This Train
23
I'll Go Marching Into Glory
24
I'd Rather Be On The Inside Looking Out
25
Lord It's Me Again
26
Lord I Do Believe
27
A Rich Man Am I
28
What Then
Snow, Hank - Singing Ranger Vol.3 (12-CD)

Box set 10
01
Wildflower
02
Little Joe
03
Put Your Arms Around Me
04
The Color Song
05
Your Little Band Of Gold
06
The Prisoner's Dream
07
The Answer To 'Little Blossom'
08
There's A Star Spangled Banner Waving Somewh.
09
Old Rover
10
Mother I Thank You (For The Bible You Gave)
11
The Prisoner's Song
12
Walking The Last Mile
13
Rocking Alone In An Old Rocking Chair
14
Lonesome 7-7203
15
She Wears My Ring
16
White Silver Sands
17
Trouble In Mind
18
Mary Ann Regrets
19
Six Days On The Road
20
Bumming Around
21
From A Jack To A King
22
Gonna Find Me A Bluebird
23
Sweet Lies
24
In The Misty Moonlight
25
Handcuffed To Love
26
What More Can I Say?
27
I Wish My Heart Could Talk
Snow, Hank - Singing Ranger Vol.3 (12-CD)

Box set 11
01
Cry My Guitar, Cry On
02
Beyond The Reef
03
To You My Sweetheart, Aloha
04
Oahu Rose
05
Blue For Old Hawaii
06
Don't Sing Aloha When I Go
07
Hawaiian Cowboy
08
My Little Grass Shack In Kealakekua, Hawaii
09
On The Beach In Waikiki
10
Tradewinds
11
Hawaiian Sunset
12
Pearly Shells
13
On That Old Hawaiian Shore With You
14
Now Is The Hour
15
Tears In The Tradewinds
16
King's Serenade
17
The Whispering Tradewinds
18
Spanish Fireball
19
'cross The Brazos At Waco
20
El Paso
21
Caribbean
22
Senorita Rosalita
23
Cuba Rhumba
24
Nuevo Laredo
25
Vaya Con Dios
26
Blue Rose Of The Rio
27
Maria Elena
28
Among My Souvenirs
Snow, Hank - Singing Ranger Vol.3 (12-CD)

Box set 12
01
Springtime In The Rockies
02
Blossoms In The Springtime
03
At The First Fall Of Snow
04
Snowbird
05
The Seasons
06
Roses In The Snow
07
Flying South
08
January
09
You're As Welcome As The Flowers In May
10
Peach Picking Time In Georgia
11
All Nite Cafe
12
The Tip Of My Fingers
13
He Dropped The World In My Hands
14
Blue, Blue Day
15
It Kinda Reminds Me Of Me
16
All The Time
17
Blue Side Of Lonesome
18
There Goes My Everything
19
Once More You're Mine Again
20
A Million And One
21
Green, Green Grass Of Home
22
A Wound Time Can't Erase
23
I Just Wanted To Know (How The Wind Was Blow)
24
Cure Of The Blues
25
That's When The Hurtin' Sets In
26
Rome Wasn't Build In A Day
27
The Name Of The Game Was Love
28
Adios Amigo
Hank Snow Bevor der 22-jährige Hank Snow im Oktober 1936 in den Büros von RCA...
mehr
"Hank Snow"
Hank Snow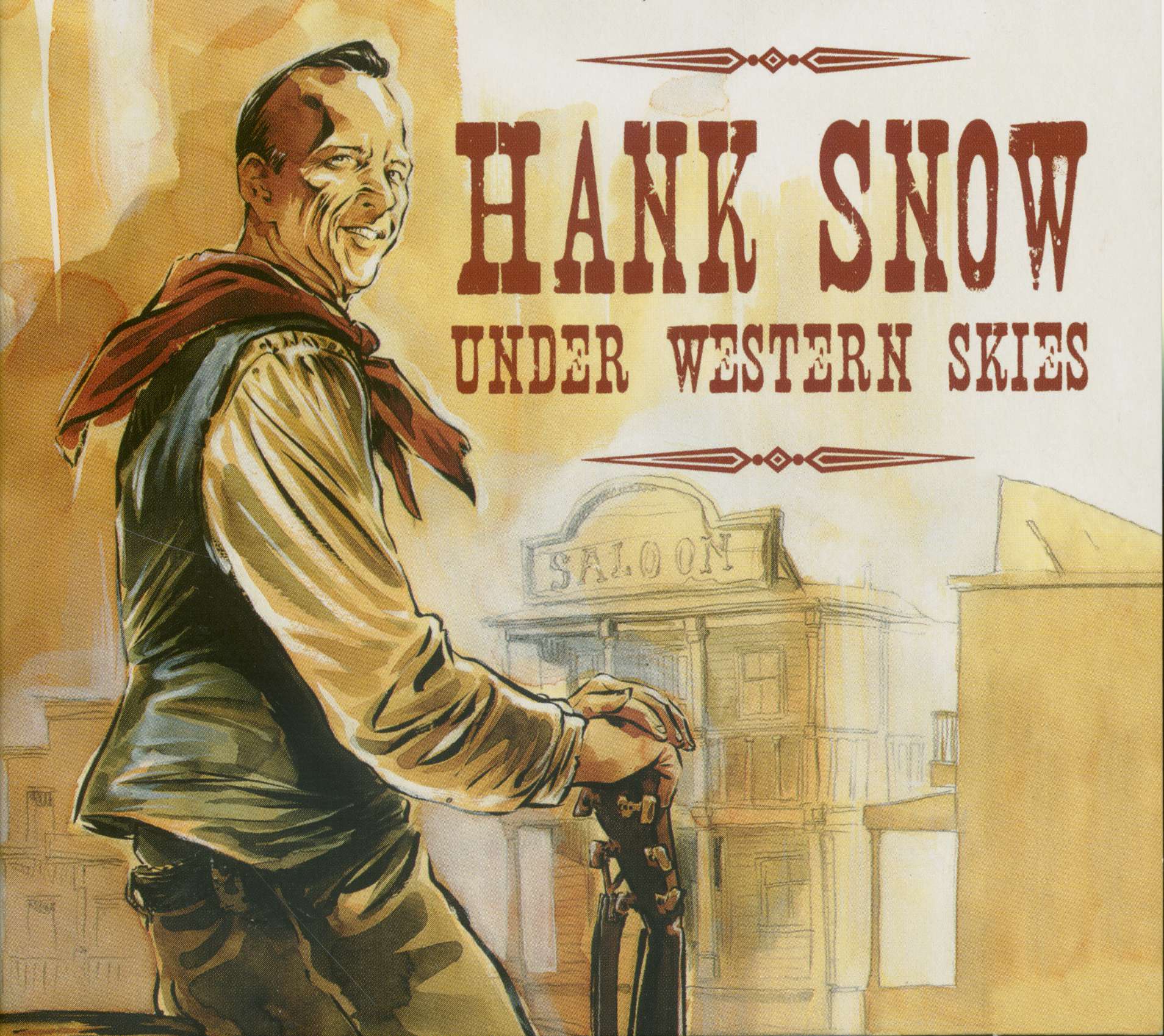 Bevor der 22-jährige Hank Snow im Oktober 1936 in den Büros von RCA Victor's Canadian Division in Montreal vorsprach, fragte Repertoire und Recording Manager A.H. 'Hugh' Joseph, ob er irgendwelche Originalsongs hätte. "Freunde, ich habe ihm eine kleine Notlüge erzählt", erinnert sich Snow in seiner Autobiographie von 1994. "Ich sagte ja, ich habe zwei gute Songs, die ich gerade geschrieben habe."
Als er dem angehenden Aufnahmekünstler die Adresse einer alten Kirche gab, die RCA vorübergehend als Studio benutzte, sagte Joseph, er solle morgen um 14.00 Uhr dort erscheinen. Obwohl er von dieser Gelegenheit begeistert war, sorgte sich Snow nun um die beiden nicht existierenden Originale, die er bereit zu haben versprach.
Als er in sein Hotelzimmer zurückkehrte, schrieb er eine Jimmie Rodgers Persiflage mit dem Titel Lonesome Blue Yodel und eine verworrene Ballade über einen Cowboy-Sänger, die sich als Gesetzloser entpuppte. Während kein lyrisches Meisterwerk, wurde Prisoned Cowboy ein günstiger Start in eine sechs Jahrzehnte währende Aufnahmekarriere. Es spiegelte auch Snow's lebenslange Faszination für den amerikanischen und kanadischen Westen wider - romantische Orte, von denen er nur während seiner Kindheit in Nova Scotia träumte.
Im Alter von 12 Jahren entkam Snow dem Zorn eines missbrauchenden Stiefvaters, indem er sich als Kabinenjunge auf einem Fischerschoner anmeldete. Für die nächsten vier Jahre ertrug die leichtgewichtige Jugend im Nordatlantik zermürbende Bedingungen. Bei seinen gelegentlichen Besuchen zu Hause zog er die Victrola seiner Mutter auf und spielte wiederholt Vernon Dalharts The Prisoner's Song und The Wreck Of The Old 97. Als er schließlich mit seiner Schwester und ihrem Mann in Bluerocks, Nova Scotia, umsiedelte, kaufte Snow seine erste Gitarre. Von den blauen Jodlern von Jimmie Rodgers angezogen, beherrschte er die Lieder und den Stil des Singing Brakeman.
Prisoned Cowboy und Lonesome Blue Yodel verkauften genug Exemplare, um eine zweite Aufnahmesession zu bekommen. Mittlerweile hatte sich Snow auf das Songwriting konzentriert, viele seiner Texte basieren auf sentimentalen westlichen Themen. Frühe Songs wie We Met Down In The Hills Of Old Wyoming, I'll Ride Back To Lonesome Valley und There's A Picture On Pinto's Saddle sind kaum mit den lebhaften Western-Sagen von Bob Nolan oder Stuart Hamblen zu vergleichen, aber sie halfen, eine Fangemeinde für 'Hank, The Yodeling Ranger' aufzubauen. Der Texas Cowboy, aufgenommen im Februar 1939, war eine der lebhaftesten frühen Bemühungen von Snow. Seine gesprochene Einführung gibt uns eine Vorstellung von Snow's prägenden Sendungen im kanadischen Radio.
Snow's zehn Sessions für Canadian RCA bis 1947 beinhalteten mindestens einen Song über Texas oder der open range. Nicht alle wurden von Hank Snow geschrieben. Snow lernte Bobby Gregory's Riding Along, Singing A Song von einer Decca 78 von Denver Darling. Philadelphia Promoter und Verleger Jack Howard gab ihm Tom Grindhart's Blue Ranger. Howard, einer der ersten Amerikaner, der Snow's Karriere verfochten hat, buchte ihn im Juli 1944 in mehrere Austragungsorte in Philadelphia. Er brachte den Sänger auch nach Wheeling, um Harry 'Big Slim' McAuliffe zu treffen, der ihm anbot, Snow beim Midnight Jamboree der WWVA zu helfen.
Als er erkannte, dass seine Karriere nur in Kanada so weit gehen konnte, zog Snow nach Wheeling. Wie viele andere junge Talente arbeitete McAuliffe unermüdlich für Snow. McAuliffe brachte ihn nicht nur zu WWVA, sondern stattete Snow auch mit dem Notwendigsten für eine reisende Bühnenshow aus, darunter ein trainiertes Pferd. Für die nächsten vier Jahre zickzackten Snow und seine Truppe über die Grenze. Aber trotz seiner hohen Sichtbarkeit und Popularität in seiner Heimat, fand Snow es schwierig, in Amerika Fuß zu fassen. Hugh Joseph setzte sich im New Yorker Büro von RCA Victor für die Veröffentlichung seiner meistverkauften Kupplungen in den USA ein. Labelbeamte waren nicht interessiert, auch wenn ein paar einfallsreiche amerikanische Country-Discjockeys seine kanadischen Bluebird-Platten auf gute Zuhörerresonanz drehten.
Im Januar 1948 verbot die American Federation of Musicians ihren Mitgliedern, Aufnahmen zu machen. Verzweifelt darauf bedacht, das ganze Jahr über einen Veröffentlichungsplan einzuhalten, wandte sich RCA Victor an Snow's kanadische Meister. My Sweet Texas Bluebonnet Queen wurde im April veröffentlicht, zwei Monate später folgte Brand On My Heart. Dallas Discjockey Hal Horton verwandelte Brand On My Heart in einen lokalen Hit. Sein Erfolg führte Snow dazu, seinen vergeblichen Versuch, in Hollywood einzudringen, aufzugeben; er kam früh im Herbst in Dallas an, sein trainiertes Pferd im Schlepptau und nur elf Dollar in der Tasche.
Mit dem neuen Live-Showcase Big-D Jamboree von KRLD zog Snow in Clubs und Konzerten große Menschenmengen an, doch finanziell erwiesen sich diese als magere Monate. Ernest Tubb, selbst ein texanischer Auswanderer, überzeugte Snow, dass Nashville der Ort war, an dem er sein musste.
RCA Victor gab drei weitere kanadische Kopplungen von 'Hank, The Singing Ranger' heraus, bevor die Musikergewerkschaft ihren Streit mit den Plattenfirmen beilegte. Obwohl keine nationalen Hits, alle gut genug verkauft, um Snow's erste amerikanische Session im März 1949 zu verdienen. Acht Songs wurden in Chicago aufgenommen, und Jenny Lou Carsons Marriage Vow wurde ein bescheidener Chart-Erfolg. Es gab Tubb genug Druckmittel, um seinen Freund nach Nashville und in die Grand Ole Opry-Liste zu bringen...
Bewertungen lesen, schreiben und diskutieren...
mehr
Kundenbewertungen für "Singing Ranger Vol.3 (12-CD)"
Bewertung schreiben
Bewertungen werden nach Überprüfung freigeschaltet.
Weitere Artikel von Hank Snow