Der Artikel wurde erfolgreich hinzugefügt.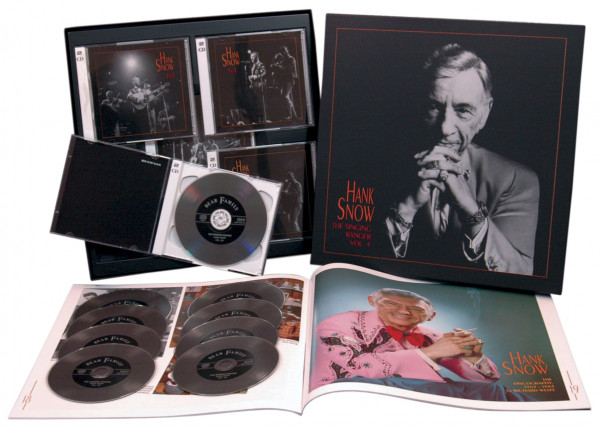 149,95 € *
157,95 € *
(5,06% gespart)
inkl. MwSt. / zzgl. Versandkosten
Sofort versandfertig, Lieferzeit** 1-3 Werktage
Artikel-Nr.:

BCD15787

Gewicht in Kg.:

1.2
9-CD Box (LP-Format) mit 32-seitigem Buch, 219 Einzeltitel. Spieldauer ca. 664 Minuten. Diese...
mehr
Hank Snow: Singing Ranger Vol.4 (9-CD)
9-CD Box (LP-Format) mit 32-seitigem Buch, 219 Einzeltitel. Spieldauer ca. 664 Minuten.

Diese neun CDs schreiben unsere Hank Snow-Anthologie bis ins Jahr 1984 fort, dem Jahr, in dem Hank auf eine 50-jährige Studiokarriere zurückblicken durfte. Der Schwerpunkt liegt auf Hanks Aufnahmen aus den Siebzigern, als er erneut zu seinen Wurzeln zurückkehrte und gradlinige Country Music einspielte. Zu den Hits zählen neben vielen anderen Hello Love, I'm Still Moving On und Come The Morning. Und wieder einmal waren seine Alben sorgfältig konzipiert und perfekt umgesetzt, was auf solchen Perlen wie The Jimmie Rodgers Story, Cure For The Blues, Grand Ole Opry Favorites, All About Trains, Tracks And Trains, Instrumentally Yours und dem raren Neuseeland-Album 'Now Is The Hour' wunderbar zu hören ist. Diese Box präsentiert außerdem seine Duette mit Kelly Foxton und Willie Nelson.
Artikeleigenschaften von

Hank Snow: Singing Ranger Vol.4 (9-CD)
Albumtitel:

Singing Ranger Vol.4 (9-CD)

Genre

Country

Edition 2

Deluxe Edition

Preiscode

II

Artikelart

Box set

EAN:

4000127157874

Gewicht in Kg:

1.2
Snow, Hank - Singing Ranger Vol.4 (9-CD)

Box set 1
01
Gentle On My Mind
02
Honey
03
Sweet Dreams
04
Break My Mind
05
Where Has All The Love Gone?
06
Green, Green, Green
07
Oh Lonesome Me
08
Like A Bird
09
I Really Don't Want To Know
10
(As Love Goes) So Goes My Heart
11
Vanishing Breed
12
It's A Hard Wind That Blows
13
Brand On My Heart
14
Francesca
15
When Today Is A Long Time Ago
16
Come The Morning
17
I Wish It Was Mine
18
Cure For The Blues
19
Crying Time
20
There's The Chair
21
Snowbird
22
I Threw Away The Rose
23
Me And Bobby McGee
24
Just Bidin' My Time
Snow, Hank - Singing Ranger Vol.4 (9-CD)

Box set 2
01
Silver Rails
02
Go With My Heart
03
Wabash Cannonball
04
The Engineer's Child
05
Casey Jones Was His Name
06
Fire Ball Mail
07
Folsom Prison Blues
08
Lonely Train
09
That Same Old Dotted Line
10
I'm Movin' In
11
The Train My Woman's On
12
Duquesne, Pennsylvania
13
Canadian Pacific
14
Crack In The Box Car Door
15
North To Chicago
16
The City Of New Orleans
17
The Texas Silver Zephyr
18
Get On My Love Train
19
My Blue River Rose
20
The Blue Velvet Band
21
Wanderin' On
22
Old Doc Brown
23
Stolen Moments
24
When That Someone You Love Doesn't Love You
25
My Mother
26
Nobody's Child
27
Little Buddy
Snow, Hank - Singing Ranger Vol.4 (9-CD)

Box set 3
01
My Rough And Rowdy Ways
02
Frankie And Johnny
03
She Was Happy Till She Met You
04
Away Out On The Mountain
05
Cowhand's Last Ride
06
Everybody Does It In Hawaii
07
I've Rangfed, I've Roamed, I've Traveled
08
Ninety Nine Year Blues
09
Mother, The Queen Of My Heart
10
Whisper Your Mother's Name
11
Home Call
12
My Blue Eyed Jane
13
Waiting For A Train
14
Pistol Packin' Papa
15
T.B. Blues
16
My Little Old Home Down In New Orleans
17
Why Did You Give Me Your Love
18
In The Jailhouse Now
19
Gambling Polka Dot Blues
20
The One Rose (That's Left In My Heart)
21
Hobo Bill's Last Ride
22
Nobody Knows But Me
Snow, Hank - Singing Ranger Vol.4 (9-CD)

Box set 4
01
One Minute Past Eternity
02
No One Will Ever Know
03
For The Good Times
04
Sunday Mornin' Comin' Down
05
Everytime I Love Her
06
The Seashores Of Old Mexico
07
Gypsy Feet
08
Ribbon Of Darkness
09
My Way
10
Bob
11
Friend
12
The Governor's Hand
13
Rolling Thunder In My Mind
14
I'm Not At All Sorry For You
15
My Dreams Tell It Like It Was
16
It's Over, Over Nothin'
17
Until The End Of Time
18
Four In The Morning
19
I've Got To Give It All To You
20
A Daisy A Day
21
Today I Started Loving You Again
22
I Have You And That's Enough For Me
23
I Washed My Hands In Muddy Water
24
It Just Happened That Way
25
The Last Thing On My Mind
Snow, Hank - Singing Ranger Vol.4 (9-CD)

Box set 5
01
Six String Tennessee Flat Top Box
02
Somewhere My Love
03
Why Me, Lord
04
Born To Be With You
05
I Keep Dreaming Of You All The Time
06
Birth Of The Blues
07
Hijack
08
Come Live With Me
09
That's You And Me
10
Paper Roses
11
Why Do You Punish Me (For Loving You)
12
Brand On My Heart
13
Mama Tried
14
The Prisoner's Song
15
All I Can Hold To
16
You're Easy To Love
17
I Just Want You To Know
18
Right Or Wrong
19
Colorado Country Morning
20
Top Of The Morning
21
She Even Woke Me Up To Say Goodbye
22
So Good To Be Back With You
23
Follow Me
24
Merry-Go-Round Of Love
25
I Almost Lost My Mind
26
My Dreams Tell It Like It Was
27
You're Wondering Why
28
Ninety Miles An Hour (Down A Dead End Street)
Snow, Hank - Singing Ranger Vol.4 (9-CD)

Box set 6
01
Trying To Get My Baby Off My Mind
02
Trouble In Mind
03
I'm Gonna Bid My Blues Goodbye
04
Love Is So Elusive
05
I've Done At Least One Thing
06
Don't Rock The Boat
07
If You Could Just Remember
08
That Heart Belongs To Me
09
I'm Still Moving On
10
Inside Out
11
Somewhere, Someone Is Waiting For You
12
I Put Her On (And Wore Away Her Time)
13
Who's Been Here Since I've Been Gone
14
That's When He Dropped The World In My Hands
15
The Night I Stole Old Sammy Morgan's Gin
16
I Wonder Where You Are Tonight
17
Stolen Moments
18
I Takes Too Long
19
Nevertheless
20
Forever And One Day
21
Just One Of A Kind
22
My Happiness
23
The Mysterious Lady From St.Martinique
24
Ramblin' Rose
25
A Good Gal Is Good To Find
26
Hula Love
Snow, Hank - Singing Ranger Vol.4 (9-CD)

Box set 7
01
The Pain Didn't Show (& KELLY FOXTON)
02
Stop Me From Loving You (& KELLY FOXTON)
03
My First Night Alone (KELLY FOXTON)
04
It Was Love (& KELLY FOXTON)
05
All I Want To Do Is Touch You (& K. FOXTON)
06
There Is Something About You (& KELLY FOXTON)
07
What We Had Is Over (& KELLY FOXTON)
08
Stay Awhile (& KELLY FOXTON)
09
Hasn't It Been Good Together (& KELLY FOXTON)
10
After The Love Is Gone (& KELLY FOXTON)
11
Check (& KELLY FOXTON)
12
Forbidden Lovers (& KELLY FOXTON)
13
Love Takes Two (& KELLY FOXTON)
14
It's Too Far Gone (& KELLY FOXTON)
15
It's Over, Over Nothing (& KELLY FOXTON)
16
The First Hurt (& KELLY FOXTON)
17
The Golden Rocket (& WILLIE NELSON)
18
I've Been Everywhere (& WILLIE NELSON)
19
I Almost Lost My Mind (WILLIE NELSON)
20
Caribbean (& WILLIE NELSON)
21
Brand On My Heart (& WILLIE NELSON)
Snow, Hank - Singing Ranger Vol.4 (9-CD)

Box set 8
01
Send Me The Pillow You Dream On (& W. NELSON)
02
I Don't Hurt Anymore (& WILLIE NELSON)
03
A Fool Such As I (& WILLIE NELSON)
04
It Makes No Difference Now (& WILLIE NELSON)
05
Spanish Eyes (instrumental)
06
Sweetheart Of Sigma (instrumental)
07
Over The Rainbow (instrumental)
08
Tradewinds Over Mamala Bay (instrumental)
09
Indian Love Call (instrumental)
10
You Belong To Me (instrumental)
11
Wabash Blues (instrumental)
12
King's Serenade (instrumental)
13
Make The World Go Away (instrumental)
14
Oh Wonderful World (instrumental)
15
My Isle Of Golden Dreams (instrumental)
16
Tuck Away My Lonesome Blues (instrumental)
17
Tammy (instrumental)
18
Beautiful Ohio (instrumental)
19
Song Of India (instrumental)
20
Sunrise Serenade (instrumental)
21
Misty Dawn (instrumental)
22
Vaya Con Dios (instrumental)
23
I Remember You Love In My Prayers (instr.)
Snow, Hank - Singing Ranger Vol.4 (9-CD)

Box set 9
01
Send Me The Pillow You Dream On
02
In The Misty Moonlight
03
Orange Blossom Special (instrumental)
04
Train Whistle Blues
05
Tammy (instrumental)
06
Black Diamond
07
Break My Mind
08
Where Is All The Love Gone
09
Hula Love
10
Whispering Tradewinds (Snow In Hawaii)
11
Hawaiian Sunset (instrumental)
12
I've Been Everywhere
13
[Medley:
14
The Goldrush Is Over
15
The Wreck Of The Old '97
16
One More Ride]
Hank Snow Bevor der 22-jährige Hank Snow im Oktober 1936 in den Büros von RCA...
mehr
"Hank Snow"
Hank Snow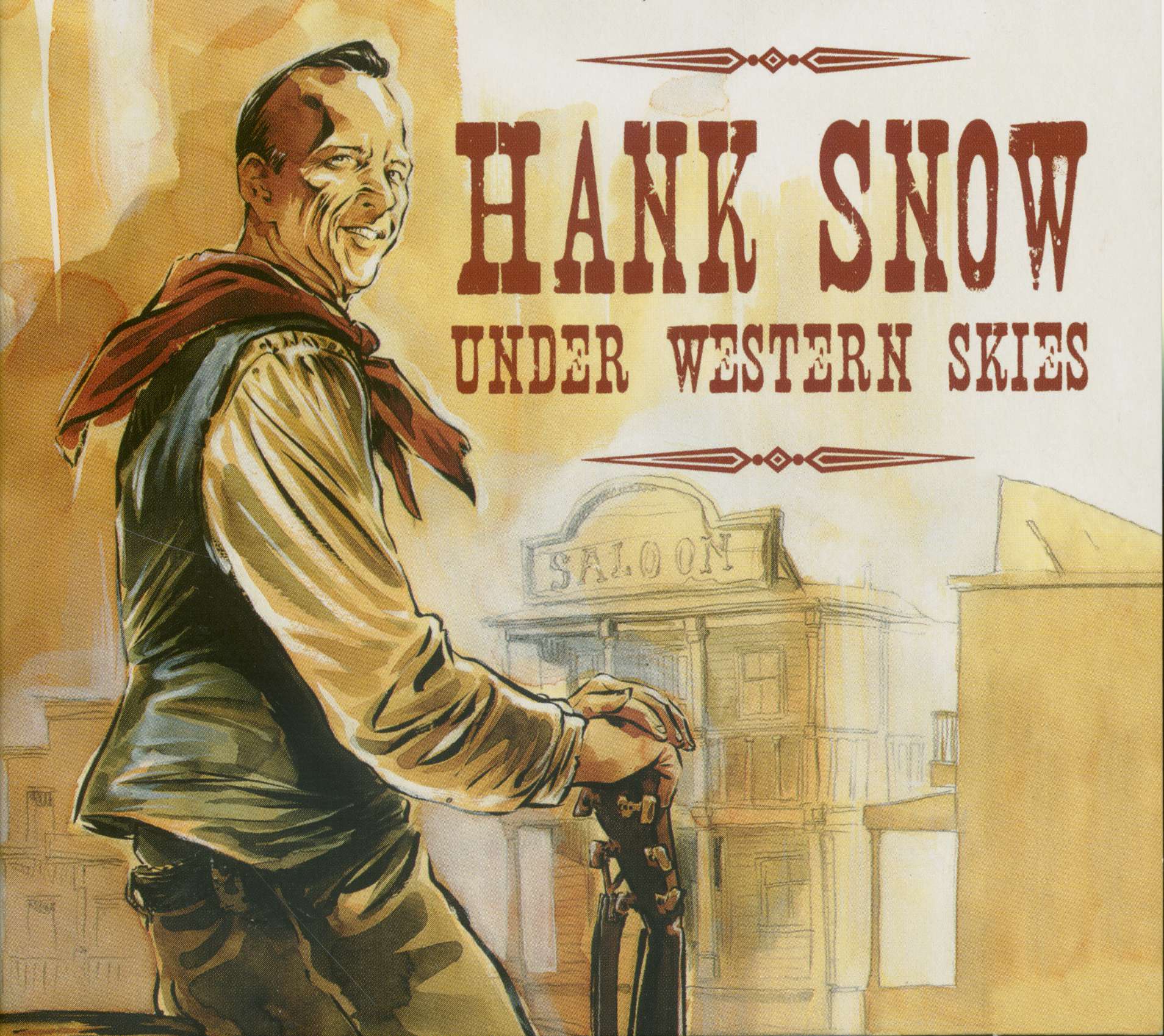 Bevor der 22-jährige Hank Snow im Oktober 1936 in den Büros von RCA Victor's Canadian Division in Montreal vorsprach, fragte Repertoire und Recording Manager A.H. 'Hugh' Joseph, ob er irgendwelche Originalsongs hätte. "Freunde, ich habe ihm eine kleine Notlüge erzählt", erinnert sich Snow in seiner Autobiographie von 1994. "Ich sagte ja, ich habe zwei gute Songs, die ich gerade geschrieben habe."
Als er dem angehenden Aufnahmekünstler die Adresse einer alten Kirche gab, die RCA vorübergehend als Studio benutzte, sagte Joseph, er solle morgen um 14.00 Uhr dort erscheinen. Obwohl er von dieser Gelegenheit begeistert war, sorgte sich Snow nun um die beiden nicht existierenden Originale, die er bereit zu haben versprach.
Als er in sein Hotelzimmer zurückkehrte, schrieb er eine Jimmie Rodgers Persiflage mit dem Titel Lonesome Blue Yodel und eine verworrene Ballade über einen Cowboy-Sänger, die sich als Gesetzloser entpuppte. Während kein lyrisches Meisterwerk, wurde Prisoned Cowboy ein günstiger Start in eine sechs Jahrzehnte währende Aufnahmekarriere. Es spiegelte auch Snow's lebenslange Faszination für den amerikanischen und kanadischen Westen wider - romantische Orte, von denen er nur während seiner Kindheit in Nova Scotia träumte.
Im Alter von 12 Jahren entkam Snow dem Zorn eines missbrauchenden Stiefvaters, indem er sich als Kabinenjunge auf einem Fischerschoner anmeldete. Für die nächsten vier Jahre ertrug die leichtgewichtige Jugend im Nordatlantik zermürbende Bedingungen. Bei seinen gelegentlichen Besuchen zu Hause zog er die Victrola seiner Mutter auf und spielte wiederholt Vernon Dalharts The Prisoner's Song und The Wreck Of The Old 97. Als er schließlich mit seiner Schwester und ihrem Mann in Bluerocks, Nova Scotia, umsiedelte, kaufte Snow seine erste Gitarre. Von den blauen Jodlern von Jimmie Rodgers angezogen, beherrschte er die Lieder und den Stil des Singing Brakeman.
Prisoned Cowboy und Lonesome Blue Yodel verkauften genug Exemplare, um eine zweite Aufnahmesession zu bekommen. Mittlerweile hatte sich Snow auf das Songwriting konzentriert, viele seiner Texte basieren auf sentimentalen westlichen Themen. Frühe Songs wie We Met Down In The Hills Of Old Wyoming, I'll Ride Back To Lonesome Valley und There's A Picture On Pinto's Saddle sind kaum mit den lebhaften Western-Sagen von Bob Nolan oder Stuart Hamblen zu vergleichen, aber sie halfen, eine Fangemeinde für 'Hank, The Yodeling Ranger' aufzubauen. Der Texas Cowboy, aufgenommen im Februar 1939, war eine der lebhaftesten frühen Bemühungen von Snow. Seine gesprochene Einführung gibt uns eine Vorstellung von Snow's prägenden Sendungen im kanadischen Radio.
Snow's zehn Sessions für Canadian RCA bis 1947 beinhalteten mindestens einen Song über Texas oder der open range. Nicht alle wurden von Hank Snow geschrieben. Snow lernte Bobby Gregory's Riding Along, Singing A Song von einer Decca 78 von Denver Darling. Philadelphia Promoter und Verleger Jack Howard gab ihm Tom Grindhart's Blue Ranger. Howard, einer der ersten Amerikaner, der Snow's Karriere verfochten hat, buchte ihn im Juli 1944 in mehrere Austragungsorte in Philadelphia. Er brachte den Sänger auch nach Wheeling, um Harry 'Big Slim' McAuliffe zu treffen, der ihm anbot, Snow beim Midnight Jamboree der WWVA zu helfen.
Als er erkannte, dass seine Karriere nur in Kanada so weit gehen konnte, zog Snow nach Wheeling. Wie viele andere junge Talente arbeitete McAuliffe unermüdlich für Snow. McAuliffe brachte ihn nicht nur zu WWVA, sondern stattete Snow auch mit dem Notwendigsten für eine reisende Bühnenshow aus, darunter ein trainiertes Pferd. Für die nächsten vier Jahre zickzackten Snow und seine Truppe über die Grenze. Aber trotz seiner hohen Sichtbarkeit und Popularität in seiner Heimat, fand Snow es schwierig, in Amerika Fuß zu fassen. Hugh Joseph setzte sich im New Yorker Büro von RCA Victor für die Veröffentlichung seiner meistverkauften Kupplungen in den USA ein. Labelbeamte waren nicht interessiert, auch wenn ein paar einfallsreiche amerikanische Country-Discjockeys seine kanadischen Bluebird-Platten auf gute Zuhörerresonanz drehten.
Im Januar 1948 verbot die American Federation of Musicians ihren Mitgliedern, Aufnahmen zu machen. Verzweifelt darauf bedacht, das ganze Jahr über einen Veröffentlichungsplan einzuhalten, wandte sich RCA Victor an Snow's kanadische Meister. My Sweet Texas Bluebonnet Queen wurde im April veröffentlicht, zwei Monate später folgte Brand On My Heart. Dallas Discjockey Hal Horton verwandelte Brand On My Heart in einen lokalen Hit. Sein Erfolg führte Snow dazu, seinen vergeblichen Versuch, in Hollywood einzudringen, aufzugeben; er kam früh im Herbst in Dallas an, sein trainiertes Pferd im Schlepptau und nur elf Dollar in der Tasche.
Mit dem neuen Live-Showcase Big-D Jamboree von KRLD zog Snow in Clubs und Konzerten große Menschenmengen an, doch finanziell erwiesen sich diese als magere Monate. Ernest Tubb, selbst ein texanischer Auswanderer, überzeugte Snow, dass Nashville der Ort war, an dem er sein musste.
RCA Victor gab drei weitere kanadische Kopplungen von 'Hank, The Singing Ranger' heraus, bevor die Musikergewerkschaft ihren Streit mit den Plattenfirmen beilegte. Obwohl keine nationalen Hits, alle gut genug verkauft, um Snow's erste amerikanische Session im März 1949 zu verdienen. Acht Songs wurden in Chicago aufgenommen, und Jenny Lou Carsons Marriage Vow wurde ein bescheidener Chart-Erfolg. Es gab Tubb genug Druckmittel, um seinen Freund nach Nashville und in die Grand Ole Opry-Liste zu bringen...
Bewertungen lesen, schreiben und diskutieren...
mehr
Kundenbewertungen für "Singing Ranger Vol.4 (9-CD)"
Von:
Fritz
Am:
04.09.2016
Hank Snow. Singing Ranger 4
His voice, simply gets better and better. Even in the 70's, the arrangements are wonderfully and authentically, "country" with twangy guitar, crying steel and twin fiddles, and that voice. Some nice " modern" touches of Merle Haggard and Kristofferson songs and the album of duets with Willie is a highlight and a treat.

My tastes are all over from classical to jazz to Dylan but with the exception of Bing, okay and maybe Sinatra, there is no other voice that sends me quite so completely into that rich, transporting and all-enveloping vocal heaven. I started with one lp., picked up for a dollar and now own the complete got-to-have 'em all Bear Family collection. An absolute favorite and everybody I play them for, including people of every possible musical taste, agrees. Thank you Hank and thank you Bear Family.
Bewertung schreiben
Bewertungen werden nach Überprüfung freigeschaltet.
Weitere Artikel von Hank Snow