Der Artikel wurde erfolgreich hinzugefügt.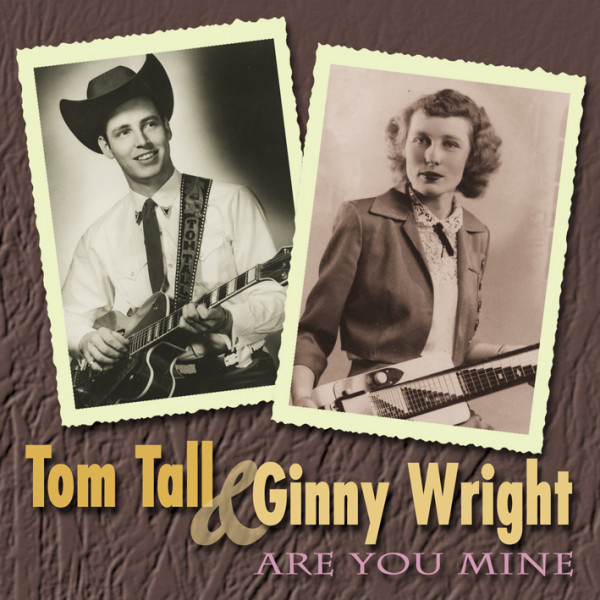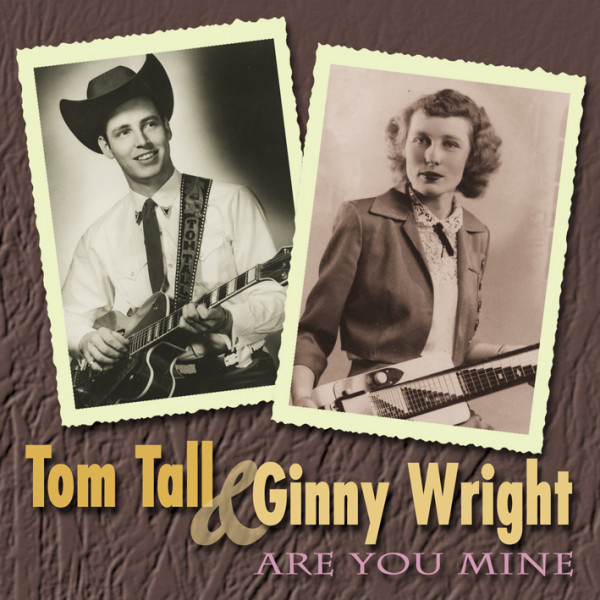 Dieser Artikel ist gestrichen und kann nicht mehr bestellt werden!
Benachrichtigen Sie mich, sobald der Artikel lieferbar ist.
Artikel-Nr.:

BCD16741

Gewicht in Kg.:

0.115
1-CD mit 36-seitigem Booklet, 31 Einzeltitel, Spieldauer 78:32 Minuten. Die Geschichte von Tom...
mehr
Tom Tall & Ginny Wright: Are You Mine
1-CD mit 36-seitigem Booklet, 31 Einzeltitel, Spieldauer 78:32 Minuten.

Die Geschichte von Tom Tall und Ginny Wright ist untrennbar verbunden mit einem der mächtigsten und einflußreichsten Männer des Musikgeschäfts – Fabor Robison. Außer Tom Tall und Ginny Wright entdeckte und förderte er auch Johnny Horton, Jim Reeves, die DeCastro Sisters, Mitchell Torok, The Browns, Bonnie Guitar und Ned Miller; Talente ohne Ende für ein einzelnes Label – aber Fabor hat es fertig gebracht, es sich mit allen zu verderben (Gerüchten zufolge wollte Jim Reeves ihn sogar erschießen), aber Fabor gelang es außerdem, sie alle an andere Firmen zu verkaufen.

Ginny Wright kam zu Fabor, um ein Duett mit Jim Reeves aufzunehmen: I Love You wurde 1953/54 ein großer Country- Hit, kam bis auf Rang 3 der Charts. Im November 1954 spielte Ginny Wright mit Tom Tall Are You Mine ein, das sogar auf Platz 2 landete und hier erstmals auf CD erhältlich ist. Doch trotz dieses Erfolgs warf Ginny Wright die Brocken hin und ging zurück nach Texas. Erst viele Jahre später betrat sie wieder ein Studio, nahm sogar weitere Songs mit Tom Tall auf, widmete sich aber dennoch verstärkt ihrer Familie in Texas. 2003 sah man Ginny Wright wieder, als sie in die Louisiana Hayride Hall Of Fame aufgenommen wurde.

Tom Tall (nein, nicht Tom T. Hall !) kam ebenfalls aus Texas. Seine Familie war allerdings nach Kalifornien übergesiedelt, als er noch ein Kind war – dort ist er dann Fabor Robison begegnet. Für ein paar Jahre – in den frühen bis Mittfünfzigern – war er auf dem Sprung nach ganz oben: Er spielte messerscharfen Westcoast Country mit Rockabilly-Anteil (wie das klassische Hot Rod Is Her Name) und war Gast in allen wichtigen Shows – etwa 'Ozark Jubilee', 'Town Hall Party' und 'Grand Ole Opry'; er ging sogar mit Elvis auf Tournee durch Texas – ein riesiges Talent, das aber den endgültigen Durchbruch nicht recht schaffte. Später, nachdem er Fabor verlassen hatte, freundete er sich mit Eddie Cochran an; er war Teil der Szene von Los Angeles, ging dann nach Las Vegas, wo er sich heute noch aufhält. Jetzt erzählt Bear Family die einzigartige, faszinierende Geschichte von Tom Tall und Ginny Wright – und wie Fabor Robison im Hintergrund die Fäden zog. Viele werden sich noch an unsere LPs vom Ginny Wright und Tom Tall erinnern; jetzt gibt es sie auf CD – mit zusätzlichen Songs und in rundum verbesserter Klangqualität.
Artikeleigenschaften von

Tom Tall & Ginny Wright: Are You Mine
Albumtitel:

Are You Mine

Genre

Country

Preiscode

AH

Artikelart

CD

EAN:

4000127167415

Gewicht in Kg:

0.115
Tall, Tom & Ginny Wright - Are You Mine

CD 1
01
Are You Mine
TALL, Tom & Ginny Wright
02
Goldie Jo Malone
TALL, Tom
03
I Want You Yes
WRIGHT, Ginny
04
Out Of Line
TALL, Tom & Ginny Wright
05
I Saw Esau (Kissing Mary Lou)
WRIGHT, Ginny
06
If You Don't Care (Please Tell Me)
TALL, Tom & Bonnie Guitar
07
Underway
TALL, Tom
08
Turn Around My Darlin'
WRIGHT, Ginny
09
Come With Me
TALL, Tom & Ginny Wright
10
Why Must I Wonder
TALL, Tom
11
How To Get Married
WRIGHT, Ginny
12
Boom Boom Boomerang
TALL, Tom & Ginny Wright
13
I've Got Somebody New
WRIGHT, Ginny
14
Remembering You
TALL, Tom
15
Whirlwind
WRIGHT, Ginny
16
I Could Still Tell You More
WRIGHT, Ginny
17
Give Me A Chance
TALL, Tom
18
Whose Little Pidgeon Are You
TALL, Tom & Creel Sisters
19
Will This Dream Of Mine Come True
TALL, Tom & Ginny Wright
20
Where Were You
WRIGHT, Ginny
21
Indian Moon
WRIGHT, Ginny
22
I Want To Talk With You
TALL, Tom
23
You Loved Another One Better Than Me
TALL, Tom
24
Please Be Careful
TALL, Tom
25
I Gave My Heart To Two People
TALL, Tom
26
Hot Rod Is Her Name
TALL, Tom & Creel Sisters
27
My Chihuahua Dog
WRIGHT, Ginny
28
Your Eyes Feasted Upon Her
WRIGHT, Ginny
29
Please Leave My Darlin' Alone
WRIGHT, Ginny
30
Don't You Know, Don't You Know
TALL, Tom & Ruckus Tyler
31
If You Know What I Know
TALL, Tom & Ruckus Tyler
Tom Tall & Ginny Wright GINNY WRIGHT Born Virginia Henderson August 1, 1933 in Summit...
mehr
"Tom Tall & Ginny Wright"
Tom Tall & Ginny Wright
GINNY WRIGHT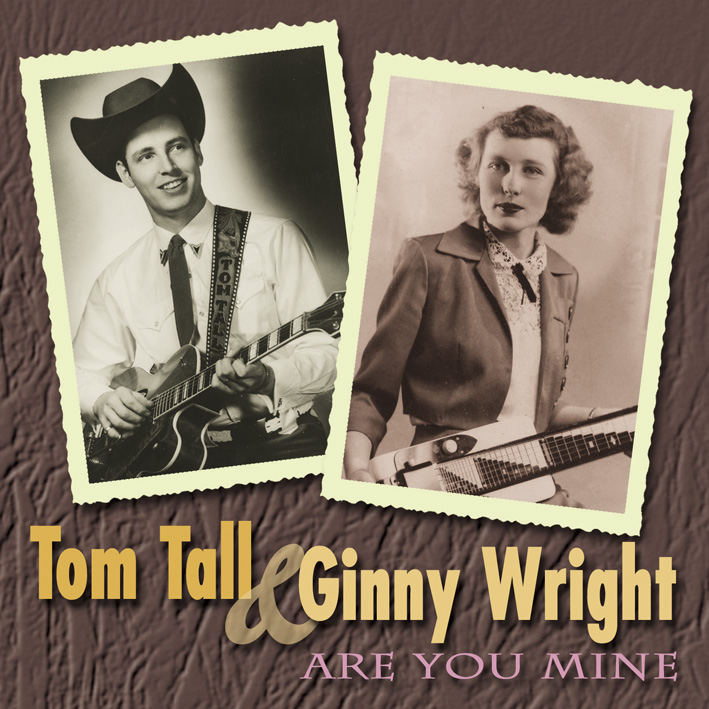 Born Virginia Henderson August 1, 1933 in Summit (now known as Twin City) Georgia, Ginny Wright was initially interested in many of that era's pop singers. After graduating from high school she moved to Cleveland, Ohio to live with her sister and studied opera, ballet and took steel guitar lessons. She later sang with a 20 piece choral group, performing mostly opera and popular songs. While working at General Electric, she met a woman whose brother-in-law Danny Ford led a local country band. "I used to work and sing," said Wright. "I'd love to sing on the job and this girl heard me and told me I had a good voice" Initially nervous with the new style, the young songstress discovered she liked the music of Hank Williams, and dropped opera from her repertoire. Ford's band invited her to play at square dances and other events where, billed as the Blue Star Girls, she sang with another girl Wright only remembers as 'Jo-Ann.' Proving unreliable, the bandleader let Jo-Ann go and young Ginny became a solo country singer.
Wright's climb to fame began in earnest after she heard about Triple-A Records in Cleveland. Triple-A's claim to fame came via the sale of Dan Howard's Oh Happy Day master to Essex, where it became a big hit. She arrived with the band's guitarist, her heart set on an audition. The label didn't seem interested at first, but suggested she speak to Jack Gale, who had a radio show on WSRS. "I went in the office and sang Hank Williams' 'Kaw-Liga' for him," Wright reminisced. "People had told me that if Hank Williams was a woman he would have sounded just like me." Subsequently, Gale advised the label to record her. "Ginny was 17 and a ball of fire. She came in and said that she was a female Hank Williams" Gale fondly recalled. "We took a chance with her even though we didn't record country, but she was very persistent." Her first Triple-A single featured a Ray Price song You're Under Arrest backed by Faron Young's Going' Steady.
TOM TALL
Tom Tall was born Tommy Lee Guthrie in Amarillo, Texas on December 27, 1937. Influenced by the music of Hank Williams and Hank Thompson, he was only 12 years old when he had his own radio program on KSNY in Snyder, Texas. The following year his family relocated to California where a very popular Hollywood disc jockey called the Squeakin' Deacon had a talent show every Sunday out at the River Rancho. "I would go out every week and enter that talent show," Tall remembered. In the fall of 1953, he not only won the contest but got the attention of Fabor Robison the head of Fabor Records. "Fabor just happened to be there that day and he gave me his card, invited me up to see him," said Tall. Robison asked Tall to record some demos at Western Recorders on Sunset Blvd. in Hollywood. Robison liked the results and offered Tom a contract. Six months later the youngster did his first recording session at the same studio where an important decision was made regarding billing. "They changed my name because Woody Guthrie was well known at the time," explained Tall. "Someone suggested Tall and I decided it worked."
In April of 1954, Tall recorded four songs which would comprise his first two releases, I Gave My Heart To Two People penned by Tall and Please Be Careful written by Dick Reynolds. I Want To Walk With You and the ballad You Loved Another One Better Than Me both were written by Tall. Backed by the Louisiana Hayride Band including Jimmy Day on steel guitar, Floyd Cramer on piano and D.J. Fontana on drums and Gene Davis a local L.A. musician was added on lead guitar.
The 'County Barn Dance,'with emcee Les 'Carrot Top' Anderson, provided Tall with a great early career opportunity. There he performed with Shirley Bates, Terry Fell, Skeets McDonald, Eddie Downs, Tex Atchison, Red Murrell, Johnny Mosby along with Glen (Glenn) and Gary (Lambert) as the Missouri Mountain Boys. "I always thought Tom was a good country singer," recalled rockabilly legend Glen Glenn. "He wanted to be a Jim Reeves, when he got the tour with Jim, I wished I was on Fabor."
Robison booked a tour with Jim Reeves headlining 'The String Music Show'that started at the 'Country Barn Dance.' The show, which featured Ginny Wright, Jim Ed and Maxine Brown, Alvadean and Sandy Coker, Shirley Bates and Tom Tall, went through California, Oregon and Washington State. The result was a grueling three week tour. Robison put the shows close together with hardly anytime off and pay was not always forth coming. "It was all new and I was excited to do something," Tall recounted. "Even though it was busy, it wasn't tough with such good musicians."
from booklet BCD16741 - Tom Tall & Ginny Wright Are You Mine
Read more at: https://www.bear-family.de/tall-tom-und-ginny-wright-are-you-mine.html
Copyright © Bear Family Records
Bewertungen lesen, schreiben und diskutieren...
mehr
Kundenbewertungen für "Are You Mine"
With Bear Family, you expect high quality in the recordings AND the documentation. But there is NO session information at all. I'm disappointed.
Go to Praguefrank's web site if you want the details.
Bewertung schreiben
Bewertungen werden nach Überprüfung freigeschaltet.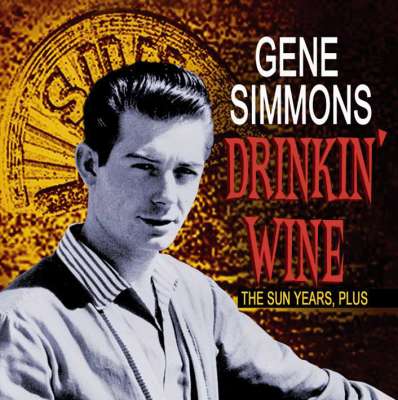 Gene Simmons: Drinkin' Wine - The Sun Years, Plus
Art-Nr.: BCD16758


Sofort versandfertig, Lieferzeit** 1-3 Werktage