Wer war/ist

Rufus Thomas

? - CDs, Vinyl LPs, DVD und mehr
Rufus Thomas
"I'm the only one of its kind."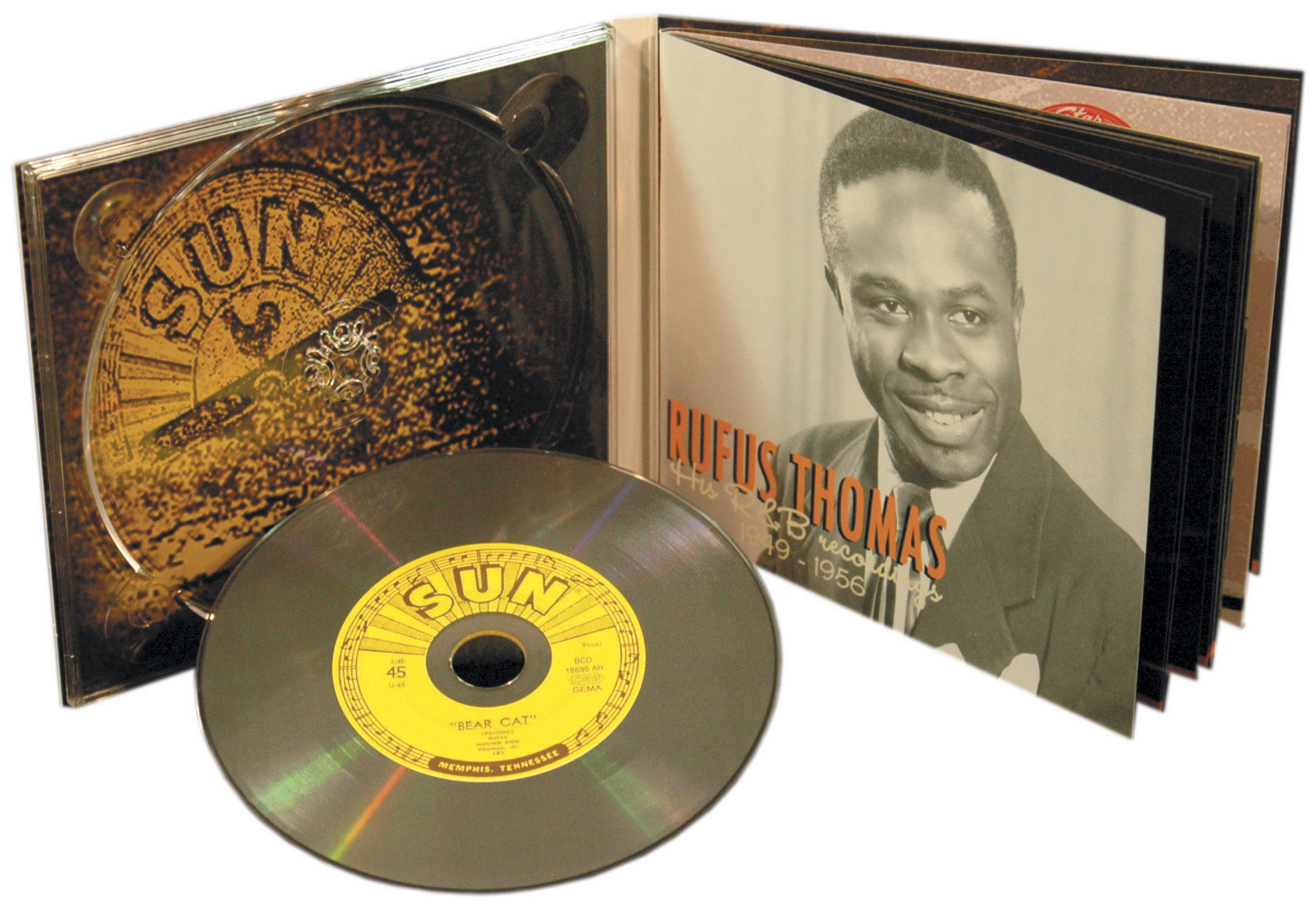 Rufus Thomas, Jr.
Tiger Man (King Of The Jungle)
(Joe Hill Louis-S. Burns)
Sun 188
Rufus Thomas konnte alles: singen, tanzen, Witze erzählen, ansagen – und Hits einfahren. Mehr als ein halbes Jahrhundert war er in Memphis künstlerisch präsent, ab 1951 als Discjockey bei WDIA.
Rufus wurde am 27. März 1917 in Cayce, Mississippi, geboren, wuchs aber seit seinem ersten Lebensjahr in Memphis auf. Er ging zur Booker T. Washington High School, als sein Geschichtslehrer Professor Nat D. Williams ihn in seine Comedy-Aufführung im Palace Theater auf der Beale Street integrierte. "Ich hatte schon vorher Steptanz gelernt", sagte der 2001 verstorbene Thomas. "Alles, was ich kann, habe ich mir selbst beigebracht. Es gab keine Schulen dieses Kalibers für Schwarze, also musste ich meine Sachen in den Seitenstraßen lernen, auf der Veranda tanzen."
Nach dem Schulabschluss ging Rufus mit den Rabbit Foot Minstrels auf Tournee. 1940 kam er nach Hause und übernahm die Rolle des Ansagers der Mittwochabend-Amateurshows im Palace, die er 11 Jahre lang mit seinem Comedy-Partner Robert 'Bones' Counts behielt. Singen konnte er schon immer. "Ich arbeitete in einem Club, und einer der Acts, ein Bluessänger, verließ die Show und ging auf Tournee", erinnerte er sich. "Ich bin einfach für ihn eingesprungen, es hat geklappt. Ich sang eins von Lonnie Johnsons Liedern, 'Jelly Roll Baker'."
Sogar Thomas' Fans im Palace hätten wohl nicht gewusst, dass er 1950 für Bullet eine Single eingespielt hatte: Sie erschien unter dem Pseudonym Mr. Swing. Aber I'll Be A Good Boy auf Star Talent kam als Rufus-Thomas-Platte raus. 1951 ging er zu Sam Phillips und nahm bei ihm drei Singles für Chess auf, bevor Sam sein eigenes Sun-Label gründete.
"Es waren eine Menge Schwarze im Studio", sagte er. "Ich kam einfach dazu. Er wusste von mir, und ich ging ins Studio. Ich habe die erste Hitplatte mit Sam gemacht." Tatsächlich war sein Bear Cat die erste Chartplatzierung für Sun im Frühjahr 1953, obwohl der Peacock-Boss Don Robey Sam wegen Copyrightverletzung verklagte, weil er es für zu sehr an Big Mama Thorntons Smash Hound Dog angelehnt hielt. Joe Hill Louis komponierte Thomas' zweite Sun-Single Tiger Man (King Of The Jungle), die großartige Leadgitarre wird jedoch von Floyd Murphy gespielt. Die restliche Band bestand an jenem 30. Juni 1953 im Studio mit der Adresse 706 Union aus James Wheeler (Saxofon), Bill Johnson (Klavier), Kenneth Banks (Bass) und Houston Stokes am donnernden Schlagzeug (die Tarzan-Rufe stammen alle von Rufus).
"Es war für irgend jemand zum Aufnehmen da und ich hab's gemacht", sagte Thomas. "Sam dachte, ich sei am besten geeignet, und da hab ich's gemacht." Elvis spielte eine mitreißende Version von Tiger Man bei den Fernsehaufnahmen zu seinem 1968er Comeback-TV-Special. Rufus war längst nicht mehr bei Sun, als Elvis dort ankam. Rufus sagte über Phillips: "Er war in Ordnung, aber er hat dir alles in Rechnung gestellt." 1956 machte Thomas eine Single für Les Biharis Meteor-Label, und das war's für den Rest des Jahrzehnts. Als jedoch Stax Records seine Türen öffnete, war es mit der Schallplattenpause vorbei.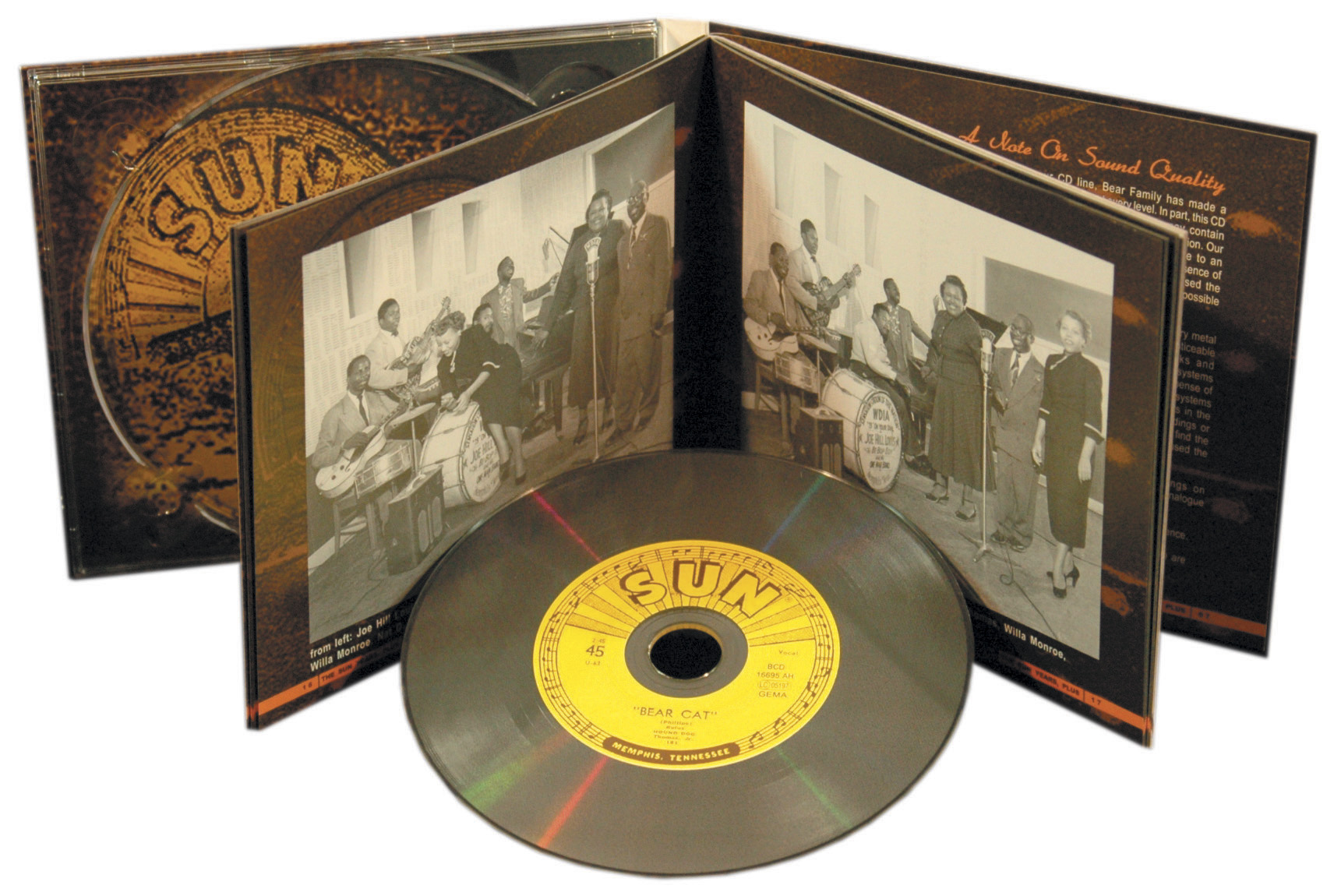 "We didn't make a lot of money but we had a damn good time."
Rufus Thomas was always quick to make sure that you knew he was a city man first and foremost. In one of his earliest in-depth interviews he told Peter Guralnick: "I was born in Mississippi just below Collierville, about five miles from the Tennessee line in a little place called Cayce; it's not on anybody's map. That was March 26 1917, [though his social security records say March 27] but I grew up in Memphis. I been here since I was a year old. I don't know anything about country life, to tell you the truth."
from booklet BCD16695 - Rufus Thomas The Sun Years, plus
Read more at: https://www.bear-family.de/thomas-rufus-the-sun-years-plus.html
Copyright © Bear Family Records
Copyright © Bear Family Records® Alle Rechte vorbehalten. Nachdruck, auch auszugsweise, oder jede andere Art der Wiedergabe, einschließlich Aufnahme in elektronische Datenbanken und Vervielfältigung auf Datenträgern, in deutscher oder jeder anderen Sprache nur mit schriftlicher Genehmigung der Bear Family Records® GmbH.
Für die Filterung wurden keine Ergebnisse gefunden!