Der Artikel wurde erfolgreich hinzugefügt.
inkl. MwSt. / zzgl. Versandkosten - Abhängig vom Lieferland kann die MwSt. an der Kasse variieren.
Sofort versandfertig, Lieferzeit** 1-3 Werktage
Artikel-Nr.:

RCEP125

Gewicht in Kg.:

0.05
(Roller Coaster Records) 4 tracks Side One Honey Honey Go Bo Go! Side Two The Golden...
mehr
Gary Tollett & Crickets: Go Boy Go ! (7inch, 45rpm, EP, PS)
(Roller Coaster Records) 4 tracks
Side One
Side Two
The Golden Rocket
I Overlooked An Orchid
Artikeleigenschaften von

Gary Tollett & Crickets: Go Boy Go ! (7inch, 45rpm, EP, PS)
Albumtitel:

Go Boy Go ! (7inch, 45rpm, EP, PS)

Genre

Rock'n'Roll

Record Grading

Mint (M)

Sleeve Grading

Mint (M)

Geschwindigkeit

45 U/min

Plattengröße

Single (7 Inch)

Artikelart

7inch

EAN:

4000127733467

Gewicht in Kg:

0.05
THE CRICKETS That'll Be The Day (Buddy Holly) I n diesem Stil machten sowohl Holly...
mehr
"Gary Tollett & Crickets"
THE CRICKETS
That'll Be The Day (Buddy Holly)
I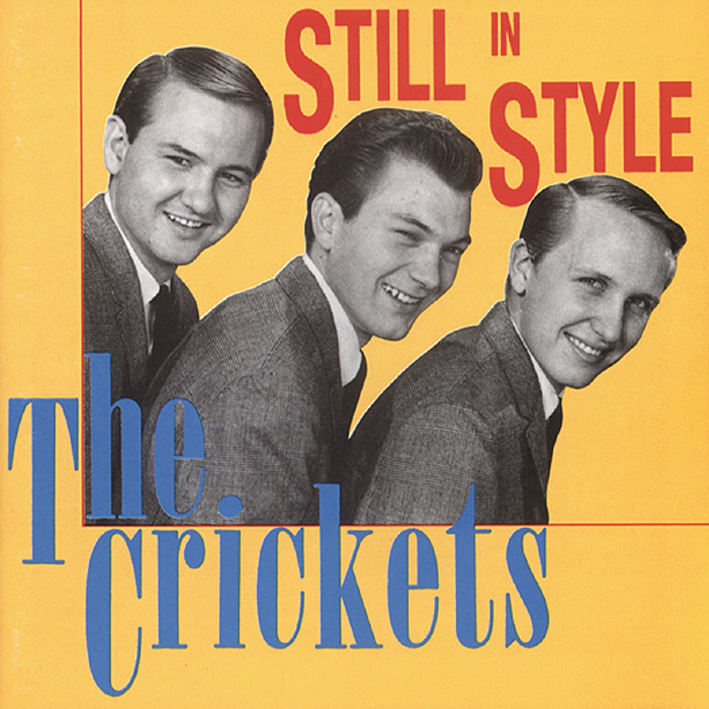 n diesem Stil machten sowohl Holly als auch The Crickets gemeinsam und jeweils allein weitere Auf­nahmen mit insge­samt für sie mäßigem fi­nan­ziel­lem Erfolg. Jeden­falls gelang es nun, Holly And The Crickets in den wichtigsten Fernseh­sen­dungen vorzu­stellen, in der Ed Sullivan Show und bei American Band­stand, sie in den üblichen Tourneen von Rock'n'Roll-Musi­kern unter­zu­brin­gen.
Obwohl Holly And The Crickets mit einigen Auf­nah­men so etwas wie einen Perso­nal­stil geschaffen haben, indem sie sehr verschiedene Einflüsse be­wußt oder unbewußt verar­beitet haben – von Ge­sangs­gruppen wie den Louvin Brothers über die Everly Brothers bis hin zu den Coasters, Buddy Holly in seiner Phrasierung von Hank Williams bis Chuck Berry und Bo Diddley – war Holly dennoch kein Stilist im Sinne von Chuck Berry oder Bill Haley And The Comets, die ja wei­tergemacht ha­ben in dem Musikstil, mit dem sie bekannt ge­wor­den sind.
Holly hat sich noch 1958 von den Crickets ge­trennt. Er hat Rock'n'Roll als Mittel benutzt, um sich einen Namen als Musiker zu machen, er hat sich nicht als Rock'n'Roller betrachtet, der seine Musiker-Laufbahn unter diesem Etikett fortsetzt. Als Rock'n'Roller hätte er nämlich vor allem Tanz­musik spielen mussen, was auf lange Sicht be­deutet hätte: häufig auftreten, auch gegen ge­rin­ges Entgelt und in Kneipen. So wie es Tausende andere machten und noch machen, die Musik der Kategorien Count­ry and Western, Rhythm and Blues und Rock'n'Roll spielen.
Holly wollte sich auf dem allgemeinen Markt 'Po­pu­läre Musik' als Sänger durch­setzen. Das deuten schon Aufnahmen an, die er noch als Mitglied der Crickets ge­macht hat, und das zeigen seine Auf­nah­men nach der Trennung von The Crickets. Holly hatte sich in New York niedergelassen, dem Zentrum der Musik­industrie, um von hier aus sei­ne Karriere neu zu beginnen. Einem Angebot, an einer Tournee unter dem Etikett Rock'n'Roll teil­zu­nehmen, war er Anfang 1959 nur nach­ge­kom­men, weil er Geld verdienen mußte. Beim Flug zu einem Auftritt stürzte dann das Flugzeug ab, in dem er mit anderen Musikern saß. Für sich selbst hatte Holly Rock'n'Roll als bestimmendes Ele­ment seiner Musik schon aufgegeben. Im Juni 1958, sechzehn Monate nach der Aufnahme von That'll Be The Day, machte er in New York Auf­nah­men als Sänger mit einem Orchester.
THE CRICKETS
So what would Buddy Holly have sounded like if he was still recording in 1963? The Crickets provide a possible answer. By 1962, former dee-jay Jerry Naylor was taking the lead vocals, and the group was rounded out by drummer Jerry Allison, lead guitarist Sonny Curtis, and pianist Glen D. Hardin (although researcher John Ingman figures that Leon Russell plays piano here). Jerry Naylor took the lead on most of the Liberty recordings until he went solo in 1965. The Crickets were astonishingly successful in the UK during the early 1960s, racking up several hits, including Carol King's Don't Ever Change, Sonny Curtis's My Little Girl, as well as Don't Try To Change Me and a revival of La Bamba. They even landed a movie role, singing My Little Girl and Teardrops Fall Like Rain in the 1962 British rock music movie, 'Just For Fun.' Here they tackle a song by their Liberty Records stablemate Jackie DeShannon and Sharon Sheeley, the girlfriend of former Liberty Records star, Eddie Cochran. It first appeared as a single, then on the UK-only LP, 'A Collection,' in 1965.
At the time this was issued in the UK, first on a single and then on a UK-only album, 'A Collection,' the Crickets were a hot item in Europe, as indeed was their former lead singer, Buddy Holly. In the USA, Lonely Avenue was issued as a single in January 1964 coupled with You Can't Be In-Between, but in the UK Lonely Avenue was released two months later, coupled with the just-recorded Playboy. The latter was an early effort by David Gates, who became the founder and chief composer for the '70s soft rock group, Bread. The son of a band director and piano teacher in Tulsa, Oklahoma, Gates grew up with classical music, and was reading music at age Five. By high school, he was proficient on piano, guitar and bass, and was soon making rockabilly records for East-West, Mala, and other labels. Just weeks before Playboy was recorded, Gates had his first hit as a songwriter when The Murmaids took his Popsicles And Icicles into the US Top 10.
Recorded on June 14, 1963 and released just over one month later, hopes must have been high for April Avenue, but the song has been curiously neglected through the years, and rarely reissued until now. Sonny Curtis took the lead vocal on what amounts to a complete short story related in under two-and-a-half minutes. He was becoming an ace songwriter. "When I was a kid," he says, "I wanted to be a big country star. A local promoter put me on a show with Hank Snow. I went on right before Hank, and to impress him, I sang a lot of his hits. I was so dumb, I didn't realize that was not the thing to do. Hank's road manager told me that if I wanted to make it, I would have to find my own songs, and if I didn't know any songwriters, I would have to write them myself. I never became a big country star, but I did learn to write songs." He wrote Walk Right Back for the Everly Brothers, and in 1964 the Bobby Fuller Four revived his Crickets song, I Fought The Law. In 1980 Leo Sayer revived another old Crickets song, More Than I Can Say, and later that decade Sonny walked away with several awards for Keith Whitley's big country hit, I'm No Stranger To The Rain, but his biggest payday probably came when he wrote and recorded the theme song to 'The Mary Tyler Moore Show.'
Bewertungen lesen, schreiben und diskutieren...
mehr
Kundenbewertungen für "Go Boy Go ! (7inch, 45rpm, EP, PS)"
Bewertung schreiben
Bewertungen werden nach Überprüfung freigeschaltet.