Der Artikel wurde erfolgreich hinzugefügt.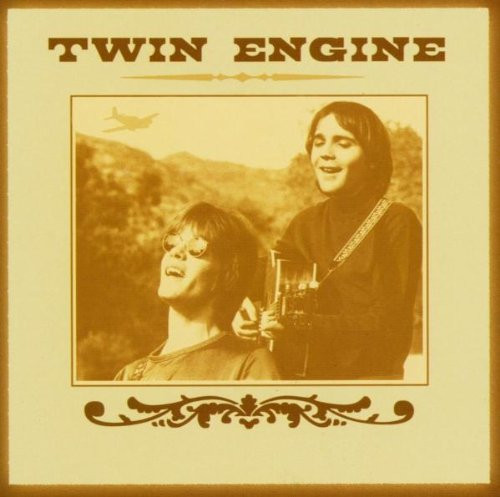 Benachrichtigen Sie mich, sobald der Artikel lieferbar ist.
inkl. MwSt. / zzgl. Versandkosten
Artikel derzeit nicht verfügbar, Lieferfristen von bis zu 2-3 Wochen sind zu erwarten. (soweit verfügbar beim Lieferanten - kann schneller gehen, manchmal aber leider auch nicht)
Artikel-Nr.:

CDREV57

Gewicht in Kg.:

0.1
(2004/Rev-Ola) 12 tracks
mehr
TWIN ENGINE: Twin Engine
(2004/Rev-Ola) 12 tracks
Artikeleigenschaften von

TWIN ENGINE: Twin Engine
Albumtitel:

Twin Engine

Genre

Beat

Artikelart

CD

EAN:

5013929435728

Gewicht in Kg:

0.1
Twin Engine - Twin Engine

CD 1
01
Give my love a chance
02
My life gets better every day
03
Secrets
04
Mistress of the morning
05
No time is better than now
06
Darlin'
07
Flowered wall
08
Can't keep my mind off of you
09
Gold mine
10
When will I be loved
11
The time is now
12
Same train
TWIN ENGINE My Life Gets Better Every Day (Constantine Gusias) recorded May-June 1971...
mehr
"TWIN ENGINE"
TWIN ENGINE
My Life Gets Better Every Day
(Constantine Gusias)
recorded May-June 1971 at Sound City Studio, Van Nuys, California, and unknown dates at Sound Factory, Selma Avenue, Hollywood, California; produced by Joey Stec and Ralph Scala
with Constantine Gusias: guitar, vocals; Randy Naylor: keyboards, guitar, vocals; Clarence White: guitar; Chris Hillman: bass; Michael Clarke: drums; Randy Fuller: bass; DeWayne Quirico: drums; Pat Shanahan: drums; Ronald Gilbert: unknown; Byron Berline: fiddle; Sneaky Pete Kleinow: pedal steel guitar
Rev-Ola 57
Rick Nelson had almost co-opted the Poor, hiring Allen Kemp, Randy Meisner, and Pat Shanahan from their number. Another member, Randy Naylor, teamed up with Constantine 'Gus' Gusias to form Twin Engine. Gusias was from Los Angeles and was hanging around the Troubadour during its golden era when he met Naylor, who'd grown up around country music in the mid-West. They roomed together and met two former members of the Blues Magoos, Joey Stec and Ralph Scala, who got twenty thousand dollars in seed money from Eli Bird at United Artists Records and began recording Gusias and Naylor as Twin Engine. The sessions moved from Sound City to Sound Factory. Members of the Byrds and the Burritos sat in, as did DeWayne Quirico and Randy Fuller from the Bobby Fuller 4. By the time the LP was delivered, Bird had been fired from UA and had been replaced by Nik Venet, who had no interest in the project. It got as far as a mixdown to acetate before UA pulled the plug. The missed opportunities didn't end there. During the Twin Engine sessions, the Poor's Randy Meisner suggested to Gusias that he join a new group he was assembling, the Eagles, but Gusias passed on the idea. He continued making his own music and eventually veered into hospital work. Naylor moved to the San Fernando Valley to work for a music distributor. The fact that anyone even knows about Twin Engine is almost entirely due to Steve Stanley, who coordinated the eventual 2003 release of the group's lone album, and contacted Gusias and Naylor for the information synopsized here.
Various - Truckers, Kickers, Cowboy Angels Vol.04, The Blissed-Out Birth Of Country Rock 1971 (2-CD)

Read more at: https://www.bear-family.de/various-truckers-kickers-cowboy-angels-vol.04-the-blissed-out-birth-of-country-rock-1971-2-cd.html
Copyright © Bear Family Records
Bewertungen lesen, schreiben und diskutieren...
mehr
Kundenbewertungen für "Twin Engine"
Bewertung schreiben
Bewertungen werden nach Überprüfung freigeschaltet.