Wer war/ist

Wildfire Willie & The Ramblers

? - CDs, Vinyl LPs, DVD und mehr
Wildfire Willie & The Ramblers
Wildfire Willie ist eine 4-köpfige Band aus Skandinavien (Finnland, Schweden), die Rockabilly mit traditionellem Sound und Stil spielt.
Gegründet 1985 von den Brüdern Jyrki JJ (Gitarre) und Markku (Schlagzeug) Juvonen. Ende 1986 kam Jan (Vocals) als Sänger zur Band und seit 2003 ist der Bassist Carl Viktor.
Die Band ist in vielen verschiedenen europäischen Ländern und sogar in der ehemaligen Sowjetunion, Japan, Australien und mehrmals in den USA aufgetreten.
und war auch als Backing Band für viele original 50er Jahre Künstler tätig.
Die Geschichte
Es war in Eskilstuna Schweden, als die Idee der Band geboren wurde, als Mika uns im Oktober 1985 fragte, ob wir (Jyrki, Markku, Mika, Petri) eine neue Band gründen könnten. Damals hatten Mika und Petri ein Rockabilly-Trio, das sie verließen, um die neue Band "Wildfire Willie and The Wild Youth" zu gründen.
So hatte Wildfire Willie in der ersten Januarwoche 1986 seine erste Probe.
Diese neue Band, Wildfire Willie, übernahm alle bereits gebuchten Wild Youths Auftritte, so dass die ersten Auftritte unter dem Namen Wildfire Willie und The Wild Youth stattfanden. Mika erfand den Namen "Wildfire Willie" und später Markku den Namen "The Ramblers".
Petri verließ die Band im Sommer 1986 und konzentrierte sich nur noch auf seine Arbeit als Elektriker, also sang Mika eine Weile, bevor man sich entschloss, einen neuen Sänger als Ersatz für Petri zu suchen, so dass Jan Swampson (von Jan Swampson und seinem Thermosar) Ende 1986 zu The Ramblers kam, nachdem Mika die Band Anfang der 90er Jahre verlassen hatte, gingen The Ramblers durch eine Reihe von Bassisten, aber seit 2003 spielt Carl Viktor den Bass.
Wildfire Willie hat jetzt nur noch seine beiden verbliebenen Gründungsmitglieder, Jyrki (Lead Guitar) und Markku (Drums).
Wildfire Willie and The Ramblers hat auf verschiedenen Veranstaltungen wie dem Hemsby RocknRoll Weekender und Rockabilly Rave in Großbritannien, Viva Las Vegas, Rockin 50s Fest (Green Bay), Denver RocknRhythm Festival in den USA, Wintersun Festival in Australien, RocknRoll Jamboree in Finnland, in Schweden das Live & Jive Festival und das Hultsfred Festival (größte Musikveranstaltung in Schweden) etc. gespielt. Es hat auch viele verschiedene Auftritte in Radio- und Fernsehsendungen.
Die Band hat in vielen verschiedenen europäischen Ländern und sogar in der ehemaligen Sowjetunion, Japan, Australien und natürlich viele Male in den USA getourt.
Aufnahmen wurden für verschiedene Labels in Europa gemacht (Wildcat, Sunjay, Tessy Records, Lenox, Be Be's Records, Goofin' und Tail).
Die Band spielte als Backing Band für viele Künstler, sowohl bei Aufnahmen (Huelyn Duvall, Rayburn Anthony, Alvis Wayne und Bobby Crown) als auch bei Live-Auftritten (Billy Lee Riley, Jack Earls, Rudy Tutti Grayzell), Dale Hawkins, Alvis Wayne, Sleepy LaBeef, Hayden Thompson, Al Ferrier, Teddy Redell, Ray Campi, Johnny Legend, Huelyn Duvall, Art Adams, Rayburn Anthony, Bobby Crown, Glen Glenn, Mack Self, Johnny Powers, Carl Mann, Royce Porter).
Copyright © Bear Family Records® Alle Rechte vorbehalten. Nachdruck, auch auszugsweise, oder jede andere Art der Wiedergabe, einschließlich Aufnahme in elektronische Datenbanken und Vervielfältigung auf Datenträgern, in deutscher oder jeder anderen Sprache nur mit schriftlicher Genehmigung der Bear Family Records® GmbH.
Weitere Informationen zu Wildfire Willie & The Ramblers auf de.Wikipedia.org
Für die Filterung wurden keine Ergebnisse gefunden!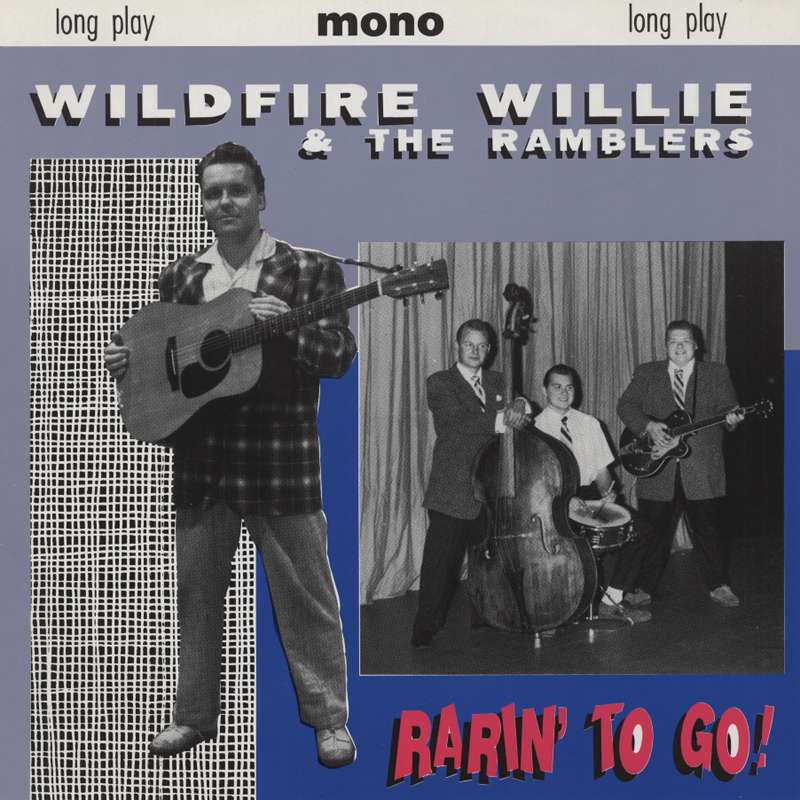 WILDFIRE WILLIE: Rarin' To Go (1994)
Art-Nr.: TESSY2004


Dieser Artikel ist gestrichen und kann nicht mehr bestellt werden!
LP auf VINYL RECORDS von WILDFIRE WILLIE - Rarin' To Go (1994)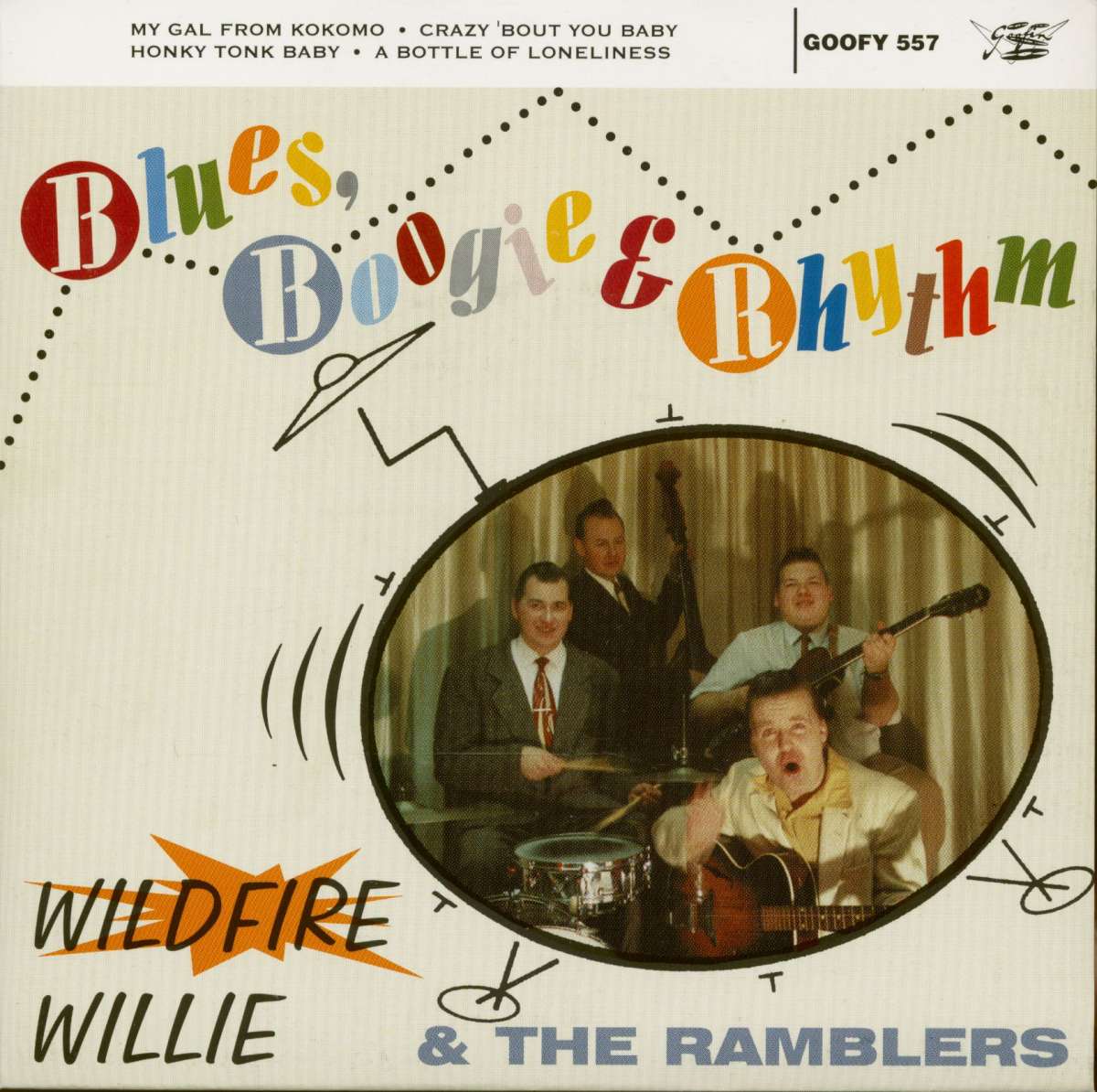 Wildfire Willie: Blues, Boogie & Rhythm (7inch, EP, 45rpm, PS, BC)
Art-Nr.: 45GOOFY557


Dieser Artikel ist gestrichen und kann nicht mehr bestellt werden!
(Goofin' Records) 4-Track EP - Bildhülle, 45 U/Min, großes Innenloch ermöglicht Jukebox Verwendung! Legendäre EP aus der Hoch-Zeit von Wildfire Willie Mitte der 90er Jahre!