Wer war/ist

Bob Wills

? - CDs, Vinyl LPs, DVD und mehr

In den 30er bis 50er Jahren war er eine der einflußreichsten Persönlichkeiten in der Geschichte der Country Music: der legendäre Bob Wills, ein Pionier des jazzigen Western Swing, der im amerikanischen Südwesten und später an der Westküste entstand und seine große Blütezeit erlebte. Der Texaner – der innovative und charismatische 'König des Western Swing' - verbrachte die Hoch-Zeit seiner Karriere in Oklahoma und Kalifornien. Mit seiner klassischen Band, den Texas Playboys, vereinigte er texanische Fiddlemusic mit Hot Jazz, Blues, Pop und anderen Stilrichtungen. Bis sein Riesen-Hit San Antonio Roseihn landesweit berühmt machte, war Wills lediglich eine lokale Größe. Dann aber bescherte ihm seine Musik eine überdurchschnittliche Popularität und hatte einen unverrückbaren Einfluß auf die Entwicklung der herkömmlichen Country Music; außerdem machten ihn der Einsatz elektrischer Gitarren, ein betonter Beat und ein Blues-Touch in seiner Musik auch zum wichtigen Wegbereiter des Rock 'n' Roll.

Wills verstarb 1975, doch seine Popularität und Wirkung leben weiter. 2005 wäre er 100 Jahre alt geworden, und Bear Family Records feiert dies mit einer besonderen Ankündigung: Es wird ein zweites Wills-Box-Set geben, das die erste Box aus dem Jahr 2000, 'San Antonio Rose' (BCD 15933), ergänzt. Dieses gigantische Projekt – mit 11 CDs und einer DVD mit Wills' erstem Kinofilm – enthielt bereits Wills' richtungweisende frühe Aufnahmen aus den Jahren 1932 bis 1947. Volume 2 setzt seine Veröffentlichungen lückenlos fort – mit Wills' ersten MGM-Einspielungen aus dem Herbst 1947 bis zu seinen letzten Arbeiten von 1973. Die Box wird zahlreiche, bislang unveröffentlichte Songs präsentieren; außerdem eine komplette, ebenfalls bisher nicht veröffentlichte Reunion-Session von 1971, die von Country-Music-Legende Merle Haggard organisiert wurde, der auch selbst mitspielte.

Weiterführende Informationen werden wir rechtzeitig in unseren Katalogen und auf der Internetseite www.bear-family.de bekanntgeben.

Geb. 6. 3. 1905 im Limestone County - Texas
Gest. 13.5. 1975 in Fort Worth - Texas
Record Labels: Okeh, Brunswick, Columbia, Silver Bell, Decca, Harmony, Liberty, Kapp, MGM, MVA, Starday, United Artists, Capitol, Epic, RCA, Tishomingo, Bear Family
Erster No. 1 Hit: Silver Dew On The Blue (1945)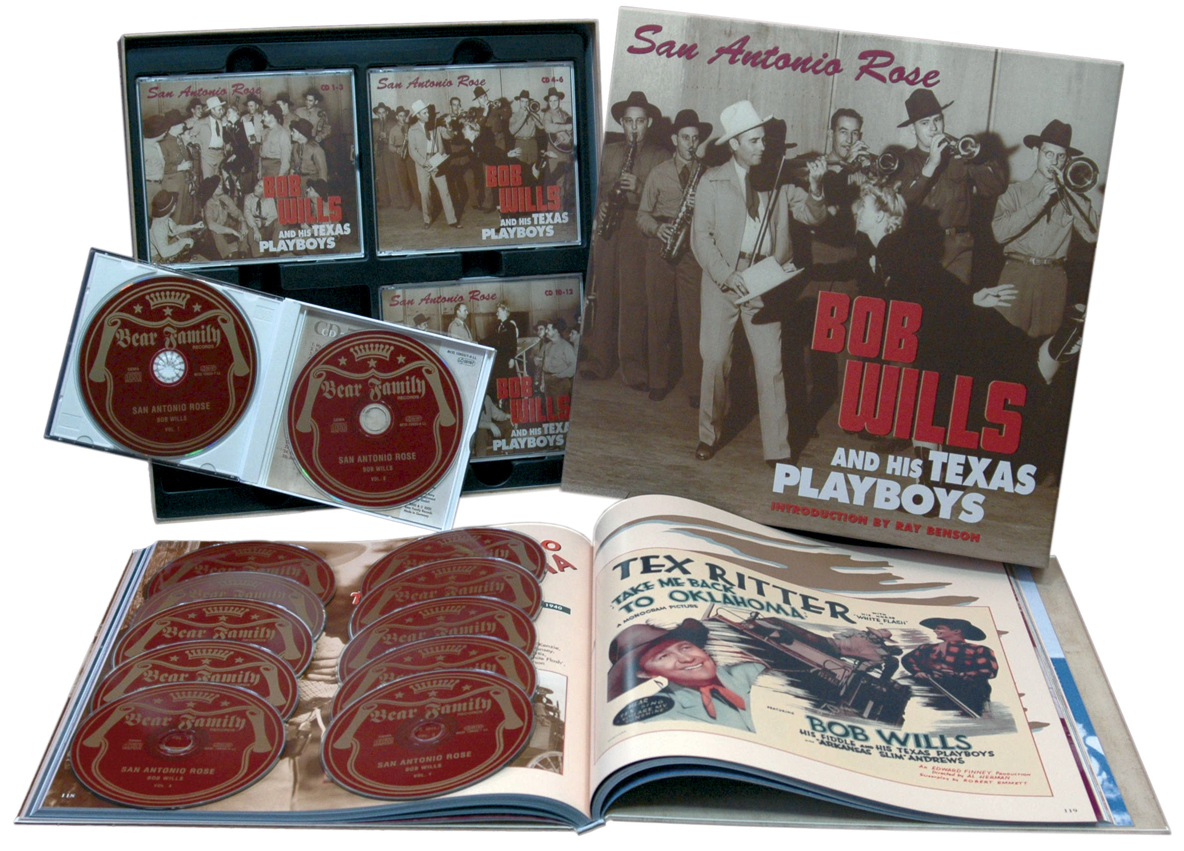 James Robert Wills, der King Of Western Swing, leitete vier Jahrzehnte lang eine der besten und einflussreichsten Western Swing Bands, die Texas Playboys. Mit einem Duo, der Wills Fiddle Band, hatte der Sänger und Fiddler Bob Wills zusammen mit dem Gitarristen Herman Arnspiger 1929 begonnen, 1931 war noch der Sänger Milton Brown dazugekommen und wenig später hatten sich aus der "Wills Fiddle Band die "Light Crust Doughboys entwickelt, eine Western Swing Formation, die später zur Legende hochstilisiert wurde.

1933, als Milton Brown und Bob Wills die Light Crust Doughboys verlassen hatten, gründete Bob seine eigene Band, die "Texas Playboys, eine Gruppe, mit der er Maßstäbe für den gesamten Western Swing Stil setzte. Er wurde im Verlauf weniger Jahre der Benny Goodman des Western Swing.

1968 wurde Bob Wills in die Country Music Hall Of Fame aufgenommen, doch den wohl schönsten Tribut zollte ihm Waylon Jennings, als er sang: "No matter who`s in Austin, Bob Wills is still the King."
Copyright © Bear Family Records® Alle Rechte vorbehalten. Nachdruck, auch auszugsweise, oder jede andere Art der Wiedergabe, einschließlich Aufnahme in elektronische Datenbanken und Vervielfältigung auf Datenträgern, in deutscher oder jeder anderen Sprache nur mit schriftlicher Genehmigung der Bear Family Records® GmbH.
Für die Filterung wurden keine Ergebnisse gefunden!