Wer war/ist

Rusty York

? - CDs, Vinyl LPs, DVD und mehr

Rusty York Rocks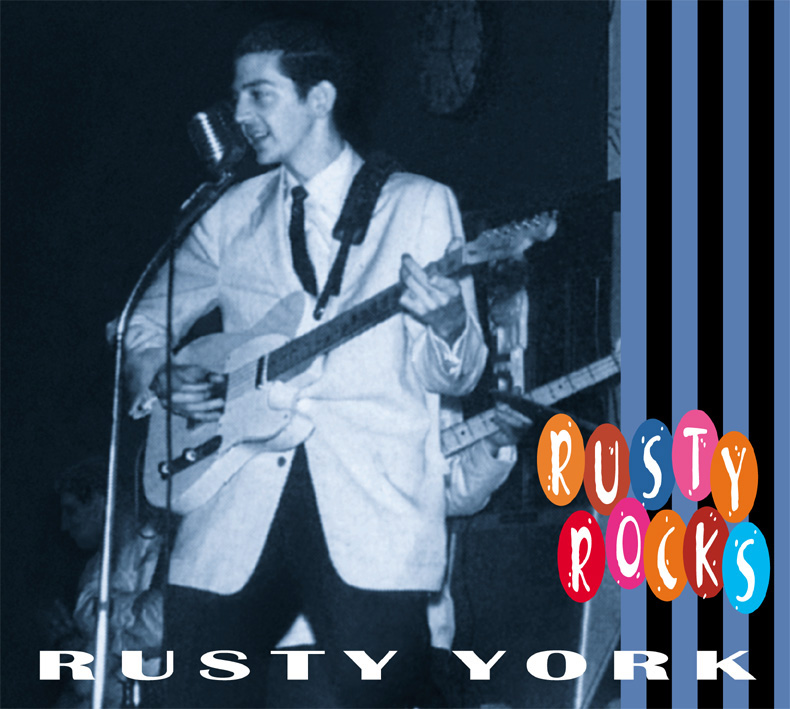 Rusty York is a music business success story, but ironically one without major chart action (his only hit stalled at #77 in 'Billboard'nearly forty-five years ago), and without songwriting success. Deep catalog bluegrass fans know him for his involvement in Jimmie Skinner's career and his early bluegrass gigs around his adopted hometown of Cincinnati. Some remember his mid-Sixties tours with Bobby Bare. All of the above were better than regular day jobs, but just barely paid the bills, so Rusty built a studio just north of Cincinnati, and just about anyone who wants to record in that area goes there. These days, he drives his Rolls Royce around the north side of Cincinnati, complains about the high cost of the parts and accessories, and manages his studio complex.
Charles Edward York was born in Gray's Knob near Harlan in Harlan County, Kentucky on May 24, 1935. His father was a miner. Most mornings, he could pick up the Hazard station that hosted Jimmie Skinner and Ray Lunsford. "I thought Jimmie was great," says Rusty. "Listening to him was my big thrill." Later, they would work together, and Rusty would replace the legendary Lunsford in Jimmie's line-up.
Rusty's early career was quite predictable: Daddy taught him a few chords; he listened to the Grand Ole Opry from Nashville, and Mid-Day Merry-Go-Round from Knoxville; and he picked up a little knowledge here and there. Meanwhile, the family was moving around. Rusty started school in Viper, Kentucky, and then moved on to Jackson in Breathitt County. When Flatt & Scruggs played the local Jaxon Theater in Jackson, Rusty was immediately taken with the masterful sound of Earl Scruggs' rolling three-finger banjo style. He came of age just as bluegrass itself was being born, and was among the original fans to hear the early masters and emulate them.
The Yorks left rural Kentucky for Cincinnati on Rusty's seventeenth birthday, May 24, 1952. For those unfamiliar with the area's geography, Cincinnati is just across the Ohio River from Covington, Kentucky, and its original German and Dutch population was on the point of being overtaken by Kentuckians seeking better employment and better times.
Within a few weeks of arriving in Cincinnati, Rusty's father died, and Rusty went to work in Walt's Restaurant. Later, he worked in a stockbrokers office, albeit not as a stockbroker. In the evenings, he would hang out at Larry's Café, where he met a banjo player, Wilson Spivey, who had a regular spot on WZIP in Covington, Kentucky. Around the same time, Rusty began working with Willard Hale, from Somerset, Kentucky. They played the joints as a bluegrass duo, like Flatt & Scruggs in training. Charles Edward York now became 'Rusty York' because his sister had bought him a guitar with 'Rusty' already stencilled on it in three-inch gold letters.
Just as Rusty's bluegrass career was taking off, Elvis burst onto the scene. Rusty worked Mystery Train into his act and the crowd went wild. Maybe,he thought, there's something to this. "I liked it," he said, "but I thought it would be a flash-in-the-pan and I'd go back to country." Club patrons would call out for Hound Dog, and Rusty would respond with, "How about 'Little Cabin Home On The Hill?'" It seemed as though times had irrevocably changed, but then Rusty and Willard got to know Jimmie Skinner, who was not about to rock or roll. Not then, not ever. Rusty worked showdates and radio with Skinner, and gave up his day job at the stockbroker's office to work at Jimmie Skinner's Music Center. He helped engineer Jimmie's live show from the store, then switched to the mail order department.
from booklet BCD16543 - Rusty York Rusty York - Rusty Rocks
Read more at: https://www.bear-family.de/york-rusty-rusty-york-rusty-rocks.html
Copyright © Bear Family Records
Copyright © Bear Family Records® Alle Rechte vorbehalten. Nachdruck, auch auszugsweise, oder jede andere Art der Wiedergabe, einschließlich Aufnahme in elektronische Datenbanken und Vervielfältigung auf Datenträgern, in deutscher oder jeder anderen Sprache nur mit schriftlicher Genehmigung der Bear Family Records® GmbH.
Für die Filterung wurden keine Ergebnisse gefunden!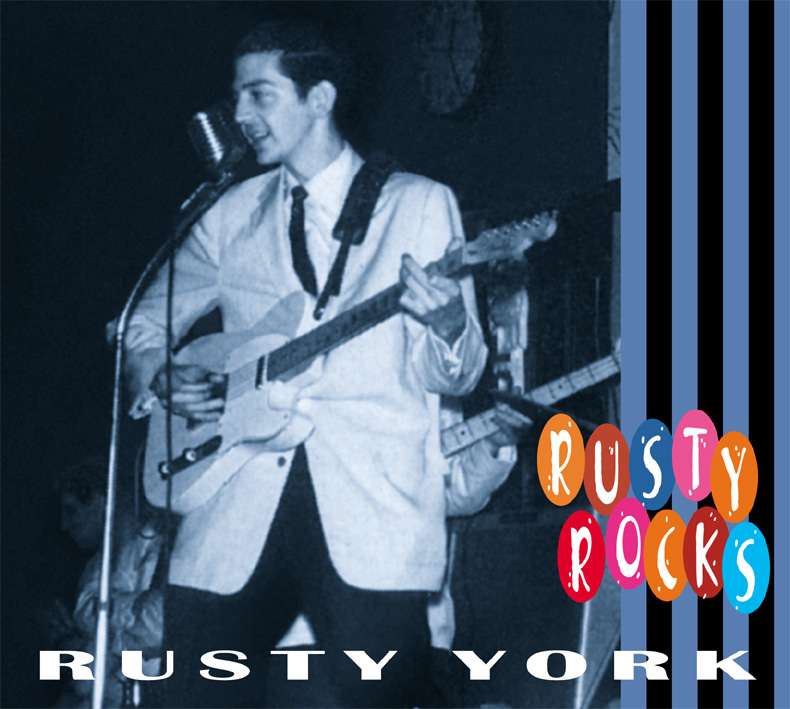 Rusty York: Rusty York - Rusty Rocks
Art-Nr.: BCD16543


Sofort versandfertig, Lieferzeit** 1-3 Werktage
1-CD DigiPac Album (6-seitig) mit 52-seitigem Booklet, 28 Einzeltitel, Spieldauer 62:32 Minuten. Es ist längst überfällig, einen ganz großen Unbekannten mit einem Album zu würdigen. Den meisten Rock 'n' Roll-Fans ist Rusty York 's Hit...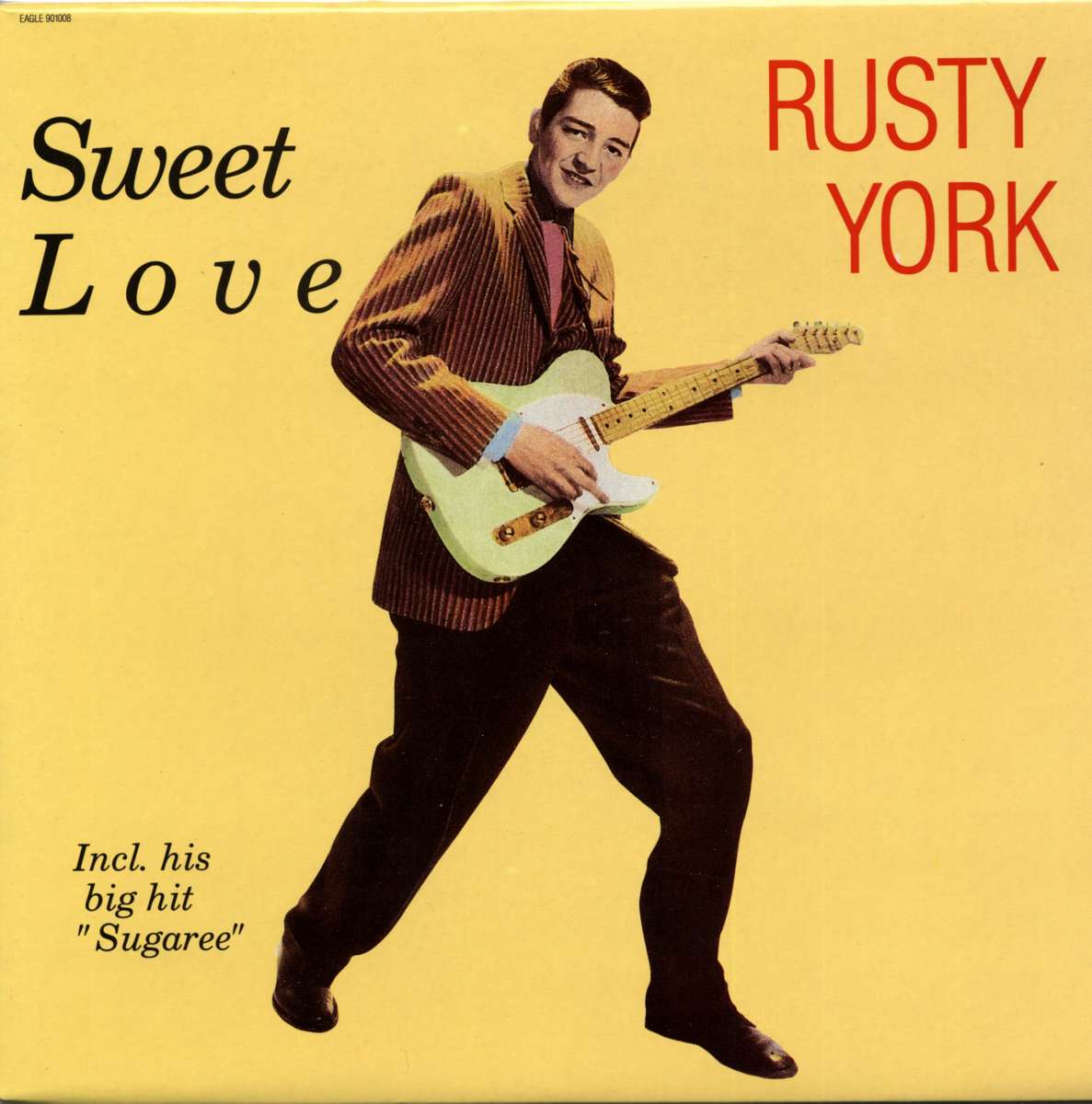 Rusty York: Sweet Love
Art-Nr.: LP901008


Sofort versandfertig, Lieferzeit** 1-3 Werktage
(1990/Eagle) 18 Titel aus den Jahren1956 bis 1959!