Wer war/ist

Barbara Acklin

? - CDs, Vinyl LPs, DVD und mehr
Barbara Acklin
Love Makes A Woman
Barbara Acklin
Love Makes A Woman
Chicago producer Carl Davis had abundant singing and songwriting talent at his Brunswick Records office on South Michigan Avenue—even at the receptionist's desk.
"I was brought to Brunswick by a guy named Otis Leavill," said the late Barbara Acklin. "He brought me there as a secretary. While I was being a secretary, I was doing a little writing on the side. And I happened to pen this tune called 'Whispers (Gettin' Louder)' for Jackie Wilson. That's when they noticed me and said, 'Wow, let's see what else she can do!'"
Acklin was born February 28, 1943. Reference books list her birthplace as Chicago, but her early singing experiences suggest otherwise. "I won my first talent contest when I was five," she said. "That was in Oakland, California, when we were living there. I had to stand there on a box to reach the microphone."
Barbara said she arrived in Chicago in 1957. She joined the choir at New Zion Baptist Church but had secular ambitions by age 17. Her cousin, arranger Monk Higgins, produced her mid-'60s debut single, I'm Not Mad Anymore, for the Special Agent label, and she moved up from there. "I hooked in with this guy named Billy Davis of Chess Records. And he taught me some things that made me a better writer," she said. "I used to do backgrounds for Etta James and Fontella Bass and Jackie Ross."
Jackie Wilson's persistence finally convinced Davis to give Acklin a shot as a singer. Her first two Brunswick singles didn't sell, but her '68 duets with Gene Chandler, Show Me The Way To Go and From The Teacher To The Preacher, did. "He took me on the road with him," said Barbara. "He really introduced me to the public. So then I came back in town, and I went into the studio and did 'Love Makes A Woman.'"
Written by Eugene Record, Davis, arranger Sonny Sanders, and guitarist Gerald Sims, the bouncy mid-tempo Love Makes A Woman perfectly showcased Barbara's airy soprano (Carl's brother Cliff Davis was the jabbing sax soloist). "I was engaged to be married to the lead singer of The Chi-Lites, Eugene Record," she said. "He wrote it for me." It sailed to #3 R&B and #15 pop, and her encore Just Ain't No Love clicked too. Barbara and Eugene wrote The Chi-Lites' '71 blockbuster Have You Seen Her, and she recorded for Brunswick into 1972, then posted a sizable '74 R&B hit for Capitol with Raindrops. Acklin died November 27, 1998 of pneumonia.
- Bill Dahl -
Various - Sweet Soul Music
Various - Sweet Soul Music 29 Scorching Classics From 1968

Read more at: https://www.bear-family.de/various-sweet-soul-music-29-scorching-classics-from-1968.html
Copyright © Bear Family Records
Copyright © Bear Family Records® Alle Rechte vorbehalten. Nachdruck, auch auszugsweise, oder jede andere Art der Wiedergabe, einschließlich Aufnahme in elektronische Datenbanken und Vervielfältigung auf Datenträgern, in deutscher oder jeder anderen Sprache nur mit schriftlicher Genehmigung der Bear Family Records® GmbH.
Weitere Informationen zu Barbara Acklin auf de.Wikipedia.org
Für die Filterung wurden keine Ergebnisse gefunden!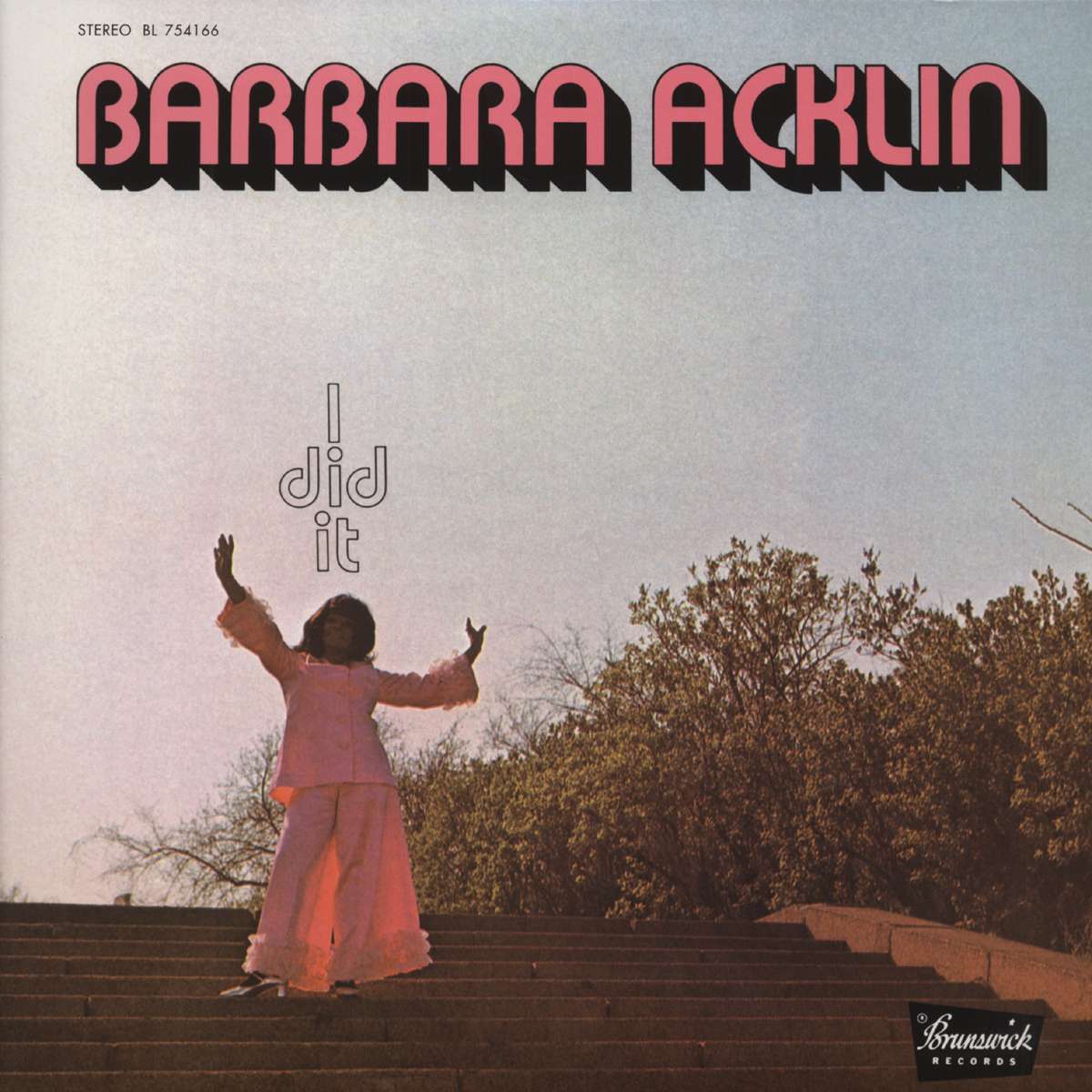 Barbara Acklin: I Did It
Art-Nr.: LPBL754166


Artikel muss bestellt werden
Re-issue, 10 tracks. 1970 'Brunswick'.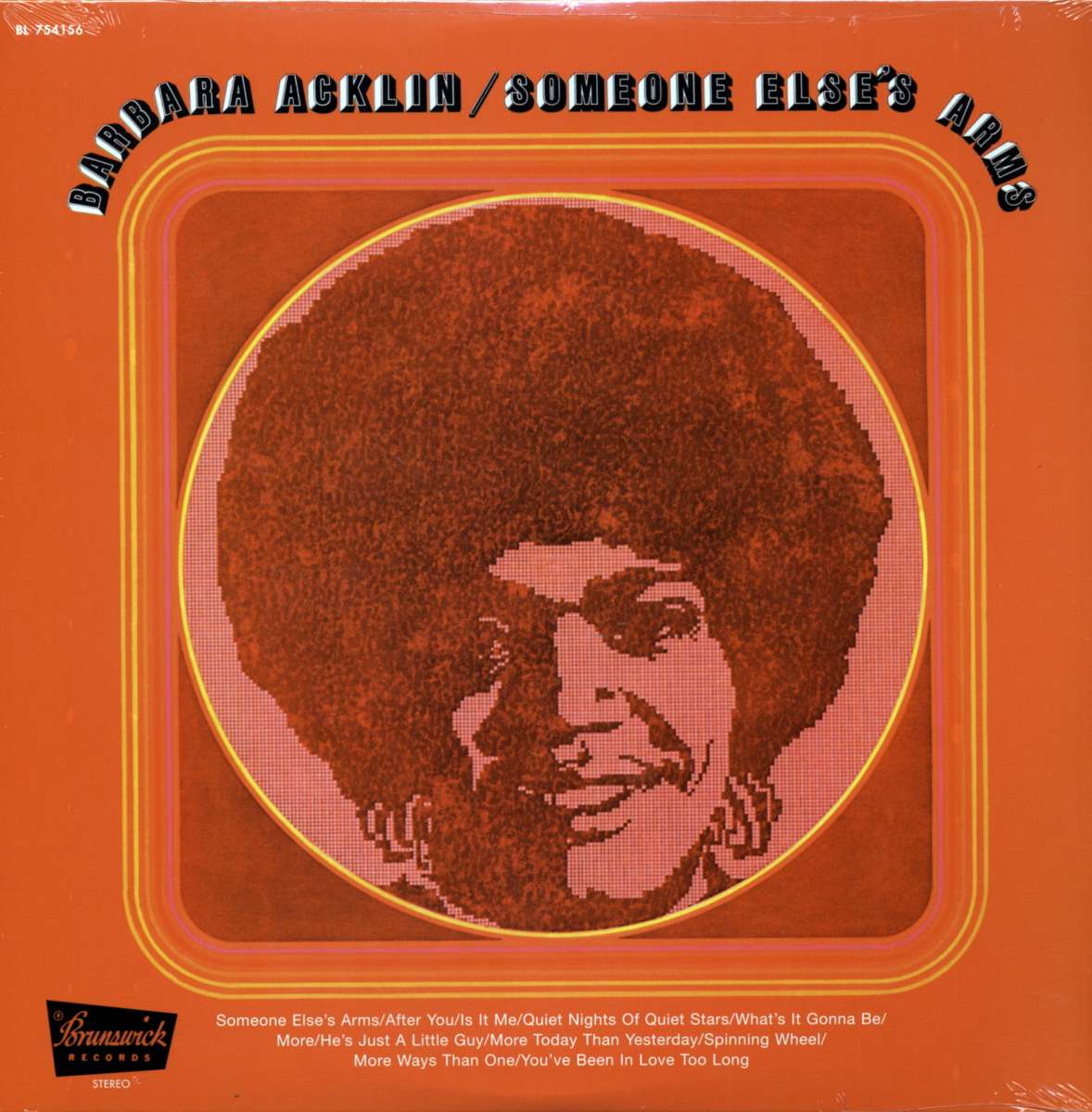 Barbara Acklin: Someone Else's Arms
Art-Nr.: LPBL754156


Artikel muss bestellt werden
(1970/Brunswick) 11 tracks -stereo- Re-issue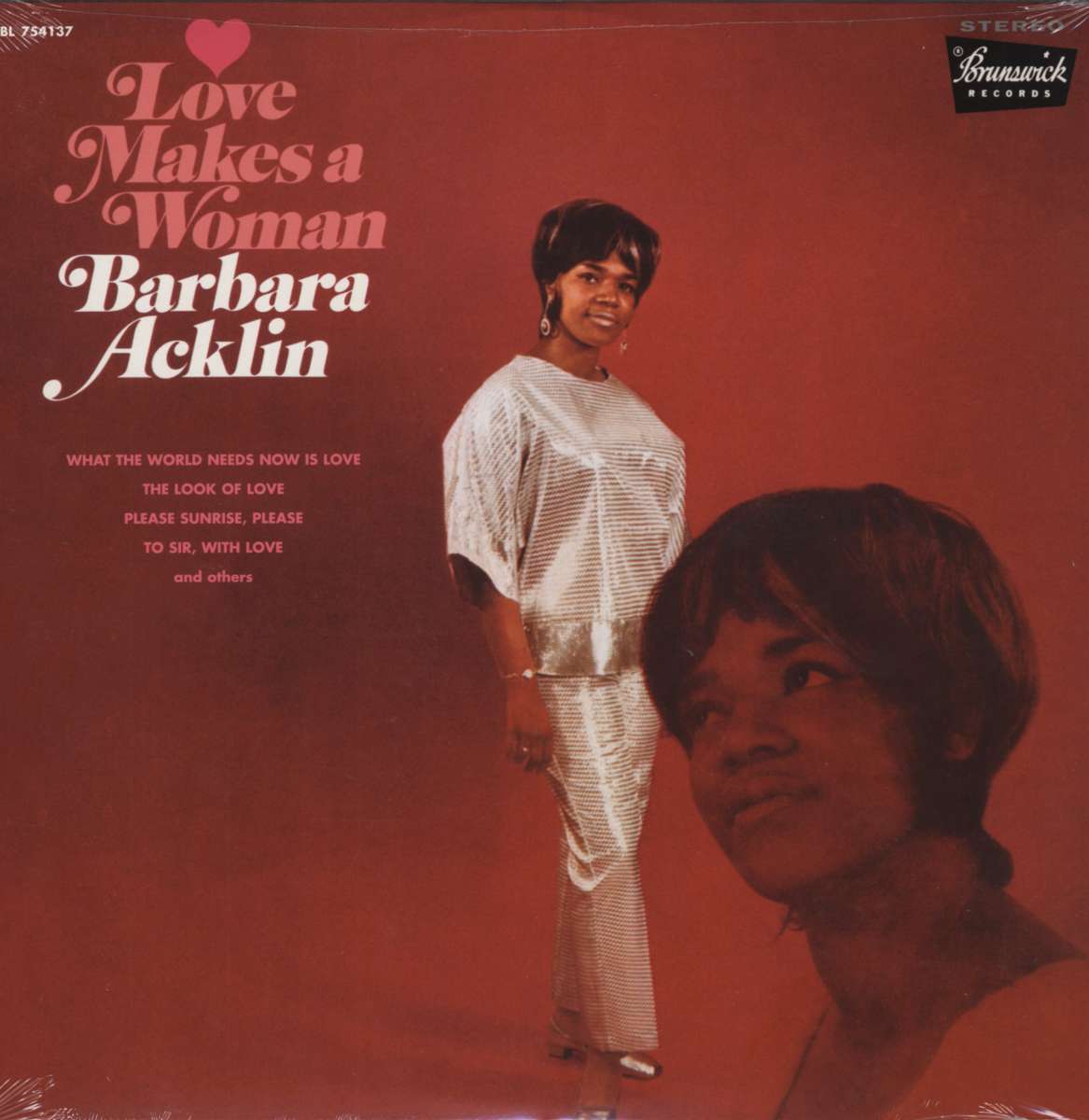 Barbara Acklin: Love Makes A Woman
Art-Nr.: LPBL754137


Artikel muss bestellt werden
(1968/Brunswick) 11 tracks, Re-Issue, Stereo