Wer war/ist

Barkin' Bill Smith

? - CDs, Vinyl LPs, DVD und mehr

BARKIN' BILL SMITH SINGS OF THE thrill of the chase, the bittersweet after-math of conquest or surrender—songs of desire, flirtation, loss, regret. Whatever circumstance the lyrics pose, Bill's in command behind the microphone. Stylistically Barkin' Bill owes much to the great Joe Williams whose warm, reassuring vocals, says Bill, have always been "like a friend." He's in debt as well to singers like Percy Mayfield, Jimmy Witherspoon, Big Joe Turner, Wynonie Harris, Brook Benton and other crooners and shouters of the '40s and '50s. And while he borrows liberally from others' songbooks, he is himself entirely an original who's been out there entertaining for nearly 50 years. Asked how he feels of the occasion of his birthday at Chicago's BLUES.,

Barkin' Bill peers out from under the snap brim of his sharp chapeau and grins his trademark, boyish grin, the endearing smile stretching broadly from ear to ear. "I've lived to be sixty-six years old!" he answers, expressing equal parts satisfaction and amazement, "Man, I'm happy as hell!" On the bandstand, Barkin' Bill cuts a fine figure, standing tall in his natty threads. He lauches into Kansas City in his caramel smooth, Joe Williams-style baritone, singing it like it's his personal anthem. They got some crazy little women there, and Barkin' Bill's gonna get himself one. He sings it with the single-mindedness of Wily E. Coyote.


He's got the opposite sex-sensing sonar of a teenager on the prowl. His mojo's working overtime. Barkin' Bill Smith was born in Cleveland, Mississippi on August 14, 1928 and early on he sought to escape the endless cycle of planting, chopping and picking cotton. "Yeah, man, and cuttin' wood, haulin' wood, pullin' a double shovel—plowin' with one mule. . .Grandmama would see me sittin' there cryin' and she say, 'Who the hell do you think you are—cryin' like you ain't supposed to stiffed"' He left Mississippi as a young man and went up to East St. Louis where his first gig was an appearance with Chuck Berry at the Cosmopolitan Club. "Oh, man! I was so happy! They were throwin' change and dollars and fives, and that about blew my mind."

He became hooked then and there on the life of the entertainer. After singing ballads in Detroit he came to Chicago where he adapted to the sound of the small blues combo, and it was while working with Homesick James in 1958 at the Cotton Club at Clyboum and Weed that he was given the name 'Barkin' Bill.' "Homesick had names for everybody: Lee Jackson was Lefty Dog, Big Red was
somethin' else. I'm the only one who hung onto his name—Barkin' Bill." "I did everything back then," Bill remembers. "I was a singing bartender at the Cougar Club. I even worked Maxwell St. with some old guys we called the Ancient Age band—they couldn't play with nobody." In addition, he sang with Elmore James, Kansas City Red, Hound Dog Taylor, Little Walter, Lonnie Brooks, Eddie C. Campbell and countless other Chicago musicians.

"If I had $1 for each time I sat in I'd be wealthy. Everybody'd say I sound so good. . . but then I'd walk away broke." Lately his fortunes have been promising, however. For the past .eight years he has appeared at Shaw's Crab House and has become a regular on the North Side club circuit. He has recently made several festival appearances and has toured the western U.S., Canada and Alaska with Sam Lay and Madison Slim. Gotcha! represents Barkin' Bill Smith's logical follow-up to his well-received 1991 Delmark release, Bluebird Blues. Bill's up-town vocals are complemented here by fine electric fret work from Steve Freund and some superbly-crafted horn arrangements.

Steve Freund is a veteran of fifteen years behind Sunnyland Slim with the Big Four band and his guitar work has graced a dozen releases for a variety of labels. He has served as producer on five recordings and his studio work includes one release as a bandleader plus right-on-the-money back-up for Sunnyland Slim, Louis Myers, Snooky Pryor, Henry Gray, Magic Slim, Saffire, B.B. Odom and a Koko Taylor recording that earned a Grammy award for him. His searing, spiritually-charged solos burn with genuine intensity, whether it's staccato single note work, Freddie King-inspired complexities or the shimmering Earl Hooker sound of Blue Guitar.

As is typical, Barkin' Bill's repertoire on Gotcha! consists almost entirely of songs dealing with the state of male/ female relationships. And when he slips comfortably into a number like I Love to Love You, or Someday After Awhile, he is typecast, whether winning or losing the battle of the sexes. From his over-the-top pleading on Too Fine for Crying to his self-deprecating lament on What Makes These Things Happen to Me, he communicates with a charm that begs—and receives—forgiveness for the peccadillos of the courting life of which he sings with such great familiarity. When you listen to Barkin' Bill's smooth, seductive vocals, you really can't help it—he's gotcha!
—Justin O'Brien



Copyright © Bear Family Records® Alle Rechte vorbehalten. Nachdruck, auch auszugsweise, oder jede andere Art der Wiedergabe, einschließlich Aufnahme in elektronische Datenbanken und Vervielfältigung auf Datenträgern, in deutscher oder jeder anderen Sprache nur mit schriftlicher Genehmigung der Bear Family Records® GmbH.

Weitere Informationen zu Barkin' Bill Smith auf de.Wikipedia.org
Für die Filterung wurden keine Ergebnisse gefunden!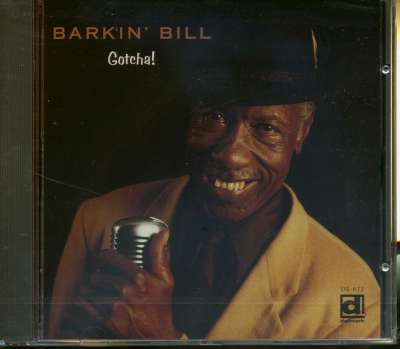 BARKIN' BILL SMITH: Gotcha!
Art-Nr.: CDDE672


nur noch 1 verfügbar
Sofort versandfertig, Lieferzeit** 1-3 Werktage
(1994 'Delmark') (60:23/14) Blues Shouter im Stile eines Joe Williams, Joe Turners oder Wynonie Harris. Eine Mischung aus Chicago Blues und dem R&B der 40er/50er Jahre. Beeindruckend Stylistically Barkin' Bill owes much to the great (but...