Der Artikel wurde erfolgreich hinzugefügt.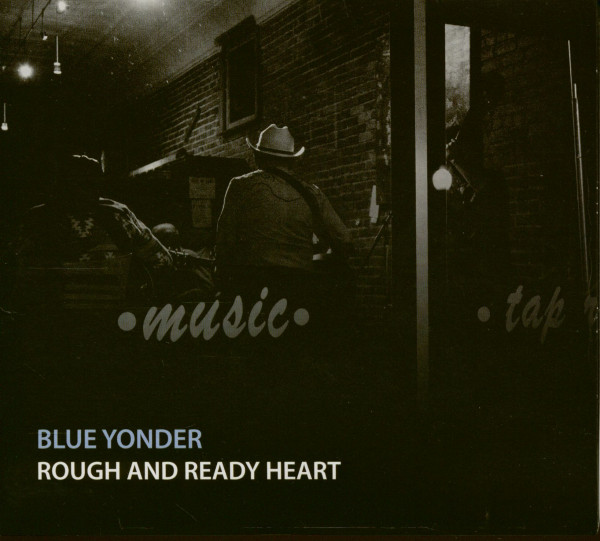 Benachrichtigen Sie mich, sobald der Artikel lieferbar ist.
inkl. MwSt. / zzgl. Versandkosten
Artikel derzeit nicht verfügbar, Lieferfristen von bis zu 2-3 Wochen sind zu erwarten. (soweit verfügbar beim Lieferanten - kann schneller gehen, manchmal aber leider auch nicht)
Artikel-Nr.:

CDNSR46295

Gewicht in Kg.:

0.08
(New Song Recordings) 12 tracks - digisleeve Seit Anfang 2013 hat Blue Yonder, ein Trio von...
mehr
Blue Yonder: Rough And Ready Heart (CD)
(New Song Recordings) 12 tracks - digisleeve
Seit Anfang 2013 hat Blue Yonder, ein Trio von national bekannten Musikern, die verschiedene Stränge amerikanischer Musiktraditionen repräsentieren, den Menschen in einem kleinen Charleston, WV, Veranstaltungsort, jeden Dienstagabend eine seelenreinigende Möglichkeit gegeben, sich mit sich selbst und anderen zu verbinden.

Mit der Veröffentlichung ihres neuen Albums Rough and Ready Heart im Februar 2018 plant Blue Yonder, dieses Erlebnis einem neuen Publikum in ähnlich intimen Umgebungen außerhalb ihres Heimatstaates West Virginia zugänglich zu machen.

Verankert in fesselnden Grooves aus klassischer Country-, Rockabilly-, Swing- und Volksmusik präsentiert die Band originelle Songs zum Thema "Leben, Lieben und Verlieren auf den Landstraßen und Highways des Lebens", mit denen sich Menschen aus allen Lebensbereichen identifizieren können.

"Meine Songs erzählen Geschichten, mit denen sich jeder, der in Beziehungen war oder sich auf eine Roadtrip begab, identifizieren kann, egal woher sie kommen", sagt John Lilly, Blue Yonders national preisgekrönter und national gereister Songwriter. "Es war großartig, in meiner Heimatstadt mit Leuten arbeiten zu können, die vor allem Originalmusik spielen, und diese Musik jede Woche mit unseren Stammgästen zu teilen, die immer wieder kommen, um neues Material zu hören."

Blue Yonder Gitarrist Robert Shafer, der die vielen Stile von Lillys Songwriting bemerkt, schätzt, dass "mit Blue Yonder ich mehr ausstrecken kann, als ich es mit den meisten Bands kann". Shafer ist einer der wenigen, die den prestigeträchtigen Win eld Walnut Valley nationalen Auswahlwettbewerb mehr als einmal gewonnen haben. Shafer ist auch bekannt als "spektakulärer Rockabilly-Gitarrist, der auch Swing und Bop in Uences zu seinem Spiel bringt" (Washington Post).

Der Blue Yonder Kontrabassist und Produzent Will Carter, vor allem bekannt für die Gründung des Global Summit of Oldtime Music beim jährlichen "Clifftop"-Festival im WV, berichtet, dass für ihn "ein Abend mit Blue Yonder wie Geschichten rund um ein Camp re erzählt werden - die Geschichten, die wir erzählen, nehmen mich aus meiner spezifischen Situation heraus und verbinden mich durch gemeinsame Erfahrungen und Emotionen mit allen im Raum".

Aufgenommen in den Echo Mountain Recording Studios in Asheville, NC, Rough and Ready Heart, stellt er den Zuhörern Charaktere vor, die sich mit Leben und Tod, Liebe und Verlust, Erinnerungen und Sehnsüchten auseinandersetzen - mit Geschichten, die auf einen angenehmen Bogen von Americana-Stilen angesiedelt sind, der von stallbrennenden Rockern über sanfte Walzer bis hin zu traurigen Balladen und inspirierenden Hymnen reicht. Die Debüt-CD der Band, Bittersweet Road, enthält alle originalen Songs und erreichte Ende 2013 Platz 2 in der Freeform American Roots Radiocharts.

Artikeleigenschaften von

Blue Yonder: Rough And Ready Heart (CD)
Albumtitel:

Rough And Ready Heart (CD)

Genre

Country

Artikelart

CD

EAN:

0700261462950

Gewicht in Kg:

0.08
Blue Yonder - Rough And Ready Heart (CD)

CD 1
01
Standing by the Side of the Road
02
Rough and Ready Heart
03
Lost in Yesterday
04
Dream of Jeanie
05
Lonely Hour
06
Well-Acquainted with the Blues
07
Memories And Moonlight
08
Emerald Eyes
09
Windswept
10
Tombstone Charlie
11
You Can't Get there from Here
12
Green Light
Bewertungen lesen, schreiben und diskutieren...
mehr
Kundenbewertungen für "Rough And Ready Heart (CD)"
Bewertung schreiben
Bewertungen werden nach Überprüfung freigeschaltet.