Der Artikel wurde erfolgreich hinzugefügt.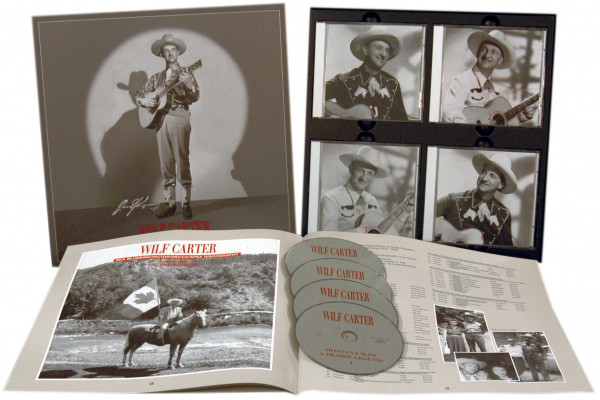 Dieser Artikel ist gestrichen und kann nicht mehr bestellt werden!
74,95 € *
79,95 € *
(6,25% gespart)
inkl. MwSt. zzgl. Versandkosten
Artikel derzeit nicht verfügbar, Lieferfristen von bis zu 2-3 Wochen sind zu erwarten. (soweit verfügbar beim Lieferanten - kann aber auch schneller gehen)
Artikel-Nr.:

BCD15754

Gewicht in Kg.:

1.2
4-CD Box (LP-Format) mit 24-seitigem Buch, 100 Einzeltitel. Spieldauer ca. 262 Minuten. Diese...
mehr
Wilf Carter: A Prairie Legend (4-CD)
4-CD Box (LP-Format) mit 24-seitigem Buch, 100 Einzeltitel. Spieldauer ca. 262 Minuten.

Diese umfangreiche Edition auf vier CDs greift die Geschichte von Wilf Carter nach dem 2. Weltkrieg auf. Sie beginnt bei seinem Comeback im Jahre 1944, nachdem er einen hinderlichen Autounfall überstanden hatte, und fasst seine gesamten Aufnahmen für RCA bis ins Jahr 1952 zusammen. Als besonderen Leckerbissen für Sammler enthält diese Box die seltenen Canadian Apex Sessions mit einer Reihe typisch kanadischer Cowboylieder wie The Capture Of Albert Johnson und The Calgary Roundup. Hinzu kommen beständige 'Klassiker' aus Wilf Carters Repertoire wie There's A Bluebird On Your Windowsill,
The Little Shirt My Mother Made For Me, Sick Sober And Sorry, Blue Canadian Rockies, My Mountain High Yodel Song, The Strawberry Roan und My French Canadian Gal.
Artikeleigenschaften von

Wilf Carter: A Prairie Legend (4-CD)
Albumtitel:

A Prairie Legend (4-CD)

Genre

Country

Preiscode

DI

Edition 2

Deluxe Edition

Artikelart

Box set

EAN:

4000127157546

Gewicht in Kg:

1.2
Carter, Wilf - A Prairie Legend (4-CD)

Box set 1
01
Old Shep
02
I've Hung Up My Chaps And Saddle
03
You'll Get Used To It
04
I Ain't Gonna Hobo No More
05
Don't Be Mean, I Wasn't Mean To You
06
A Sinner's Prayer
07
Plant Some Flowers By My Graveside
08
There's A Goldstar In Her Window
09
My Blue Skies
10
Put Me In Your Pocket
11
Smilin' Through Tears
12
Born To Lose
13
No Letter Today
14
Our Canadian Flag
15
So Hard To Start All Over Again
16
I'll Never Die Of A Broken Heart
17
Dreaming Of My Blue Eyes
18
Memories Bring Heartaches To Me
19
My Queen Of The Prairies
20
Rye Whiskey
21
One Golden Curl
22
Hang The Key On The Bunkhouse Door
23
I'm A Fool For Foolin' Around
Carter, Wilf - A Prairie Legend (4-CD)

Box set 2
01
It's Later Than You Think
02
Too Many Blues
03
Singing On Borrowed Time
04
Just An Old Forgotten Letter
05
She Lost Her Cowboy Pal
06
Ol' Lonely
07
If We Can't Be Sweethearts Why Can't We Be...
08
Don't Cry Over Me
09
Sharing Your Love With Somebody New
10
Don't Wait Till Judgement Day
11
Cowboy Days Ain't Ramblin' Days No More
12
`Neath A Blanket Of Stars
13
I Never Knew That I Could Be So Blue
14
It's Just A Wild Rose I'm Sending
15
Where The Sleepy Rio's Flowing
16
You'll Be Sorry You Turned Me Down
17
Dreamy Lullaby Yodel
18
It's Hard To Forget You
19
The Tramp's Mother
20
Take Away Those Blues Around My Heart
21
The Midnight Train
22
I'm Gonna Tear Down The Mailbox
23
It Can't Be Done
24
All I Need Is Some More Lovin'
25
(There's A) Bluebird On Your Windowsill
26
When The Iceworms Nest Again
27
Shackles And Chains
Carter, Wilf - A Prairie Legend (4-CD)

Box set 3
01
Give A Little, Take A Little
02
Unfaithful One
03
The Little Shirt My Mother Made For Me
04
Guilty Conscience
05
Take It Easy Blues
06
My Heart's Closed For Repairs
07
My Wife Is On A Diet
08
Let's Go Back To The Bible
09
She'll Be There (What A Friend We Have In...)
10
I Wish There Were Only Three Days In The Year
11
When That Love Bug Bites You
12
Just A Woman's Smile
13
Rudolph, The Red Nosed Reindeer
14
Apple, Cherry, Mince And Choc'late Cream
15
Jolly Old St. Nicolas
16
The KP Blues
17
The Blue Canadian Rockies
18
Dear Evalina
19
My Oklahoma Rose
20
What Cigarette Is Best
21
Sick, Sober And Sorry
22
Teardrops Don't Always Mean A Broken Heart
23
Wha Hoppen?
24
Punkinhead (The Little Bear)
25
The Night Before Christmas In Texas That Is
Carter, Wilf - A Prairie Legend (4-CD)

Box set 4
01
Driftwood On The River
02
Manhunt
03
(All You Gave Me Was) Mockingbird Love
04
Square-Dance Boogie
05
Sweet Little Lover
06
Huggin', Squeezin', Kissin', Teasin'
07
Sleep Little One Sleep
08
Alabama Saturday Night
09
Hot Foot Boogie
10
I Remember The Rodeo
11
Pete Knight, The King Of The Cowboys
12
When The Iceworms Nest Again
13
My Little Grey Haired Mother In The West
14
He Rode The Strawberry Roan
15
Rattlin' Cannonball
16
The Calgary Roundup
17
That Silver Haired Daddy Of Mine
18
The Smoke Went Up The Chimney Just The Same
19
The Capture Of Albert Johnson
20
Beautiful Girl Of The Prairie
21
Singing In My Last Roundup
Wilf Carter geb. 18. 12. 1904 in Port Hilford - Nova Scotia - Kanadagest. 5. Dezember 1996 in...
mehr
"Wilf Carter"
Wilf Carter
geb. 18. 12. 1904 in Port Hilford - Nova Scotia - Kanadagest. 5. Dezember 1996 in Scottsdale, ArizonaRecord Labels: RCA, Decca, Apex, Starday, Bear Family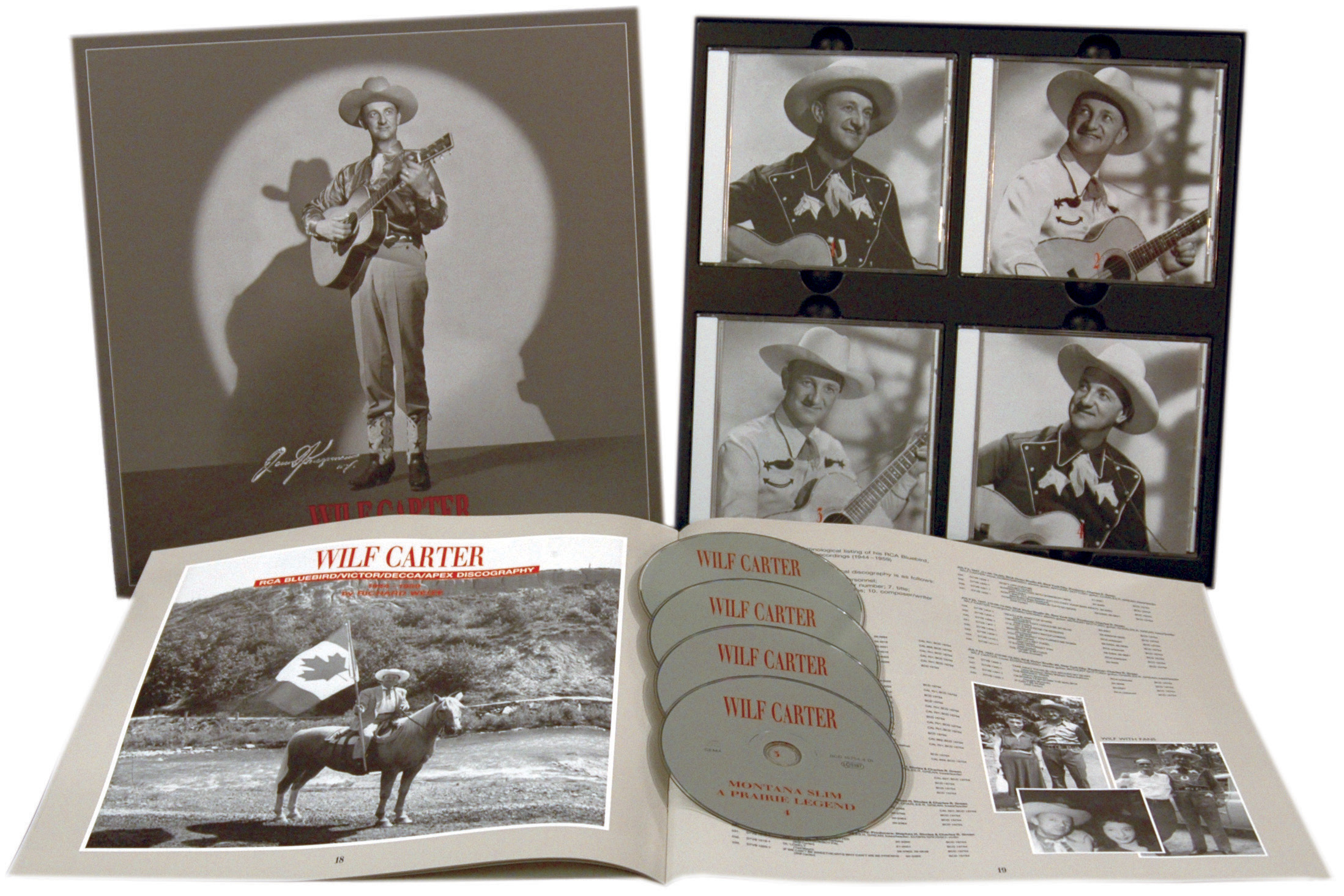 Wilf Carter, in den USA auch als Montana Slim bekannt geworden, war der erste große kanadische Country Star und dies, obwohl er nie in den überregionalen Hitparaden aufgetaucht war. Carter war stark von der Musik Jimmie Rodgers' beeinflusst und bediente sich immer erfolgreich des Cowboy Images. Seine Karriere begann Wilf Carter in den frühen 30er Jahren bei der Radiostation CF CN in Calgary, wenig später nahm er ein Angebot des CBS Networks an. Seine erste Schallplatte nahm er im Dezember 1933 in den RCA Studios von Montreal auf. lm Verlauf der Jahre hat Wilf Carter weit über 500 Songs geschrieben und unzählige Platten aufgenommen. Sein Vater war, wie er erst kürzlich in einem Interview erklärte, gebürtiger Schweizer."
Wilf Carter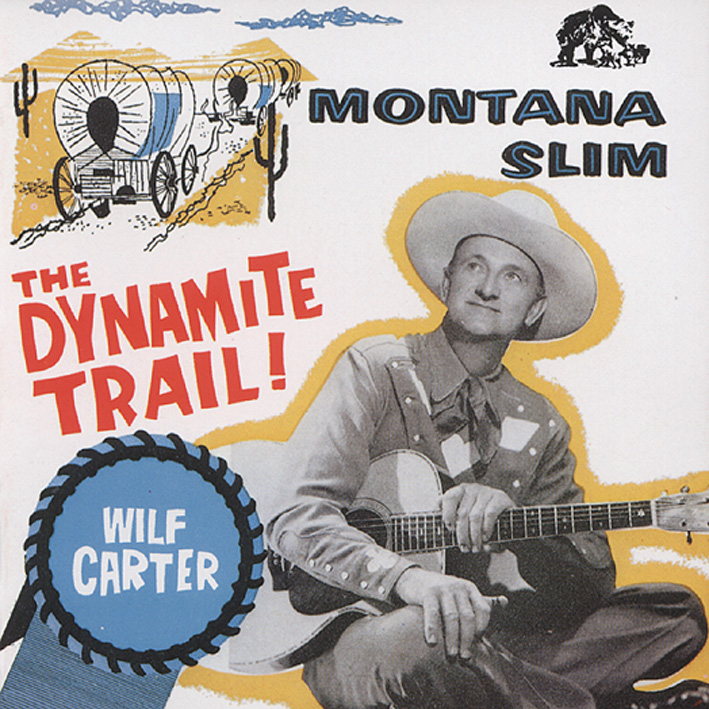 Vielleicht startete der vollendete kanadische Country-Sänger Wilf Carter (1904-1996) seine Karriere im selben Jahr, als Jimmie Rodgers starb. Carter zeigte wenig musikalische Affinität zu Rodgers' Blue Yodels und bevorzugte stattdessen seine Balladen, westlichen Songs und pop-orientiertes Material. Als Jodler tendierte Carter zu konventionellen Schweizer Stilen, eine Technik, die er wahrscheinlich von Schallplatten und Vaudevillianern gelernt hat, die durch seine Heimatstadt Nova Scotia gingen. Obwohl er in seinem Heimatland Kanada als Wilf Carter angekündigt wurde, kannte ihn das amerikanische Publikum als Montana Slim, ein Spitzname, der feststeckte, als Ansager Bert Parks seinen Namen während einer CBS-Radiosendung vergaß. Carter nahm sein erstes Rodgers-Cover, Roll Along Kentucky Moon, während einer Bluebird-Session 1939 in New York auf. Diese Version von Whisper Your Mother's Name stammt aus Carters zweiter Anstellung bei RCA, die hauptsächlich Material für preisgünstige kanadische Alben generierte. (Dave Samuelson)
Bewertungen lesen, schreiben und diskutieren...
mehr
Kundenbewertungen für "A Prairie Legend (4-CD)"
Von:
Michael S.
Am:
11.07.2017
Toll
Viele Informationen zu Wilf Carter,- ganz großes Kino.
Bewertung schreiben
Bewertungen werden nach Überprüfung freigeschaltet.
Weitere Artikel von Wilf Carter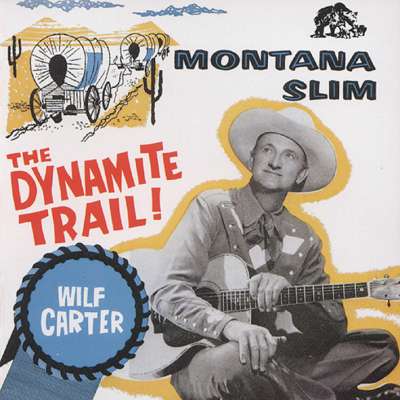 Wilf Carter: Dynamite Trail
Art-Nr.: BCD15507


Sofort versandfertig, Lieferzeit** 1-3 Werktage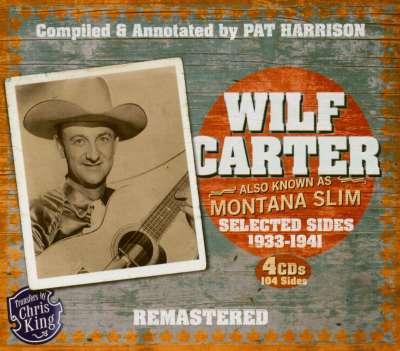 Wilf Carter: Selected Sides 1933-1941 (4-CD)
Art-Nr.: CDJSP77162